A Climber We Lost: Corrado "Korra" Pesce
Each January we post a farewell tribute to those members of our community lost in the year just past. Some of the people you may have heard of, some not. All are part of our community and contributed to climbing.
---
Join Climbing
Create a personalized feed and bookmark your favorites.
Join Climbing
Create a personalized feed and bookmark your favorites.
Join for free
You can read the full tribute to Climbers We Lost in 2022 here.
Corrado "Korra" Pesce, 41, January 28
Korra was the real deal. Hard Korra. His passion for alpinism was unique; elite. His climbing resumé will be more easily defined by the handful of routes he didn't achieve. Some of his climbing will never be known, as he quietly soloed when partners weren't available and conditions were too good. Climbing, climbing, climbing. It defined and dominated his life: from the flat lands of Novara, to Chamonix, to the Himalaya, to Patagonia. Technical alpinism demanded total concentration, experience, and commitment. It was also a refreshingly clear truth compared to the artificial trappings of valley life. Korra thrived in the mountains.
Corrado "Hard Korra" Pesce was born in Novara, west of Milan, in Northern Italy. Novara isn't known for breeding alpinists, but Korra had a passion for mountains at a young age. Among his most treasured possessions was a book of the world's greatest mountains which he meticulously studied. This book was the first of a library of mountain literature to fall into his hands and become memorized in his brain. He was the oldest sibling in his father's second marriage, and he would be accompanied by his younger sister to the corn silos in the surrounding area on his first climbing missions.
Korra's passion soon took him into the mountains, where he worked in the Margherita Hut on Mt. Rose, and in the Torino Hut in the Mt. Blanc range. Soon after these seasonal jobs he found his way to Chamonix, the birthplace of alpinism, and with quick access to an alpine playground, Chamonix was where Korra was home.
Korra quickly progressed as a climber, working in Snell Sports to support a continued pursuit of hard alpinism. This path led to the guide's exams, and he became an alpine guide through the French guide's school—more for the lifestyle than for any lucrative end. Korra's passion passed through the doors of Chamex, the guiding service he worked for. His contribution was selfless and he was dedicated to the guide family. Last minute bookings, replacing a sick or injured guide, guide meetings, contributions to its website, information about conditions, daily guide work—despite his stature as one of Chamonix's elite alpinists he maintained a connection to a simpler, more basic alpinism. His passion extended to Chamex clients, and a day on the Cosmiques Ridge or on Mt. Blanc was't too ordinary. He was a perfect fit for the team.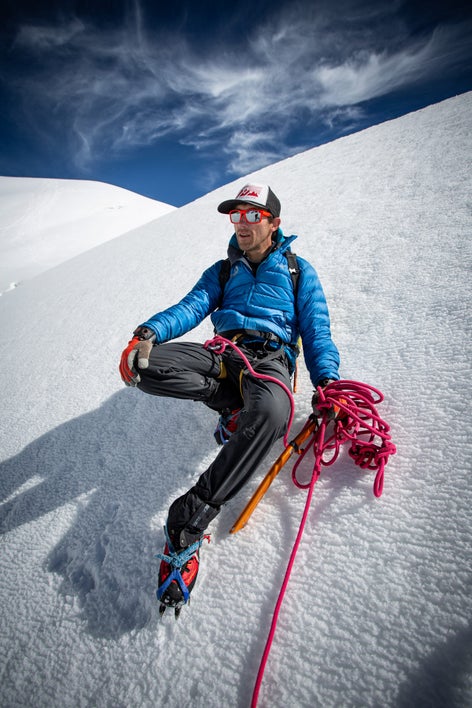 With more free time, more and more routes were climbed. His endless energy translated into countless hours studying routes in the ENSA library, studying conditions on local and remote mountains, and climbing as much as possible. Korra was a reference for many visiting hardmen and women whose first stop in Chamonix was at Snell to find out what was in condition, what had been climbed, and a multitude of minutia relevant to whatever route they might be eyeing. Approach? Broken piton on the third pitch? Alien cams or small wires? Descent? Even if he hadn't climbed it, Korra had researched it, or remembered some detail about it.
Korra climbed 15 routes on the North Face of the Grandes Jorasses, opened new mixed lines on Chamonix's granite spires, and eventually took his skills worldwide. He was interested in technical, committing alpinism. He had a pure passion for climbing and a critical eye for "chotos": alpinists whose big reputations and media popularity weren't backed up with real accomplishment.
Korra never sought the recognition that accompanies success. He spoke very little about where he may be off to, less about where he'd been, and preferred a discreet nod from another alpinist over any contrived accolade. He would cite the essential contributions of his partners rather than mention his own. The media, sponsors, and climbing community found him—not vice versa. The real deal.
His passion eventually took him to Patagonia—year after year—and he tragically perished on Cerro Torre after opening a new route on the east and north face. Cerro Torre was one of the distinguished summits in his book of the world's greatest mountains.
Quiet and reserved, Korra maintained a circle of close friends. Korra is survived by his parents, Ruggero Pesce and Adelia Barbero, his seven brothers and sisters, and most importantly by his daughter Leia, whom he loved deeply.
—Peter Mason
Read more about Korra's life here.
You can read the full tribute to Climbers We Lost in 2022 here.