A Climber We Lost: Dave Jones, December 27
Each January we post a farewell tribute to those members of our community lost in the year just past. Some of the people you may have heard of, some not. All are part of our community and contributed to climbing.
Heading out the door? Read this article on the new Outside+ app available now on iOS devices for members! Download the app.
You can read the full tribute to Climbers We Lost in 2021 here.
Dave Jones, 65, December 27
On December 27, the climbing and caving world lost a pioneer in Dave Jones, who quietly passed away at home from unknown causes.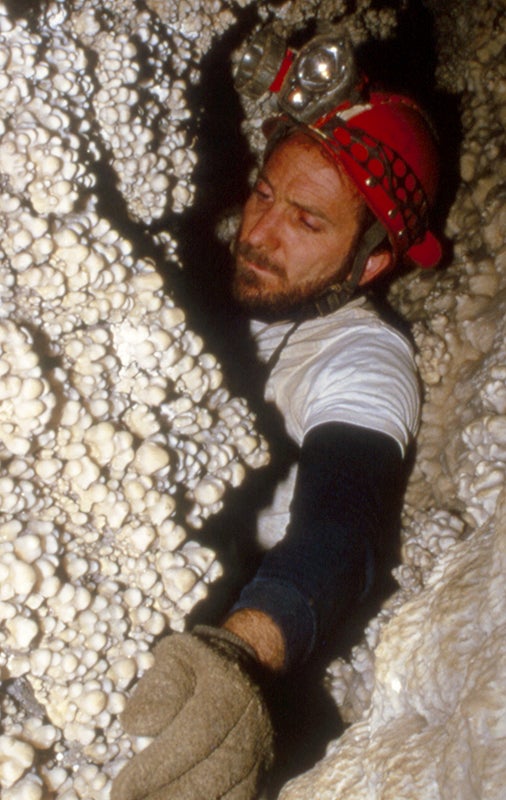 A Tucson resident, Dave was a geologist by profession, who had graduated from Dartmouth College (BSc) and the University of Arizona (MSc). Dave had over 40 years of climbing and exploration experience throughout the Americas, and in 1995, he discovered the El Limon deposits, which became the second-largest gold mine in Mexico.
Dave started climbing as a student at Dartmouth, where one of his first accomplishments was to climb the chimney stack of the college power facility. In the late 1970s, Dave showed up in Zion with a new vision of clean free climbing the big sandstone walls, as made possible by the advent of Friends. He pioneered numerous difficult free test pieces that shifted focus away from the hard aid climbing there he had previously employed. A short list of his first ascents in Zion include: the eight-pitch Space Shot (Grade IV, 5.7 A2) in 1978; Shune's Buttress (IV, T 5.11c), also eight pitches, in 1980 with Conrad Anker; the FFA of Equinox (IV, 5.10), 10 pitches, 1984; The Vigil (IV, 5.11R), 10 pitches, 1992, also with Conrad Anker; Rights of Passage (IV, 5.11+), nine pitches, 1994; Bits and Pieces (IV, 5.11a/b), eight pitches, 1994; and Chastity Crack (II, 5.11), three pitches, 2007.
Dave was also a sport climber and an alpine climber. For a time, he worked in Taos, New Mexico, where he quickly established the area's first 5.12 sport route, Nice Guy Syndrome (5.12a/b). He made alpine ascents of Mount Robson in the Canadian Rockies and Mount Hunter in Alaska. Dave regularly climbed on Mount Lemmon and in the Cochise Stronghold outside of Tucson for over 40 years.
Dave was a lot of fun to climb with. He was thoughtful, funny, and confident. He had an amazing ability to judge his limits, and I've seen him focus and pull really hard, scary, out-of-balance moves. He hated giving up, but like most of us, there were times when he couldn't muster his courage to get past a hard section. On those days, he would joke around and say, "OK…now watch me, I'm right at my pro!" and there were times when that joke was enough to keep him going. Over the years, Dave refined the art of humorus self-deprecation as a way to accept defeat in a graceful way whenever he got spanked on some climb. Dave could be very charming, and his witty comments often had other climbers cracking up as we worked on some project.
Bob Kerry, another pillar of the Arizona community, posted: "I had some great adventures with Dave. Vishnu Temple in a day from the North Rim, Orizaba in Mexico and a Canadian Rockies climb that cements Dave in my memory. I had just led the last pitch and took off my pack. As I turned to belay Dave, it rolled off the mountain to the opposite side and down several thousand feet in a couloir. I was too gassed to go get it, but Dave did and saved my wallet and wedding ring for me." Bob called Dave a "very, very strong climber."
In the late 1970s or early 1980s, Dave went with his older brother, Peter, on caving trips to the Guadalupe Mountains in New Mexico. In 1986, three years after Lechuguilla was dug open, they took their first trip into the cave. Dave became a serious caver, and throughout the 1990s he participated in many early expeditions to explore and map Lechuguilla. He discovered numerous new sections of the cave and appeared in a National Geographic special on the place. Dave was also the co-discoverer of another major cave that he and others have been working on exploring and mapping for the last 20 years.
He was driven to have fun and was working out, gathering gear, and preparing for another expedition on the day of his death. Dave was a very accomplished geologist, but in his heart he was a foremost a climber. That's how I will always remember him.
He is survived by his brother, Peter, and his wife, Jacki.
—John Hayes

You can read the full tribute to Climbers We Lost in 2021 here.