A Climber We Lost: Dr. Alexander Goldfarb, January 16
Each January we post a farewell tribute to those members of our community lost in the year just past. Some of the people you may have heard of, some not. All are part of our community and contributed to climbing.
Heading out the door? Read this article on the new Outside+ app available now on iOS devices for members! Download the app.
You can read the full tribute to Climbers We Lost in 2021 here.
Dr. Alexander Goldfarb
57, January 16
Alex started climbing as a university student in Izhevsk, Russia, nearly losing his toes on several occasions while leading mountaineers into the Arctic circle. 
His toes survived those formative years, and after immigrating from the crumbling Soviet Union in his 30s, Dr. Goldfarb became a full-time physician and was appointed to the faculty of Harvard Medical School. He volunteered day and night to treat covid patients throughout the pandemic and saved hundreds of lives throughout his career. According to the Harvard Crimson, at the onset of the pandemic he drove to Queens, New York, to help with shorthanded staff, and worked at the hospital for a week straight, intubating patients.
The Crimson report stated: "'All of this was at great risk to himself,' said Robert S. Brown [Harvard] '59, a longtime colleague of Goldfarb's. At the time, personal protective equipment was in short supply, but Goldfarb 'cared about his patients and wanted to save lives.'" Brown credited Goldfarb for a "terrific" sense of humor, telling the Crimson, "He probably could make the Queen of England on her throne laugh."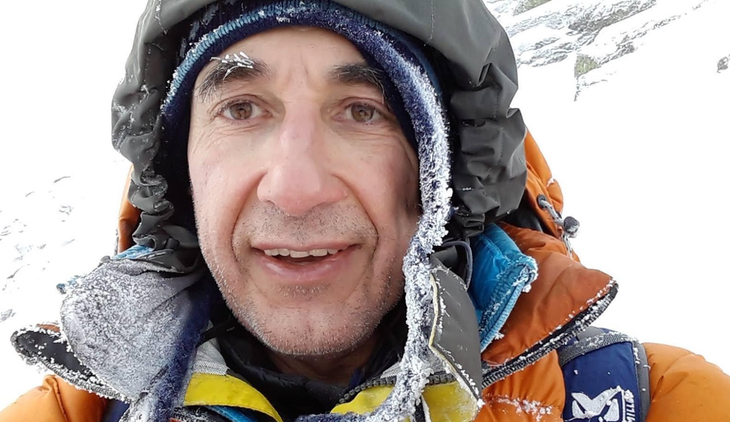 In climbing, Alex enjoyed the challenge of solo excursions: the intensity of such an experience gave him an opportunity to understand himself better. For him, the mountains were a place of contemplation, self-discovery, and respite from mundane life at sea level. As he ascended higher and higher, the noise of everyday squabbles would fade to the background, replaced by the simplicity of a unidirectional goal: the summit. 
Alex would often quip that in the mountains, "there are no laws and no documents," meaning that one was cleansed of "sea-level" identity. His medical degree and two PhD's became irrelevant while he was climbing—all that mattered was his grit and resilience—and he adored the simplicity of survival in a difficult environment. He would return from his ascents physically exhausted but mentally elated, bringing back harrowing stories and fresh perspectives. 
Alexander died while acclimatizing on Pastore Peak, in Pakistan. He was preparing for a winter ascent of Broad Peak alongside his climbing partner, Zoltan Szlanko. The two split up on the mountain after Szlanko deemed the terrain too dangerous to continue. Alex—confident as always—was convinced he could complete the ascent, but did not return.
He is survived by his sons, Levi, 25, and Benjamin, 17; and his mother, Tatiana, 86.
You can read the full tribute to Climbers We Lost in 2021 here.