A Climber We Lost: Sergi Mingote
Photo: Courtesy Millet / Sergi Mingote
Heading out the door? Read this article on the new Outside+ app available now on iOS devices for members! Download the app.
You can read the full tribute to Climbers We Lost in 2021 here.
Sergi Mingote, 49, January 16
Sergi Mingote had proven himself one of the most skilled mountaineers of our era when he died on K2 (8,611 meters) last January, after a 25-year career in the world's most formidable peaks.
The lightning-fast Catalan had summited 10 8,000ers and held the world speed records for climbing six 8,000ers without oxygen in a mere 367 days and for the fastest oxygen-free back-to-back climb of K2 and Broad Peak (seven days) in July 2018. 
"For me, Sergi was a mentor, he was like a father, a best friend," Juan Pablo "JP" Mohr, a Chilean mountaineer who was climbing with Sergi when he died, told Desnivel. (JP died on the same peak shortly after, along with Muhammad Ali Sadpara and John Snorri.)
"He was a great partner on the rope, always ultra-cheerful, throwing good energy on the mountain," JP said of Sergi.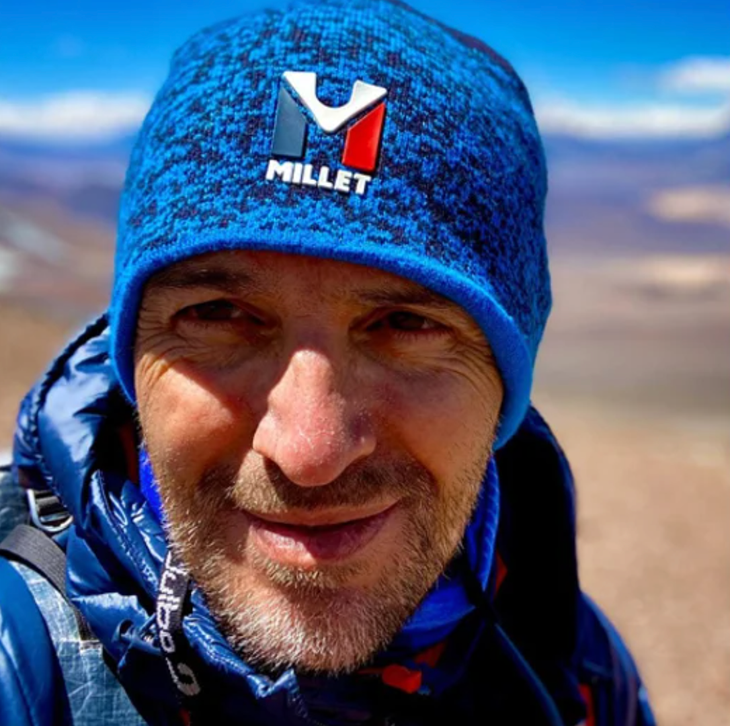 Among other feats, Sergi summited Manaslu in 10 days, oxygen-free, upon arrival at Base Camp, and also tackled the trifecta of Lhotse, Nanga Parbat, and Gasherbrum II all without O2 in 63 days. In total, Sergi achieved over 20 ascents of mountains above 19,700 feet before his death.
He was also in the process of attempting to break Kim Chang-ho's world record for the fastest summit of all 14 of the world's 8000-meter peaks without supplementary oxygen. The Korean's time, set in 2013, was seven years, 10 months, and six days. 
Sergi had hoped to summit the mountains in less than 1,000 days, christening his goal the '14×1000 Catalonia Project.' Through this feat, he also hoped to promote the candidacy of Pirineus-Barcelona for the 2030 Winter Olympics. 
Though COVID-19 threw a wrench in his plans for a 1,000-day finish, at the time of his death he had already summited seven 8,000ers as part of the project (Broad Peak, K2, Manaslu, Lhotse, Nanga Parbat, Gasherbrum II, and Dhaulagiri), and was well on his way to beating the previous seven-year record with room to spare.
The Catalan was active outside of the mountains, as well. A member of the Socialists' Party of Catalonia, he served as mayor of the town of Parets del Vallès for seven years, from 2011 to 2018, before retiring to focus on climbing. 
He was the first person in the millennium to reach the North Pole, a finisher of both Ironman (112 miles) and Ultraman (320 miles) triathlons, had crossed both the Sahara and Gobi deserts, and swam the Strait of Gibraltar alongside Paralympian Miguel Luque. He also completed a 4,350-mile bicycle trip across Europe, climbing 20 major peaks along the way, in 2020, in addition to several other long-distance cycling routes.
Sergi was the president of the ONAT Foundation, a nonprofit promoting social inclusion and solidarity in sports, as well as "the participation and total integration in society of marginalized groups and the physically and sensory disabled."
In a 2020 interview with Dream Wanderlust, Sergi noted that given the risky nature of non-oxygenated speed record attempts, in no case would he ever try to "rationalize" the safety of his climbing projects. "What I do is plan and work very hard to get stronger physically and mentally," he said. 
In the same interview, however, he made it clear that he approached the mountains with care, respect, and caution. He mentioned how, after his disastrous ascent of Lhotse in 2019, when he was hit by rockfall, breaking a rib, and a fellow climber, Bulgarian Ivan Tomov, died of cerebral edema, he decided to go home. "My attention was not at 100% to approach another new 8000er," he said matter-of-factly.
Though he was one of the strongest climbers in any expedition he took part in, and also someone who often climbed alone, Sergi was quick to give credit to his team members and support, noting that they were often the biggest factor in his success. 
Speaking of trips to Manaslu and Broad Peak in 2018, where he was part of the team opening the first route of the season on both peaks, he said that the Sherpas "were the ones who worked the most that day opening the route. I like to be fair and honest always, and they were the true heroes of the day."
Sergi was equally gracious when discussing Nims Purja's "Project Possible," which involved a similar 8,000er speed goal, albeit using supplemental oxygen. "I have the utmost respect for [Purja's] project," he told Explorer's Web in 2019. "The mountains have taught me to be respectful to all approaches." 
"Nims has a different approach than mine," he admitted. "His includes O2 and strong support, but his project is nevertheless amazing. I am not really aware of the image that he projects on social media, but I appreciate him as a person, we've got along very well, helped each other, and respect each other's efforts. The really important thing is to be honest, and he openly explains how he does things, as do I."
Sergi died January 16, 2021, while descending from Camp I (19,850 feet) to Advanced Base Camp, during a no-O2 attempt to make the first winter ascent of the world's second-highest peak (an all-Nepali team led by Nirmal "Nims" Purja accomplished this a few hours after Sergi's passing). 
At the time of his death, he and JP were among the climbers who had reached the highest point on the mountain (7,000 meters, at Camp III). Sergi was leading the Seven Summits Treks team, a 50-member party consisting of mountaineers from around the world, all vying to become among the first to summit K2 in winter. 
He was only a few meters behind Mohr when he slipped while descending. The latter said that it was never clear exactly why Mingote fell since there were fixed ropes on that entire section.
"[These] are pure assumptions," JP said, "but it could be that a stone [fell] or he slipped while transitioning from one line to another. It is not known, but when I got down, everything was in place and other people got out and confirmed that the fixed ropes were in place, too." Sergi fell approximately 2,000 feet down a vertiginous ramp. 
"I yelled at him, 'Try to stop! Try to stop! Stop!'" JP said, but Sergi was unable to arrest his fall. JP, at the time, did not realize it was Sergi who he saw falling. Though the Catalan was still alive when JP, Tamara Lunger, and several others reached him near Advance Base Camp 40 minutes later, he soon passed. "We were able to pass his last breaths with him," JP said. "We were talking to him during his last minutes of life."
Sergi Mingote is survived by his wife, Miriam Roset, and daughter, Júlia. "I remember him with a smile and super happy," the former said during an interview with a Spanish news channel five months after her husband's death. "He was happy [before leaving for K2]. He hugged us and told us 'Calm down, everything will be fine.' But there is always that … risk that neither he nor anyone else controls, no matter how much a person [is] very respectful with the mountain."
"Every day I realize more that talking about him and sharing his things connects me more with him," she said. "I have to [move] forward, but also with his legacy."