Addicted to the Vertical: Yosemite Climbing Ranger Brandon Adams
From big wall speed records to long free climbs, Adams does it all, and he recently ticked his hardest free climb to date, the FA of the 1,300-foot Wayward Son (5.12c) on Lost Brother.
Heading out the door? Read this article on the new Outside+ app available now on iOS devices for members! Download the app.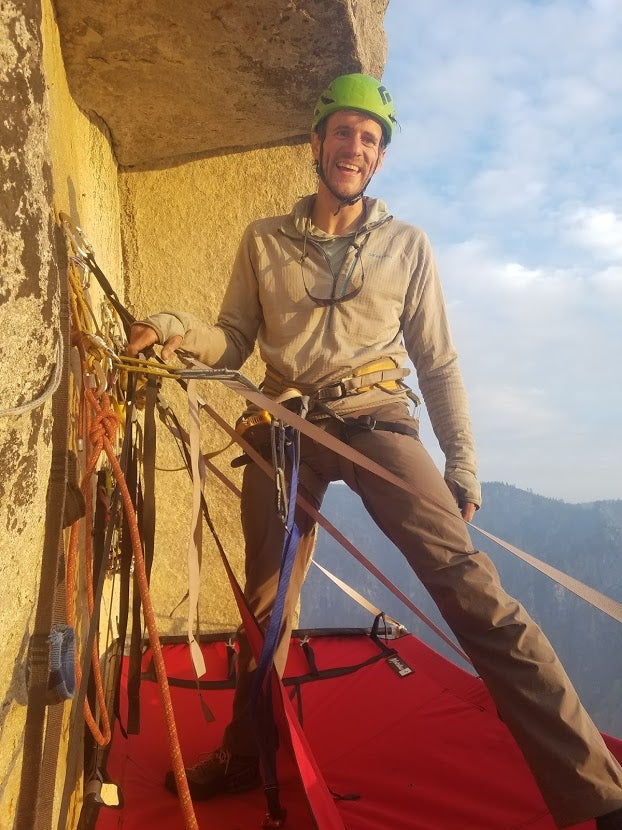 In the final days of August as temperatures soared in the 90s in Yosemite Valley, sending most climbers to colder climates, resident Brandon Adams ticked off his two-year free project Wayward Son (5.12c, 13 pitches). The sustained route on the northwest face of Lost Brother, visible from the east face of El Capitan, has four pitches of 5.12 and five of 5.11.
"Able Jones just repeated it. He almost onsighted it—he slipped on a 5.11 slab—and he confirms it at 12c," Adams said. "Two other teams have since climbed it but have not yet freed it."
"When I started on the project two years ago, I thought I had a 10-percent chance to do it free," he added. "But this season after dozens of times working on the crux on a Micro Traxion, I got it first go on lead. That day I sent the crux pitches first go but fell on two others and got them second try. I was up there with my wife Rebecca Church, and we were back to the ground before it went into the sun at 2 p.m. What a fantastic day."
Adams has been local to Yosemite for the past six years. When we caught up with him in early September, he said he'd just returned to the Valley floor after spending the summer residing in Tuolumne. Six months out of the year, Adams works as a climbing ranger (he's one of four in the park), and his duties include stewardship, interpretive programs including Climber Coffee, trail maintenance, climbing patrols, and special projects. He resides in Bishop the other six months.
To date, he's climbed El Cap 37 times via 21 different routes. On his days off—and sometimes for work—he blazes up El Cap. "Last week I climbed Eagle's Way [on El Cap], and my wife and I are climbing Squeeze Play on El Cap this Friday. This October I'm planning Bob Locke Memorial Buttress on Mount Watkins," he said.
"As a climbing ranger, I work for Wilderness Patrol. Since most of the climbing in Yosemite is in [the] wilderness, I patrol the vertical wilderness, climbing routes, and do interpretation [checking in with visitors]. I also introduce the non-climbing public to rock climbing via the Ask a Climber program in El Cap Meadow. We do a weekly, two-hour climbing walk to the base of El Cap and do a program on outdoor philosophy. The goal is to get people to understand why we [climbers] go up there, to care about these resources and help protect them."
Wayward Son, Adams's latest free route, is just one of his many first ascents—he has done both hard aid and hard free lines—in Yosemite Valley and Tuolumne Meadows. His most recent ones in Tuolumne include Twinkletoes (5.11a R, 5 pitches) on Fairview Dome and Valinor (5.10d, 4 pitches) on Mariuolumne Dome.

His most significant route to date went up in Yosemite Valley last April: over ten continuous days, he and Kristoffer Wickstrom established Ephemeron (VI 5.10 A4), a line that parallels the Nose on El Cap. Adams is also a big wall speed climber who holds several records on El Cap including the Shield (VI 5.8 A3; 8:55) and Genesis (VI 5.11 A4; 20:35).
On Mountain Project Adams described Wayward Son as a "modern-era free route with many bolts protecting cruxes consisting of techy face climbing on [less than] vertical immaculate granite. There are some beautiful cracks thrown in for good measure."
He chose the name Wayward Son—a Kansas song from 1976 with lyrics "Carry on my wayward son, For there'll be peace when you are done, Lay your weary head to rest, Don't you cry no more"—to commemorate the fallen Yosemite climbers Dean Potter, Niels Tietze, and Richie Copeland. "It's a memorial route dedicated to Richie, Dean and Graham," he said. "It's where Dean and Graham died. Niels passed before I started this route."
The climb is a combination of two routes: 55-percent independent and 45-percent of Call of the Yeti. ("Yeti has been changed in some spots, with first ascentionist's permission, to allow for the route Wayward Son," Adams added.)
Two years ago, lured to Lost Brother out of curiosity for big wall obscurities and their potential for free climbing, Adams did Blood and Coin (5.7 A3-) with Climbing Steward Mary Grace. First ascensionist Kevin DeWeese wrote of Blood and Coin on Mountain Project, "New 10 pitch aid route… that will go free eventually. Goes up the right side of the obvious white flake on the face of Lost Brother. A nice escape from the normal choss horror show that is the average obscure new route."
While Adams climbed Blood and Coin (which has not gone free yet), he poked around looking for nearby free options. Then he climbed the paralleling line Call of the Yeti (5.8 A2+) two times with different partners. Since the descent line for Call of the Yeti raps the wall, this made it easy for Adams to top-rope future free pitches.
"It's primarily face climbing and edging on just-less-than-vertical stuff," he said. "The harder sections are in bolt ladders on Call of the Yeti, so I started at those to see if they were possible to free." Wayward Son weaves in and out of Call of the Yeti and climbs looker's left of Blood and Coin.
How Adams Became a Climbing Ranger
Adams describes himself as "energetic and intense." Raised in Santa Cruz, California, he learned climbing after college at Lewis and Clark in Portland, Oregon. His first technical outings were up volcanoes in the Pacific Northwest.
After Portland, he moved to Loveland, Colorado where he climbed around the Front Range. A year later he moved to the West Coast. "I found Yosemite and fell in love with it," he said. "For somebody that is inspired by these big things and who needs to just go-go-go, Yosemite is a great fit. It's a great place to live. There are incredible adventures 30 minutes from your door."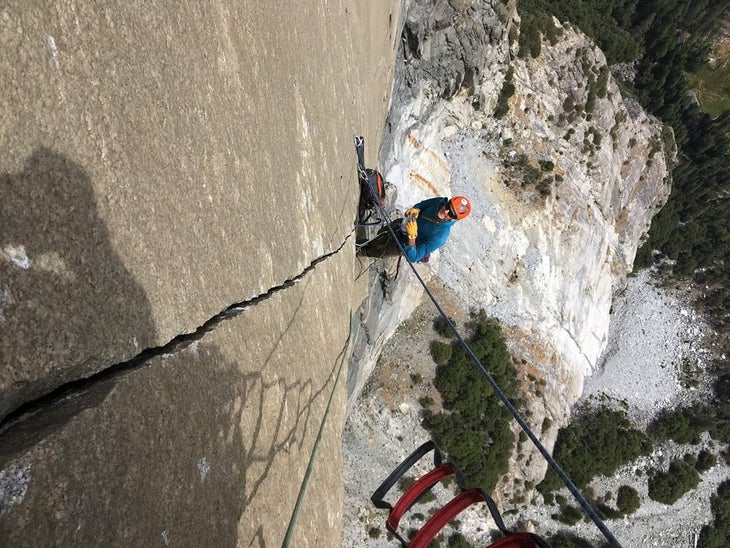 For his first two seasons in Yosemite, Adams worked as an interpretive ranger where he led nature walks and was a storyteller on the Green Dragon guided bus tour that circles the Valley floor several times a day. He climbed every free moment he had. To pursue his passion for climbing as work, he transferred to wilderness patrol and entered the climbing ranger program.
Adams is already eyeing his next big first free ascent. "I'm always looking for something. There's so much here. There are several lifetimes of climbing in this one Valley, let alone the Sierra. It's a common misconception that this place is climbed out. The Lost Brother project is just like that. There are obvious lines hidden in plain sight all over Yosemite Valley."