Meet Alex Rohr: Up and Coming Swiss Phenom
Rohr, who recently sent the first pitch of "Change" (5.15a/b), has felt beckoned to Flatanger season after season.
Heading out the door? Read this article on the new Outside+ app available now on iOS devices for members! Download the app.
On August 12, 26-year-old Swiss climber Alex Rohr sent the first pitch of Change (9a+/9b) in the Flatanger Cave, Norway. Now, you may not have heard of Alex Rohr just yet, but certainly you have heard of the legendary Flatanger Cave. Cut into the hillsides of the Norwegian Fjordlands, the Flatanger Cave is a stunning, somewhat unsuspecting vortex of climbing history. Its wildly overhung and featured granite offers some of the most difficult sport routes on Earth—a true Mecca of hard climbing, with a pilgrimage mandatory for the world's strongest climbers. Alex Rorh is one of these climbers who has felt the call of Flatanger, and just sent his hardest route to date.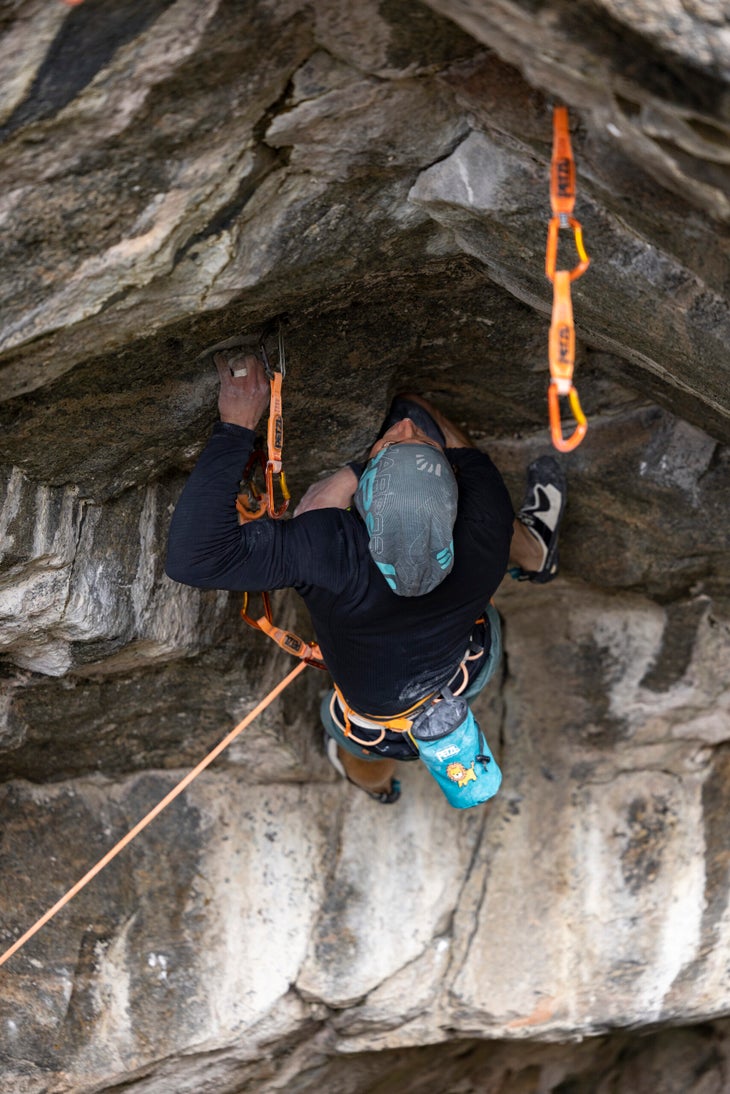 In 2012, Adam Ondra put Flatanger on the map by establishing Change, the very first 9b+ (5.15c). The route consists of two pitches, pitch one being rated at 9a+/9b (5.15b), consisting of multiple very hard, very cryptic boulder problems. The second pitch is described as slightly less difficult and less cryptic, but more consistent and intensely pumpy, going at 9a (5.14d). When Ondra first eyed the line and was preparing to bolt it, he said: "It looks ridiculous, but why not try."
(In 2017, Ondra made history in Flatanger again by establishing Silence, the world's first 9c [5.15d], which has yet to see a second ascent.)
Change went unrepeated until Stefano Ghisolfi redpointed it in 2020. Ghisolfi described the route as: "A mental and physical fight that took me more than one month and two trips to Flatanger, it ended today with a bloodbath that lasted more than one hour of climbing to complete the 185 moves and 55m of Change."
Earlier this summer, Seb Bouin made the third ascent of Change. While Bouin had been crushing in Flatanger this season—repeating 5.15a and making an FA of 5.15b/c—he wasn't really considering trying Change because it was "too bouldery, too weird, too bad for the shoulder." But once he saw Swiss climber Alex Rohr working out the crux beta on the lower pitch, Bouin decided to give it a go. He sent the route within a few weeks.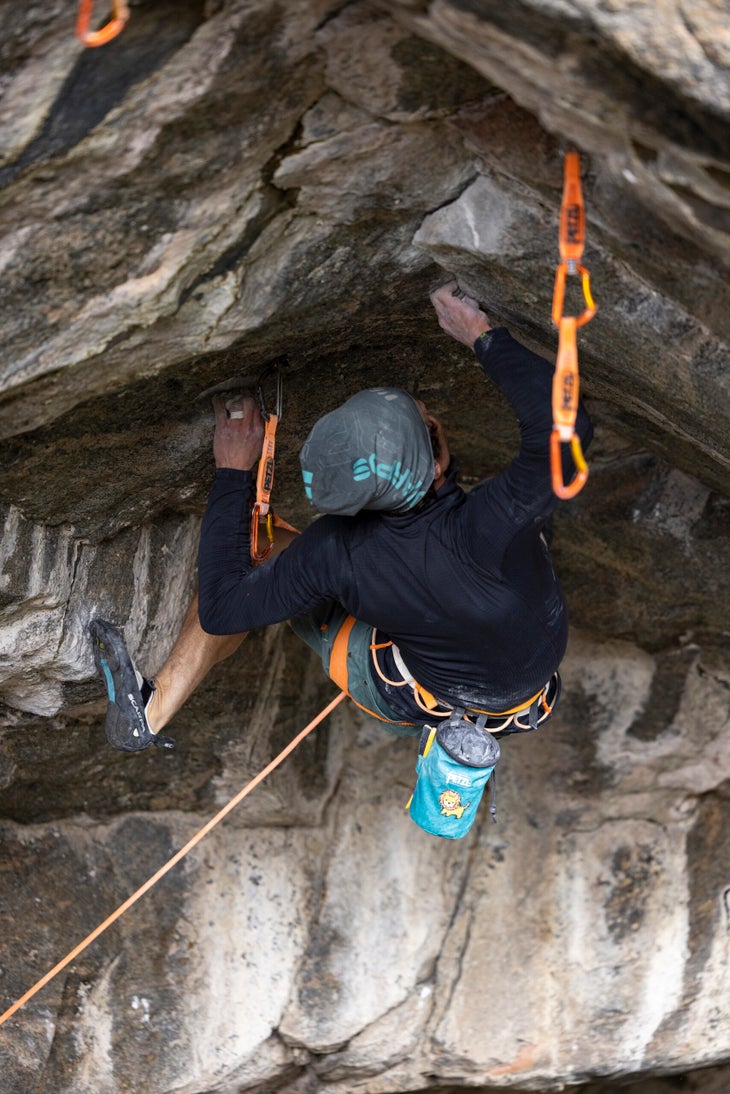 So who is this Alex Rohr?
Rohr resides in Bern, Switzerland, and was born into a family of mountaineers. "I grew up climbing in a very Swiss way," Rohr says. "I was walking on crampons before I ever heard of sport climbing. My parents were both mountaineers and they brought me to the mountains."
He had an affinity for the mountains bred into his DNA, but didn't begin sport climbing until he was 16- or 17-years-old when some friends took him out for the first time. 
"I got into sport climbing pretty late, but from the first moments I started training for it," Rohr says. "I didn't see climbing as some sort of leisure activity, I wanted to be good at it. I got better very fast in the first years."
This obsession with being a great climber has paid off. Now, at 26-years-old, Rohr has sent several pitches graded 9a (5.14d) and harder, including Jungle Speed, The Illusionist, and a first ascent of Back off Beyond. Since 2017, he has made five trips to the Flatanger cave to test his metal on the world's hardest sport climbs.
On August 12, he sent the first pitch of Change, despite a season of hideously wet weather and seeping holds (Rohr would start every climbing day by warming up and drying most of the holds on the route with a paper towel). Rohr took a phone call with Climbing Magazine from inside the Flatanger cave to talk about his ascent of Change and his life as a climber.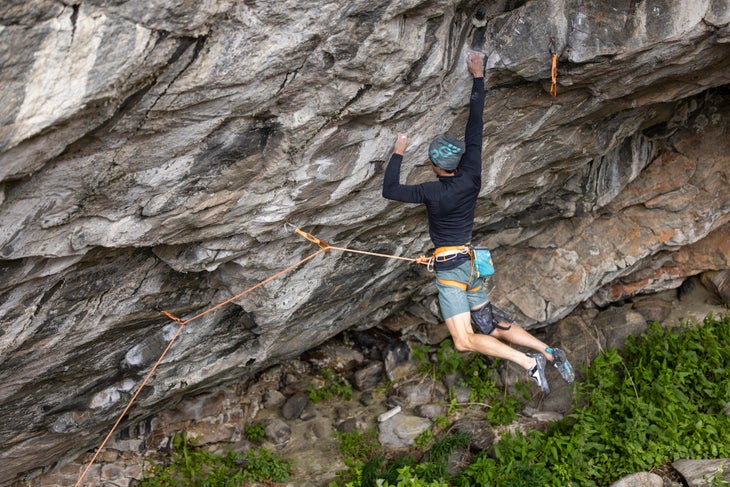 The Interview
Climbing: Was Change your first route of the grade? 
Rohr: Yes, it was. I was super close on other 9a+s, but I was really unlucky last year. I had injuries hit me for the first time ever—dislocated shoulder and knee problems as well. I was super close on all the routes I tried but it never worked out. This year everything aligned for the next step. I was in good shape physically, mentally in a good place, and also the body was fully recovered from my injuries. All I needed was to keep going on that project.
Climbing: I can't imagine that climbing Change with an injured shoulder would be an easy thing to do.
Rohr: No, not at all. When I first tried it in 2019 I had some weird pop in my shoulder and I quit trying the route because I felt it wasn't going to happen. You just load the shoulder in such a weird way, you twist it and almost dislocate it to get that crimp in the roof. It really didn't feel good. This year it all changed. I did a lot of physio work and I also changed the method—I went from one hold higher into the shoulder which worked perfectly fine, then it was all much better. And I also feel because of all the physio work my shoulder was stronger than it was before.
Climbing: What were you doing to prepare for Change other than physical therapy?
Rohr: This was the first time I started to train specifically for a project like that. Because it's so bouldery and the crux is so weird I decided to build a prototype in my climbing gym at home. I have a wall where I can change the angle and had a roof dihedral the same way the crux is in Change and would just try to go from one crimp to another on a completely horizontal roof.
Climbing: Do you intend to climb the second pitch of Change in the future?
Rohr: At first I thought never ever, because that first pitch felt so hard. But I figured out that it was mostly because of the conditions. The climbing is my style, and because I'm rather flexible I could really use Adam's beta. On the send I was actually pretty fresh clipping the anchor. By the time I clipped the anchor I was like 'Hmmm, that really wasn't that bad.' Then I started thinking that climbing the whole route might be possible for me. Not this year, but maybe if I come back in the future with more training.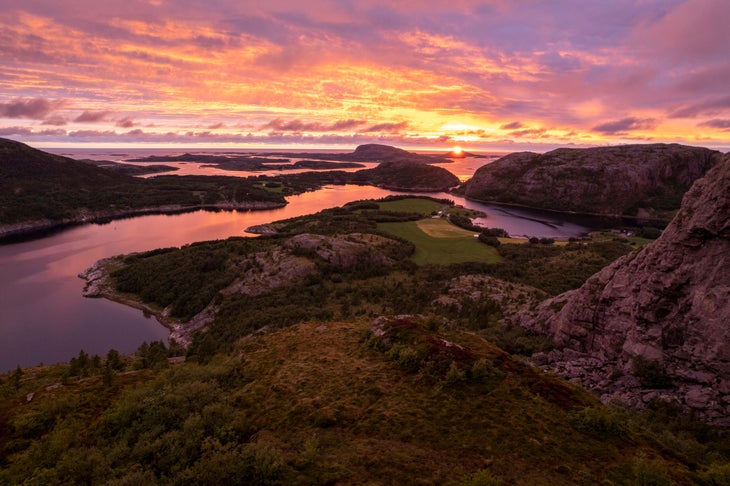 Climbing: What feels special to you about the Flatanger Cave?
Rohr: [Laughs] That's a good question, this year I thought about that a lot. We had so many days that were so disgusting, but I think the conditions here are better than anywhere else in Europe during the summer. There is a lot of rain and seeping holds, but the weather is much cooler here. The climbing is my style and is really unique. You can try so much and so hard. It's this whole combination—great rock, very nice scenery, cool conditions—it's the whole package that makes it good for climbing. Every time I come back it feels like it's even better than I remembered.
Climbing: Do you think that the obsessive part of your personality is what allows you to climb at such a high level?
Rohr: Maybe, but I think that it sometimes comes at a price too. It helps me a lot to be motivated everyday to train and always have goals I want to achieve. But I also put a lot of pressure on myself because of that. Sometimes I might not enjoy it as much as other climbers do, so I need to be careful to also have periods where I go climbing just because it is cool and there is no goal, just moving on rock and enjoying it.
Climbing: Do you think that when you find those moments that's when you climb the best?
Rohr: Yes, for sure yes. When I sent Change the conditions were so bad that I thought there was no way, so the pressure was off. I felt like that try had 10% more power than any other try before. Climbers today are very focused on the beastmakers and training to climb with a lot of power. I do that, but I also try to do a lot of training on how to send, how to be in that place mentally where you just flow. I find that very interesting. You learn a lot about yourself and in the end it helps you to climb harder, I believe.