Ball Nuts and Big Bros: Conquering No-Fall First Ascents in the Desert
Heading out the door? Read this article on the new Outside+ app available now on iOS devices for members! Download the app.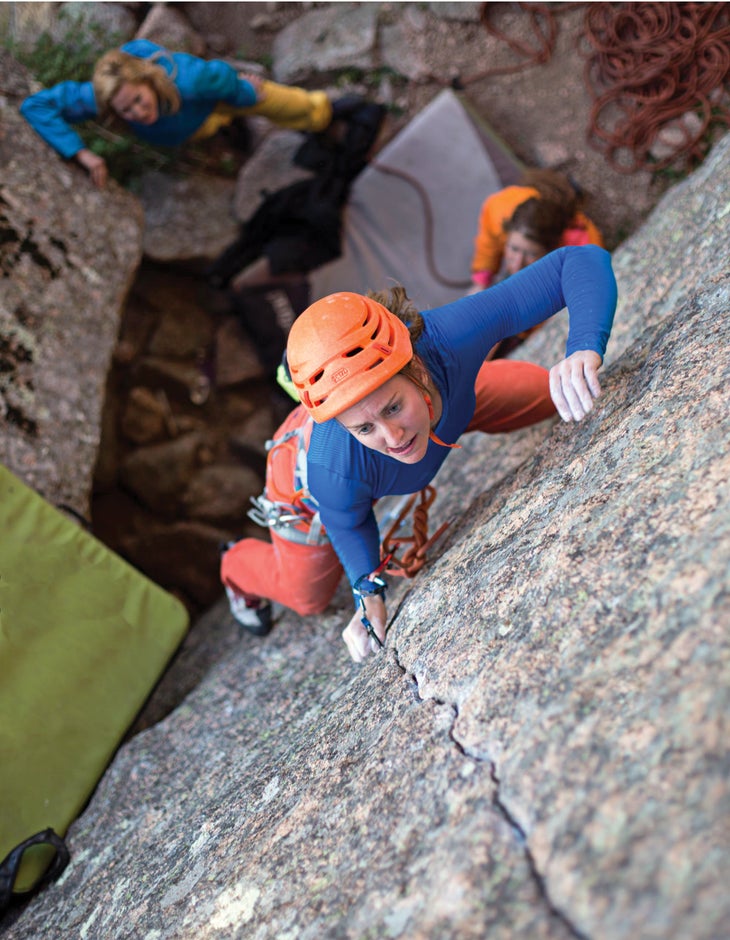 "How do you know if the gear is good enough?" a climber asked Pamela Shanti Pack and me over margaritas at our favorite Moab haunt, Eddie McStiff's. I locked eyes with Pam and noticed the orange paste covering her body and mine, a unique combination of dirt and sweat straight from the Utah desert. We grinned menacingly at each other,both picturing the new routes we had just discovered—lines that made our palms sweat and hearts flutter at the thought of the bold leads they would require.
"You know it's a good piece when you don't fall on it," I said after some thought. We all laughed, even though the pit of anxiety in my stomach cut just a bit deeper at the thought of getting back on my undone line. It was about 75 feet, consisting mostly of a less-than-fingertips crack with the rest of it completely blank. The only solid placement on the route was a horizontal .5 cam about 40 feet off the ground. And who knew what Pam's route held; it actually looked more like a cave with monstrous, dark openings, and as for the gear—like many of Pam's infamous routes—it definitely required multiple Big Bros.
But despite the terror that comes with having a tick list that involves more groundfall potential than not, Pam and I crave the adventure of finding, working, and (hopefully) sending new routes, as well as the anxiety-filled torture that taints it all. Call us crazy, but we love this aspect of climbing: diving into the unknown and trusting that our passion and experience will lead us to success. We must be reasonable about our personal strengths, but we must also dare to expand our comfort zones.
Pam and I met for the first time in Vedauwoo, Wyoming, during summer 2015. She was spending yet another season there putting up offwidth first ascents that were most likely unrepeatable, and I was just about to step into my own world of establishing thin face routes. Inverting on offwidth boulders, we laughed together at the fact that I always seemed to get stuck upside down—offwidth climbing was NOT my forte—but the shared laughter through suffering sparked our friendship, despite the fact that our climbing styles and objectives were as different as can be. Maybe opposites do attract.
In March 2016, we met up in Moab to explore the limitless potential of the desert, a potential that is tripled when you look at the endless fissures just a bit differently—perhaps with a little more commitment and gumption.
"I've seen some tiny cracks up in Longs Canyon," she said a few days into the trip.
"How tiny?" I asked, eyes widening with excitement.
A few days later, Pam was towing nine-inch cams and Big Bros up wide cracks, and I was stuffing Ball Nuts and RPs into fingertip cracks. I was going for a headpoint style, practicing the moves and figuring out the gear on toprope before leading. It usually means there are a few areas where you cannot fall on lead. My route was 75 percent no-fall zone; any sort of whip could result in an immediate groundfall or gear pulling and then hitting the deck. Tiny crimps led into a crack that was slightly smaller than the space between the panel and a car door when it's shut—I could barely stuff my already-small fingertips in it. The second half of the route was much easier face climbing, but after that one good cam halfway up, there was no gear and the friable holds did not inspire confidence.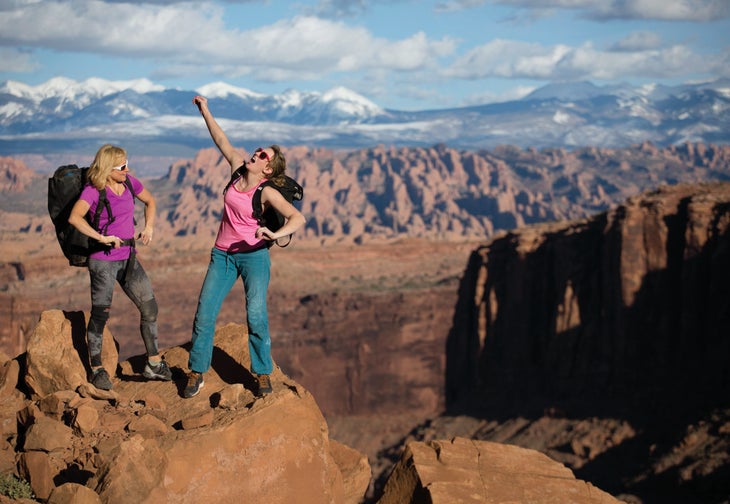 Meanwhile, Pam's cave route in Day Canyon, just a few miles from my route, resembled a giant mola fish with its mouth gaping open. You couldn't miss it, even if you were driving 75 mph down the road a few miles away. To me, each of the pitches looked dark and lonely, but to Pam, it was another daring offwidth adventure. When she described the route to people, her upbeat tone of potentially heinous falls glossed over the fact that it was really dangerous. She debated giving the first two pitches a caving rating, the third a canyoneering rating, and the invert exit a classic 5.11b sandbag.
The next three weeks were spent eating sugar cookies and drinking too much coffee in the morning before hiking to our routes. Pam had multiple lines she bounced between while I became hyper-focused on my one line. The crew of partners came and went, as did the level of skin pain. Sometimes I would head to Day Canyon to support her and sometimes she would come to Longs to cheer me on. Rest days were spent hiking around, sitting in a hot tub, and online shopping. Embracing femininity is important to both of us, so we would add bikinis and high heels to our virtual shopping carts to make up for the daily sweat, dirt, and scrapes.
But that was all just a distraction from the unpredictable afternoons of dangerous climbing. These kinds of first ascents, which can be somewhat safe during the projecting process thanks to extra gear and topropes, loom with the unnerving goal of free climbing them. No detail can be overlooked for a slightly better gear placement, easier sequence, or a solid hold. Pam once slid out of a 5.13a invert roof and swung head first into the roof, getting such a severe concussion that she couldn't remember her name or where she was for a week. When you test limits, sometimes they test you back.
After about four days on my project, I figured out that some pencil eraser–sized RPs would fit in the crack when stuffed way back in there, not really set into anything. Other than a tiny Ball Nut in the very beginning of the route, this was all that would protect me for the first 40 feet. The sketchy RPs could hold static body weight, but a dynamic fall would be risky. For the blank top half, I resorted to two small knife blades.
"Those are going to rip right out of the soft sandstone," desert first ascensionist Kevin Chase said when he saw the gear. He was probably right, but I didn't want to bolt it and remove the fear factor, which is what attracted me to the route in the first place. After an anxiety-fueled mental debate, I decided to leave the three RPs fixed for the free ascent due to the impracticality of trying to forcefully put them in the crack on lead. Leave them fixed, they could pull and I deck. Place them on lead, they might not fit and I deck. I realized this debate wasn't even about my fear, which I would have to conquer either way; it was about what other people thought about the "legitimacy" of leaving the gear fixed on the first ascent. But this was about creating my own beautiful route, experiencing the satisfying release, and doing what was right for me. Did I trust the RPs? No. A fall on them would be out of the question. Did I trust myself? If I was going to commit to this route, the answer had to be a resounding yes.
Meanwhile, Pam was discovering that the rock quality on her route was incredibly poor, so placing bolts was tricky, and the crack was so wide that not even her 12-inch cams would fit. Plus, it was so dark in the cave that she couldn't see to place the gear.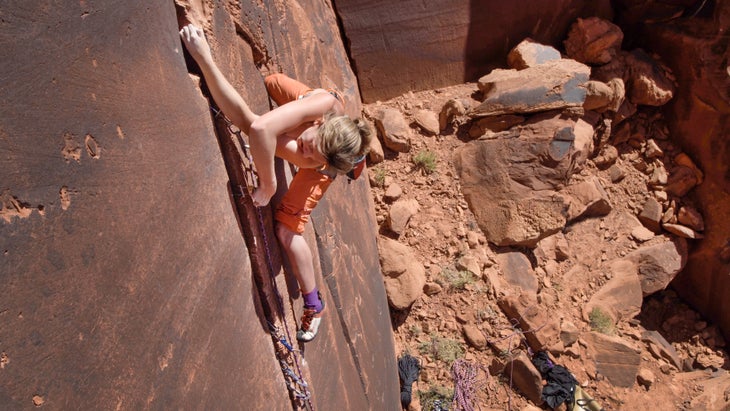 "My best Big Bro placements in the past have been blind anyway," she said, sitting in a booth at McStiff's and looking like she had just gotten into a bar fight before rolling in sand. I laughed at the ironic but sad realization. The mental satisfaction that she was going through similar doubts and laughing them off always got me out of a bad head space. Always staying positive is not realistic to me, but embracing the suffer contributes to success. Although Pam's and my routes were polar opposites, we faced the same issues: questionable gear, bad rock quality, and a high risk factor.
All or nothing is the name of the game with first ascents like this; falling is not an option. But no pre-planned send day is perfect. Weather, mental struggles, illness—there are always factors outside of our control. Before approaching the climb, I sat in my car and rambled on to myself about the worries that consumed my thoughts. It was boiling hot when we got to the crag, and my warm-up toprope burn felt sweaty and slick. With everyone standing around waiting for it to cool down, the tension was as thick as the heat. My thoughts switched rapidly from being grateful for a drink of cool water to the fear of a groundfall and back again. If I appreciate the nervous feelings, they have less impact on me.
"You've got this, Molly. You have it totally dialed," Pam said. Her words allowed me to trust myself, and I decided we had all waited enough. Heart pounding as I left the ground, I moved up the route and got to the crux hold 25 feet off the ground. I grabbed it incorrectly and spent a full minute adjusting until I said to myself, "Screw it, Molly, you need to commit. Now." With a loud roar and a one-arm lockoff, I latched the next hold. I've never felt such an adrenaline rush in my life. Chills shook my body, and my brain tingled with each progressive move over terrible gear. I didn't give my mind a chance to engage with thoughts of doubt. They chattered in the background while my inner animal performed.
I cautiously danced up the second half, only grabbing solid holds, and when I clipped the anchors and lowered, I tried not to vomit. My mind screamed, "That just happened!" while exhaustion set in. For the first time in a long while, I was truly satisfied. I graded All Hell Breaks Moose 5.13 R.
"I didn't want to toprope that last pitch anymore," Pam said right after sending Malice in Wonderland (5.11+ Slot-X) a few days later. "It was too scary, so I had to just lead it." Leading instead of toproping because it's "too scary"? Only Pam could say that and mean it.
The day she sent, she did her normal stretching warm-up routine and didn't tell anyone of her intention to lead it. After doing the first two pitches, she informed her partner she was just going to go for it. Similar to my split-second decision at the crux, Pam knew it was time to perform. Watching her climb that day, I was reminded of what is physically, mentally, and emotionally possible. When she reached the top, I thought she might puke, cry, or fall over from the battle, but in typical Pamela Shanti Pack style, she walked it off, nonchalantly adding another cruel masterpiece to her lengthy list of first ascents.
Photographer John Evans once said, "Pam, you are missing the part of your brain that feels pain, and, Molly, you are missing the part of your brain that acknowledges consequences. Together you two make up one whole brain." I am not a master by any means, but these routes are my heart and soul. They capture what it means to create your own path. My proudest first ascents have come during the biggest heartbreaks and hardships of my life. When things are difficult, we must turn to our core passions and values in order to overcome. If you let them, the worst times can lead to the best experiences.