Belaying 5.14: Lost Between the Roles of Parent and Climbing Partner
I wanted the send as much as my son. Invested emotionally in his success and full of doubt about my own belaying ability, could I be the partner he needed on his hardest route?
Heading out the door? Read this article on the new Outside+ app available now on iOS devices for members! Download the app.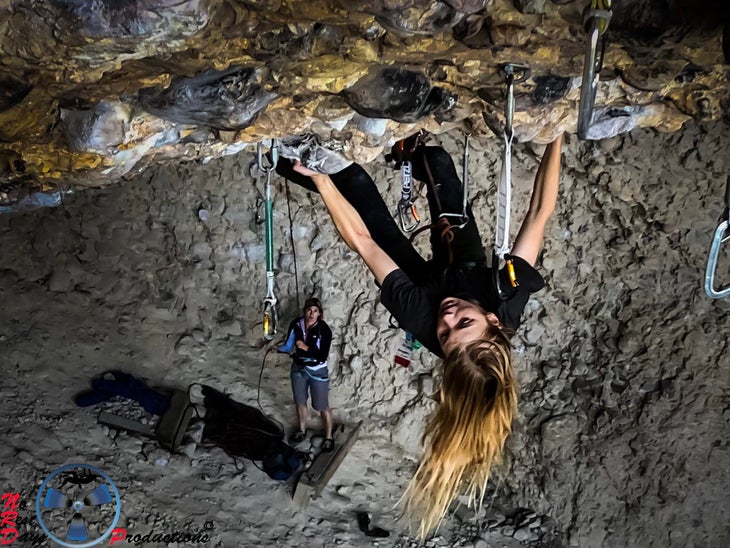 I threaded the rope through the Grigri and said, "Is your knot good? How do I look?" We performed the pre-climbing ritual like it was nothing.
Two hours earlier I'd paused at the fork in the trail, focusing on the process to avoid thinking about what lay a short distance ahead in space and time. Today's adventure would be everything I've ever wanted to experience in climbing: I'd be going for a goal that would push me to the edge of my technical and mental abilities. The rest of our party stops behind me. "Which way?" I ask. My partner doesn't hesitate, "Left, that will take us up. We'll always trend left, and we'll know we're on the right trail when we see downed trees. There's a lot of downed trees on the trail." I head left and take the lead, setting the pace. The group consists of myself and my two sons, Ed, 14, and Tanner, 6. We ascend the trail to The Pipe Dream in Maple Canyon.
I'd been reluctant to make this trip. Ed wanted to project a route—to test his ability—and he needed a ride and a belayer. I'd offered transportation, saying, "Can't you ask a friend to come climb and belay you?" Time after time I was met with a shrug and an expression I knew too well from my own days of climbing without a dedicated partner, "I've been asking, it's always a 'no.' Our training days are off, or they have family stuff."
Compartmentalized urban lifestyles are not conducive to spontaneous climbing trips. So I did my mom thing and we talked about it. We discussed what it means to go climbing with your mom and little brother, that things might not work out to climb. But contingency plans made in the living room change when you lock your belay biner and the climber clips the first bolt. That day each of us was in unchartered territory; this would be Ed's first outdoor 5.14 project and my first time belaying in a year.
Not belaying or climbing on the regular was the result of both injury and choice. Due to injury, I'd chosen to direct my training to hangboard workouts several times a week at the gym, weights, yoga, or random cardio. Beyond injury and a busy life, I harbored a secret fear. Two years earlier, while belaying Ed on a 5.12c at the gym, there'd been an incident. He'd reached the last bolt and pulled up two armfuls of slack for the clip. As he reached for the draw, his other hand melted off the hold. I forgot every breathing technique I'd practiced in yoga and lead climbing clinics. I weighted the rope and tried to pull up as much slack as I could, but it didn't do anything. His small body fell for what seemed like an eternity. Finally, he hung at the end of the taught rope that connected us.
I lowered him. With eyes wide and his body flushed with adrenaline, Ed's words seared into my mind, "Mom, why did you let me fall?" I went in for the hug, but he shrugged me off. My mouth raced into mom mode, "You're OK. Remember we're climbing right now, we're partners." He gave me a nasty look and stomped off. We were in a weird space where I was neither his mom nor his partner. At that moment, I felt like a complete failure and hated the sport.
I've belayed him since, but it's stressful. I have too many unresolved emotions about our expectations of each other. As a mom and a functioning adult, I'm able to recognize my limits and the complex nature of our bond as mother and child.
Back at The Pipe Dream, I wish that Tanner will pitch a fit, but he's on point. He climbs the bottom of the routes, plays with the crag dog du jour, and fulfills his role as number-one fan, calling out, "Go Ed, you've got this!" He wears his helmet and doesn't walk underneath any climbers. He is unfortunately well-behaved. My fate is sealed.
I do my best to belay Ed. I attempt to gauge the amount of slack that he needs, and I fail miserably. I short rope him on big dynamic moves and the crux clip. I am my own incompetent nightmare. Fear, doubt, insecurity, and all of their relatives descend on my psyche like the bats flying into the cave as the day wanes.
A climber from another party talks Ed through the crux moves, and he makes links. He moves up the route more fluidly and relaxed. We both enter the present. Ed climbs through sections, and we find that non-verbal space where I can anticipate his needs. I earn small victories as I pay out enough slack for clips and squat, weightless, when he boinks after a fall. But on attempt two he physically fatigues while I mentally fatigue. Each of our abilities misfire.
We talk about the day as we pack. I tell Ed that I'm sorry about the crappy belay. We're able to laugh about the resistance training I've provided him. He tells me he doesn't even care about the short roping. He knows I'm a conservative belayer, he's just psyched that I took him. He was happy to suffer through it to try the route.
Reality: Where Bullshit Goes to Die
We make plans to come back, but I know that I can't pack up the same baggage and suffer through another disjointed effort. I cash in on a perk of being a writer and seek professional help. I email everything I wrote up to the beginning of this paragraph to mental-training expert Arno Ilgner and ask for his thoughts. His reply blows my mind. Not only does he distill the problems into skill-based actions, but he gracefully calls out the story I am telling myself.
Arno tells me that as a parent, I have to balance being responsive to Ed's safety/security/comfort needs as well as his need to engage stress to learn and grow. Parents, he adds, tend to bias toward one or the other of these basic needs. Based on my account, he thinks I'm biased toward the safety side. He suggests I gain some balance by belaying less conservatively.
Overcome Your Fear of Falling
To learn how to incorporate falling as an essential skill, take our new online course Overcome Your Fear of Falling taught by Arno Ilgner, founder of The Warrior's Way mental-training program and author of The Rock Warrior's Way.
Arno then discusses The Big Fall, which Ed barely remembers. Arno states the obvious, "Well, it's time for Ed to accept some responsibility. Each of you accept responsibility for your part of the partnership. Ed accepts the fact that his clipping skills aren't up to par if he's pulling up two arm-fulls of slack. You accept the fact that you need to refine your belay skills." Ed and I talk about this. Ed says that he was just learning how to lead when it happened. He doesn't remember the event the same way I do, but he doesn't try to change my memory. We discuss the things that went wrong and what we can change in the future. We do the only thing that we can to move forward; we agree to leave The Big Fall in the past.
Arno also dismantles my fears about belaying Ed's first outdoor 5.14. He explains, "Climbing or belaying a 5.14 isn't much different than climbing/belaying 5.12. The climber will just fall more and the belayer will use the same skills regardless of the grade. What is your investment in him sending?"
I take a good bit of time digesting this because note to self: I am invested in Ed's outcome. There's no way I am going to unpack that billboard-sized revelation, so I consider why I felt insecure about belaying him. What had I been thinking? Was belaying 5.14 going to be physically difficult for me? Would I be looking for rests and hopefully a knee bar? Nope. I would be doing exactly what Arno stated, using my same belay skills. My investment in Ed's outcome had become a hurdle, but I am not prepared to take shortcuts. Arno says, "You have the responsibility to express any limitations you perceive in your belaying technique that you need practice with. And, express the overall motivation for working together as a partnership. Ed is probably motivated to send. That could shift his and your attention away from taking appropriate risks, getting to the send by hook or crook. That's not the best strategy for climbing or life."
How many times have I been a part of outcome-focused climbing trips and, as a result, taken risks that I wasn't comfortable with? More times than I can count. I decide I don't want to be there again. I want to be a better climbing partner. I realize that all the stories I've been telling myself are distractions from the fear that I am not a good climbing partner. I don't dissect this observation; I don't talk myself into a deeper belief of inadequacy nor do I attempt to rationalize my way out of this fear. I just acknowledge that this is my fear.
Arno's skill advice:
Find a balance so you maintain appropriate slack
Practice feeding and taking slack quickly
Learn a cushioned catch
Communicate before climbing
Cue: "Rocky Theme."
I take this skill to-do list, and I do what most people would do: I Google "how to belay" and watch Youtube videos. I do something I haven't done since I started climbing, I practice with a Grigri on the back porch. I rig a draw up on the deck, put on my harness, and put a rope on belay. I keep more slack between me and the draw than I did the last time at Maple, and I practice paying out and pulling in slack. I breathe and count how long each takes. I practice over and over.
Relearning the soft catch takes a bit of time. I've always belayed lead partners my weight or heavier; I never had to think about it much beyond doing a little hop. Catching a climber that weighs 25 pounds less than me means more slack in the rope and a big jump. This makes me feel better about keeping more slack out. Practice increases my confidence, and I begin to learn how the rope reacts with Ed attached to the lead end.
Communication proves to be the hardest skill, by far. Arno defined the lead climbers role, saying, "Ed has the responsibility to express how he wants to be belayed, where he'll have difficulty climbing, and what he wants you to do while belaying to help him. The 'non-verbal space' didn't last, did it? You can anticipate needs when both your skills are grounded in experience working together as a team. Right now you don't have that. So, don't expect things to flow. When physical and mental fatigue sets in, and it will, things fall apart. So, the above point is essential for creating practices, routines, and partnerships to guide the whole process."
When Ed and I discuss this, he stares me down and says," Talking like that will take me out of my zone." I ask, "Will it take you more out of your zone than being short roped or having too much slack when you feel like you are going to fall?" He doesn't answer, but I can tell by the expression on his face that he is considering my words. "When you visualize the route, visualize your moves and clips and vocalize what you need from me. I have been working on my belaying skills, but I am not a mind reader," I say. He nods. We make plans to go to Maple that weekend. Ed smiles and says, "It's just belaying Mom, keep slack in the rope."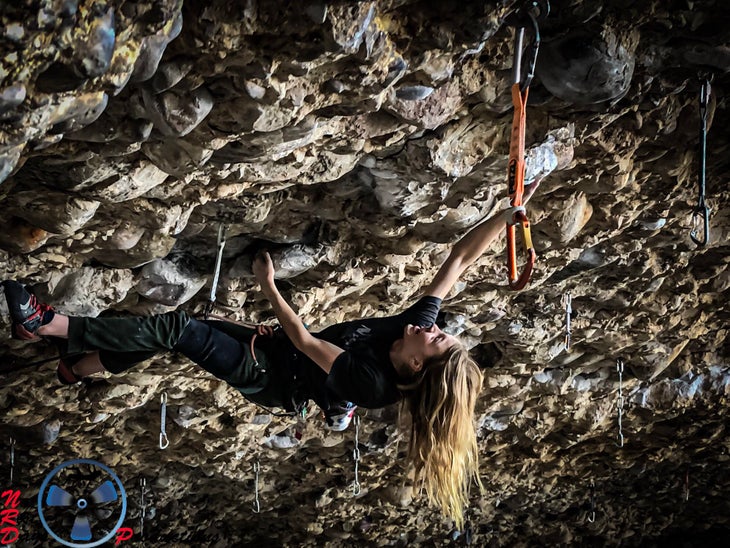 The Process Machine
Our next trip changes everything. We realize that Ed is not going to send his project without some serious work, and that we will all have to work as a team to make it happen. All in, we will take seven trips to Maple to spend nine days at Pipe Dream. Ed will also make an additional three trips with his dad for a total of 14 days. As we prep for the second trip, I start what we will come to call "the process machine." I tell myself and the climbing party that outcomes take care of themselves; all we can control is the process. It's no easy feat, balancing the needs of three people with very different needs and goals.
On the second trip I realize I have more pressing parenting issues to deal with than belaying, when Ed tells me that REM is country and he wants me to change the music. I can't even discuss this, so I don't. We start the day by going to the Zen Garden. Ed puts up two routes for Tanner, we eat snacks and chill before heading up the hill to Pipe Dream. Ed warms up on two 5.11's and puts up a rope on Toxic Watermelon (5.10b) for Tanner. While Ed rests, I belay Tanner. Tanner wears knee pads, asks me to take, boinks when he hangs, and yells, "Ffffiiiiiiisssshhhh STICKS!" when he falls, because I won't let him say "Fuuuuuccckkkk" like most every climber who falls off a route at Pipe Dream. Tanner starts talking about his first lead, and I know I'll be belaying for at least another decade.
When it's time for Ed to get on his project, we bicker about which bolts to stick clip or whether to clip any at all. Ed and I finally agree to stick clip to the third bolt. Later he will tell me that it was a good idea and stick clipping will become our new normal. That day he doesn't work the route, the route works him. The beta that he's gotten, and that people spew endlessly at him, isn't working. He has to figure out what works for him. He falls, move after move. He keeps pushing through despite not getting the results he wants. He spends over an hour on the route. It's getting late, and we discuss resting and doing another burn. We call it a day to avoid hiking out in the dark without headlamps.
Days 3-9: The Neverending Belaytionship
We discover that everything about going to Maple—the driving, camping, and climbing—gets easier. Everything except for the hike up to The Pipe Dream that is, which seems hotter, longer, and steeper every time. We start out at other areas and that helps to keep us jovial and lighthearted as we climb without any expectations or pressure. We pack all the essentials: glow sticks, cards, all the food, bug spray, and gallons of water.
One morning at the Schoolroom, Ed ropes up for a 5.7 and goes to start climbing. I spew the questions: "Hey, do I look good? Do you have a good knot? How many bolts is this?" Ed looks up at the route and counts, and then pats his harness. He chuckles, "er, duh." He has no draws. I smile and tell him, "You are just like every climbing partner I've ever had: psyched, strong, competent, and entirely human." Our dynamic has changed; I am starting to see Ed as a partner. I feel good about the way we interact and work together. Ed racks the draws then climbs the route. Later at Pipe Dream he tries a different warm-up, after doing the 5.11's he says he's going to climb to the fifth bolt of Millenium four times to warm up. He's been having trouble with some moves and he thinks this will be a good strategy. It is. He links the lower section of the climb with his own beta. On the way home we talk about how we can be even more dialed for the next trip. He orders a pair of rubber knee pads.
Somewhere around day seven, we all malfunction, and our interpersonal skills flail hard. It's a day we endure, not that we enjoy. Ed says that he guesses we'll never come back to Maple. I shrug and say, "Nope, we can do hard things. Besides we can struggle here just as easily as at home. Let's plan our next trip now." We get through the day, and each of us makes amends and commits to focusing more on the process and being a part of each other's success.
Meanwhile Ed spends more time on the route and dials in his beta. Millenium, 5.14a, is 18 bolts of the most amazing climbing Ed has ever experienced. The first five bolts are a mass of power moves, comparable to a 5.13a (making it not the best warm-up, after all). The next three contain a double knee bar rest, followed by five bolts (Ed only clips two of these) of crux moves: left hand to a jug, right to another, left to a sloper, right to a block, clip, cross with left hand to a sloper, high left foot, left kneebar, left hand to an undercling, right hand to a crimp, left knee-scum, clip, left hand to a pocket, high right heel hook, right hand into a cubic sloper, left hand into an intermediate, throw with left hand to a jug. This is followed by a five-bolt sequence of endurance moves to the chains.
Over the course of the nine days that Ed and I work the route, Ed takes so many falls that I don't think about them anymore. Paying out slack and taking it in are not automatic, but pretty damn close. The dynamic has changed since day one. It's not just the skills practice and the repetition that have made the difference, it's recognizing that projecting has to be something that we all want to do. We must be mutually invested in everyone's success, however they define it. On day nine, Ed has reworked his warm-up. He climbs two 5.11's and puts a rope up on Toxic Watermelon for Tanner, then rests and does a hangboard workout. He climbs strong and makes it to the last move below the chains. He rests and goes again at 6:30 P.M. The cliff has nearly emptied. It's quiet and peaceful. I think how perfect it would be if he sent. But he doesn't. He falls at the tenth bolt. I lower him, and I feel his disappointment like it is my own. I walk his flip-flops over to him and say, "strong effort." He sits in the dirt for a long time, regrouping. School starts in less than two weeks. Our window for spending four days a week at Maple Canyon is closing. I pull the rope, stack it, and pack up. I give Ed his space, and Tanner and I head down the trail. When we all meet up at the car, Ed's mood is mellow. We eat the rest of the snacks and drive home.
A week later I'm back-to-school shopping in a brightly lit big box store when I get the text, "Ed sent his first 5.14a at age 14 on the 14th day of working on it." That billboard-sized revelation that I didn't want to unpack hits me at 100 mph. All the work we've all done, what we've learned, our mistakes, our victories, these are the experiences that make us stronger as individuals, better climbing partners, and a more cooperative family. Damn straight I am tied to the outcome, because I am committed to the process and always have been.