Brittany Griffith, Worldclass Chef and Climber, Is the Ideal Expedition Partner
"She's my favorite international climbing partner," says Kate Rutherford. "She can make ramen and tuna taste gourmet."
The Samburu goat herder whittled a piece of cedar near the basecamp where Brittany Griffith and three other American climbers were staying. The Americans had come to establish what became 100 Percent Not Losing (IV 5.13; 1,400 feet), on the southeast face of Kenya's Mount Ololokwe. Griffith cooked beans, rice, and veggies for her partners and the herder. She communicated to the tribesman that she needed a spatula, using hand gestures, laughter, and her three words of Swahili. A few minutes later, he presented the "gypsy" with a carved spoon, one she still uses daily at her home in Salt Lake City, Utah. For Griffith, traveling, climbing, and cooking have allowed her to connect with people the world over.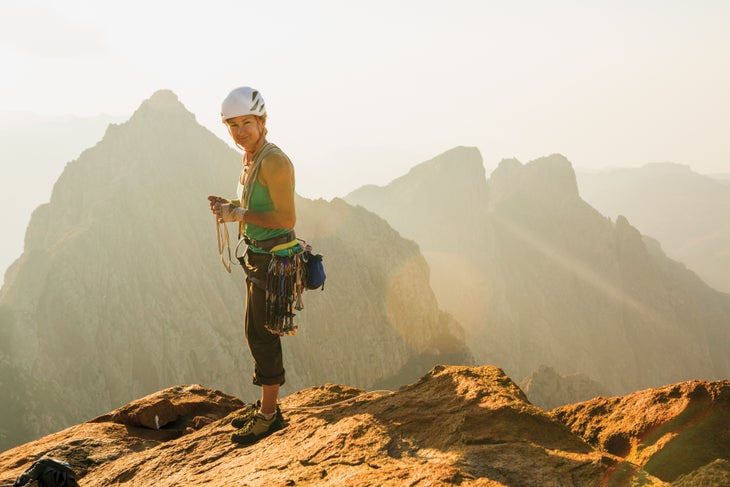 The 5'3" Brittany Anne Griffith, or "BAG," has been ubiquitous on the world climbing circuit for two decades. Now 48, she's climbed 5.12 in over 50 countries, including Algeria, Korea, and Cuba. From sending Smith Rock's Oxygen (5.13b), to the 120-foot crack Trail of Tears (5.13b) in North Wash, Utah, to freeing Moonlight Buttress (V 5.12d), to her first ascents of 10 Pounds of Tequila (VI 5.12+) in Venezuela and Battling Begonias (V 5.12) in Yemen, Griffith is a rennaissance woman, known not only for her diverse climbing ability but also her black belt in taekwondo, competitive mountain-biking career, and, most importantly, culinary skills. Griffith's self-described "Gypsy Kitchen" cooking style involves using available ingredients to produce food that brings together people across different cultures.
"I was outside as much as I could be," says Griffith of her childhood in Ames, Iowa, an agricultural town of 50,000 people, 20 miles north of Des Moines. The oldest of four siblings, Griffith grew up independent. Her mom, a nurse, remarried three times, and Griffith often babysat her younger siblings. When Griffith was six, her mom bought her an Easy-Bake Oven; Griffith cooked the seven pre-packaged meals in a week and then started making her own recipes. At age 12, she prepared the family's Thanksgiving turkey. In high school, Griffith played basketball and softball and ran track. In college, she earned a black belt in taekwondo—and caught the travel bug. While at the University of Iowa in Iowa City, Griffith took a semester abroad in London, England. "That was mind-blowing," says Griffith, who traveled to eight European countries in four months. Initially, Griffith felt overwhelmed. She washed her hair in the sink to avoid interactions at the communal youth-hostel bathrooms. But by the trip's end, she became comfortable. "I knew that I wanted to travel. I just didn't know how I would do it," she recalls.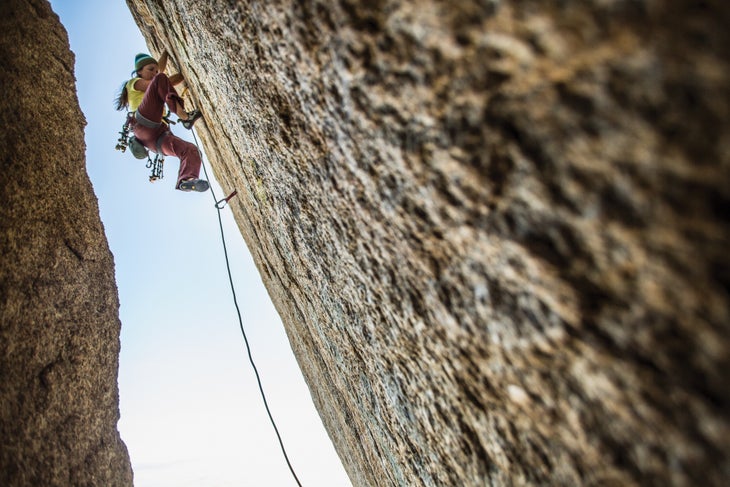 In 1994, after college, Griffith's then-boyfriend asked if she wanted to go on a climbing road trip. Though she'd never been climbing, the idea of travel appealed to her. On the drive from Iowa to Vedauwoo, Griffith read John Long's book How to Rock Climb! She learned to tie a figure-8 and equalize an anchor before ever touching rock. She climbed in Poudre Canyon, Colorado, City of Rocks, Idaho, and Little Cottonwood Canyon, Utah, before ending up in Bend, Oregon. Low on money, Griffith worked at a gymnastics gym in Bend, teaching taekwondo. When her boyfriend wanted to buy a house and stay in Bend, Griffith hit the road.
For the next few years, Griffith followed the 1990s sport-climbing circuit, going to Rifle, Smith Rock, the Virgin River Gorge, and Buoux, France. In 2001, she spent a year racing downhill mountain bikes at a professional level, competing in a couple of World Cups. To her mind, she was better at biking than climbing. "I'm not a very talented climber," Griffith says. "I'm brave and like adventure. That's really the only thing."
Despite her aptitude at mountain biking, Griffith returned to climbing. She painted houses. She babysat. She worked odd jobs, living out of an RV with her then boyfriend, pro climber Joe Brooks. "I just wanted to work so I could pay for the next tank of gas in the RV or the next flight to Paris," she says.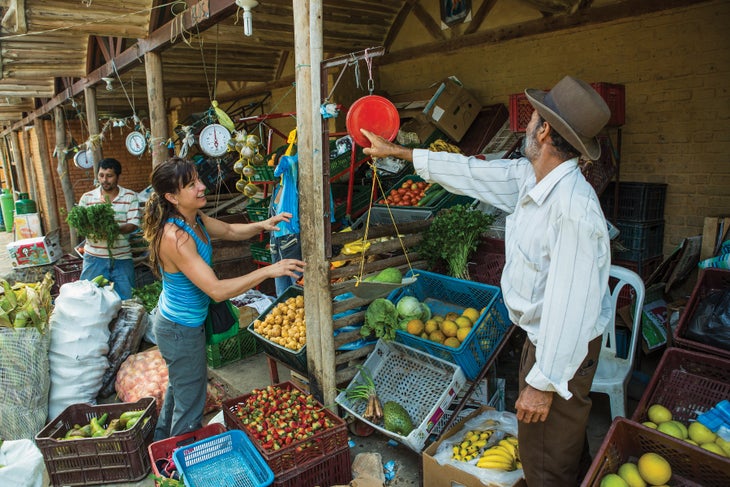 During that period, she went to Outdoor Retailer where she met representatives at Five Ten. She transitioned to building trade-show booths and driving Five Ten's rental truck to the trade show—her first industry jobs. "I never had the approach of 'What can you do for me?' It was always 'What can I do for you?'" says Griffith. That attitude helped her get work with Patagonia, where, since 1999, she has helped produce the Rhythm climbing line and worked as an event coordinator, visual merchandiser, catalogue copywriter, and product tester.
In 2013, Griffith, Andrew Burr, and Jonathan Thesenga traveled to Socotra Island off Yemen. Here, Griffith made one of her proudest first ascents, Battling Begonias (V 5.12), in the Haggier Mountains. On this trip, Griffith felt more compelled to take the reins after spending two days amidst the political unrest of Sana'a. When the team left Sana'a, they hired a fisherman to take them deep-water soloing. After they finished climbing, the fisherman sold his catch to another vessel. The other boat's fishermen didn't like being photographed by Burr and started firing shots. "Nothing in climbing could scare me more," she recalls. At the base of Battling Begonias, Griffith grabbed the rack, leading the lower pitches, the fourth-pitch crux (a 5.12 finger-crack dihedral), a 5.11 double-crack pitch, and then runout 5.10 to the top. "I just wanted to feel not scared," Griffith says. She found comfort on the rock.
"She's my favorite international climbing partner," says Kate Rutherford, who has climbed across the world with Griffith, entering the Croatian International Climber Festival's big-wall speed climbing contest, where they raced up a 130-meter 5.10 in 12 minutes. While establishing 10 Pounds of Tequila, with Rutherford, Thesenga, and Mikey Schaefer on Venezuela's Acopan Tepui in 2010, Griffith brought 10 pounds of tequila so the team could drink Gatorhitas cocktails (tequila and Gatorade). It was a welcome treat while they labored over eight days to establish their 1,100-foot route. Earlier this year, Griffith and Rutherford traveled to Torres del Paine, Patagonia. However, rain forced them to hide in the Japanese Camp. For Rutherford, Griffith's cooking made the grim weather bearable. "She can make ramen and tuna taste gourmet," Rutherford says. While rain and snow pounded the mountains, Griffith made coconut sardine Thai stew served over rice, garnished with fresh mint and oregano.
"She takes whatever is available and makes a dish out of it," Salt Lake City climber Steve Maisch says. "You'll have a bunch of random things, leftovers from the previous night and a can of something, and she'll make a good meal out of it." During a 2016 summer trip to Rocklands, Griffith prepped an English breakfast of eggs, beans, and bacon for Maisch and the other boulderers she stayed with. At night, they ate steak and stuffed gem squash, which she's since started growing in her backyard. "It's a genuine way for me to express emotion," says Griffith of cooking for her fellow climbers. "It's a way I can care for people." Perhaps it goes back to looking after her younger siblings in Iowa.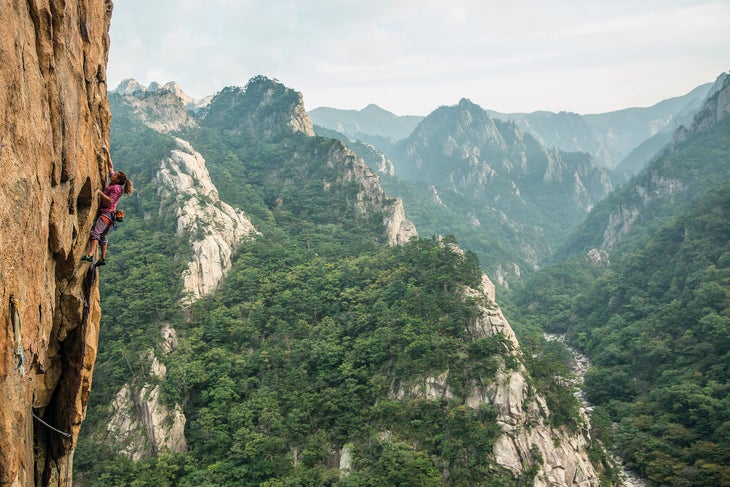 "Climbing is everything: It's my job, it's my exercise, it's my community, it's my lifestyle," says Griffith. "But food is my passion." While many climbers want to tick harder grades, Griffith's goals include putting together a Gypsy Kitchen cookbook. So far she has filled three composition books, and is writing a hundred words a day. Her writing explores the relationship between climbing, traveling, cooking, and how people connect. "You can cook an onion and a potato with someone and have a meaningful experience," she says.
In 2011, Griffith traveled to Zion National Park to free Moonlight Buttress. Unfortunately, her partner caught food poisoning. I'd been trying the route as well, and Griffith texted me. The next morning, Griffith and I made a free ascent of the route, swinging leads. After our first day out climbing together, we went to Springdale, just outside the park, and drank margaritas. Griffith assured me that she made better ones at home.
Over the next six years, I would stop by Griffith's house to bake a pie for a trade-show party or do a tabata workout next to her garden. Within five minutes of arriving, I'd be carrying her lemon tree outside, or julienning carrots or grilling meatballs for a catering event, which she does a half-dozen times a year. Once, I offered to mow her lawn—but then I broke the mower. Living out of my car at the time, I was gripped about the cost of repairs. Griffith shrugged off the damages and made me a sandwich. It was incredible: Two pieces of freshly cooked bread (she learned how to bake bread in the sand in Algeria), deli meat, and vegetables from her garden. A simple sandwich, but full of goodness and flavor. While the fresh, high-quality ingredients helped, it was Griffith's preparation that made the sandwich special. As she says, "When I cook for someone, it's always with affection."
This article was originally published to climbing.com in 2017.