He Climbed Denali On Crutches (And Then Skied It)
Vasu Sojitra lost a leg, but that hasn't kept him out of the mountains and going big.
Heading out the door? Read this article on the new Outside+ app available now on iOS devices for members! Download the app.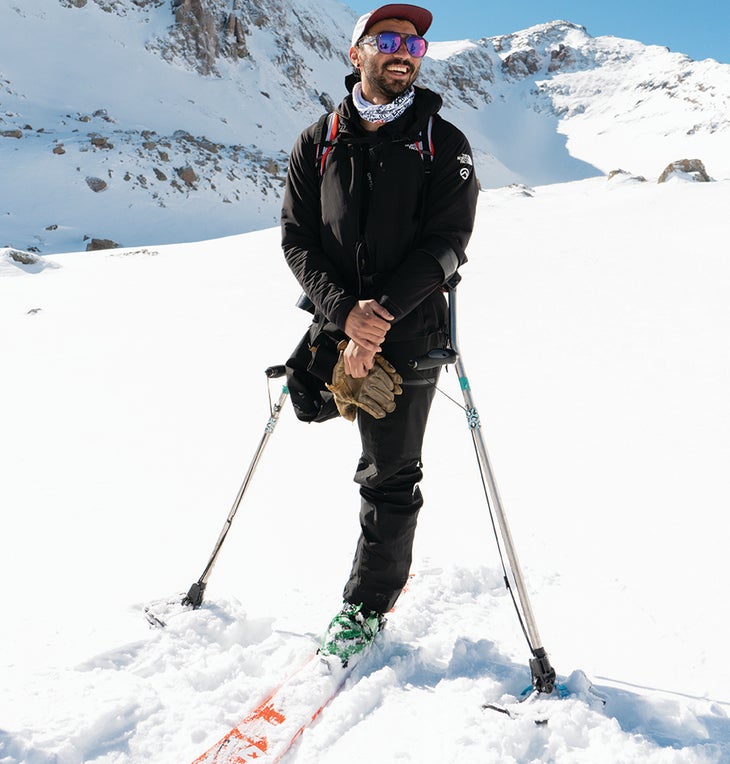 I was born in Hartford, Connecticut. My leg was amputated [due to septicemia] when I was nine months old. We moved back to India, where my parents are from, to Ahmedabad, when I was 2 and stayed there for five years. I was using a prosthetic leg and crutches and a lot of equipment that I was growing out of and breaking, and we moved back [to Glastonbury, Connecticut] for more support.
From my family I learned an Eastern ideology. We try to be as humble as possible and give back. A lot of it is also based on moderation and uplifting the communities that we are all connected to.
I got into skateboarding at age 10, from watching TV. The kids in our apartment complex were typical preteens—watching the X Games, Rocket Power, Johnny Tsunami. Just seeing other brown kids skating and doing extreme sports got us into it.
We went to [the resort] Ski Sundown … [My brother] Amir would go down moguls. He'd say, "Hey, you can follow me or I can just meet you at the lift."
I would decide myself. He would kind of weirdly empower me by being an asshole. That was, when I look back at it, a good learning experience.
I would occasionally follow him and take one or two turns, then fall, connect three or four, and pick myself up until I started connecting all my turns. I learned resiliency and how to do things on my own.
I went to the University of Vermont. Through our outing club I applied to take part in a backcountry avalanche-safety course, and a lot of us put our heads together to make those attachments that I use now [for ascending and skiing]. That took a lot. I was postholing a lot with some of those iterations.
A bunch of friends moved out to Bozeman in 2014, after Vermont. I spent six years as adaptive sports director at Eagle Mount Bozeman to get more people with disabilities out skiing and climbing and rafting and kayaking. I learned the vast diversity that is within the disabled world. It broke down my stigmas as to why other people aren't able to do the things I'm doing, based not just on their ability but societal factors: access to education, caregivers, medicine, drugs and prosthetic equipment, transportation, mentorship and opportunities.
It was an eye-opening experience, moving away from myself and more talking about the intersection of what it means to be disabled and brown.
One day I was skiing at Bridger during a powder day and an individual named Jack Taylor said, "Come join our trip … We're planning to ski Denali with another adaptive athlete [Pete McAfee]."
That lit a little fire. I don't like doing things alone; I do like engaging with other folks of color and others with disabilities.
I learned that slow and steady was the name of the game for me on Denali. [The climb-ski descent aired in the Warren Miller Film Tour.]
I haven't used a prosthetic in over 20 years now. I have a couple inches of femur left. When I do use a prosthetic I'm sitting on it. I am way more mobile with crutches. I have done it my entire life.
I would love to do Cho Oyu with a full disability team. And Manaslu with a full Asian American Pacific Islander team because of its history [first ascent by a Japanese expedition], a legacy.
Paving these paths is to make life that much easier for the next people who look like me or have similar experiences, to be able to connect in our natural spaces, because that's a human right.