Climbing Has a Diversity Problem. Cruxing in Color is Working to Change That
Heading out the door? Read this article on the new Outside+ app available now on iOS devices for members! Download the app.
To say that Cruxing in Color is a Meetup group doesn't come close to capturing the scope of what Shara Zaia and her diligent team of volunteers have accomplished in a little more than half a year.
"We aim to connect and educate and just generally inspire self-identified climbers of color in the Front Range area," Zaia explains. "We're trying to create more representation in the gyms and at the crags and break down these barriers that [make it] so hard for people to enter the sport, whether it's gear or how intimidating it can be to step foot in a space that doesn't feel like it you belong." 
The group was started by Jalen Bazile in 2019 to meet a need in the Denver area—the creation of  a community among racial minorities within climbing, a sport with only a small percentage of BIPOC participants. It was originally called Melanin Climbers of Colorado. They met every few months, and momentum was beginning to build right up until the pandemic. With everything on hold, Bazile decided to focus his efforts on diversifying biking instead. He turned the Meetup group and corresponding Instagram account over to Zaia, a local Assyrian American climber who had been participating in the meetups for some time.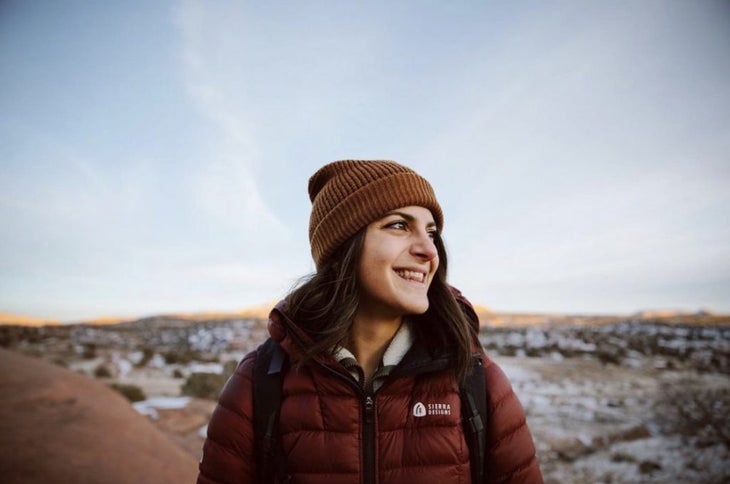 Zaia wasted no time rebranding the group, with Bazile's blessing, and expanding. What followed was a whirlwind of growth, that included the rebooting of events as the gyms opened up last fall, along with the growth of brand partnerships, outreach initiatives, and a donations program that helps POCs afford the essential (and expensive) gear needed to get into climbing.
The group is now able to offer reduced cost or free day-passes to local gyms, and through collaboration and giveaways with brands like Trango and Asana. The team at Cruxing in Color is also working on creating a scholarship program that would give POCs who can't afford gym memberships a way to join, and brainstorming future opportunities for workshops and considering festivals. This is all on top of organizing at least one meetup a month (there have been nine meetups since the group relaunched in September) and creating a robust presence on Instagram. Zaia does all this with the help of Enrique Tovar and Menesha Mannapperuma, as well as numerous other volunteers from the community. 
"Within our community there's such a wealth of knowledge we could leverage [to] help folks learn different skills for free. I think that there is such beauty in teaching and learning within the community," says Zaia. 
For her, this is all part of the community building effort that is at the heart of her work on Cruxing in Color. The climbing community has become an integral aspect of who she is, and through the original meetups she was able to find a safe space to grow her knowledge in the sport. At a recent meetup at Earth Treks in Englewood this same feeling was palpable among many of the 60+ attendees.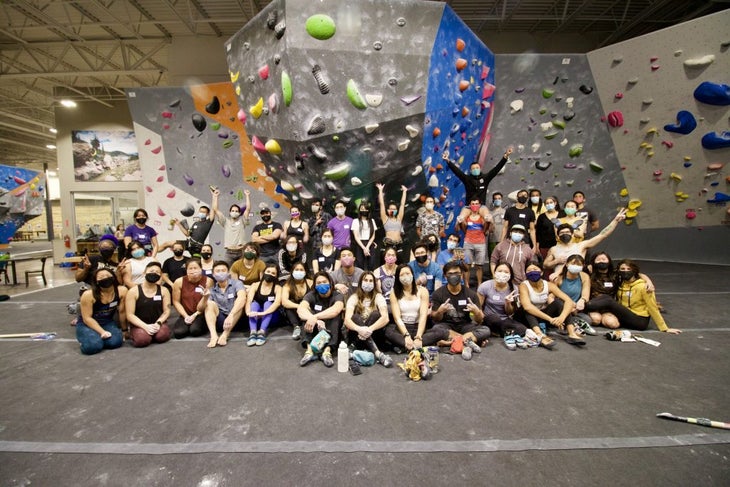 Ashley Xa and Emily Mair, two Earth Treks employees who had recently started going to the events, both expressed that it was wonderful to be surrounded by other climbers who resemble themselves. "It feels very like a safe and supportive environment, and it really does help when someone [who] looks like you is also climbing the wall," said Mair. 
This representation helps make people who would not otherwise feel at home in the gym more relaxed, explained Gabe Romero, who was attending his third event. "Growing up Hispanic in Denver I didn't really get exposed to this kind of stuff and it always seems like, not like a 'You're not welcome' thing, but the barrier to entry is high and you're not always comfortable going and starting a new thing," he explained. By creating this community where BIPOC people can see themselves reflected, those barriers are lowered. 
Others, like Holly Chen, didn't even realize she needed this community until she found it. Chen learned to climb three years ago from a group of people who were primarily caucasian. "I didn't feel unwelcome but I definitely felt a little off to the side," she said. "If someone is starting to climb now, I don't want them to feel the same thing—I want them to feel completely and 100% welcome in this community because we want them [here]."
These experiences are a direct result of the hard work Zaia and her team are putting in to making Front Range climbing more diverse and inclusive in a visible way. She is determined to provide and expand this safe space for any BIPOC climbers who need it and in this way is giving new life and identity to an already robust community of climbers.