Heading out the door? Read this article on the new Outside+ app available now on iOS devices for members! Download the app.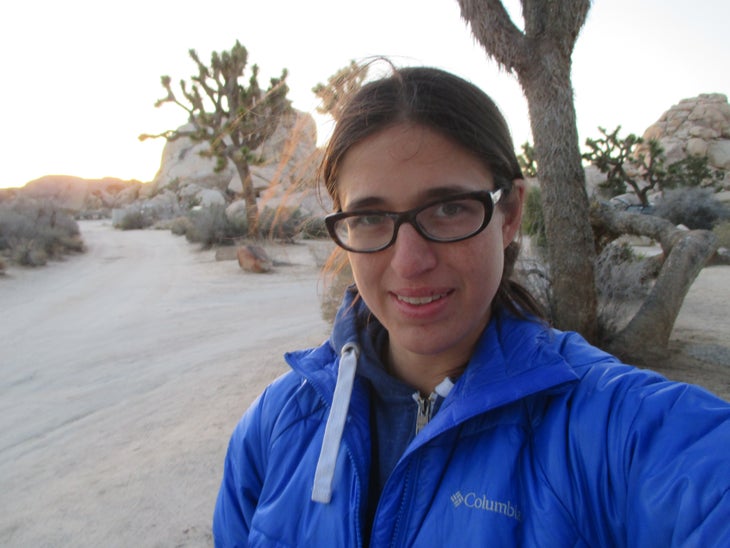 "Did you park your car where you usually do?" my dad asked. "Because it's not there." I ran downstairs to search the lot. My gray Acura was gone.
I called the police to report it missing. They didn't give me much hope of recovery. After the detective left, I sat on the balcony of my parents' Miami home and smoked.    
When I'd separated from my husband nine months earlier, we split everything right down the middle. We couldn't split the car and I wanted it, so we looked up the Blue Book value, and I paid him for his half. At 30, I hated having to move back in with my parents, so to stay sane I made plans for adventures. For years I'd wanted to climb the 3,000-foot cliffs in Yosemite. Miami was just supposed to be a stopover while I nursed a sprained ankle from falling down the stairs in Kentucky's Red River Gorge. My ankle was almost healed. I had already packed all my belongings into the car and was getting ready to get back on the road.    
Instead, I made a list of everything I'd lost in the car: hiking boots, tent, sleeping bag, cooking pan, winter jacket, and most devastating of all, my journal.    
The Acura had been the last thing my husband and I shared. Now it was gone. I grieved the loss of my marriage, my youth, and my journal. In its pages, I'd worked out the reasons for leaving him. I noted all the reasons I'd stayed—he stood beside me through tough days in graduate school, he stood beside me when we got lost in the Swiss Alps, he stood beside me when we had no money and only three cans of beans in our pantry. He stood beside me through everything, and then I had left him. We still loved each other, but I wasn't content living in the suburbs of Toronto far away from magnificent granite prows, mountains, and adventure. I carried a photo of El Capitan with me wherever I went. In the aftermath of my breakup, I told myself it would save me.    
Now without my journal to keep me afloat and without my car to take me away, I laid motionless on my parent's balcony, had a drink, and wept. While staring down at the ducks that waddled in a drainage pond below, I dropped my cigarette and it fell downstairs into the grass. The glowing red tip mocked me. I wondered if I'd be able to climb down and retrieve it. I had planned to go to the climbing gym to train, but the stucco building was right here. It didn't require a car. Jumping the veranda, I downclimbed the corner of the building, frictioning my bare feet to the wall. I had just lost everything, but at least I still had climbing.    
Over the next hour, I worked out a circuit: run down the stairs, circle around the building, scale the two stories to the balcony, repeat. The moves were easy, and it wasn't too high, sort of like a mini highball. I hadn't done laps in weeks. It felt great. The edges and smears, while a little precarious, were manageable. My ankle didn't even hurt.    
I'd lost track of how many laps I'd done when a police officer stopped me on the stairwell.
"What are you up to?" she asked.
"Climbing," I responded, shocked to be standing before a uniformed officer who had just interrupted what had been the best climbing session I'd had in weeks.    
"I'm going to go to Yosemite and make it to the top of El Capitan."  
The officer eyed me and said, "I don't see any cliffs around here."
I gestured to the bare wall near the balcony and offered to show her what I meant.
"No. That won't be necessary," she said, glancing at the wall. "Well, OK. Show me. But don't go too high."
I frictioned my right foot on the thin feature of the stucco. Pulling sideways on the edge and leaning my body to counterbalance my weight, I made my way upward. By the time I came back down the stairs, another officer was waiting for me. The first officer explained that my mom thought I was trying to kill myself and had called the police. This was not a new concern. As a conservative Cuban exile, she dreamed that her daughter would turn 18, get married, and have babies. She was convinced that any climbing or solo trip was a thinly veiled suicide attempt.
"Are you suicidal?" the second officer asked.
"Well, I'm pretty upset. My car was stolen today. It's definitely going to put a damper on my plans to climb out west." I described my Acura, and the officers told me they'd be on the lookout for it.    
"Don't climb any more buildings today, OK?" the second officer requested.    
Alone again, I watched the sun set over the drainage pond behind my parents' apartment, the sky neon pink, then fading to a deep blue.
My car was recovered a few weeks later. The detective called me and gave me an address in Little Havana where I could claim it. My dad and I celebrated the whole way over, but our joy ended when we saw all that was left was an empty shell. The seats had been sliced open, the foam guts spilled on the floor. The driver's seat had been removed, wires everywhere, like a heart pulled out of a chest. They had even stolen the engine. I had to pay $200 to have it junked, but before I left, I opened the trunk to find everything the thieves deemed worthless. My notebook. My hiking boots. A moldy tent. A cooking pan.
I climbed again in Miami a few times, but only in a gym. Getting my car stolen was the last push I needed to get out of Florida. Several weeks later, I bought my parents' van, built a bed in the back, and drove west through endless Texas horizons, California's Death Valley, and finally Yosemite. I scaled Pine Line at the base of El Capitan. It wasn't exactly my big wall dream, but it was enough for now. I looked up at the vast prow above me, the unmarked granite resembling the empty pages of the new notebook my mom gave me before I left Miami. With no possessions, no plans, and an unpredictable course laid out before me, I could go anywhere, be anything. The future was a wild, frightening, completely open line of blank stone, and the next move was mine.