Conrad Anker, Bold Ascents for Nearly 40 Years
The American mountaineer is among the most famous all-around climbers in the world and a prominent activist.
Photo: Galen Rowell / Getty Images
Heading out the door? Read this article on the new Outside+ app available now on iOS devices for members! Download the app.
This article is part of Climbing's ongoing Who's Who biographical study of climbing's all-time greats, achievers, and, in the case of Aleister Crowley and Leni Rienfenstahl, its most notorious and disreputable.
Conrad Anker (November 27, 1962) is an American climber, primarily known for his alpinism and high-altitude mountaineering. 
Anker is famous for a number of first ascents and expeditions, beginning in the late 1980s. He is among the most widely-recognized climbers in mainstream media, due to his appearance in prominent films like Meru (2015) and Torn (2021), participation in several notable National Geographic expeditions, friendship with figures like Jimmy Chin and Alex Honnold, and his 26-year stint as leader of The North Face climbing team (of which he also was a founding member).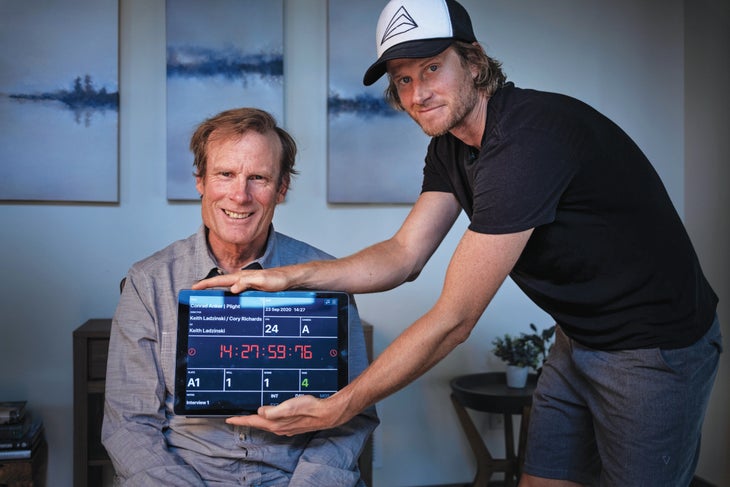 Outside of his ascents, Anker is known for discovering George Mallory's body on Mt. Everest (8,049 meters) in 1999. In 2016, he suffered a widowmaker heart attack during an attempt to make the first ascent of Lunag Ri (22,621 feet) with the late alpinist David Lama. Although Anker survived, surgeons had to place a stent in his left anterior artery. The incident resulted in his retirement from high-altitude climbing. 
Anker is a recipient of numerous awards, including Climbing's Golden Piton Lifetime Achievement Award, and co-founded the Khumbu Climbing Center in Nepal. He currently serves on the board of the nonprofits Protect Our Winters, The American Himalayan Foundation, and the Alex Lowe Charitable Foundation.
The Big Maybe—Revisiting David Roberts' The Mountain of My Fear
Early Life and Education
Conrad Anker was born and raised in California. Both his father and grandfather, who hailed from Big Oak Flat, outside Yosemite National Park, were avid outdoorsmen, and Anker was climbing from an early age, making an ascent of Mt. Rainier (14,411 feet), at 16. Anker graduated from the University of Utah in Salt Lake City in 1988, with a bachelor's degree in Recreation and Leisure (and was awarded an honorary doctorate from the institution in 2017). He joked that he only chose to attend because "the brochure showed mountains in the background."
While in college, Anker worked at a local mountaineering shop, where he met legendary climber Terry "Mugs" Stump. Stump would go on to mentor the young Anker, and accomplish several first ascents with him, before dying in a crevasse on Denali (20,310 feet) in 1992. Also while in college, Anker earned his first sponsorship from The North Face and co-founded the outdoor apparel brand KÜHL (originally Alfwear), which he and the other co-founders sold in 1989, a few years after lead founder John "Alf" Engwall died in a car accident.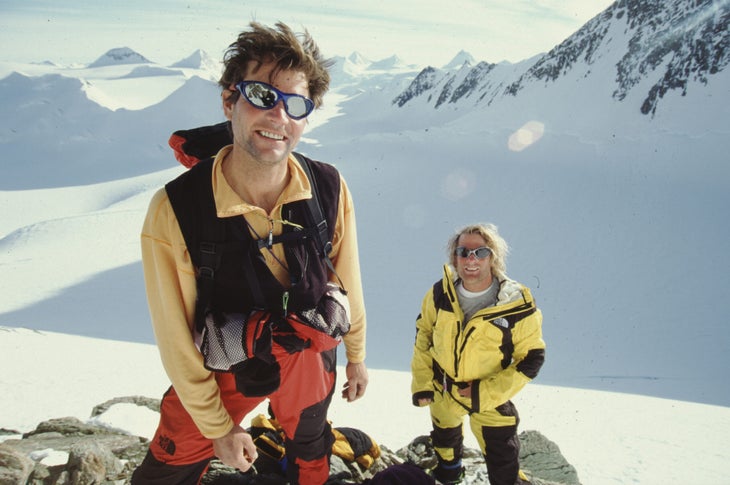 Early Exploits, Finding Mallory's Body, and the Death of Alex Lowe
Throughout the late 1980s and 1990s, Anker accomplished scores of first ascents around the world, from alpine climbs in the Alaska Range to rock ascents in Yosemite and Zion to far-flung international expeditions in regions such as Pakistan, Patagonia, and Antarctica. In the spring of 1999, Anker took part in the Mallory and Irvine Research Expedition on Everest (8,049 meters), attempting to uncover the fates of George Mallory and Andrew Irvine, who disappeared on the peak in 1924. Anker discovered Mallory's body May 1. The discovery made international news and saw him catapulted into the mainstream spotlight. 
To date, he has summited Everest three times, again in 2007 and 2012. During the former trip, (which he led), Anker and Leo Houlding became the first to free climb the peak's Second Step, while attempting to determine if Mallory could have done so during his ill-fated 1924 expedition. The section, which the duo rated 5.7, remains the world's highest-altitude free climb. Anker stated he believes it "possible, but highly improbable, that [Mallory and Irvine] made it to the top." He co-authored the book The Lost Explorer: Finding Mallory on Mount Everest (1999) about the Mallory mystery with late climbing writer David Roberts.
Anker was also a frequent partner and close friend of Alex Lowe, who died in an avalanche in October 1999 during a ski expedition to Shishapangma (8,027 meters), along with cameraman David Bridges. Anker, also present, narrowly escaped death. He went on to care for Jennifer Lowe, Alex's widow, and the couple's three children, before marrying Lowe (now Lowe-Anker) and adopting her children two years later. (Read this interview with Anker about his son's film, "Torn")
Meru, Heart Attack on Lunag Ri, and Present
Anker has remained a prominent climber throughout the 21st century, participating in more than two-dozen expeditions to the Himalaya and a dozen to Antarctica. Among other exploits, he became famous for a 2011 ascent of the notorious Shark's Fin on Meru (21,850 feet) with Jimmy Chin and Renan Ozturk, immortalized in an eponymous film released in 2015. The documentary portrayed both the successful 2011 attempt and a failed 2008 effort by the same team. Anker had previously attempted the wall in 2003, with Doug Chabot and Bruce Miller. 
Meru was one of the first modern climbing films to achieve widespread success with mainstream audiences. It won the U.S. Audience Documentary Award at the Sundance Film Festival and was also shortlisted for the Academy Award for Best Documentary Feature.
In 2016, Anker suffered a widowmaker heart attack at 20,000 feet, during an attempt to make the first ascent of Lunag Ri alongside David Lama (22,621 feet). Despite this, with Lama's aid Anker managed to rappel down and hike out to the team's advanced base camp. He was evacuated by helicopter to Kathmandu, where he underwent coronary angioplasty and had a stent placed in his proximal left anterior descending artery. Anker remains an active climber following the incident (putting up a new route in Antarctica with Chin only a year later) but limits his climbing to lower elevations to avoid cardiac strain. Today he lives in Bozeman, Montana.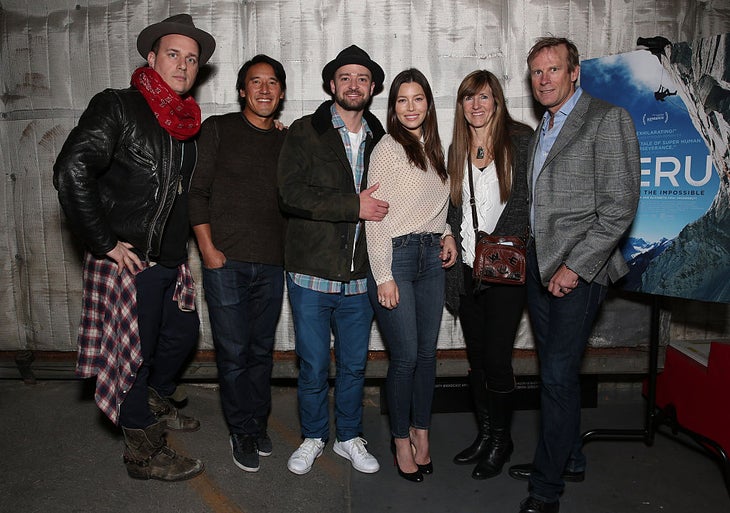 Activism
Anker is a prominent activist, advocating for increased action to combat climate change, among other causes. He serves on the board of Protect Our Winters, The American Himalayan Foundation, and the Alex Lowe Charitable Foundation, and is an advocate for Access Fund, USA Climbing, and the Greater Yellowstone Coalition.
He and his wife Jennifer founded the Khumbu Climbing Center in the village of Phortse, Nepal in 2003. The center's mission is to "increase the safety margin of Nepali climbers and high altitude workers by encouraging responsible climbing practices in a supportive and community-based program." The institute has since trained hundreds of Nepali climbers, porters, and guides in skills ranging from English language to technical climbing, mountain safety, rescue, and wilderness first aid.
Anker recently appeared in the Reel Rock 15 film "Black Ice," mentoring a group of black climbers from Memphis in the ways of ice climbing at his home ice crag, Hyalite Canyon. The film won Mountainfilm's Student Choice Award in 2021.
Edmund Hillary, First To Climb Everest, But He Went Bigger Than That
Notable Climbs, Accomplishments, and Awards
Southeast Face of Gurney Peak (7,192 feet) Kichatna Mountains, Alaska Range, Alaska. First ascent with Seth Shaw, Robert Ingle, and James Garrett (1987).

Northwest Face of Mount Hunter/Begguya (14,573 feet), Alaska Range, Alaska. First ascent with Seth Shaw (1989).

Rodeo Queen

(5.10 A4 1,200 feet), Streaked Wall, Zion National Park, Utah. First ascent of route and wall with Mugs Stump (1990).

East Buttress, Middle Triple Peak (8,835 feet), Kichatna Spires, Alaska. Second ascent with Seth Shaw (1992)

Shune's Buttress

(5.11c), Red Arch Mountain, Zion National Park, Utah. First free ascent with Dave Jones (1992).
The Vigil

(5.11c), The Watchman, Zion National Park, Utah. First free ascent with Dave Jones (1992).
Stump Spire and Kigut Buttress, Sam Ford Fjord, Baffin Island, Canada. First ascents with Jonathan Turk (1992).

Badlands

(VI 5.10 A3 WI4+ 3,300 feet), Southeast Face, Torre Egger, Patagonia. First ascent with Jay Smith and Steve Gerberding (1994).

Rakekniven Peak (7,800 feet), Queen Maud Land, Antarctica. First ascent with Alex Lowe and Jon Krakauer (1997).

Tsering Mosong

(5.10c A3, 7,200 feet), Latok II (23,360 feet), Karakorum, Pakistan. First ascent with Alexander Huber, Thomas Huber, and Toni Gutsch (1997).

Continental Drift

(5.10 A4 3,000 feet approx) El Capitan, Yosemite National Park, California. First ascent with Steve Gerberding and Kevin Thaw (1997).

Discovery of George Mallory's Body, Mallory and Irvine Research Expedition to Everest (1999).

Shishapangma American Ski Expedition (1999).

East Face, Vinson Massif (16,050 feet), Ellsworth Mountains, Antarctica. First ascent with Jon Krakauer (2001).

Unsupported Crossing of Changthang Plateau. Member of expedition with Galen Rowell, Rick Ridgeway, and Jimmy Chin (2002).

Founded Khumbu Climbing Center, Phortse, Nepal (2003).

Altitude Everest Expedition. Leader of expedition with Leo Houlding, Jimmy Chin, and Kevin Thaw. First documented free climb of the Second Step and second Everest summit (2007).

David R. Brower Lifetime Award (2010)

Shark's Fin, Meru Peak (21,850 feet). First ascent with Jimmy Chin and Renan Ozturk (2011).

National Geographic Everest Education Expedition. Leader of expedition and third summit of Everest, without supplementary oxygen (2012).

George Mallory Award, Wasatch Mountain Film Festival (2015).

Golden Piton Lifetime Award,

Climbing

(2016). 

North Face, Ulvetanna (9,610 feet), Queen Maud Land, Antarctica. First ascent of new route with Jimmy Chin (2017).

Jack Roberts Lifetime Achievement Award, Cody Ice Festival (2018)