How Competitions Taught Me the Heartbreak of Winning and the Joy of Defeat
A competitive ice climber wins her first big competition—and finds that the secret to success is still a whole lot of failure.
Heading out the door? Read this article on the new Outside+ app available now on iOS devices for members! Download the app.
By now the nausea feels familiar. Tight chest. Short breaths. Swimming vision. For the three years that I've been competing as an ice climber, this particular brand of panic has been my constant companion. It creeps in during the hours and days before a competition. In the year of COVID-19, this one, the Ouray Elite Mixed Climbing Competition is the only big event on my schedule. The nausea has been growing for weeks. 
Now it's the morning of finals, and my turn is coming up. 
The difference between today and three years ago is that now I can slow the panic down. I have a number of tools for this, all of which embarrass me. I have an app with breathing exercises. A visualization routine. A small sensor that connects to my earlobe and tells me my heart rate. I sit alone in the dim light of my van, listening to the dull ebb and flow of the roaring spectators in the Ouray Ice Park. 
I look at the time. I'm next. 
A Litany of Failure 
The first time I climbed in a big competition, the UIAA Ice Climbing World Cup in Denver, I stepped off the wall after a poor performance, feeling like a fraud. That day, I learned that success, when you look at it closely, is no more than an ego-battering string of failures. 
There have been a lot of those in the past three years.
Take my first international competition: December of 2019 in St. Petersburg, Russia. Before qualifiers, I drank too much coffee and my jittering pick skated right off the holds. Somehow I made it to finals, where I futzed with a transition and dropped a tool, disqualifying myself at the third bolt. I tried to keep climbing with one tool and one hand, until a bunch of Russians yelled me off the wall. 
Active Pass members can read more more about Corey Buhay's time competing in Russia in her feature story "Cold War: How the USA Ice Climbing Team Found Purpose in the Frozen Damp of a Russian Winter" in the 2021 edition of Ascent Magazine, available now.
In my second international competition, I shocked myself by getting further off the ground in qualifiers and then subconsciously gave up, figuring I'd gotten high enough. I missed the cutoff for semifinals by one place. 
In my third event, I forgot to put on my competition bib and was disqualified. In my fourth, I forgot to tighten one crampon and it rattled loose, jangling around as soon as I left the ground. I fell pretty early. 
By the time I returned home from my first World Cup tour, I was painfully aware of my weaknesses. The biggest on the list: nerves. 
The Covid Boost 
When gyms closed in the spring of 2020, I was left with exactly what I needed as an athlete: time by myself, away from training. I picked up some meditation apps, and dug out that earlobe machine, which another competitor had recommended a year prior for breath training.

I read Mindset after hearing Nina Williams recommend it on a podcast about fear of failure. I read articles about sports psychology. I watched a 10-part documentary series about Michael Jordan after hearing that he was cut from the first basketball team he ever tried out for—for lack of natural talent. I'd never watched a basketball game in my life but now Michael Jordan was my hero. If young Mike had sucked at basketball half as much as I sucked at climbing, then I had a fighting chance. 
In the summer of 2020, I started training again, this time with a vengeance. I climbed or lifted six or seven times a week. I made a point to train with people I loved and people I couldn't stand. I got better at asking questions. I tried to get better at taking deep breaths before absorbing feedback. Failure isn't who you are. I tried to remember all the things I'd underlined in Mindset. Failure is an opportunity. 
But most importantly, training regularly at a small gym gave me a community like I'd never had before. Climbing, at least for me, became a team sport. Maybe that's what changed me most.
As fall rolled around and I started poking around on old mixed-climbing projects, I found that this new perspective—that failure wouldn't be the end of the world—helped ease the nerves. Now, a botched attempt was something to look forward to, not to fear. I felt the sharp pain of my anxiety begin to dull. 
After just a few days of effort, I sent my project from last year, King Cobra (M10). It was the hardest thing I'd ever climbed. Then, about week later, I sent Redbull and Vodka (M11). At that point I was only about two weeks out from the Ouray Ice Park's annual competition, which had been the biggest mixed climbing competition in the U.S. for decades. This year, it was my only big competition. No pressure, right?
About ten days out, the nerves came back. Hard. 
Finals

This year, Ouray was a three-day competition. Each day we beat down the nerves enough to climb one route, then went home to memorize beta, try to sleep, and do it all over again. By day three, I'd somehow managed to emerge at the top of the women's leaderboard—but I was a wreck. 
The morning of finals, all the competitors were permitted to preview the route for 15 minutes before being sent into isolation (finals were flash format, we weren't allowed to watch each other climb). I closed the door of my van and collapsed on the bed. I hadn't slept the night before. I was having trouble eating. Simple tasks, like sharpening my crampons, took all the effort I had. 
Texts flooded in from childhood friends in Georgia and past coworkers from old jobs. I got messages from competitors in Romania, Korea, Russia. The world, quite literally, was watching. 
Just as I thought I was going to explode from the pressure, another competitor, Keiko Tanaka, poked her head into my van. 
"Time to warm up," she said. I got out of bed.
We did pushups in the snow to get screaming barfies (getting painfully numb hands early in the day seems to help with circulation later). Then we went for a run. I had my head down against the slanting snow, caught up in my own thoughts. Keiko pulled out her phone, and looked at me with a grin. "Eye of the Tiger" played. We ran harder, laughing. Then we finished our warmup, not with stretches or shoulder exercises, but all-out dancing to Taylor Swift.
Maybe managing my anxiety wasn't a matter of deep internal work and meditation apps, at least not entirely. Maybe this—a good friend, a goofy song, and a reminder not to take myself too seriously—was most of what I'd needed all along.
As I walked down the hill for my shot at the finals route, I realized that, yes, the world was watching. But all those people weren't sitting in front of the livestream because they wanted to watch me perform. They just wanted to watch me have fun.

I took a deep breath, tied in, took off my jacket, grinned at the camera, and did exactly that.
The Come-Down
That day, I finished in first place, not only topping out the women's finals route, but going a hold further by accident to the top-out of the men's route. I fell while the botching a clip on the men's final draw. I lowered feeling triumphant—and just a little embarrassed.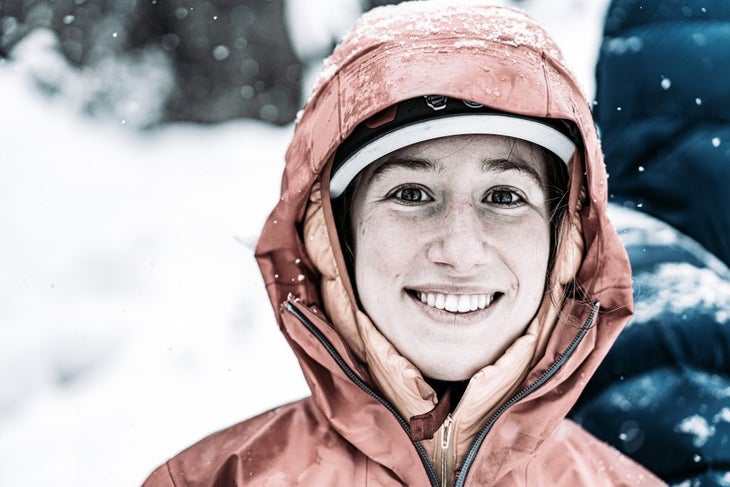 The flood of congratulations from friends and family felt like a high. So did standing on the podium, thinking of how proud my dad would be if he was still around. Growing up, he'd told me I was too much of a klutz to be a professional ice hockey player, which had been the original dream. I don't know what he would say about all of this. 
But the thing about highs is that they never last. My joy started to fade as soon as I started the drive home. It dropped down to base level. Then it dropped further still. 
I'd felt this way after sending a project, but never to this extent. It felt like coming home from summer camp. It felt a little bit like grief. 
There's loss in realizing a dream. Yes, the goal has been accomplished, but it's gone. That weekend, I learned there's a heartbreak in winning just like there's a heartbreak in defeat.
In the last week, my old eating disorder has snuck back in. I wake up in the middle of the night and can't fall back asleep. I catch myself trying to live in the past, in that moment of victory. Trying not to think about the future, which feels like an empty hole. Trying to figure out who I am now that this goal to win (to win anything, really), which I thought would drive me for the next five or ten years, is gone. What now?

As the weeks have worn on, I've found that there are two things that keep me eating and showing up to practice even when it's hard to get out of bed. One: a community filled with the kind of people who are willing to dance their warmups and do pushups in the snow. And two: that missed clip.
If I hadn't wandered up the men's route by accident, hadn't fallen trying to clip a bonus draw, I wouldn't have that big, glaring mistake in front of me. But now I do. I have a failure to cling to.

Now, just like in the beginning, failure is what's keeping me going. If I'm lucky, it always will.
Corey Buhay has been a member of the U.S. Ice Climbing Team for three years. She hopes to compete in the UIAA Ice Climbing World Cup when the full tour resumes in fall of 2021