Daniel Woods, World's Most Accomplished Boulderer
The 32-year-old American has over 30 V15 sends and several V16 first ascents.
Heading out the door? Read this article on the new Outside+ app available now on iOS devices for members! Download the app.
This article is part of Climbing's ongoing Who's Who biographical study of climbing's all-time greats, achievers, and, in the case of Aleister Crowley, most notorious. 
Daniel Woods (August 1, 1989) is an American climber known mainly for his bouldering. The 32-year-old has flashed V14, completed over 30 problems rated V15, and tackled a number of V16s, many of which were first ascents. He has more V15+ boulder ascents than any other climber in history and was one of the first climbers to ever complete a proposed V17 boulder.
Although he is considered a boulder specialist, Woods also had a successful career as a competition climber and has sent sport routes up to 5.15b.
Early Life
Woods was born in Richardson, Texas, and was introduced to the world of climbing through Cub Scouts. He started climbing at the age of five in Mineral Wells State Park, while his family was living in nearby Dallas. When he was eight, the family moved to Longmont, Colorado. There Woods began climbing in earnest under the wing of his father, Steve, and alongside his sister, Amanda.
Woods soon joined a competition team at the Boulder Rock Club. He won the 1999 Junior Competition Climbing Association (JCCA) National Championships at the age of 10, after which he was selected for the U.S. Youth Climbing Team.
By the age of 14, Woods was also climbing hard problems outside. He sent Dave Graham's V11 Fuck You Finger in Fort Collins in 2003, his first problem at the grade. The following year, he put up Echale, in Clear Creek Canyon and proposed V14, a grade which has held since then.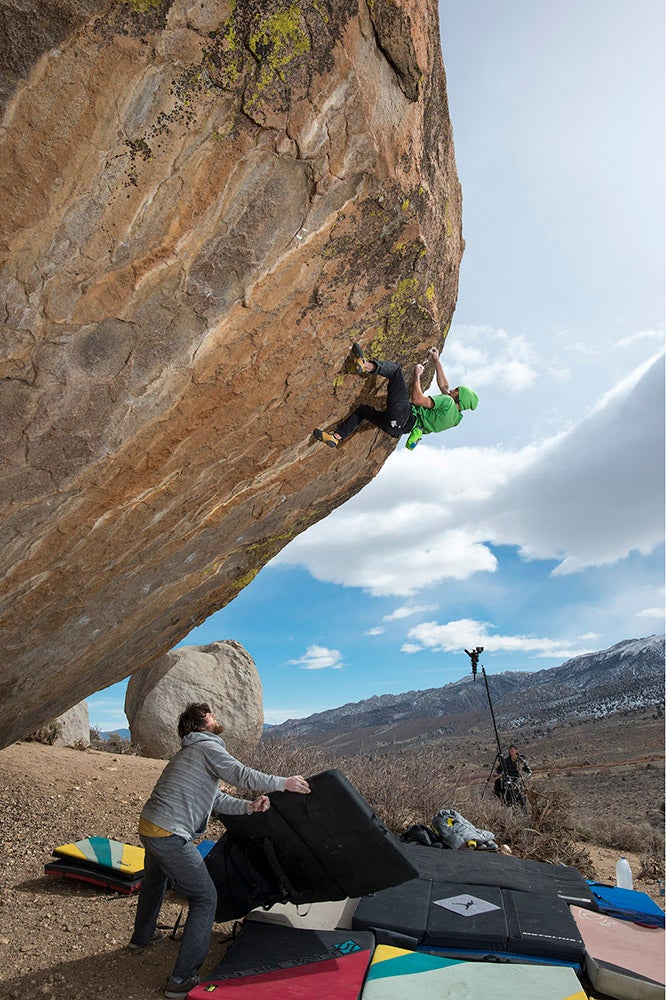 Competitive Career
Throughout the 2000s, Woods was a dominant force in the American competitive bouldering scene. He won the American Bouldering Series (now USA Climbing's Bouldering National Championships) a whopping eight times between 2005 and 2014, and also podiumed several times at the Sport Climbing National Championships (including two golds) over the same period.
In addition to his ABS wins, Woods also took bouldering golds at Vail's Teva Mountain Games (now an American leg of the IFSC Bouldering World Cup) in 2005, 2006, 2007, and 2010.
The latter year saw him become the first American climber to win an IFSC Boulder World Cup (it was the competition's inaugural year as an IFSC event).
Outdoor Bouldering Career and First Ascents
Since his teenage years, with Echale (V14) at the age of 15, Woods has reigned as one of the most powerful boulderers in the world. He made his first proposed V15 ascent (Jade) in 2007, but the climb was later downgraded to V14. The following year, at age 18, he moved to Innsbruck, Austria, and sent his first confirmed V15, In Search of Time Lost, in Magic Wood, Switzerland.
In 2010, he completed Hypnotized Minds in Rocky Mountain National Park, which some consider the first V16 in history. In 2011, he flashed Entlinge (V14), making the world's first flash of a V14 problem, a feat seldom repeated to date.
To date, Woods has finished more than 30 problems rated V15 and harder, many of which were first ascents. In addition to Hypnotized Minds, his V16 sends include The Process (FA), Creature from the Black Lagoon (FA), Box Therapy (FA), Sleepwalker, Off the Wagon, and Grand Illusion.
Woods is currently #1 in the All-Time Bouldering leaderboards on the popular climbing ranking website 8a.nu.
While Woods is primarily known as a boulderer, he has also sent sport routes up to 5.15b (La Capella in 2018), making him one of only a handful of climbers who have climbed both V16 and 5.15. He has also climbed Papichulo (5.15a), Empath (5.15a), and Thor's Hammer (5.15a), among other hard sport climbs.
Of particular note, he put up Tinipi (5.15a), perhaps the highest altitude 5.15a climb in the world. The climb sits near the summit of Mt. Kinabalu (13,435 feet) in Malaysian Borneo, and went down on a 2012 trip with Yuji Hirayama, James Pearson, Caroline Ciavaldini, and filmmaker Chuck Fryberger.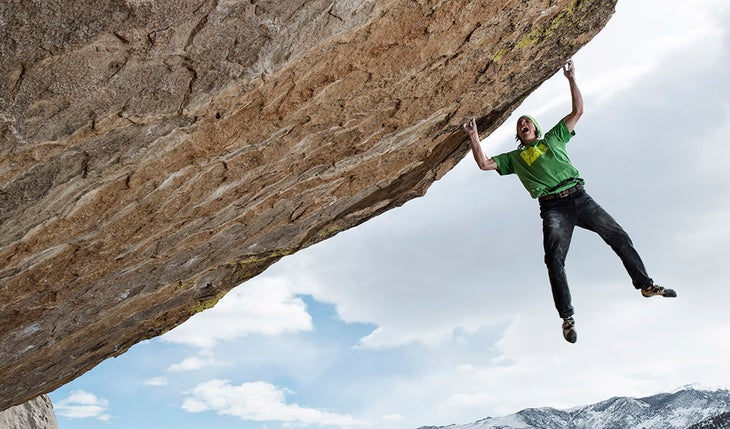 Bouldering V17 (Return of the Sleepwalker)
To date, a handful of proposed V17 problems have existed at one time or another, including barefoot climber Charles Albert's No Kpote Only and the oft-regraded Soudain Seul. However, only one climb in the world, Nalle Hukkataival's unrepeated Burden of Dreams in Lappnor, Finland, still holds the proposed grade.
Woods upped that count to two with a March 2021 send of Return of the Sleepwalker (V17) in Red Rock outside of Las Vegas, Nevada (read Q&A w/ Climbing here).
The line is a sit-start extension on Jimmy Webb's Sleepwalker (V16), which Woods sent in 2019, and adds a seven-move V13 section before pulling onto the original V16 problem. The project took nearly three months of effort, the longest in Woods' career, and spawned a well-received film documenting his dauntless attempts and eventual success.
(Climbing editor-at-large Jeff Jackson presents an analysis of the film here)
Following his success with Return of the Sleepwalker, Woods has continued to travel and project hard climbs, including Pegasus (V15) and Grand Illusion (V16), both sent in 2021.
Climbing Accomplishments
Woods is currently the most prolific hard boulderer of all time, with more than 30 problems rated V15 and harder under his belt, many of which were first ascents. A short list of some of his hardest sends and competitive wins follows.
Bouldering
Echale (V14), Clear Creek Canyon, Colorado (2004)
Esperanza (V14), Hueco Tanks, Texas (2005)
Jade (V14), Rocky Mountain National Park, Colorado, (2007)
Sky (V14), Rocklands, South Africa (2008)
Terremer (V15), Hueco Tanks, Texas (2010)
The Game (V15), Boulder Canyon, Colorado (2010)
Desperanza (V15), Hueco Tanks, Texas (2010)
Warrior Up (V15), Mount Evans, Colorado (2010)
Hypnotized Minds (V16), Rocky Mountain National Park, Colorado (2010)
Entlinge (V14 Flash), Murgtal, Switzerland (2011)
Practice of the Wild (V15), Magic Wood, Switzerland (2011)
La Force Tranquille (V15), Magic Wood, Switzerland (2011)
Big Paw (V15), Chironico, Switzerland (2011)
White Noise (V15), Wild Basin, Colorado (2012)
Monkey Wedding (V15), Rocklands, South Africa (2012)
Paint it Black (V15), Rocky Mountain National Park, Colorado (2012)
The Bridge of Ashes (V15), Rocky Mountain National Park, Colorado (2013)
The Wheel of Life (V15), The Grampians, Australia (2013)
Delirium (V15), Mount Evans, Colorado (2013)
The Ice Knife Sit (V15), Mount Evans, Colorado (2013)
Defying Gravity (V15), Thunder Ridge, Colorado (2013)
Witness The Fitness (V15), Ozark Mountains, Arkansas (2013)
The Wheel of Wolvo (V15), Mount Evans, Colorado (2013)
The Nest (V15), Red Rock Canyon, Nevada (2013)
Hydrangea (V15), Shiobara, Japan (2013)
Lucid Dreaming (V15), Bishop, California (2014)
El Diablo (V15), Peñoles, Mexico (2014)
The Process (V16), Bishop, California (2015)
Noise vs. Beauty (V15), Rocklands, South Africa (2015)
Spray of Light (V15), Rocklands, South Africa (2015)
Creature from the Black Lagoon (V16), Rocky Mountain National Park, Colorado (2016)
Topaz (V16), Wild Basin, Colorado (2016)
The Finnish Line (V15), Rocklands, South Africa (2018)
Pirate's Code (V15), Rocklands, South Africa (2018)
Black Eagle Assis (V15), Rocklands, South Africa (2018)
Box Therapy (V16), Rocky Mountain National Park, Colorado (2018)
Sleepwalker (V16), Black Velvet Canyon, Nevada (2019)
Squoze (V15), Black Velvet Canyon, Nevada (2019)
The Kingdom (V15), Brione, Switzerland (2019)
La Rustica (V15), Bavona, Switzerland (2019)
Direct Hit (V15), Ubatuba, Brazil (2019)
Off the Wagon Sit (V16), Bavona, Switzerland (2020)
Primitivo (V15), Bavona, Switzerland (2020)
4-Low (V15), Ticino, Switzerland (2020)
Deathstar (V15), Eldora Mountain, Colorado (2020)
Traffic (V15), Coal Creek, Colorado (2020)
Blade Runner (V15), Rocky Mountain National Park, Colorado (2020)
Dicktopia (V15), Camp Dick, Colorado (2020)
Return of the Sleepwalker (V17), Black Velvet Canyon, Nevada (2021)
Pegasus (V15), Joe's Valley, Utah (2021)
Grand Illusion (V16), Little Cottonwood Canyon, Utah (2021)
Competition Climbing
1st Place, American Bouldering Series National Championship (2005)
3rd Place, Sport Climbing National Championships (2005)
1st Place, Teva Mountain Games, Bouldering (2005)
1st Place, American Bouldering Series National Championship (2006)
1st Place, Sport Climbing National Championships (2006)
1st Place, Teva Mountain Games, Bouldering (2006)
1st Place, American Bouldering Series National Championship (2007)
1st Place, Teva Mountain Games, Bouldering (2007)
1st Place, American Bouldering Series National Championship (2009)
1st Place, American Bouldering Series National Championship (2010)
2nd Place, Sport Climbing National Championships (2010)
1st Place, IFSC World Cup Vail/Teva Mountain Games (2010)
1st Place, American Bouldering Series National Championships (2012)
3rd Place, Sport Climbing National Championships (2012)
1st Place, American Bouldering Series National Championships (2013)
1st Place, Sport Climbing National Championships (2013)
1st Place, American Bouldering Series National Championships (2014)
2nd Place, American Bouldering Series National Championships (2015)
Notable Sport Climbs
Jaws II (5.15a), Rumney, New Hampshire (2010)
Tinipi (5.15a), Mt. Kinabalu, Malaysian Borneo (2012)
Thor's Hammer (5.15a), Flatanger, Norway (2015)
Papichulo (5.15a), Oliana, Spain (2016)
La Capella (5.15b), Siurana, Spain (2018)
Empath (5.15a), Tahoe, California, (2020)