Dear Fat Crack: A Not-Quite Love Letter to the Wide
Heading out the door? Read this article on the new Outside+ app available now on iOS devices for members! Download the app.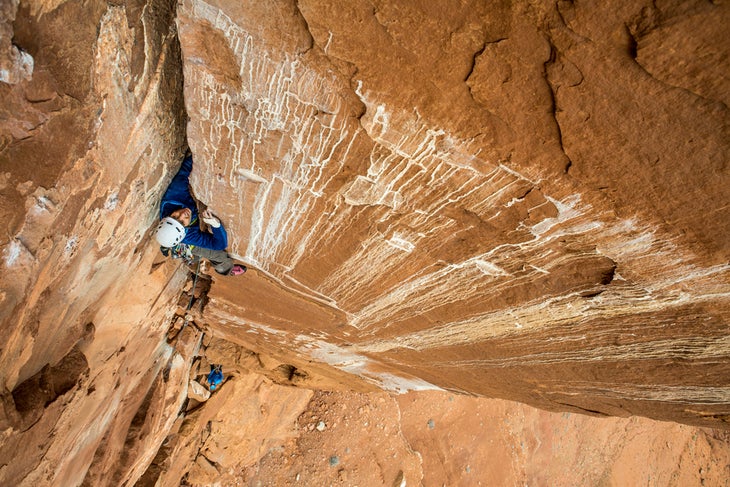 Dear Fat Crack,
We met yesterday, 1,692 feet up. I talked about how much I was looking forward to you, but the truth is, I didn't really want to meet you. From below, you looked pretty big and intimidating. There's 188 feet of you. Wide. Ugly. Undulating and hard.
People talk about you. You have a bad reputation. People say that you are much more difficult than you seem. They don't pretend that you're great. They don't inspire any confidence in the next person who's going to meet you.
To be honest: It hurts to be with you. You always crush my feet. I don't know where to put my hands. Nothing feels good. I've been told that I can do something called a "double-chicken wing" but I'm not sure if that's a sexual position or what. People always ask me if I have solid wide-crack technique and I want to say, "Yes?"
You hurt people emotionally too. They feel humbled or ashamed by you. You make them whimper and beg and submit, and it just never seems healthy. People sometimes change their shoes just to meet you, but no shoe is good enough for you. I've got a question: Should we just apologize to you right at the start? Would that make you feel better?
Also, I get all sweaty when I'm with you. I feel like I'm trying to do a push-up while I'm also doing a pull-up. Does that make any sense? Anyway, that's how awkward you make me feel.
And I don't feel safe with you. There's no way for me to protect myself. I just have to go in hard, push on, and hope that I don't get seriously injured or maybe even die. I have just one slim rope of hope, but that never seems to be enough.
Finally, I don't know what you want. You never explain anything or talk about your middle school years or other hard times in your life. In fact, you never talk at all. You just stand there, silent and severe. I get that you must've had a bad childhood or whatever, but at some point you have to be kinder to people. To be honest, nobody likes you. A few people might say they like you, but they're just lying to sound tougher than they are. If you were erased from the face of the earth, nobody would be very upset.
Sorry, this letter got a little harsh. But—then again—you literally drew blood from me yesterday. Like a vampire. And you also took some skin. From what I've heard, you've taken a lot of skin from other people as well which makes me wonder: What are you doing with all of your collected skin and blood? What creepy thing are you making?
Oh, Fat Crack, I wanted to like you. I really did. But I just don't think it's gonna work out. So this is it. I hope I never have to see you again.
Sincerely,
Peter Brown Hoffmeister
Pete Hoffmeister is an athlete for Ridgemont Outfitters and has recently put up dozens of first ascents at Oregon's Sisters Boulders. He is also the author of the Yosemite novel Graphic the Valley. Follow him on Twitter: @pbhoffmeister