Why Drew Ruana is Trying to Do Every V14 (and Harder) in Colorado
Naturally, some of Colorado's hardest are putting up a fight.
Heading out the door? Read this article on the new Outside+ app available now on iOS devices for members! Download the app.
In Drew Ruana's apartment, which he shares with his brother and several fellow students at the Colorado School of Mines, there is a whiteboard, and on that whiteboard is a list of every problem V14 or harder in the state of Colorado. For the past two years, while pursuing a degree in biological engineering ("basically chemical engineering, but I'm not going into petroleum"), Ruana has been working his way through these climbs, ticking off dozens of V14s and V15s, plus a few V16s, while logging months of work on even harder projects.
"My multi-year goal is to get every single climb done," Ruana told me by phone last week. "Some of the climbs are inevitably not going to be my style. Some are objectively better or more fun or more aesthetic than others. But to me it doesn't really matter. I'm about halfway done with the V14s and maybe a little more than halfway done with V15s."
For Ruana the list, which includes more than 80 V14s and 30 V15s and changes whenever someone (himself included) puts up a new hard climb, isn't on his wall just so it can be conquered; instead, it's an organizing principle; it's a way of nesting small objectives inside larger ones and building a sustainable source of motivation and fulfillment.
"I've felt lost in my climbing before," Ruana explained, "where I didn't really know what I wanted to do. Like, sure, I want to climb hard, but what does that even mean? Do I want to send a specific hard boulder or an arbitrary number of easier ones? What does success look like? So for me, it's been really beneficial to have something laid out—in my case the V14 or harder list—something that's constantly evolving and that I can break it down into weekly and monthly and yearly subgoals. It's not like, Oh, I want to do this one particular climb. It's a bigger goal than that—something I can continually work toward."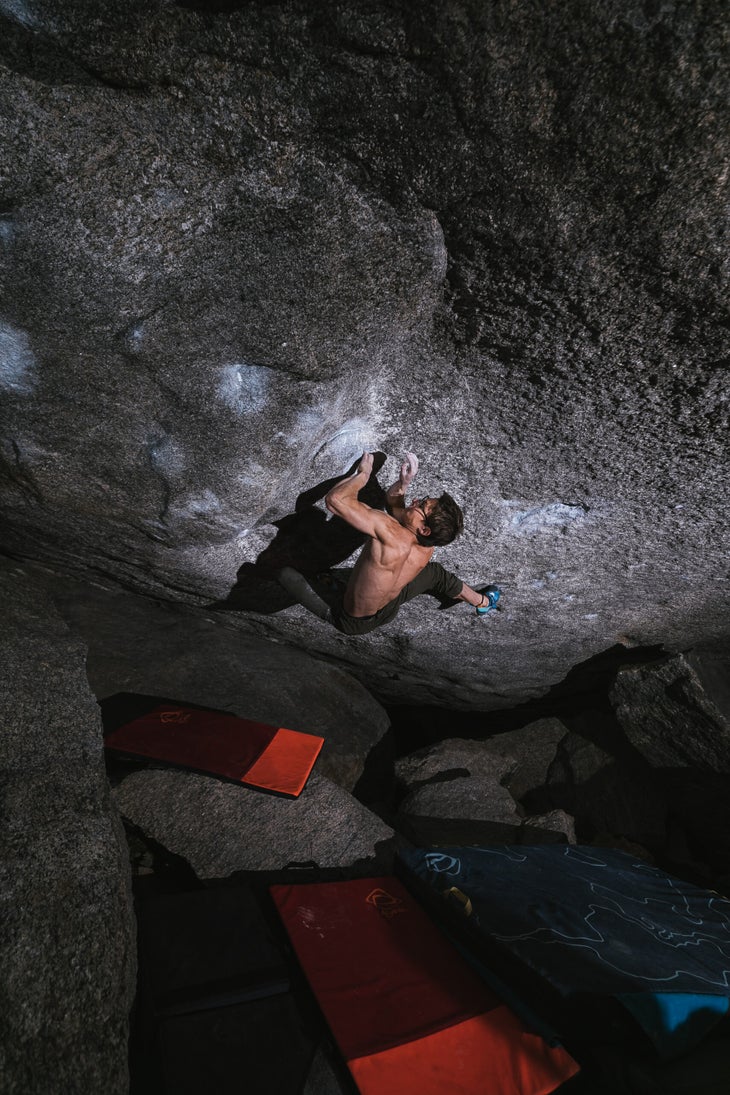 One of the most interesting things about Ruana's project (to me anyway) is its completist—rather than survey-esque—nature. Instead of cherry-picking classics and problems that fit his strengths while ignoring the ones that feel hard or weird or uninspiring, Ruana has decided to do everything. If he comes across a climb that just doesn't suit him, well, too bad: It stays on the list.
Many of Ruana's sends are documented in an ever-growing portfolio of uncut videos on Instagram and YouTube. And thanks to his combination of crimp strength (he grew up climbing in Smith Rock) and power (he can do a one-armed muscle up) and technical precision (check out how he uses his heel in the below video of Insomnia), his sends tend to look smooth, more like hyper-sussed sport climbs than improbably cruxy boulders that took days, weeks, or even months of effort. 
But some things do take a long time. On Midnight Express, a classic Ty Landman V14 with a three move crux, Ruana sank no fewer than 30 frustrating days in 2020 before finally finishing it in January 2021—yet in the video he makes the problem look V2. 
The same thing happened again this spring, on Dave Graham's The Ice Knife, a technical compression boulder in Guanella Pass, Colorado, that goes at V15. Ruana stands at five feet seven inches and has a negative one-inch ape index—so he's pretty used to having to find clever or powerful workarounds to reachy boulders. But on The Ice Knife, he found himself literally unable to span between the holds used by previous ascensionists. "For me, because of my height, this boulder could not be more poorly set by outdoor setting gods," he said. And on Instagram: "What I wouldn't give to be 3 inches taller for this climb."
Eventually, he found a method that worked for him—but even after that, "The Ice Knife felt harder than pretty much every V16 I've done." It was 17 sessions over two seasons before he sent last week. "I'm not going to take V16 for it, he said, "because it's simply not that—but it was a very tricky boulder for me."
Tricky indeed.
The following interview has been edited for length and clarity.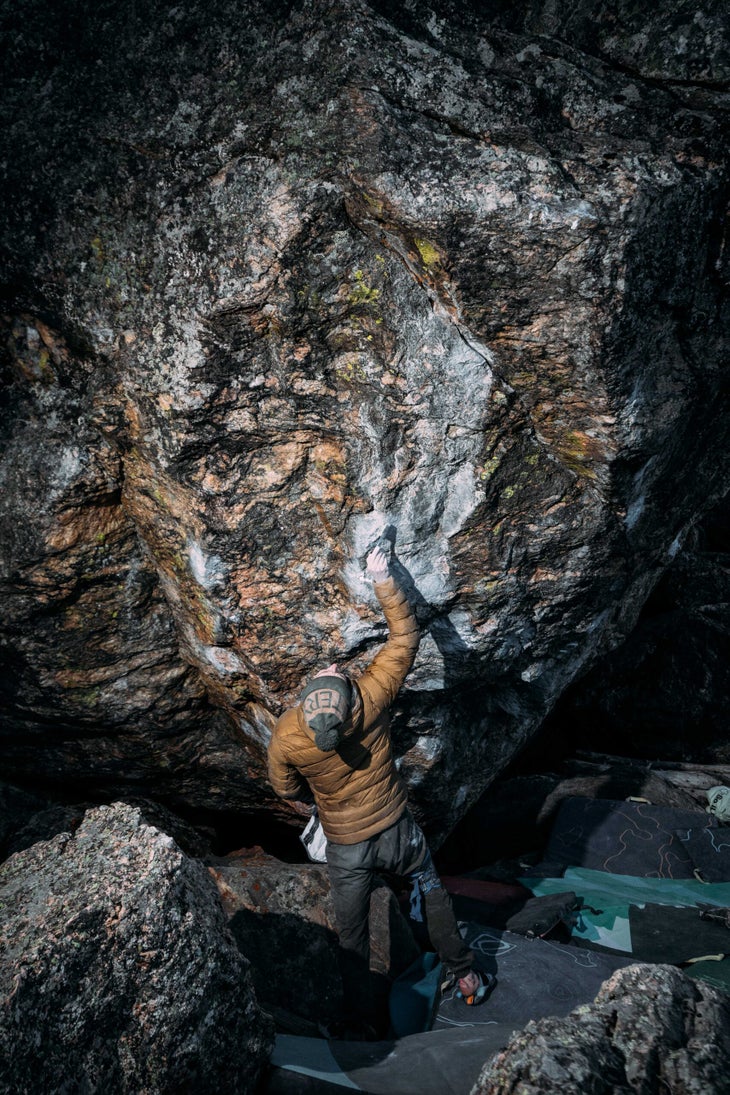 THE INTERVIEW
Climbing: Congrats on Ice knife.
Ruana: Thanks, yeah, that one was starting to get to me. It was just such a long process between last summer and this spring. I knew from the start it was going to be really hard because of my height, but it's good to try stuff like that. There were so many different ways of doing the problem, and I kept messing around with all of them, so it was hard to commit to one beta. I kept thinking there had to be something better—because no single beta felt good.
Climbing: When did you actually commit to the beta that you ended up sending with?
Ruana: Maybe eight sessions ago? I kept trying other stuff and it just wouldn't work. Even if I could pull the moves in isolation, I'd get there from the bottom and not have the strength to hold the holds. When I found this way, the way I did it, it was definitely with a harder beta, but it was more secure. That meant I could just keep on learning it, keep on working it, and gain that muscle memory until it felt easier. I'm a fan of higher percentage beta, even if it's physically harder, because usually your body will learn it. By the end, on the day I did it, it felt easy. I was like, "Oh man, just like that, after 16 days."
Climbing: On Instagram you said arm-span was a problem for you here. Is this something you've encountered before?
Ruana: For most boulders, it doesn't make a huge difference. A move might be harder here and there. I have to jump to some things instead of locking them off. Minor stuff. But for this climb, it made a real difference because I literally could not span using the standard beta. It was the first time in a long time that I was like, "Man, my height is kind of legitimately screwing me here."
Climbing: When you're approaching a boulder that you know is going to be really hard for you, do you go all-in and commit to the fact that it's going to be a tough project cycle, or do you mix in other projects that you know are going to suit you better? 
Ruana: I mix in other projects. I've been sticking to a two-days on one-day off schedule. The first day I reserve for a harder boulder, like The Ice Knife. The second day is for something easier—something that I might be able to do in a couple of days. I don't like trying boulders two days in a row. It's nice to switch it up and try different moves.
Climbing: You've had a couple of other epics on problems that you thought you might be able to do quickly. What was the deal with Midnight Express?
Ruana: Oh, man. That one was just a pure mental battle. It's only three hard moves, and it's perfectly my style. But every time I'd go out there, I'd rip my pinkie open or split and then mentally I'd just kind of break. I don't know. It was probably 30 sessions, each less than 30 minutes of climbing per session. Eventually I had to take six months off of it, maybe eight months, and focus on other stuff. Then I came back and did it in like three tries. It was like, "Yeah, that's how it should have felt."
Climbing: In an interview last year you said you considered your mental game your limiting factor. Is that still true?
Ruana: It's not as true. I feel I've been able to find the flow state a bit more often recently. With The Ice Knife, for example, I only pulled onto the wall like five times the day I did it. I did the top two moves, then I held the crux position for a few seconds, then I did the crux, then I did the knee bar once, and then I was like, "Okay, I think I'm just going to go for it." And it felt like V2. It was just a complete non-issue compared to every other day out there.
That's how a lot of the climbs that I've done in the past year have gone. I'll epic on it, I'll struggle to piece it together, but then, after building memory and confidence on the climb, I'll go out there fresh and just know I'm going to do it. That's been true for the V14 and V15 climbs. The V16 projects and V17 projects—I haven't quite figured them out yet. But I'm hoping that building out the base on these "lower grades" will help me find the flow state on the higher grades. Four- or five-day projects are more comfortable for me right now—things I know I can do in a week if I just try. It's hard for me to justify sinking more time: If I put 40 days into a boulder—and I've done that on a couple of boulders that I haven't sent yet—I'm like, "Wow, how many V14s or V15s or V16s could I have done in those 40, 50, or 60 days?" The challenge is to find a way to work on the really hard stuff while continuing to do mileage—that's a balance I'm still struggling with.
Climbing: What about The Ice Knife Sit. You've got to go back for that one, right? 
Ruana: Oh yeah. That's on the list for sure.
Climbing: Has it been repeated yet?
Ruana: No, and it's been almost a decade since Daniel [Woods] did it. I've tried it a little bit, partly because I didn't think the stand was going to take me as much time and effort as it did. But with the stand as hard as it is—and the sit adds a solid V13 into the stand—I'm going to need everything to line up in my favor to do it. But if it doesn't go this season, or if I don't get around to it, that's fine. It's something to come back for when it's cold. 
Climbing: Have other people put effort into the sit yet?
Ruana: A few people. Griffin Whiteside may or may not have done it, actually. It's kind of impossible to tell with him. I feel like he's just done everything. And my friend Tristan [Chen] was trying it for a bit. He's already done the stand. But it's really hard. It kind of caught me off guard; I was not expecting it to be as rugged as it was. Mega props to Daniel for putting that thing up. It's very beautiful, very pure, and absolutely messed-up hard.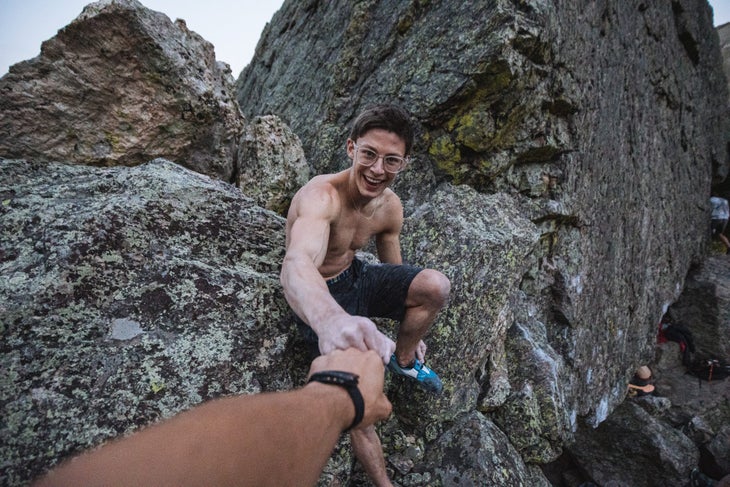 Climbing: So what's next?
Ruana: This summer I don't really plan to sink too much time into individual projects. I have a list of 10 or so of V15s, including a few undone ones, and maybe 15 V14s. I don't think I'll get through all of them this summer, but those are the ones that I'm really stoked on. My goal is by next summer or fall to only have undone projects left in the lower elevation areas. That will be really fun, getting to leave my mark in a different way.
Climbing: Speaking of leaving your mark: You just did the FA of Dire Wolf (V15) right? What's that one like?
Ruana: So there are three starts. The left start is called Wolf at the Door—that's V13 but it felt really hard to me; I didn't do it in a single session, which is pretty uncommon for V13, especially if it's in my style, which Wolf at the Door is. I'd say it's like V13.8. Then Paul [Robinson] added a middle start called The Other Side of Infinity, which has one pretty weird move low down and is just a notch harder: like V14.1. My start, Dire Wolf, starts all the way to the right, on the arete, and follows the path of most resistance. There's a lot of climbing and sticking the double dyno at the bottom was very rugged. It took me a couple days to stick it from the ground, and then you have to do the entirety of Wolf at the Door. I stuck the double dyno from the ground on my second day trying it, I think, but fell at the end for a few more sessions. I'd get one move further every session, two moves further every session, but not have quite enough to take it to the top. It was a fun process, and it's definitely one of my prouder FA's. It feels high-end V15 to me.
Climbing: You said you climb two days on one day off, mostly outside. Do you do any supplementary training?
Ruana: I do a lot of strength training, a lot of calisthenic stuff like one-arms, front levers, basic stuff like that. I'm also in the weight room quite a bit. I bench and do biceps and work on my chest, back, and arms. I feel like it's pretty important to stay well-rounded and make your body strong. When I'm sore from lifting, I almost climb better because I feel like everything's firing just a little bit more smoothly.
Climbing: Do you lift on your climbing days or is that a rest day thing?
Ruana: It depends. My lifting schedule is independent of my climbing schedule. I won't lift before I climb, but I'll come home and hit the weights. We have a set up in our basement.
Climbing: When you're lifting, are you doing max weight stuff or max rep stuff?
Ruana: Definitely fewer reps, higher weight. The idea is to get all cylinders firing at once. I definitely think more climbers should lift weights. Too many climbers are scared of gaining weight, but five pounds of muscle is just going to help you climb harder; it's not going to affect your finger strength very much. Sure, there are a few very specific climbs—climbs where you're death crimping on credit cards—where five pounds might make a tiny difference. But even then, the better answer is to get stronger, not lose weight. Compared to a lot of the other pros, my fingers are nowhere near as strong—at least in a traditional hangboard sense. I can't do one-arms on an eight-millimeter crimp. Hanging a 15mm crimp—it's a good day if I can do that with one hand. On Instagram you see so much of that, people whose fingers are just super strong, but I definitely prioritize body strength.
Climbing: Things have changed so much since I started climbing in the early 2000s. Back then the light-is-right mentality was everywhere. The climbing media was full of "how to lose weight before your next road trip" advice—stuff that we would never publish nowadays—and eating disorders were everywhere. It's cool how over the last 10 years, we've seen such a big reconsideration. 
Ruana: My whole thing—with weight, with goals—is that you have to have a sustainable approach. Cutting weight is not sustainable. The way I've always thought about it is that if your body is like a race car, a Lamborghini or whatever, you're not going to drain the gas tank just so that it weighs a few pounds less. You're not going to get rid of the gas that you need to run the car just so you can go a tad bit faster for a split second. We're race cars, man; we gotta fuel up properly. Going light is just going to make you more likely to get injured; and it's going to make your sessions shorter; and it's going to hurt your recovery so you can't climb or train as much each week. I just eat what I think I need. I listen to my body about food, rest, and training. The more I listen, the better I feel.
Climbing: I've noticed that you have really good mobility. Watching that heel hook under the roof on Insomniac, I'm just like, "Holy crap. There's no way I could actually put weight on my ankle in that position." Do you do any specific training for that kind of stuff? 
Ruana: No. I gained that ability from being short. Growing up, my brothers and I were in the 1% growth percentile. There's nothing wrong with us, but we were just tiny. I was always the shortest climber at every competition, and sometimes it was really demoralizing. Getting really good at heel hooks and jumping to things and holding swings on holds that you probably shouldn't be able to hold a swing on—that comes from being shorter and feeling like I needed to be both strong and technical to account for my height. Now I'm so thankful that I got screwed in a few comps, because it forced me to learn all these tricks. I mean, heel hooks are like having an extra set of hands if you use them right.
Climbing: Have you found it easy to balance school and climbing? 
Ruana: Definitely not. I mean, I have the time for it, and I have pretty good time management skills, so I don't really struggle to get all my stuff done and still have time to climb. But from an energy standpoint it's hard to go sit in a lecture for a few hours, then go to a lab, then drive for a couple of hours, climb hard, drive home, make dinner, and then study. But college in the U.S. is so expensive; I figure that if I'm sinking all this money into it, I might as well just grind and get the best grades I can. So I try to get all my schoolwork done on my rest days. One thing I'd love to say to younger readers is "Stay in school. Don't dirtbag it." I'm a professional rock climber; climbing is how I make my living; yet I'm still getting my degree.
Climbing: Even Adam Ondra got a degree.
Ruana: Right. It's just really important to keep the bigger picture in mind.
Climbing: That sort of fits with your goal-setting more generally, right?
Ruana: For sure. Long-term goals keep people grounded and keep climbers from burning out. I've felt lost in my climbing before, where I didn't really know what I wanted to do. Like, sure, I want to climb hard, but what does that even mean? Do I want to just send a specific hard boulder, or an arbitrary number of easier ones? What does success look like? So for me, it's been really beneficial to have something laid out—in my case the V14 or harder list—something that's constantly evolving and that I can break it down into weekly and monthly and yearly subgoals. It's not like, "Oh, I want to do this one particular climb." It's a bigger goal than that—something I can continually work toward. It encompasses stuff that I can do in a week or less—short-term projects—but also things that will take me months of work. And the whole project is going to take years.
Climbing: But you have those little pit stops along the way, right? Even your 25th V14 of the year still contributes to the overall goal, so it has extra value. And you get a sense of renewal and purpose by succeeding on it.
Ruana: For sure. I'm always psyched when I stand on top of boulders. It feels really good. But no individual problem is the end-all be-all. It's not like, "Oh, nice, I sent… What's next?" Whether you're climbing outside or in competition, laying out a healthy set of goals is good. Say your goal is to win a National Championship or make the U.S. Team—that's good, it's really important to have something to train toward—but it's not super healthy to have something so cut and dry be the final goal. Because if you succeed, what's keeping you going after it? And if you fail, what have you accomplished on the way? You want to avoid dead-end goals and instead have them be ever-changing and evolving.