Wait, Who Just Sent Britain's Hardest Route?
Eder Lomba, a Basque climber and coach currently based in Sheffield, UK, recently made the second ascent of Steve McClure's Rainman, 5.15b. We wanted to know who he is.
Heading out the door? Read this article on the new Outside+ app available now on iOS devices for members! Download the app.
Some of you may remember when, on June 4, 2017, British climbing legend Steve McClure capstoned his long career of hard FAs by sending his seven-year project in Malham Cove, Yorkshire. After logging a whopping 127 days on the route (he kept a journal), he named it Rainman and proposed a grade of 9b [5.15b].
Since then, Rainman has basked in the quasi-mythical light of its grade: It was—and remains—the hardest route in Britain, and despite attempts by Adam Ondra, it went unrepeated until two weeks ago. Then, on May 13, Eder Lomba, a Basque climber and coach of whom very few Americans had previously heard, clipped the chains after more than 70 days of effort—45 on Rainman itself and another 30 on the routes that it connects. When news broke, armchair experts like myself were like, "Eder-who?" and, "Why would a native of paradisal Spain submerge himself in Britain's steamy cauldron in order to do his first 5.15b?"
Slowly, details began to emerge. Lomba, we learned, didn't travel to Britain to do the route—he lives there, in the training hub of Sheffield, where he coaches for the local youth team and Great Britain's national team. And we learned another crazy fact: Lomba, who's currently 28, didn't start climbing until he was 20 years old. In other words, he grabbed his first micro-crimps after his adolescence and has gone from zero to 5.15b in just eight years. For context, Seb Bouin—who at age 29 recently established a 5.15d in the Verdon Gorge—considers himself a late starter, too: He picked up the sport at age 11.
*
Lomba, as it turns out, was interested in rock climbing long before he actually started. There was a small climbing wall attached to a soccer facility not far from his home village, and whenever he went there, he was like "Fuck the football, look at this!"
But despite the fact that Spain's Basque region, where Lomba grew up, is home to some iconic climbing areas (it was in the Baltzola cave that Yuji Hirayama did the world's first 5.14b onsight in 2004) and has produced numerous world-class climbers, including Iker Pou and Patxi Usobiaga, Lomba says that the climbing scene there is surprisingly inaccessible.
"We haven't got many walls," he told me during a phone call, "and the ones we have are small and really cliquey. I would visit it with my friends, but the other climbers always made us feel unwelcome."
Instead, he roamed the mountains, simul-climbing semi-technical ridge traverses with friends. "We'd tie into ropes," he told me with a chuckle, "but if one of us fell the other would basically fall too."
When Lomba finally got his foot into sport climbing, though, he fell hard: "From day one," he said, "I was a climber, man."
After just a few weeks, he told his first coach, "I want to climb 7b" [5.12b] and, within a month, he had indeed clambered up a route of that grade. Soon he was climbing 5.13s and 5.14s and coaching local youth teams, trying to make climbing more accessible for them than it had been for him.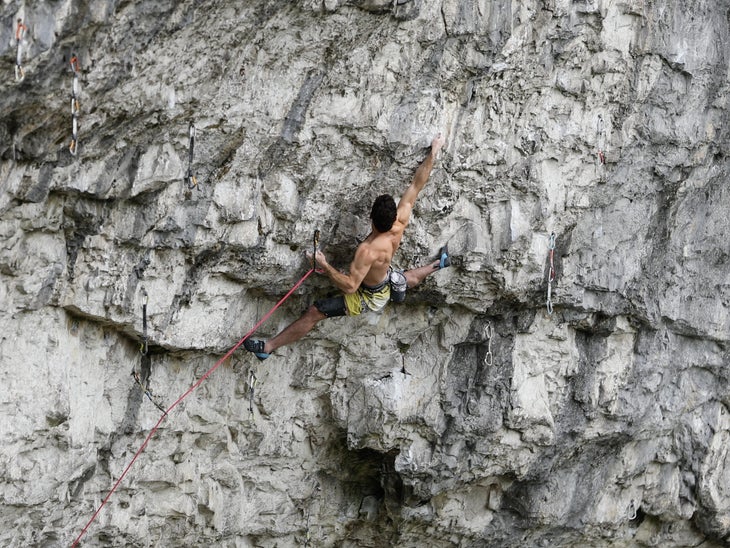 *
Lomba relocated to the UK three and a half years ago when his partner, a UK citizen, had decided to return home to pursue her master's degree. He landed a coaching job at the Foundry, Jerry Moffatt's gym in Sheffield, and set to work on Malham's hard limestone sport lines. The move to the UK involved many changes—perfecting his English (which is now excellent) among them—but one change had important implications for his climbing—indeed, without it you probably wouldn't be reading this article. Quite simply, UK climbers (like New England climbers) deal with a phenomenon that does not exist in places like Spain and Southern France and even Colorado: route scarcity.
"In Spain there are just so many routes," Lomba said. "You could spend your whole life climbing on 8a's, 8b's, and 8c's, but never make the jump to 9a because there's just so many. [In the UK] it's a different situation. I ran out of easier routes pretty quickly. After my first year in Malham, I had very little 8c's [5.14b's and 5.14c's] left, and the ones I had left were so bouldery and hard that I was like, 'Why not try Rainshadow?'"
He did try it. And after several weeks of effort, he sent his first 5.14d. Shortly after that, he sent the adjacent 5.14d, Batman, and began eying Steve McClure's mythic linkup between the two: Rainman.
"The thing about Rainman is the line," Lomba says. "It's a straight line, and it goes from the bottom of the crag to the top. When you arrive the first thing you see is two black lines—that is the start of Raindogs [5.13b]. And then if you look straight up from there, that's where Rainman goes. It's obvious that you want to climb up Raindogs through the black lines."
In climbing directly up the wall, however, Rainman shares sections with several other more meandering routes. After beginning on the ultra-classic Raindogs, it follows Rainshadow (5.14d) through its steep and intricate V11 crux. When Rainshadow veers left onto better holds, Rainman continues straight up the headwall, eventually joining Batman (5.14d), which in turn joins the top of Bat Route (5.14b). In between each section, there are sections of original climbing—and about halfway up the route, there's a crucial kneebar.
Having previously dispatched its constituent pieces, Lomba made fast progress at first. "I was like, Oh yeah, I'm gonna do it, and I'm going to do it so fast. But I was so wrong."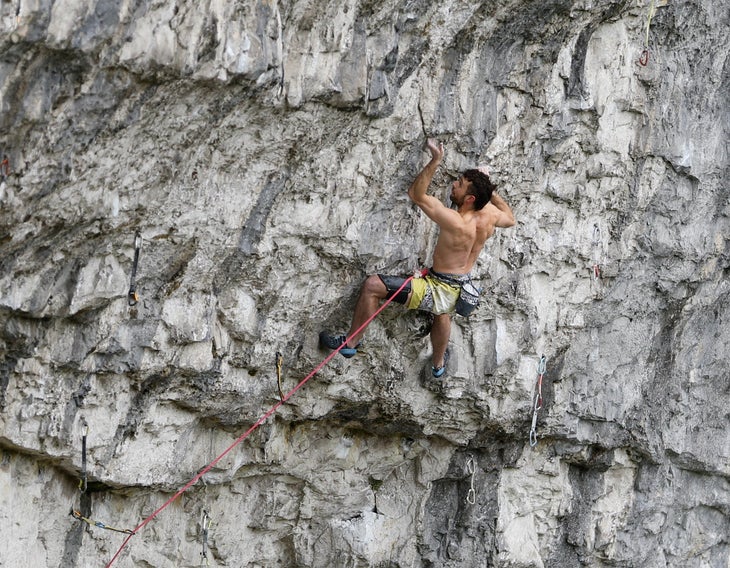 Though he was able to do all the moves with relative ease, doing them without getting pumped required getting stronger. ("The fitness I needed to be able to send—it was just crazy, man.") It also required thinking outside the box with his training—something that Steve McClure also did in the lead up to his FA. Shortly after sending Rainman, in an interview with the British Mountaineering Council, McClure said, "There are two ways to climb something that's out of reach. You either raise your physical and mental game, or you try and find easier sequences to climb the route more efficiently. For this route, I had to push both to the limit."
Though McClure didn't use a kneepad on the route—he tried, but the kneepads of the day kept sliding off—he understood that the "rubbishy" kneebar rest was crucial to success, so at the end of each climbing session, he'd pull into the kneebar and hang there until his calves couldn't take it any longer. Eventually, he managed to make the kneebar work just enough and, with a few more beta tweaks and a lucky spell of conditions, sent the route.
Five years later, armed with a modern kneepad, Lomba also isolated the kneebar as the key to success: "With 1 minute and 40 seconds in the kneebar, I was getting close," he said. "So I knew with two minutes or three minutes, I was going to do it."
During the UK's long winter wet season, he hit the gym, doing box jumps and squats, calf raises and deadlifts, gaining nearly two kilos worth of muscle in his legs. "I put the time into it," he said. "I didn't have the finger strength or fitness that Steve probably had when he did it, so I had to develop something else." (McClure, by the way, has applauded Lomba's ascent and the style he did it in. "This is the progression of things," he told 8a.nu. "New tools come along that we use to give us the edge…. Shoes, sticky rubber, chalk, cams. And these tools make the climbing feel better. Which is good!")
Of course, the send still came down to what most hard sends come down to: mental strength and conditions. "It was hard," he said. He fell off the last move multiple times before pulling it off on the last possible day of the season. "But it was a beautiful process, man."
When asked about the grade, Lomba demurred, saying that it was difficult—very difficult—but that he didn't have the experience to reliably weigh in on Rainman's grade. Instead, he'd defer to McClure and Ondra—both of whom thought 5.15b.
The grade, of course, is less important than the moment. Shortly after Lomba clipped the chains, his old coach texted him: "So you wanted to do 7b or 9b?"
"That was pretty cool," Lomba said.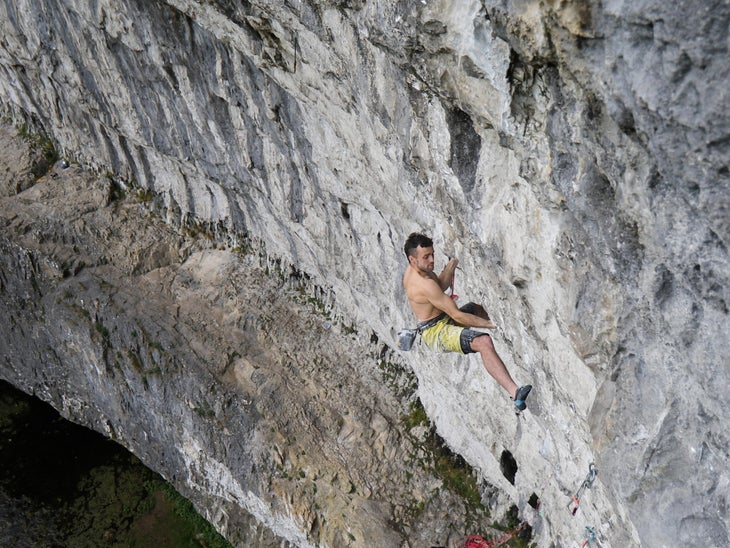 *
I talked with Lomba by phone, roughly a week after his ascent. He was on his way to London, where his team had a competition, and from there was heading back to Spain to visit family and do some easier climbing. We talked for about an hour, occasionally interrupted by barking dogs (my end) and traffic noise (his). He spoke in depth about the mental challenges of limit projecting in tricky conditions, his leg training, his coaching philosophy, and his future plans. 
After all, what do you do with yourself when you've sent the hardest route in the country?
THE INTERVIEW 
Climbing: You started climbing at 20 and progressed from your first sport route to 9b in only eight years. Did you start training right away?
Lomba: Pretty much. I've always been super interested in training and sports science. From the beginning, the first thing I did was ask how I was going to get better. Because I didn't want to climb 6b [5.10c] when I was starting; I wanted to climb 7c [5.12d] and 8a [5.13b]. I wanted to climb the biggest lines. I didn't have respect for the grades, which I think is great; I didn't want a number and a letter to tell me what was accessible to me or not. Every time I went to the crag, I would be like, "Oh my God, I will climb that line over there!" And if it was hard, I was like, "Okay, what do I need to do to be able to climb it?" So that's how I started training.
Climbing: Is most of your training climbing or do you do some off-the-wall stuff too?
Lomba: That's a very good question. I do most of my training as climbing. But I also do a bit of strength and conditioning. For these routes, for example, I did a lot of leg strength. I reckon I weigh two more kilos now than a year ago, and it's solely my legs.
Climbing: Do you feel that extra weight in your hands? How has it impacted your climbing?
Lomba: You know, I probably feel it, but I'm not aware of it since it was within a whole year, this weight gain; I think I got used to it. But I don't think it made a massive difference in my performance. It basically meant that I could stay in the kneebar for like three minutes instead of one minute. When I was trying the route last spring, it was a struggle to get more than 70 seconds. It was so hard. And that was after I'd tried it for a bit. In the beginning it was just like 5 seconds.
Climbing: What is the mental process for you working on such a long-term project?
Lomba: I don't want to say these two words, but it was uncomfortable and unpleasant. That was a big part of my time trying the route. But that doesn't mean that I didn't enjoy the process. I love to be challenged in that way. But it was hard to get to that last move and fall and be like, "Oh my gosh, I need to make it through the first crux and the second crux and the third crux." That made me stressed and frustrated.
Climbing: Conditions are hard there, too, right?
Lomba: Oh my God. I don't know if you've ever climbed in the UK, but it's wet, right. The UK is very well-known for being wet. But it's not just wet: it's either very wet or it's very hot. So it's been a battle with the conditions. It wasn't just that I needed to be in shape; I needed to be in shape this week, right now, because it's good conditions. And finding that balance was really hard. I loved it; it took the best of me. But it was very easy to get into a mindset that was destructive, to be like, "It's 25 degrees today, and there's no wind, and the sun is on the crag, and we only have two and a half hours to try it, and the reality is that I'm tired, and my skin is fucked, and my elbow hurts, and after I fall off the last move I'll have to drive two and a half hours back home for work in the morning, and then I'll have to come back and do it all over again."
It's just funny, man. There were so many mental games I had to play to make me feel better. I had to lie to myself and be like, "Your skin doesn't hurt. Your elbow is fine. Your back is fine. Conditions are good. And the two hour drive each way is worth it." When sometimes, to be honest, it wasn't worth it. Sometimes we'd get there and it would be such bad conditions. You'd pull on and have a terrible attempt, go home, and feel guilty for doing all this driving.
Climbing: What were some of the tricks you used?
Lomba: Most often I meditate at the crag. I'll get there and the cliff is in the sun, so I will meditate to keep the focus. I will also go for a walk and visualize doing the moves—stuff like that. You need to feed positivity. It's very easy to get into the mindset of, "Shit. I'm not feeling it today." But that's just in your head, it's not real.
Climbing: I know all about that: my ability to doubt myself can ruin a climbing day.
Lomba: For sure. And it's so comfortable to adopt that mindset. It's easy to be like "Oh, yeah, poor me, I'm not feeling it." You are making yourself an excuse. But fuck that! Do something about it! The other day I heard this tale in this podcast that stayed with me; it was that there are two wolves living inside you, and one of them is evil and represents self-pity and greed and anger and the selfishness and unhealthy competitiveness, while the good one represents positivity and kindness and greatness and success and happiness. And they are fighting, those two wolves, and the one that's going to win is the one you feed the most.
I find that tale to be true, man. Because if I am determined to have a good time, and I am having fun with my friends—that's when my best climbing happens. It doesn't mean that you will send the route, but it means that you will perform at your best.
Climbing: So now you've sent what's widely considered the hardest route in the UK. What's next for you?
Lomba: I honestly don't know. But I'm one of the national coaches now in the UK and I am loving it. One of the options I've got is to get a bit more experience and try to get selected for some of the competitions. I mean, it's just a thought. We'll see. But I'm going to train and see if I can get to the standards you need to do the competitions and get through the selection process. I will be interested to see what happens. Otherwise, my favorite climbing style is onsight, and I'd really like to get to the point when I can do 8c onsight. I think the process of trying to get qualified for the competitions would also be a process of training for that too.
I would also like to try to do every route in Malham. Why not? I've got Overshadow [a 5.15a established by Steve McClure and repeated by Adam Ondra], which is a few routes to the left of Rainman. It looks amazing, man, but it's one of the routes that gets wet very quickly. I would also like to travel to Europe and climb hard over there.
Climbing: What's your dream route in Europe?
Lomba: For sure Biographie. And I tried La Rambla a little this winter and it's just incredible.