El Cap in a Golden Day: Alex Honnold Leads His Mother Up Lurking Fear
Dierdre Wolownick embraces retirement from 3,000 feet up
Heading out the door? Read this article on the new Outside+ app available now on iOS devices for members! Download the app.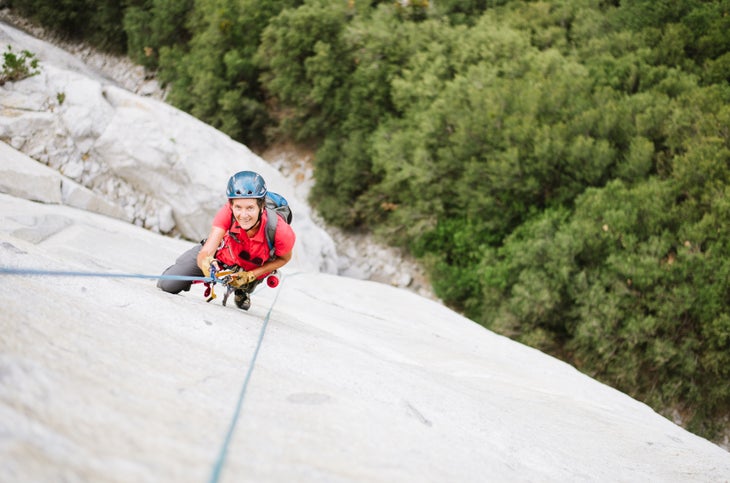 Each year since I began climbing, eight years ago, my son, Alex Honnold, has led me up something spectacular for my September birthday. Snake Dike. Cathedral. Matthes. Tenaya. Conness. All classics, each one unforgettable. Each one has pushed me beyond where I thought my fear limits lay, and far beyond where I thought I could go physically. Last year, after we touched down from Royal Arches, I knew I wouldn't be content with that tiny taste of a big wall. A month later, I asked if he thought he'd ever be able to lead me up El Cap. I didn't expect his answer.
"Sure," he said. "But you'll have to learn how to jug."
I didn't know what that meant. So I approached it like any other of the many challenges in my life—I found out what was required, got the necessary gear, and set up a practice schedule. It had worked for marathons, back in my fifties. For each of my four marathons, I'd trained for eighteen weeks; for this, I had several months. How hard could it be?
After my first session jugging in the climbing gym, I couldn't move my arms for days. As I eased my aching, bruised body into my friend's hot tub that night, questions about my sanity bubbled in my mind.
Nonetheless, a solid goal always motivates me to think in small, achievable increments.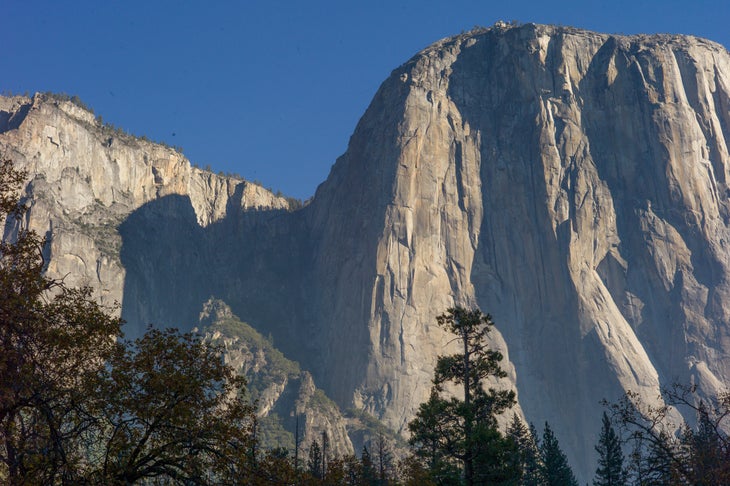 First step: find a climbing gym close to home that would let me set up a rope to jug, and a friend to go with me each time (they insisted I be on a toprope as well). A couple of friends let me set up ropes in trees on their property. But all of that was only about 25 or 30 feet high. My goal was 2,000 feet of jugging in one day. Most route beta says four days is the average for Lurking Fear; but my son, the speed king, doesn't haul. We'd go up and down in a day.
So, next logical step: each week starting in May, I went to Yosemite, stayed with friends, and worked hard to accrue ascender skills. I also needed to gain experience going up a big wall, and lots of endurance. With friends, or alone, I hiked for hours on steep terrain. On the Four-Mile Trail (actually 4.6 miles, up to Glacier Point), my speed got a bit faster each time.
Alex led me up the six East Ledges descent ropes to see if I'd learned to use the ascenders. I had. So on my way out of the Valley that trip, he suggested I stop and jug the Heart lines.
His directions to the lines were a bit vague, I realized as I hiked through the oak forest toward El Cap that morning. This is his backyard—but I'd never been closer to El Cap than the road. Everyone I stopped for directions was twenty-something, male, toned, and fit. I was old enough to be their grandmother.
I did find the lines, and as the two young men before me set up, I watched carefully, filled with trepidation. But the second climber didn't seem to know as much as I did about how to attach the ascenders and get launched. A smidgen of encouragement there.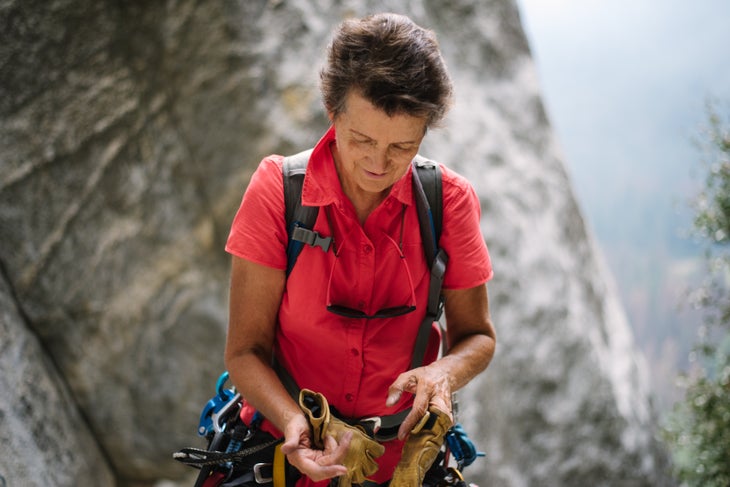 I only made it up one of the six ropes that day. Powerful arguments in my brain almost kept me from even that much.
You're too old for this. You don't belong out here with all these young guys. You're alone—what if something happens?
My senior brain was insistent. Thankfully, my focus on the adventure drowned it out, at least for one rope's length.
A few years ago, when I retired from 44 years of teaching, many different scenarios opened up before me. I could get back to conducting, or at least playing in an orchestra again. Teach abroad in a country I'd wanted to explore further. Write. Play with my (future) grandchildren.
I'd never heard of jugging, back then.
Now I knew a bit more, but as I clamped my ascenders onto that first rope at the base of El Cap—is there a rock wall more intimidating?—I was overcome with the one aspect of this endeavor that I hadn't counted on: fear. Informed, rational fear. I'd lived long enough to learn to be wary. I knew enough, at my age, to know better.
Once I left the ground, here, alone, I'd be completely on my own in unfamiliar territory. That held me fast to the ground for a long time while I checked everything yet again, not totally convinced I had learned enough to do this without help, or at least the comfort of company.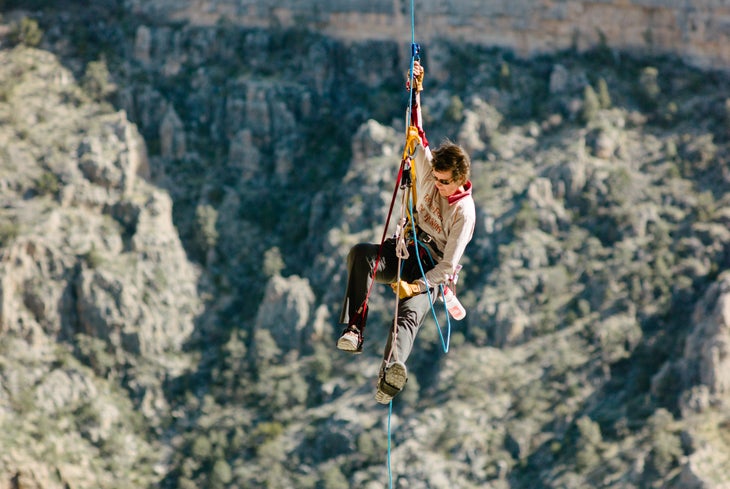 About 20-feet up, the argument started again. I stopped and checked my ascenders one more time. Tested my back-up Micro Traxion. Locked. Daisies attached properly. Then I turned and gazed out over Yosemite Valley, seen from (slightly) above. From El Cap.
I was jugging on El Cap!
Over the next few months, I showed many friends how to use ascenders as we quested up to the base of the Heart formation and eventually to the Mammoth ledges above it, about 1,200 feet. The old maxim that you really know something if you can teach it to others played out over and over. I knew this stuff. It was time.
Halloween. October 31, 2017. The perfect day for Lurking Fear.
The rigorous approach that I'd practice-hiked several times seemed less intense in the dark. And there's something intimate about harnessing up when you can't see your objective, the monster wall looming over you—only your own heart, and how much you want this.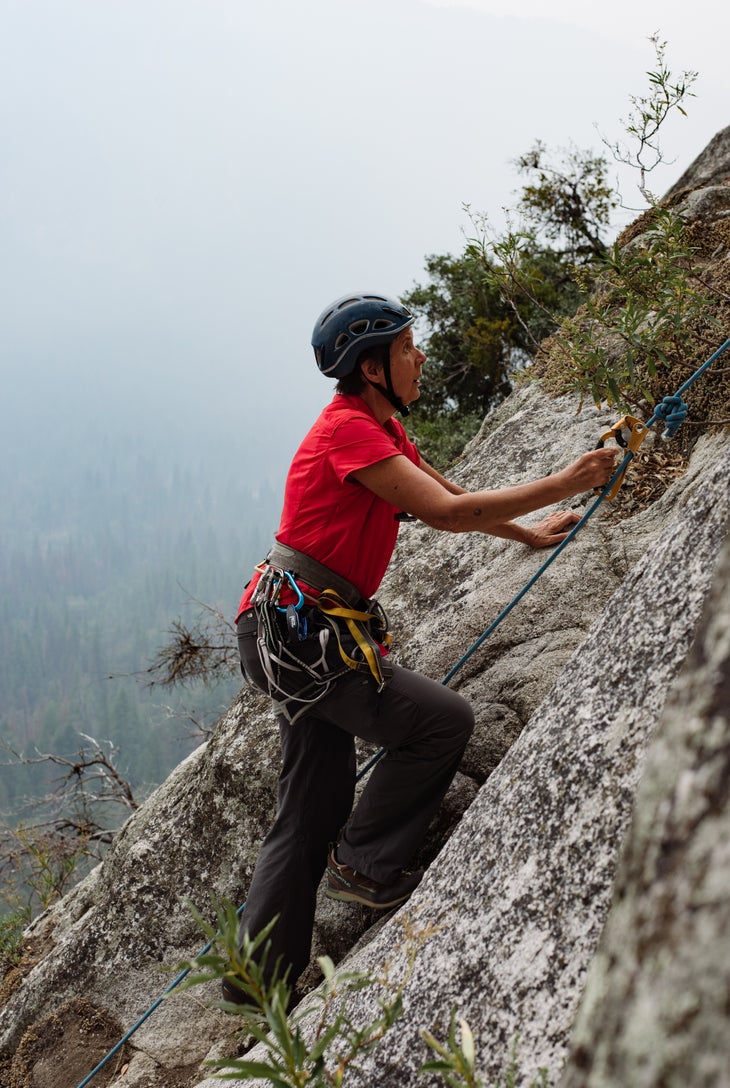 As Alex disappeared upward on the broad, flat expanse of granite until he was just a distant speck, it occurred to me that I had never actually seen big-wall climbing up close. He often talked about it, but that left most of it to my imagination—which had been hard at work these past few months. Now, I watched as closely as I had when I'd seen him break the El Cap speed record. That was through a telescopic lens. Now, I could hear him breathing, see him try one grip, then another. Heard him shout, "Watch me!" This was the real deal. Hard, even for him. The possibility of seeing him take a lead fall made my heart race. But he didn't. I relaxed into it, and began to feel many of the emotions I feel when I watch a slow, graceful ballet. Appreciation of the skill. Awe, at the grace and control. Disbelief, that a human is capable of such beauty. Then he shouted down, and I started up. It was clear what to do and when. So we did. Over and over. And over.
I counted pitches each time I arrived at bolts, but when I had counted nine, Alex announced that we were at pitch 12. It didn't seem possible, but it was the kind of news I needed. From the weariness I could feel building in my arms, I knew this was going to be a talker.
During most of the climbs I've done with Alex, I've needed to talk to myself constantly to get through the fear, or the fatigue, or the emotions. I could feel it happening today, around pitch 12 or 13. My shin was throbbing, probably purple where the strap and buckle rubbed with each step. My two toes that don't bend screamed each time I jammed them against the wall. Both thumbs had cracked open and were bleeding. Thumbs. Of course. You can't operate ascenders without thumbs.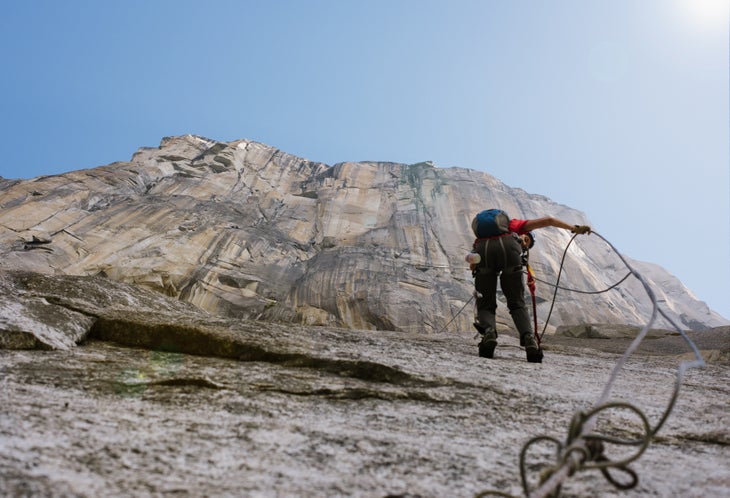 The big surprise, the one thing that I'd been concerned about, turned out to be a non-issue. Several pitches up, I turned and looked down. Nothing. No queasies, no fear. Just amazement at how beautiful it was. All that practice on the Heart lines and descent ropes had made that incredible, mind-numbing exposure comfortable. Practice does make…not perfect, but less terrifying.
The statistics about Lurking Fear are all online; numbers are easy to come by. The hard part, the ineffable part, began last spring and culminated this Halloween. Lurking Fear was a crucible, an incredible classroom. Living in that classroom as a senior climber exhausted me, thrilled me, and left me with many life lessons that can only be learned the hard way, the rock way.
As a teacher, a musician, a mom, I've always known that little steps can make anything feasible. My son has said that about his own climbing goals, in many articles. The biggest, most outrageous goal becomes approachable if broken into tiny pieces. Lurking Fear was ridiculously out of my range until I started practicing tiny parts of it, many months ago. For me, a senior, those parts had to be small and easy. And accompanied by willing, helpful friends.
The last surprise, the biggest, was fear. Terror. Worry. The main job of parents is to anticipate the bad things that can happen to our precious little ones and protect against them.
Now, instead, I was about to do one of those very bad, dangerous things, as I convinced myself to leave my fear behind and step out onto a big wall, thousands of feet above anything safe, and hang on a skinny rope. One rope. One piece of gear. Young people, people who haven't had children, won't get that. You oldsters and parents out there will.
Unlike my son, I haven't spent my lifetime training my amygdala to ignore extreme exposure, or any of the other dangers up on the wall. The world has seen what he can do. That alone strikes fear into the hearts of most parents, and understandably so. But like Alex, and his equally extraordinary sister, once I set a goal, I always get there. When I asked Alex that wild question last year, I knew that one way or another, with him, I would get to the top. And back down.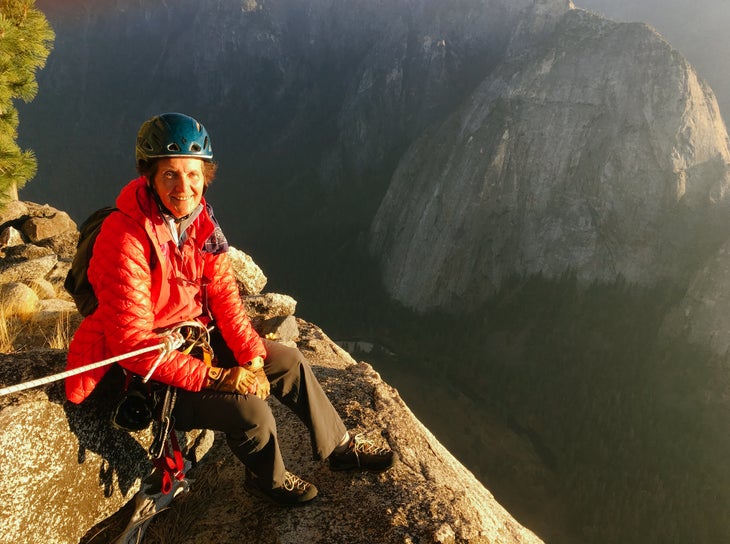 It was more work than I'd prepared for, though. The last pitch or two demanded far more of my arms than was left in me. I resorted to pushing the ascender up with both hands, then pulling myself up to stand up to it. Bad form, as Alex reminded me again and again; but it was the only way I was going to make it to the top.
The "top" turned out to be an elusive concept. I thought we'd topped out, as it was getting too dark to continue with a headlamp—and then Alex shouted down, "One more rope to jug, Mom." I was crushed! Was this short, lumpy pile of rocks part of the route? Or were we on the top?
I didn't have time to dwell on it. I couldn't see where I was putting my feet, but had no time to stop and find my headlamp…and then there was another rope. And another. He called them hand-ropes, so I guessed we had topped out. I had no puff left to ask him anything. I tied in and climbed one of them, then switched back to jugging. Again.
The "top" was more like a grueling, rolling series of torments than a blissful, high five. I felt cheated.
And yet—these were hand-ropes. We were on the top. I'd done it! Waves of something powerful bubbled up, threatened to pour out of my eyes. But I knew the huge task in front of us. We didn't have time for me to come apart, or stop to rest. I shook out my poor arms, slowly bent my arthritic knee to see if it would actually make it down. I took control. We had a long, long walk ahead of us. Funny, what climbers call a "walk." None of it felt like walking, to me.
Alex and I chatted over slabs, and rocks, through thickets, past trees, over more slabs, more rocks, more thickets…. He said he had never before seen lights on Half Dome, so we stopped to gaze across the dark valley. I talked to keep my mind in check. There would be time tomorrow to exult. Now, I needed to keep going.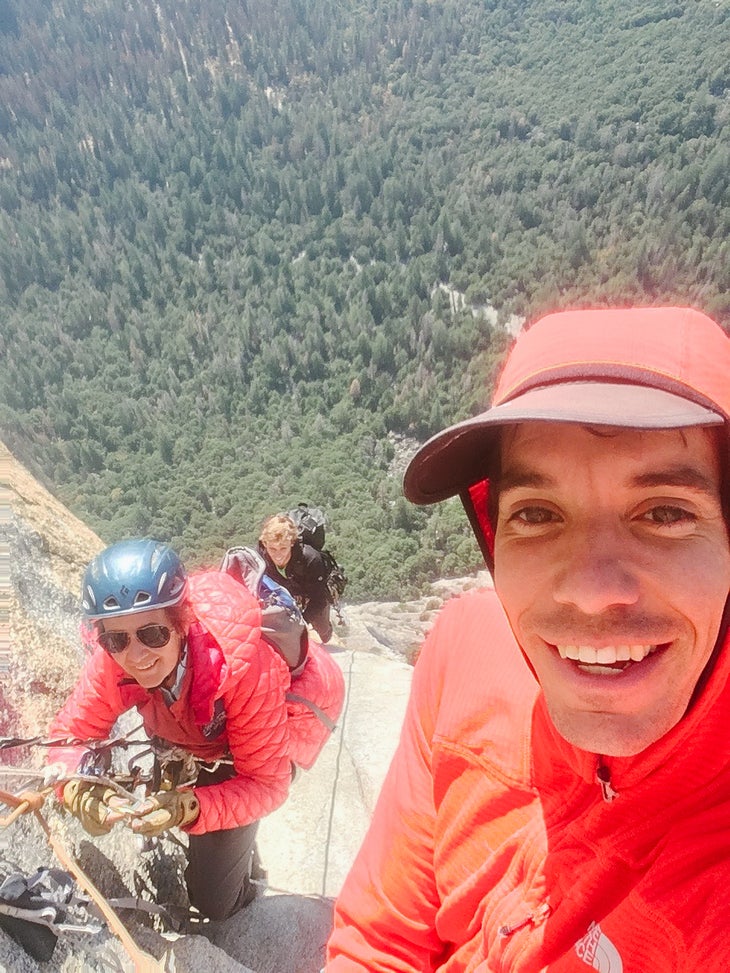 We finished the 19 pitch route in 13 hours, bottom to top. Twenty hours, car to car.
[Ed. At 66, Dierdre became the oldest woman on record to climb El Capitan.]
Over the years, I've often heard about 'the season' in Yosemite. Alex and his friends and colleagues train there spring and fall each year. They make history.
I've had many "seasons" during my decades as a teacher, writer, conductor, mother. Seasons for exams. For traveling. For concerts. But my Yosemite season has been like no other.
Each year, when Alex and I climb together, I think, "I'll never top that!" And each year, I do.
I can't imagine what could possibly surpass El Cap in a day. But I can't wait to find out.