Thunderous Avalanches and Not Enough Gear: An Alaskan First Ascent That Was Almost Their Last
The Kiwi alpinist Pat Deavoll was just below the summit of Alaska's Peak 11,520 when the whole face around her cut loose. It was the beginning of the ordeal of a lifetime.
---
Join Climbing
Create a personalized feed and bookmark your favorites.
Join Climbing
Create a personalized feed and bookmark your favorites.
Join for free
Peak 11,520 is a feisty mountain at the head of the Tokositna Glacier, Denali National Park, Alaska. Dwarfed by its neighbors Mount Huntington and Mount Hunter but with little respite for an easy route, it remained unclimbed when Scottie Simper, Anna Keeling, Karen McNeill, and I flew into the Tokositna cirque in April 2002.
The north face of 11,520 is a complex mile-wide matrix of steep ice gullies and rock buttresses, interspersed with shields of iron-grey ice. When I first saw the wall, it reminded me of the east face of Aoraki (Mount Cook) back home, but was steeper and more technical. It was daunting.
We had no intention of climbing 11,520, but after fast ascents of the Nettle-Quirk on Huntington (all four of us) and the Colton-Leach, also on Huntington (Karen and I), we set our sights on the unclimbed mountain and set up a temporary basecamp at the foot of its north face.
The two ice routes on Huntington had tested us; in particular the Colton-Leach, which took Karen and me 30 hours to complete. But by now we were hyped, feeling fit and strong and up for whatever 11,520 threw at us.
Scottie and I took a central route up the north face and climbed 10 pitches before retreating due to unconsolidated snow. Karen and Anna, on a different route on the right side of the face, made it higher—15 pitches—before being shut down by the cornice beneath the summit ridge. So that was that, at least for that year, though we were thrilled with our trip. We had done well and had a fabulous time. Anna and Scottie flew out to Talkeetna, while Karen, who like me was from New Zealand, and I bumped down to Little Switzerland for some rock routes. Rock routes weren't really Karen's thing, but she was a trooper, and we made plenty of ascents.
The next year, keen for another Alaskan season, I convinced a different fellow Kiwi, Marty Beare, to come back with me, and first on the agenda was the still-unclimbed 11,520. It was, I guess, unfinished business—I've never liked failing on a mountain—and the ascents on Huntington had given me confidence that I was capable of climbing Alaskan ice. And, of course, I wanted a first ascent. However, the main objective of the trip was the North Buttress of Mount Hunter. Peak 11,520 was to be our warm-up.
Marty and I had met as flatmates in the early 1990s, and climbed some fine technical ice routes in New Zealand. I'd never really thought I knew Marty well, though. He was reserved, even remote. That was his nature.
We flew into the Tokositna in mid-April 2003 and immediately sat out 10 days of storm in our basecamp beneath the west face of Huntington. As heaps of snow dumped down, we began to worry whether we would even get onto 11,520. I felt the possibility of the first ascent slipping away, and I think the severity of the Alaskan spring conditions surprised Marty. As was his way, though, he didn't talk much, which annoyed me.
We passed the time engrossed in our books in our respective tents, pitched about 10 feet from each other. Occasionally, one of us would ask the other about lunch or dinner, and get up and cook, but that was the extent of our communication.
We were lucky to have the company of the blind American climber Erik Weihenmayer at basecamp. There to climb Huntington, Erik was super nice and supportive of our plan.
"Hey, you guys have a great objective," he would say, repeatedly wishing us good luck.
Eventually, the weather cleared, and we made our way to an advanced basecamp under 11,520. After a day waiting for the north aspect to shed snow, we prepared for a midnight start up a fine-looking line, a sustained couloir of about 1,500 meters (4,500 feet) that swept up the length of the face, finishing under the summit. About 20 pitches, we figured, then the descent; we'd be back at basecamp in 24 hours with a first ascent under our belts.
A midnight start. A scrabble in the dark for the headtorch, the cooker; melting water when half-asleep; a breakfast neither of us felt like eating. A struggle with frozen bootlaces.
"I'm not sure about this," said Marty. Why? I wondered but didn't ask because I didn't want to know. I just wanted to get to the top. We were off at 1 a.m., skiing toward the mountain. Ditching the skis, we crossed a large bergschrund with some effort in the Alaskan semi-light and climbed the steep 'schrund wall. I was leading and feeling good—strong and confident.
We've got this, I thought, kicking up 70-degree ice. Today is the day.
Seven pitches later, at around 8 a.m., the couloir narrowed, and we reached a tunnel of vertical grey ice. By this stage I wasn't feeling so confident—I didn't know why—and left the leading to Marty. Maybe something was telling me that this was wrong—call it intuition born of a 30-year climbing career. Marty, on the other hand, had regained his mojo and was climbing strongly. Our roles had switched.
While belaying, I looked down and was disquieted to see a blanket of iron-grey cloud creeping up the Tokositna Icefall below and spreading across the cirque. Tendrils of purple snaked their way up the gullies on either side of the couloir, as if reaching for us. At the same time, a plane with Erik's party swooped off down the icefall—they were bailing, gone. I suddenly felt the exposure and loneliness of our situation.
No one knows we're here. Who knows when we will be back on the ground? And the weather—what is it doing?
Marty led through the ice tunnel quickly, and I followed with trepidation, continually glancing down into the cirque, watching the cloud inch up. The color of the cloud, the ominous purple-slate, spooked me, although Marty seemed to be able to put it to the back of his mind. Or did he? He was his usual taciturn self. He didn't look down much.
"We can grind this down," he said at a belay. But that was it. He was still doing the majority of the leading. I had lost any momentum. I just wanted to descend.
The pitches wore on, and with each, my sense of dread increased. But 20-plus hours off the ground and 20 grueling ice pitches saw us close to the summit. It was 11 at night, the light was that Alaskan midnight gloom, and the creepy iron-grey cloud had moved up the couloir and was seething at our heels.
"One more pitch and we'll be on the summit," Marty said. I hung on an anchor of ice screws on a 70-degree slope as he front-pointed upward above me. I glanced down, and there was the cloud. Within seconds it engulfed me, and it started to snow heavily. I hunkered down on my anchor in misery. As fast as I shook it off, the snow piled on top of me.
Then, a whoop from above.
"Come on up," Marty shouted.
Marty had made the summit! I felt a shot of elation, shook off the snow, and began to dismantle the anchor, intent on following him. But as I moved, with a loud SWOOSH, the whole face, 100 meters on either side of me, disappeared downward. I was swept off my feet, dangling on the one screw still in, scared to death.
"Come down, Marty!" I screeched into the darkness.
"OK." Marty sensed my predicament.
I jammed in another screw with shaking hands, and released the ropes for Marty to pull up. He abseiled to my side. This seemed to take an age, and during that time, with a torrent of snow settling on it, the slope released twice more, both times wrenching me off my feet.
"What shall we do?" Marty said, looking around. "We could hunker down in that crevasse and wait this out." He pointed to a ragged fissure over to our left, and with that I knew that he, too, was rattled by our exposed position.
To me, the thought of sitting in a crevasse with no bivy gear for days, waiting for the weather to clear, was too much.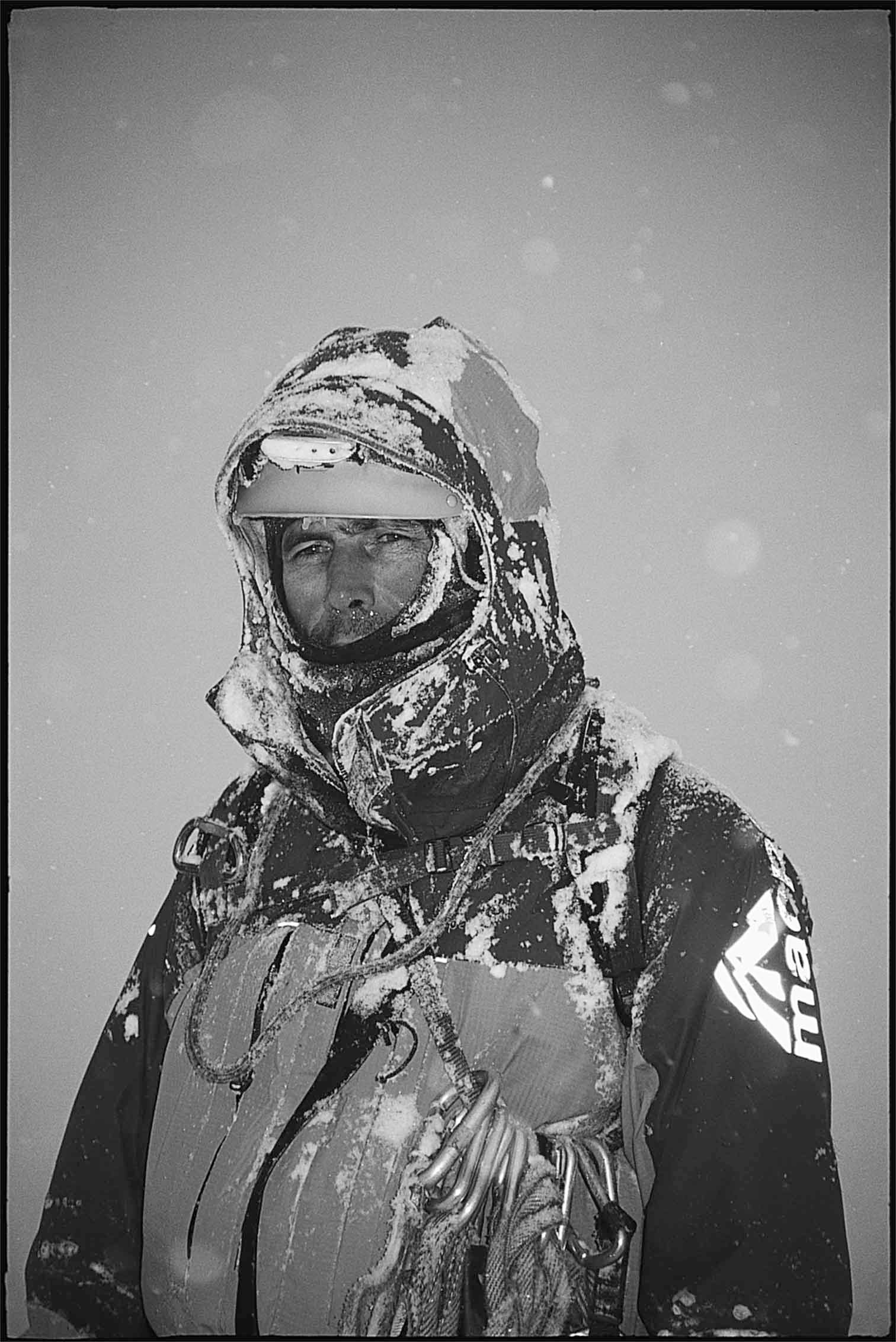 "We have to go down," I responded. Marty gave a brief nod. There was no further discussion. It was now 2 in the morning, and we had been on the move for more than 24 hours.
The first abseil went OK—we were able to build a V-thread anchor. I went first, but just as I placed an ice screw for the next V-thread, the slope released again, and then it continued to do so every three or four minutes as the snow built up. As hard as I tried to build a V-thread, the snow poured down upon me, filling the ice-screw holes and reducing my visibility to nothing. My helmet and jacket filled with snow. All I could do was hunch over a single screw and beckon Marty down.
He joined me, gaunt with stress and fatigue.
"We are going to have to leave ice screws behind," I said.
"We'll run out before the bottom," he said. We had 12 ice screws.
I had no answer; I only knew we had to get down.
Six abseils and we were down to five screws. We had been sticking to the right-hand side of the couloir, trying to stay out of the main avalanches. Even so, we were covered in snow—it clogged our helmets and jackets, and we were wet through and through.
We reached the steep grey gully that Marty had led so competently. The snow was pouring down in bigger and bigger waves, more and more frequently—every couple of minutes. Each approaching wave sounded like a freight train. Even now, nearly 20 years on, I can still hear the sound of those avalanches coming.
But how to get down the gully? To abseil directly down the 20-foot-wide gulch would have been a death sentence. We both knew it, so without speaking we angled right and managed to build a V-thread in a lull in the downpour, then abseiled over a steep buttress and back into the couloir proper. We stopped for a while and regrouped under an overhang; we ate and drank a little and considered what to do next.
As I took a sip of water, Marty said, reassuringly, "We're going to make it."
I felt a surge of gratitude. Marty cared. Was our shared peril breaking down barriers to our friendship? Was Marty coming out of his shell?
We huddled under the overhang. To our left, the avalanches were monstrous, pouring in 50-foot-high waves over the lip of the gully. The sight was horrific yet mesmerizing. I couldn't pull my eyes away. The avalanches reminded me of the sea in a storm, or a wild animal, unleashed and uncontrollable.
Beneath the gully, the couloir widened, and the rock walls on either side heightened. Rapping down first, I fiddled a few wired nuts into a small crack system.
"Well done," Marty said, arriving, and I felt a surge of hope. Maybe we're going to get down after all!
The avalanches continued to pour down, mere feet away in the middle of the couloir, but by this time I mostly felt numb. It was nearly 10 hours since we had begun our descent, and 30 hours since we'd left our advanced basecamp; I was done with it. The fright had turned to flight.
"We're going to be OK," Marty said again.
At about 5 p.m., we reached the bottom of the couloir. Only the bergschrund to cross, dig out our skis, and we would be back to basecamp, food, and shelter. Going first while Marty waited above, at our V-thread anchor, I abseiled toward the 'schrund.
With a ferocious BOOM, the slope between Marty and me released. A huge, frothing wave of snow raced toward me.
Marty shouted, "Watch out!"
Not knowing what to do, I instinctively dropped over the lip of the 'schrund and swung in under the overhang, clutching my rappel device with both hands. I slid down the ropes, out of control.
The snow poured over my head and funneled downward into the 'schrund. Its floor raced up to meet me, ending up three feet below my feet when I hit the stopper knots in the ropes. I was terrified—and very lucky.
"Are you still there?" yelled Marty.
"Yes, I'm still here," I yelled back with a bit of elation. I had won!
I scrambled out the back wall of the crevasse and waved to Marty.
He shouted, "OK, I'm coming down."
For long moments we dug out our skis, and 20 minutes later we were back at advanced basecamp: speechless with relief, and content with making a brew and collapsing into our sleeping bags. Over the next few days, we began to talk about our ordeal, and agreed it was only our combined 60 years of slogging around the similarly glaciated Southern Alps that had gotten us back to the ground.
We doubted whether we would ever get our Alaskan mojo back. A couple of days later, we tried a route on Kahiltna Queen that Malcolm Bass and Simon Yearsley had put up just weeks beforehand. But we backed off—I was scared stiff of the spindrift coming off the wall and just wanted down.
"It's OK," Marty said. "We'll get going again." On that trip, Marty turned into one of the best climbing partners I would ever have, calm and understanding and compassionate. After Peak 11,520, we always gelled, had more to say to each other.
And we must have gotten something back, because a week later we climbed Deprivation (Alaska Grade 6: ED+ 90 degrees; 6,000 feet; FA: Scott Backes, Mark Twight, 1994) on the North Buttress of Mount Hunter. Reaching the top was one of the happiest days of my life. Again, I think it was only the combination of our many decades of mountaineering experience that took us up and then down, dealing with the steepness of the ice, the rock bands, a 50-hour assault with no sleep, and the 35 rappels. Today, 20 years down the track, it ranks among the highlights of my mountaineering career.
And Karen .… In 2005, she and I made the first ascent of Xiashe, a mountain on the Tibetan Plateau in Western China. It was a fantastic trip into a wild, wild area, with range after range of mountains reaching to the horizon, and travel with swashbuckling Tibetan horsemen with long black hair. Only a few months later, Karen set off with Sue Nott, of Colorado, to climb the Infinite Spur on Mount Foraker. The two women disappeared on the mountain, never to be seen again. A decade and a half later, I still think of Karen a lot—was she killed in an avalanche, or did she dig in somewhere, hiding from the disastrous windstorm that hit them? Did she have time to contemplate her own end? She was only 37.
As far as my Alaskan experiences, they were like yin and yang—11,520 an epic during which I came the closest I ever have to dying, and Deprivation a resounding success. No, I didn't summit 11,520. I don't care. I survived it.
Pat Deavoll has had 19 expeditions to the Greater Ranges, with eight first ascents in China, Pakistan, and Afghanistan. She has specialized in technical first ascents in remote regions, and is author of the memoir Wind from a Distant Summit, dedicated to Karen McNeill.