Climbing Was For Men Only. She Did It Anyway and Became One of the World's Best
Girls weren't even allowed to use the local climbing wall. She fought for her access, and then made her way to the world stage.
Heading out the door? Read this article on the new Outside+ app available now on iOS devices for members! Download the app.
In the months leading up to the 2013 Asian Championships, in Tehran, I covered my bedroom walls with the names of my competitors and their latest results. I highlighted the names of the best athletes and their times. I closely followed their IFSC videos as soon as they were uploaded to the internet.
The gap between my speed record and theirs was immense. But with a restless soul and a zest for challenges, I dreamed of being among them, competing—and even winning.
As for training, I was on my own. I remember running on cold winter nights in the snow in a loop close to our place, and my mother, Parvin, encouraging my endeavors. "I know you can do it," she told me often. Back-to-back training sessions often felt heavy on my shoulders. To stay focused, I read motivational books and meditated under the moonlight before going to bed.
When the Asian Championships arrived, a crowd of almost 500 came to watch the competition, in Mellat Park, one of the largest parks in Tehran. I centered myself in the isolation zone by listening to my favorite music, focusing on my breathing rhythm, and visualizing the route again and again. My objective was simple: climb cleanly and tap the sensor before the other climber.
As the rounds progressed, I found my rhythm. When I made it to the final round, I could not believe that I was only one step away from realizing my dream. Just … a few … seconds.
Many of the competitors had coaches and mentors. They had easier access to equipment, adequate gym time, the freedom to wear light jerseys. I had none of those things, but I kept telling myself that whatever the outcome, I was going to try my best.
In front of the start holds, I took a deep breath. I could hear my heart pounding, reverberating all over my body, and my mouth was dry.
At your marks… Ready…
My chest expanded. I exhaled with a short roar and grabbed the start holds while joggling my left foot slightly on the sensor. I cleared my mind of negative thoughts and focused on the pressure of my big toe on the foothold, feeling the strong pull of the first hand holds. I laser-focused on the next ones above them.
Beep!
I pulled the start holds with all my might. I pushed through my feet, using my whole body to generate momentum.
At the top, I ended up just microseconds ahead of Supita Tita, my Indonesian opponent. The crowd burst into roars! My dream had just come true!
Life is short … try hard, do it, clap for yourself and leave—this has been my way of life. There was no other way.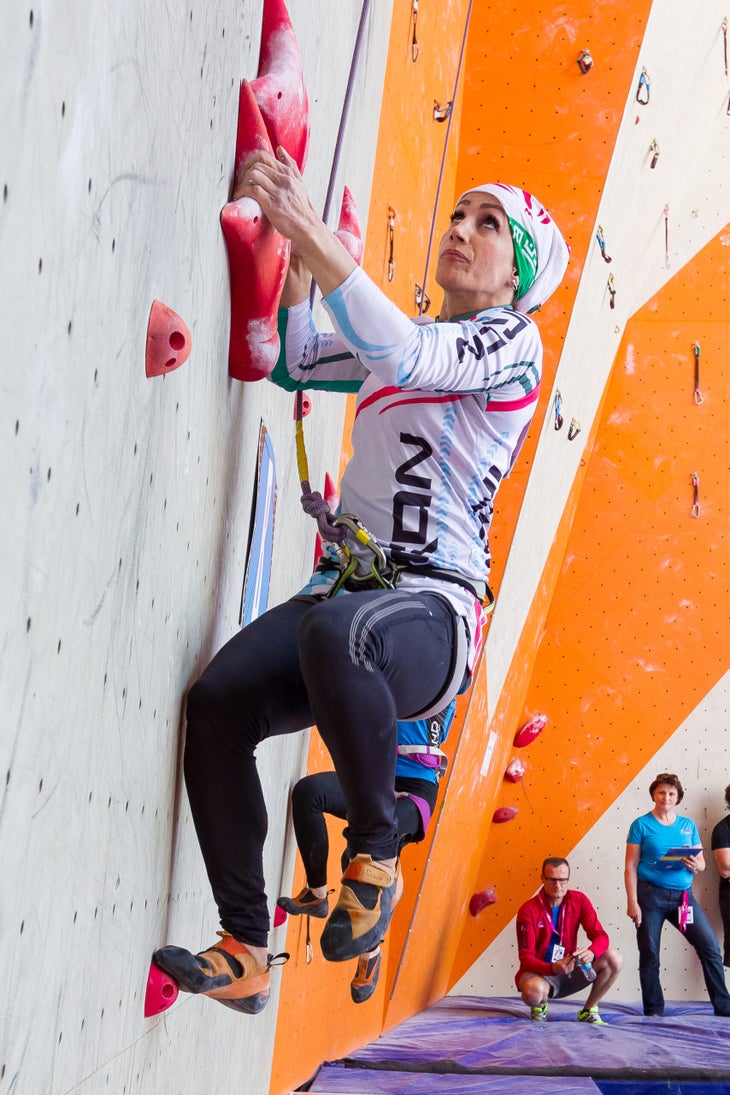 Men-Only
I was born in Borujerd, a city in western Iran near the Zagros Mountain Range, where the pristine and rich environment created in me a deep bond with nature.
My parents are both mountaineers and nature lovers, and my childhood summers were spent traveling, camping and hiking in the beautiful Iranian environment.
My father is passionate about sports and has always encouraged others to live an active life. He has summited many of Iran's highest and most challenging peaks, such as Mount Damavand (18,405 feet). He cycled alone from Boroujerd to Tabriz (a city 437 miles away), where as a student at Tabriz University he fell in love with my mother.
I grew up with two older brothers, which is perhaps why I loved the sports that, back then, were known as "men-only activities," like martial arts, soccer and cycling. And most of the time I was able to beat the boys in games or races.
When I was about seven years old, a local cycling race was held for boys. At my parents' and my insistence, the organizers let me take part. I won the race.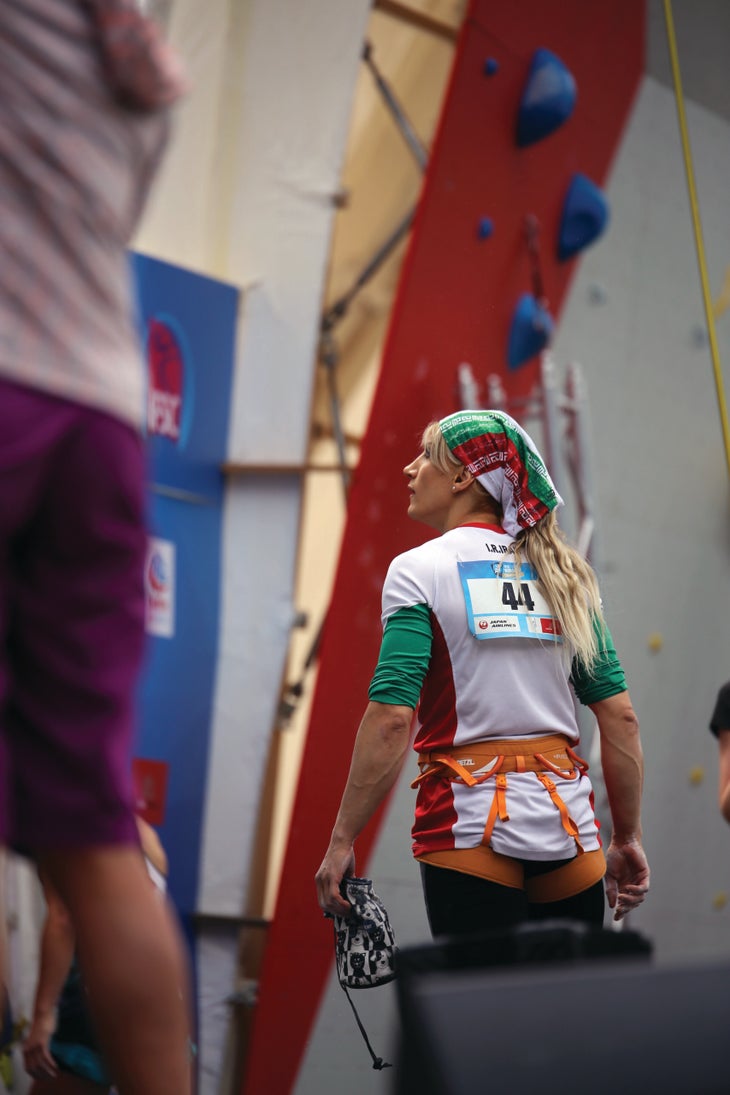 I was five years old when a very basic climbing wall was installed in the local multipurpose sport complex in my hometown. The wall had limited holds—all of which were old and greasy and just meant for traversing. Still, my brothers excitedly signed up to try it. As usual, no girls allowed. Undeterred, my parents installed some holds made of little stones and wood on a wall in our yard at home for me. I was very little, and when I managed to climb the wall, I received the best possible gift from my brother: a 24-count set of colored pencils!The First Women's Climbing Team in Zanjan
When I was 13, we moved to Zanjan, a city in northwestern Iran. Coincidentally, the same year, the 2001 Asian Junior and Youth Climbing Championships were held in the city, and my family and I went to watch. I would have loved to participate. I was on cloud nine imagining myself competing. I was inspired to take up climbing again, so I inquired around the city, and found that there were no local sport-climbing programs for girls or women.
"I have to do something," my inner voice whispered. On the last day of the competition, my mother and I talked to five other girls, spectators among the crowd, who likewise wanted to climb. Together, we descended upon the local sport office. We demanded a women's climbing program, and faced several rejections until, after a few months, we succeeded!
Girls were able to use the climbing wall two days per week for an hour and a half each day. That access was a great outcome. We became the first women's climbing team in the city. My mother's support and her persistence in follow-ups were crucial.
Not having a dedicated coach, however, was one of our biggest challenges. Still, the game had begun.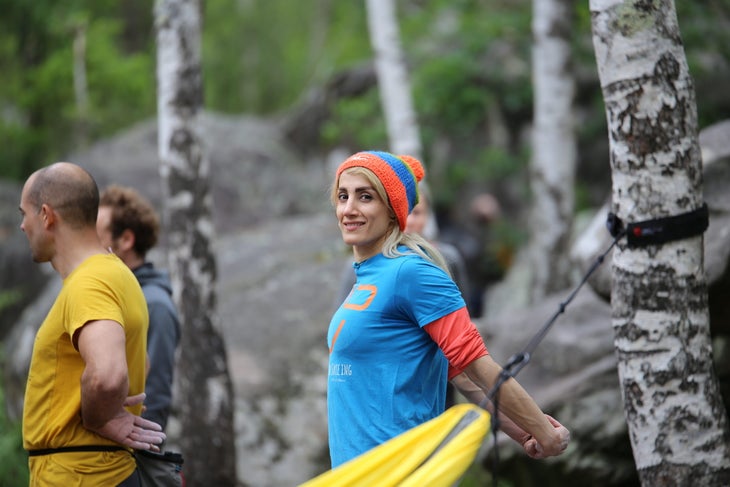 Introduction to Competitions
After about a year, we held self-driven training sessions. At the time, there was only one discipline: lead climbing. In my first competition ever, I lacked any working knowledge about route reading: I picked the wrong line and got stuck at the beginning of the route before even clipping the first quick draw. A nightmare! I placed last.
But by the next competition, almost a year later, I had gained more experience, and at age 15 I earned a bronze medal in the 2003 Lead Youth National Championships, despite having to compete using my brother's shoes, which were bulky and oversized. I also tried the newly introduced discipline: speed. Speed seemed much more exciting, as it naturally matched my spirit, and I had an aptitude for it.
Seeing progress fed my motivation to train harder. In 2005, I secured two silver medals, in lead and speed. In the coming years, I stood on the podium every year, and I obtained several gold medals in both disciplines at the National Championships. My love for speed climbing only grew, so it became my main discipline.
As the years passed, climbing was taking almost all my days and nights, summers and winters.
Building Myself Up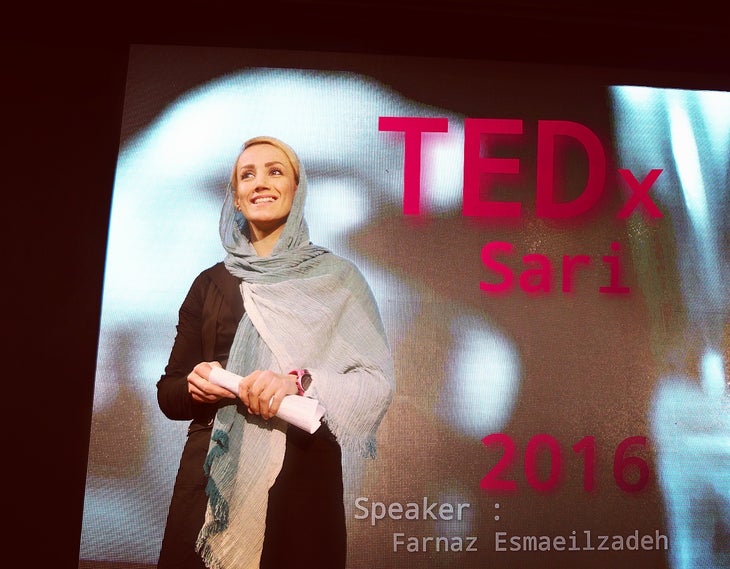 At 17, I was a skinny girl who wanted to be stronger. Still with no access to a climbing trainer, I started making my own training plans. I relied on the internet, and read various articles about climbing and fitness. I looked up climbing techniques and watched training and competition videos on YouTube.
My mother would always give me a helping hand, cooking healthy food for me and following my progress. She also accompanied me to most national competitions. With her encouragement, I felt less alone.
My brother helped as well by installing a simple hangboard in my room. I spent a total of 21 hours every week hangboarding and doing conventional exercises at the fitness club. Further, I started taking notes to stay organized and motivated. Little by little, I noticed my muscles building up, and I witnessed the impact of increasing strength on my climbing performance.
Bumps Along the Way
After trial and error with my training, I got better. I ranked first nationally in speed and placed sixth in the Twentieth Asian Championships, in Leye, Guangxi, China, 2012. Still, I had a long way to go to place well internationally. I needed more experience and time on the wall.
At age 24, in preparation for the 2012 Paris World Championships, I obtained permission to train on a 15-meter outdoor wall, located in Polur, a village at the foot of Damavand Mountain, and only used for camps or certain competitions.
I asked one of my climbing students, who had recently begun speed climbing, to accompany me, and she eagerly accepted. Mahsa and I took the bus 260 miles from home and stayed for two weeks. I practiced in the mornings and evenings, up to 14 climbs each session. I also integrated running and spent time reviewing speed videos. For the first time, I managed to achieve sub-10-second times with reasonable consistency. Back then, the world record was 8.33 seconds, by the French climber Esther Bruckner, and only elite climbers could clock nine seconds. So, I was ready.
I packed my suitcase and left Zanjan for Tehran. The other seven members of the National Team and I arrived at the Federation offices, each from a different city and with loads of luggage, to head to the airport. During a meeting before the flight, we were all stunned to learn that our trip had been canceled due to budget constraints. We dragged our suitcases out of the office and ended up spending the night at one of the members' places: months of planning and hard work were in vain. Life goes on.
Road to the International Circuit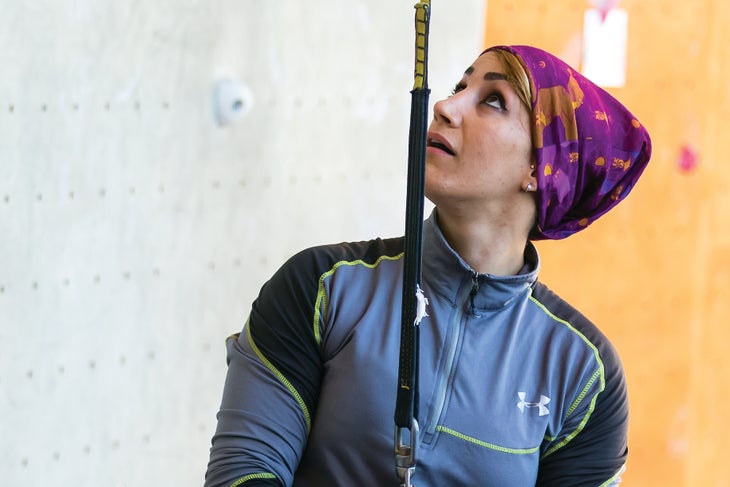 Two years later, I was able to participate in the 2014 Speed World Championships, in Gijon, Spain. A lot had changed over a few years, and competitions had gotten tougher, the field tighter. Several new young talents were present. Some teams had massage therapists, physiotherapists and even psychologists. I still had no coach, nor a standard speed wall at home for training. Regardless, I climbed fairly well, and I finished eighteenth out of 35.
During the competition, I met the Canadian team coach Kimanda Jarzebiak. She invited me to practice at her gym, The Boulders Climbing Gym, in Victoria, British Columbia, for a month before the 2015 Canada World Cup. After all my years of struggling, this invitation was one of the best opportunities I have ever had towards progress.
I returned to Iran ecstatic. I started practicing with greater intention and became more mindful of my diet. I canceled all trips and parties, and gained access to a friend's fitness gym in the middle of Persian New Year's holidays. I was able to train alone long and hard every single day. My body fat dropped to nine percent. I became a warrior with a purpose and no flexibility in my daily schedule.
After all the paperwork went through, the Canadian visa arrived in the last few days before my flight, and at the age of 27 I made my first independent training trip. Victoria became my new world. Libor Hroza, a former speed world record-holder, took me to the gym, where we trained on a standard speed wall. In a matter of weeks, my personal record went as low as 8.67 seconds, and my times were consistently in the eights.
The Canadian Nationals were held a few days before the World Cup, and I placed first in speed. Shortly after, I broke Iran's record and secured seventh place in the world ranking.
All Downhill
Despite the success, I experienced a slump after the Canada World Cup. I had seen significant progress in the previous month and wanted to continue improving, but how? How would I keep the momentum when I returned home? I sat alone by the beach and realized that while being on the right track was great, I saw no hope in sustaining this path for future competitions. While I planned for the next World Cup, in Chamonix, France, I grew discouraged going through tons of paperwork for visa applications, again. Spending most of my time and energy dealing with logistics over many years, among other hardships, finally sapped me. I was exhausted, bogged down with administrative tasks instead of focusing on performance and technique. I broke my diet and my training routine.
Hope is like gasoline: You can no longer move forward when you run out.
In the last days before the Chamonix World Cup, I received my visa and attended the competition physically, but my mind was elsewhere. As a consequence, I couldn't even progress one round.
I returned to Iran having lost my sharpness, landing at square one with the same obstacles that existed before. Three months later, I placed fourth in the Twenty-third Asian Championships, in Ningbo, China, but I had mixed feelings, as if I didn't care about my results. I felt unable to continue alone anymore. I really needed an expert to help improve my technique, and I had no rival in Iran to challenge my speed record with.
Tomorrow Is Unpredictable, You Need to Move
Seeking a short break, I decided to spend some quality time climbing outdoors and exploring Turkey's climbing areas for the first time—an amazing experience that broadened my horizons.
It was enough to renew my spirit. At the end of that trip, I decided to move to other places and train in better conditions. I went to Italy to train in Bolzano and Torino, and then I competed in the 2017 Arco World Cup, placing tenth. I made finals again! Focusing on happiness and freeing up my mind was the key.
Climbing was about to be introduced to the Olympic Games, so, excited to be back on track, I decided to practice more for the combined format. I entered the Italian Combined Cup in Milan. In the qualification round, however; I fell off a parkour-style boulder problem, landed on my right ankle and tore the ligaments. Right when everything seemed to be going well again, I had a serious injury. I went back to Iran to undergo a sensitive surgery, with six pins placed in my foot. After the surgery, some doctors told me I was never going to be able to climb again.
I put on my headphones and played the song "Titanium," by David Guetta."You shoot me down, but I won't fall. I am titanium."
For the first time in my athletic career, I stayed away from competitions for a whole year. I felt lonely. But in the midst of my worst time I really longed for climbing. I did pull-ups, push-ups and upper-body exercises, and climbed on one leg. Returning to drawing and playing guitar again helped restore my mental balance, as did coaching and conducting climbing workshops. I wrote an article about athletic injuries, which was published in the Mountain Quarterly. The recovery process was long: I did about 40 sessions of physiotherapy exercises and spent lots of time in rehabilitation clinics. During all that time, I rediscovered my passion for climbing. Apparently, I was stronger than I thought I was.
The Lesson I Learned
After surgery, I moved to Paris. I climbed outside, I found a speed wall to train on, and I even competed again, in the 2019 Chamonix Speed World Cup. I had little time to prepare, and placed thirty-six out of 81 athletes, but it was an amazing feeling to climb and be in the circuit again.
Through all the ups and downs, I've learned competition climbing is a game, and success or failure don't always reflect merit, hard work, or aptitude. What matters is that we challenge ourselves, work on our skills and capacities, and enjoy the process. We can try to turn challenges into opportunities. Winning the 2013 Asian Championship was a dream that came true, but learning to find and maintain a constructive attitude towards goals in life was the ultimate win.
"It's not because I chose climbing, but because climbing chose me. It's when I'm mad with it. When it's stuffed in my mind, flowing through my vessels and biting my fingertips." —by Farnaz Esmaeilzadeh, inspired by the writing of Charles Bukowski