Fastest in the Flatirons: The Satan's Minions Scrambling Club
Heading out the door? Read this article on the new Outside+ app available now on iOS devices for members! Download the app.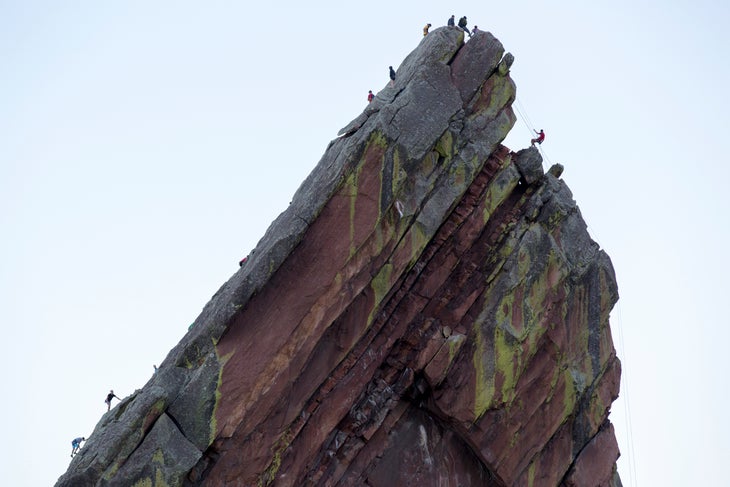 After trail running several miles and climbing over 1,000 feet of 5th class rock, most climbers would head to the bar for a pizza and a beer. The members of the Satan's Minions Scrambling Club shower and go to work.
First started by Bill Wright in the late '90s, the club offers members a way to get together and climb the massive rock slabs that make up the Flatirons on the western edge of Boulder, Colorado. Rather than roping up and making a day out of the long east faces, the Minions meet in the morning and take to the trails running. Outings can cover up to three miles of trail running and 2,000 feet of fifth class rock, all in approach shoes. Most members return to the trailhead by 8 a.m., just in time to go to work.
Wright first became interested in speed soloing easy terrain when he heard someone had done the Standard East Face (5.4, 900ft) of the Third Flatiron in under an hour car-to-car. In disbelief, he set out to see how quickly he could do it.
As more and more became interested in his pursuit of fast times for the classic long Flatiron faces and linkups, Wright started the club as a way to organize like minded members of the climbing community in Boulder.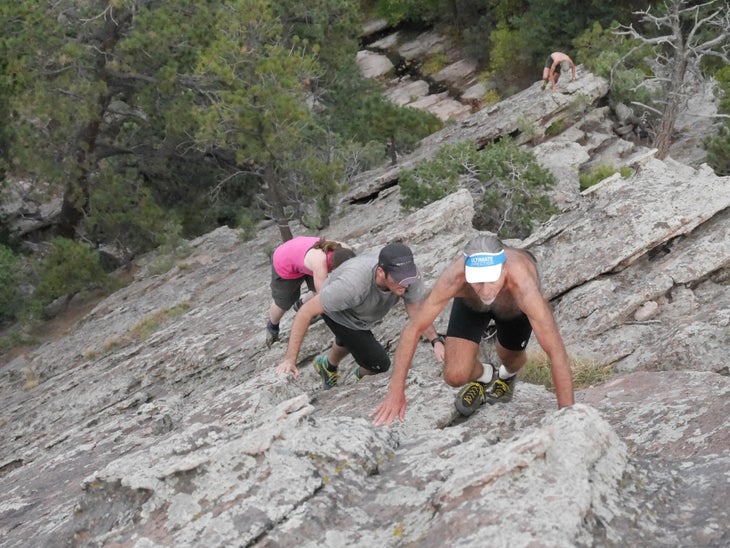 "The environment is really one of camaraderie over our common love of the Flatirons and also our love of going light and fast," said Wright.
Buzz Burrell is one such member who brought his mountain running experience to the Minions. Having scrambled on his own for decades before joining the club, Burrell was already a seasoned Flatirons veteran when he attended his first outing. Not wanting to wake up as early as the other members for the First Flatiron, he told Wright he'd catch up with them later on. "Bill was aghast," said Burrell. "Wright said, 'No one catches up with us!'"
Even with their 15-minute head start, Burrell caught up to the Minions within the first rope-length of climbing after the approach. "Since then the Minions have gotten faster and I've gotten slower!" said Burrell. To this day, Burrell and Wright maintain a healthy competition over their Flatiron speed times, often trading places several times when competing against each other in informal races.
The Minions embody a practice and a mindset that is unique to Boulder's access to climbing. "Scrambling was a here-to-fore undefined activity that kinda took shape here," said Burrell.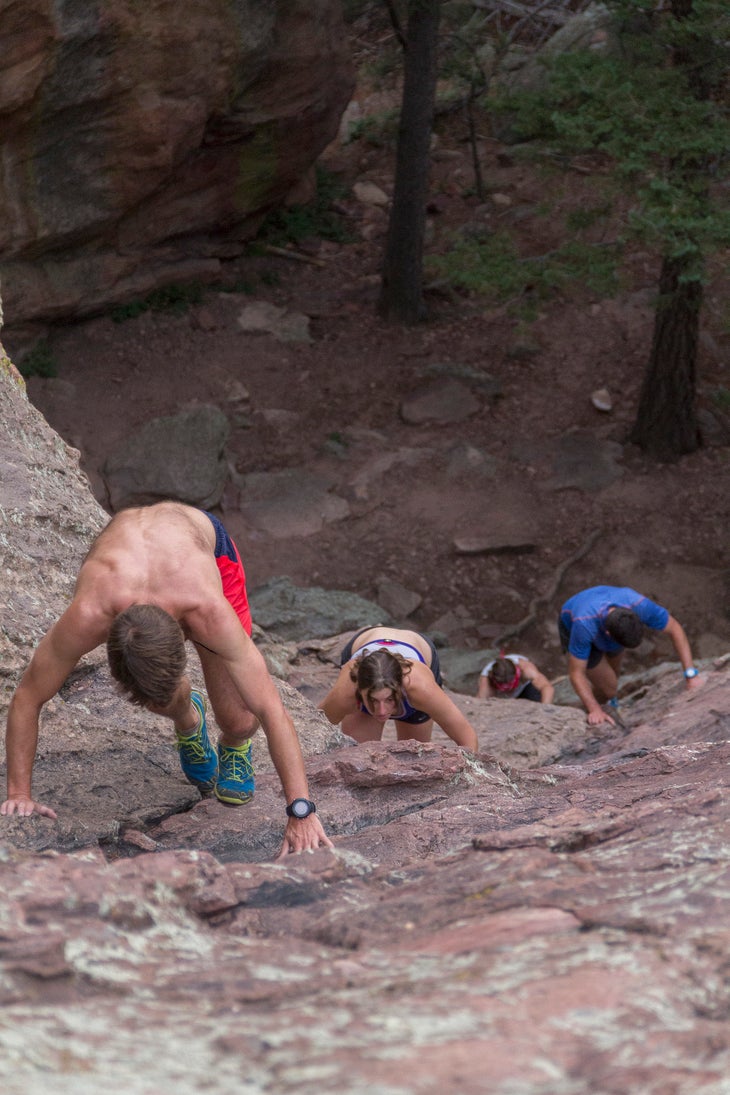 "I know of no other place in the world comparable to the Flatirons," said Wright. With almost endless potential for sub-5.6 climbing on features ranging in length from 100 to over 1000 feet, and just outside a major town, the Flatirons beg to be climbed fast and light.
However, that isn't the sole goal of the Minions. "The huge advantage of soloing these routes isn't that you get to go really light, but that they are like Via Ferratas in Europe. Everyone climbs right next to everyone else." said Wright. "Hence, these are very social outings. I view it as adventure running or hiking, in that they are as social as hiking and running, but much more exciting, engaging, and spectacular."
"Engaging and spectacular" isn't always what comes to mind when one thinks about climbing ropeless on features high above Boulder. Risk is also a part of the Minions' practice—a part that Wright hopes to acknowledge and minimize.
"In addition to this camaraderie I hope to foster a deep respect for the position we are in and the inherent dangers that come with it. I strive to be ever-vigilant of the potential disaster that nips at our heels if we're ever careless" said Wright.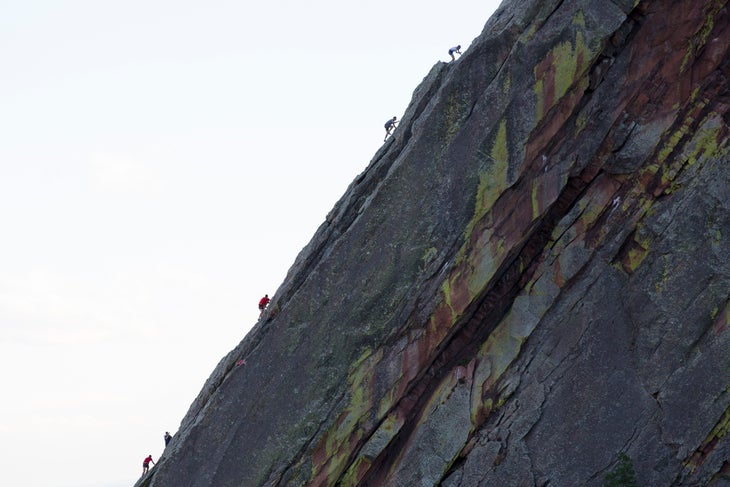 In general, the Minions don't climb above 5.6 in the Flatirons, and will fix ropes for descents if the group decides that time trials are excessively dangerous when including specific downclimbs, such as the descents for the First and Third Flatirons.
Still, it's hard to draw a line between "soloing" and the preferred term of the Minions, "scrambling." How can one climb be called a solo, and the other a scramble, even when both share the same grade and length?
"Climbing requires arms, one is usually thinking about each move, and protecting it with gear. If one doesn't use a rope, then it's soloing," said Burrell. In contrast, scrambling is largely driven by the legs and features much more continuous movement over easy fifth-class rock.
"I use the term scrambling when it's casual for me, and to down play it," said Wright, "but I guess a big part of the distinction for me is the angle of the rock, now that I think of it."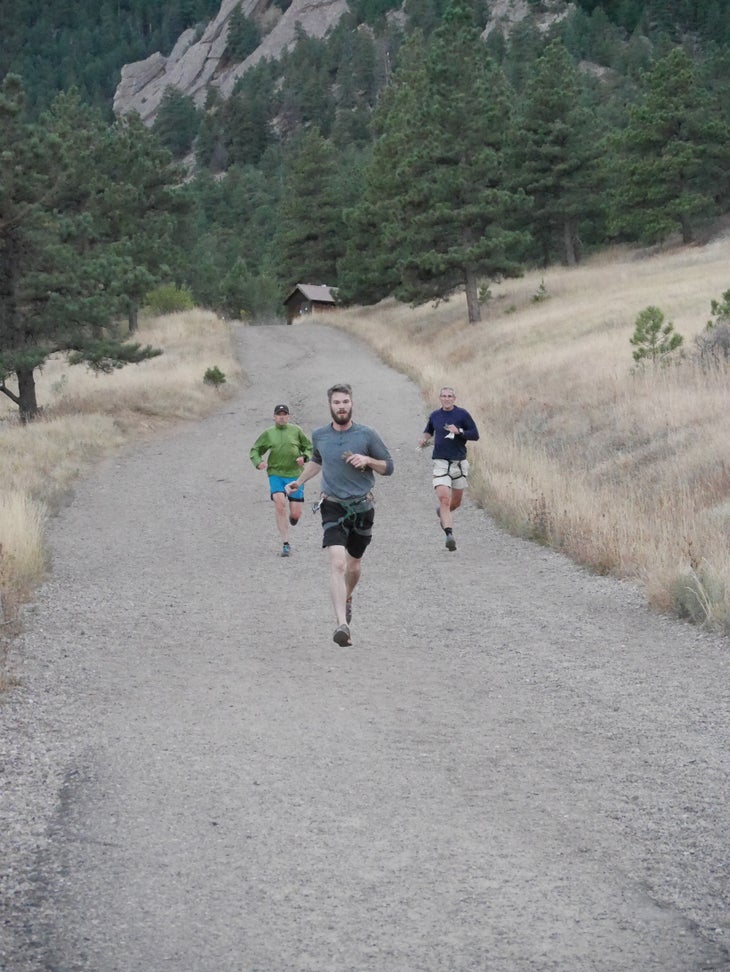 It's possible to see this distinction in action when the Minions reach the steeper crux sections that require specific movements instead of the machine-like stair-stepping that can characterize much of their scrambling. They'll slow down, place their feet intentionally and focus on just the moves in front of them until the terrain opens up again.
While many may never entertain the idea of running up these faces, the Minions have a spectrum of members from casual to serious and from "climbers who run" to "runners who climb."
Tony Bubb, who's been climbing in the Boulder area since the '90s, has been running with the Minions as a casual pursuit for years. For him, the Minions offer an opportunity to be part of a community focused on getting outside and doing so on schedule. "By meeting like-minded people, I am more often invited or prompted to join along, so in practice, I get out quite a bit more," said Bubb.
Though Bubb describes his climbing career as more broad than deep, he has climbed around the world and covered an impressive amount of rock for someone who's married and raising a kid in Boulder. With all those roles to fill, he's grateful to be a little out of his element in the Minions. "It also allows me to drop the guide and let someone else drive. Then I can just enjoy it rather than plan or worry about logistics," he said.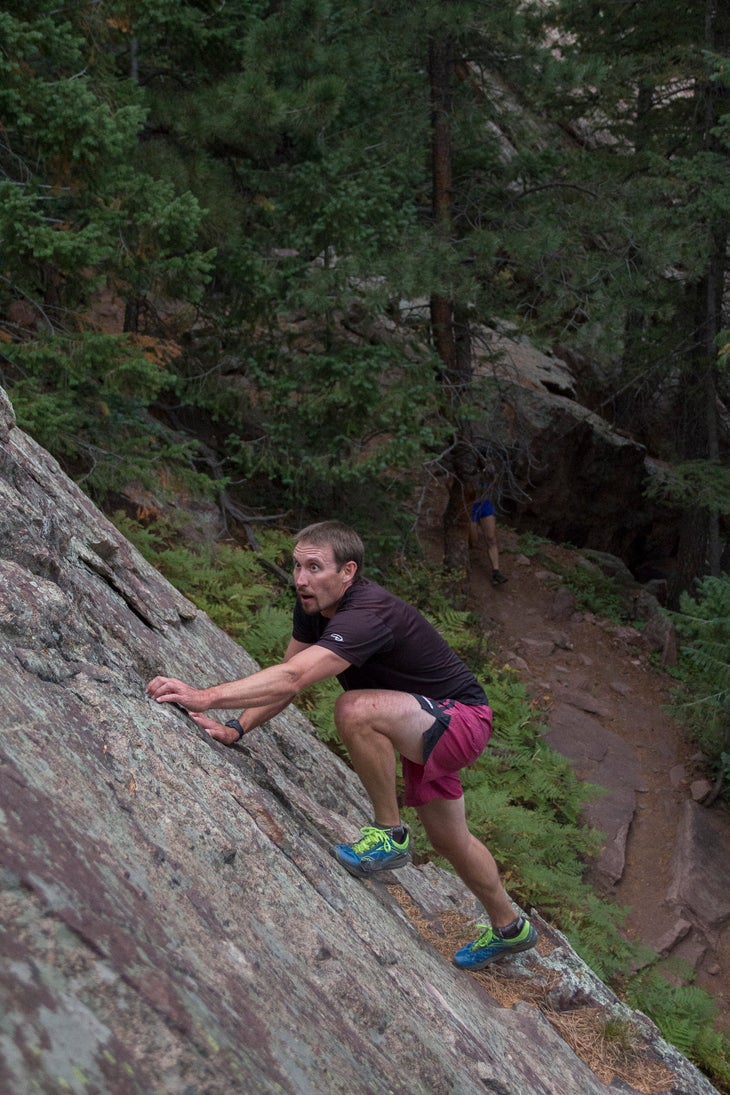 On the more serious side, Wright has a background in cycling and running which gives him an appreciation for timing and competition. "I know my personal records on every mountain above Boulder, and for Longs Peak, the Mesa Trail, and many of the Flatirons. Most people in the Minions are the same way," he said.
That attention to the racing aspect of quick ascents is one of the things that gives the runners and cyclers in the Minions an advantage when they attempt time trials.
"The very cool thing about scrambling and the Minions is that, in a race, the world's best runner and the world's best climber would lose—BIG," said Burrell. "Besides running and climbing, one has to thrash up steep hillsides, and crash down through brush, dirt, and Poison Ivy. Good scrambling requires an all-around athlete, which I very much appreciate."
Some Minions have become specialized in this all-around style, and hold most of the speed ascent records in the Flatirons. Recorded times range from single-face times, such as round trips for the First and Third Flatirons, to long linkups of ten or more East faces. The First and Third Flatirons see the most attempts as they're some of the most classic routes, but their records have been hard to beat in recent years.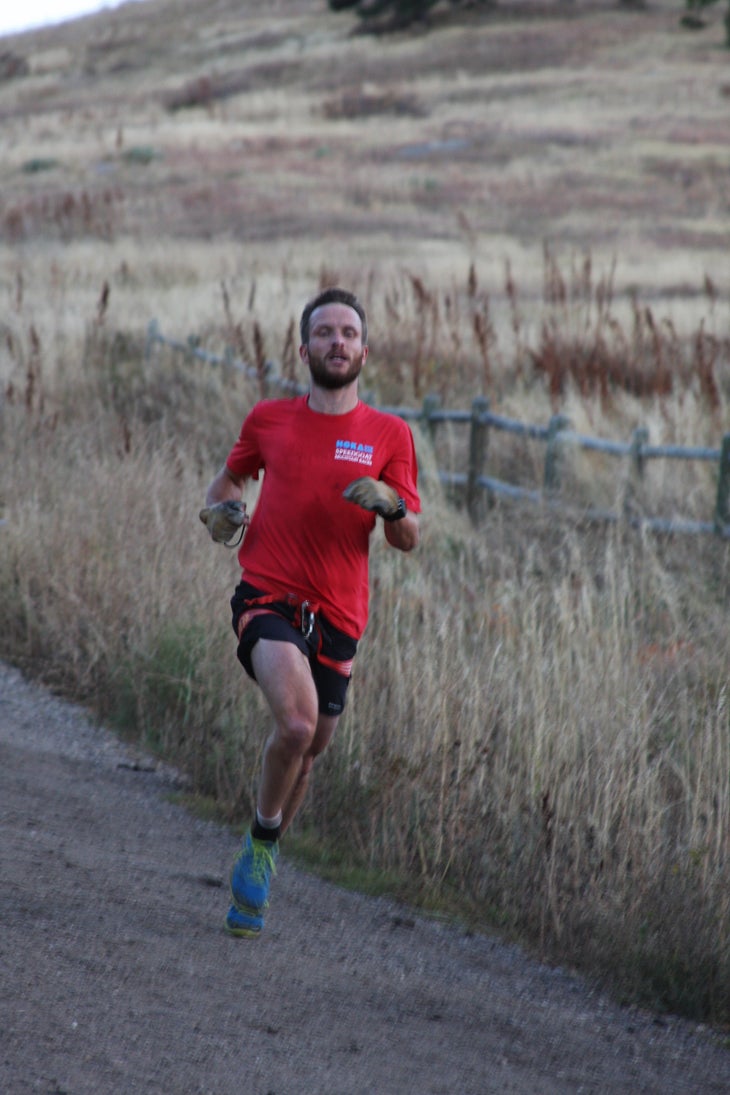 Stefan Griebel, a climber and ultra-runner, has held the record for an unsupported ascent of the Third Flatiron since 2008, a brisk 36:14 from car to car. He also held the record for an unsupported ascent of the First Flatiron from 2010 until 2015 when it was displaced by Matthias Messner, who made the ascent car to car in a blazing 32:18.
In the 2016 season, Messner has been unbeatable—posting faster times than any other Minion, and closing out his season by making the fastest supported climb of the Third Flatiron. With a pre-rigged rappel, Messner came in at 32:56, edging out Dave Mackey's 2004 record of 33:17. Less than a minute later, Dylan Cousins matched Mackey's old record.
While the fastest times for each face have become harder and harder to beat, others have turned to longer linkups such as the "Flatiron Quinfecta," a speed ascent of all five numbered Flatirons which covers about 5,000 feet of scrambling, and close to 5 miles of trail. Cordis Hall held the record at an almost unbelievable 2:04:59 from car to car until it was trumped twice in two weeks. Ascending each Flatiron and using only established hiking and climber trails, Anton Krupicka posted a time of 1:51 before Messner claimed the record on Oct. 27. 
"It was hard work but I was able to lower it to 1:46:22. Really stoked, and excited for him to take it back!" he said on Instagram.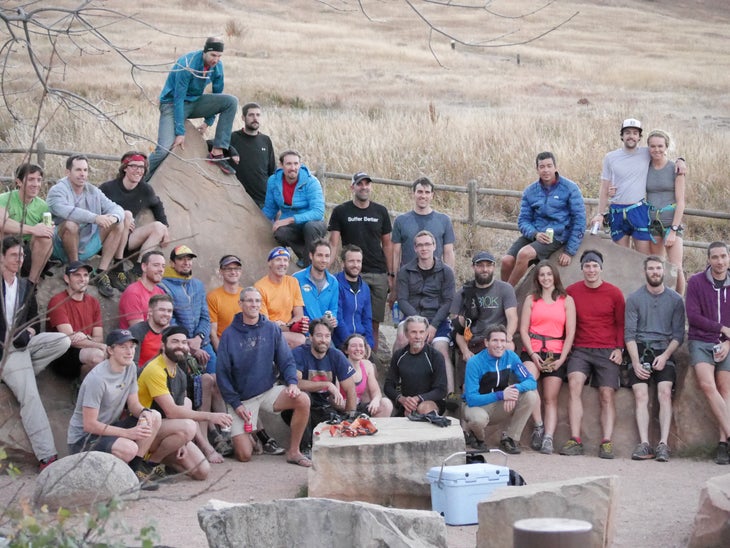 Though the Minions each have their own reasons for scrambling in the Flatirons, Burrell sums up the Minion's ideal practice best. "People can show up to be social, train for something, learn the Flatirons, or race their guts out," but there is one rule. "Don't die, you are disqualified if you die."