The Peanut Gallery: The Week Women Dominated Climbing
Looking back on the 2017 Women's Climbing Festival
Heading out the door? Read this article on the new Outside+ app available now on iOS devices for members! Download the app.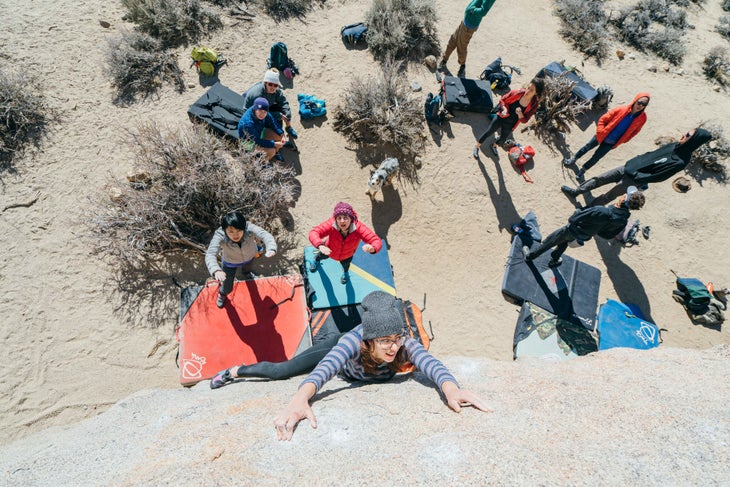 Last year's Women's Climbing Festival, held in February 2016 in Bishop, California, was the first of its kind. A few hundred ladies came together with the same questions: What would it be like to climb with only women? What would happen in the female-led clinics, or be said in the panel discussion? What does a female-focused film festival even look like? The experience was incredible, overpowering, and invigorating. We all walked away wanting more.
Before this year's festival, I heard founder Shelma Jun say, "I create the space, but the women bring the energy." A few days earlier, I had shown up hungry for that energy. I had never quite nailed down why the initial experience was so special. I spent three straight days with goosebumps on my arms and happy tears in my eyes as the 250-plus festival attendees climbed in the Buttermilks, the Happies, the Sads, and Owens River Gorge, but I had no idea why. This year my goal was to dig a bit deeper and ask other women about their experience. Maybe it could help me understand my own.
This year, on the first night at the Mountain Rambler Brewery opening party, I set up a makeshift studio in my van and interviewed 17 festival-goers about the challenges they faced as female climbers. What I found is that a lot of the women felt insecure, self-conscious, timid, and outnumbered by male climbers when climbing. Even the ladies who had been climbing for 10 years struggled with self-doubt and felt uncertain about their own climbing abilities—all the time, not just when climbing with men. About halfway through, I realized my internal response to every answer had been the same: Yep, I've been there!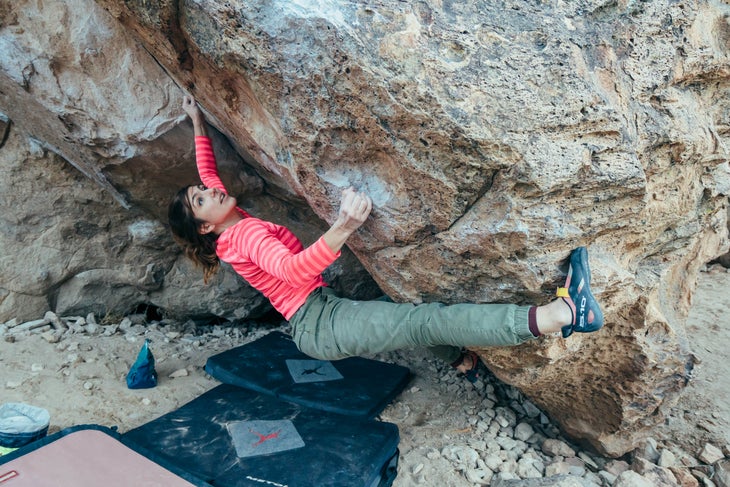 Over the next few days, the festival went on as it had the year before, with climbing and clinics, a panel discussion, and a film festival. There was plenty of laughter, beer drinking, climbing, and a little more precipitation than planned. On the afternoon of the last day, filmmaker Colette McInerney and I set our cameras up as snow started to fall at the Happy Boulders. We wanted to catch women fresh off the festival to ask what they were taking away from it.
Donning puffies and beanies, 15 women sat underneath Done with the South, a problem steep enough to provide shelter from the wet conditions, and told us about their individual experiences over the past three days. "Inspiring," "empowering," and "encouraging" were the words they repeated over and over. [Watch the videos: Dispatches from the Women's Climbing Festival] With chalk on their faces and their hands, the women spoke about the overwhelming sense of community that had been created, where they ignored inhibitions, forgot grades, and simply tried hard.
When someone who looks like you achieves something, you're a lot more likely to believe that you can do the same. Even if a boulder problem is well within my grade range, watching a male climber muscle through it makes me question my ability to do the climb. But when a petite female with a body type closer to mine walks up and does it, I not only have hope that I can send the problem, I'm much more excited to try it.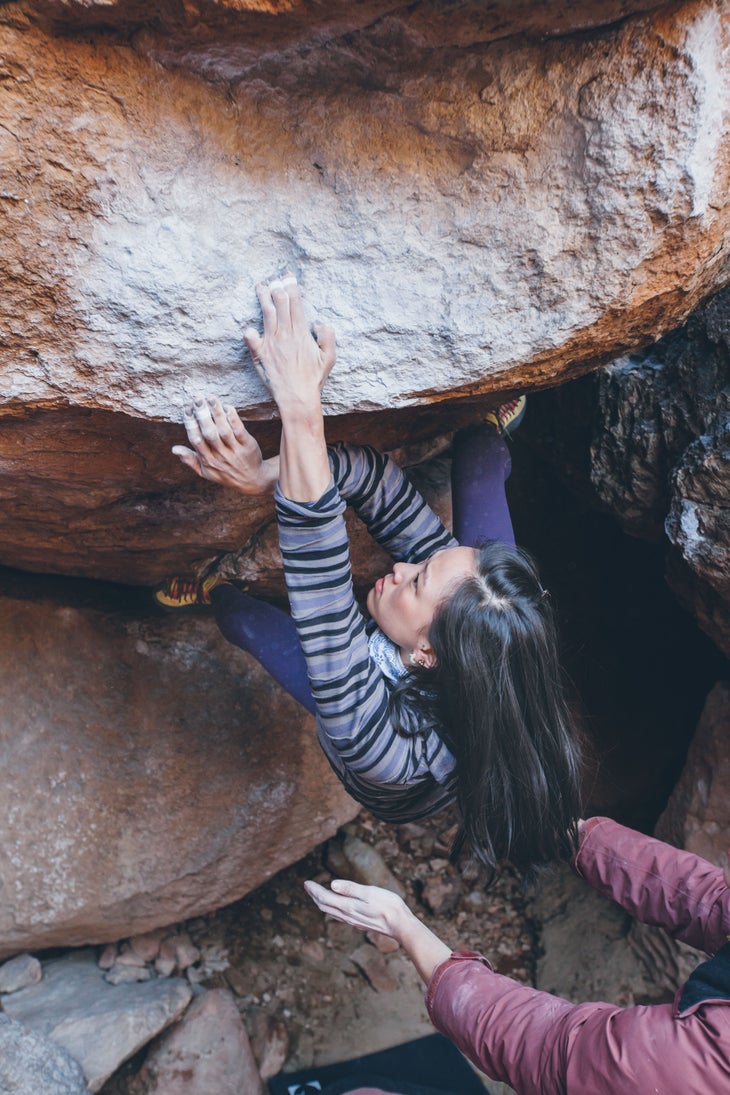 A few weeks after the festival, I found myself in Joe's Valley, Utah, sitting underneath Dyno Time, an aptly named V5, with a group of about eight other climbers I didn't know, both men and women. The men had been trying the problem over and over for about 25 minutes, but the girls weren't. I stepped up and tried it a few times. I rested a few minutes while the guys, who were tall and barely had to jump, tried it some more. I pulled my shoes on again and tried different feet for the start, hitting the lip but not quite latching the hold. When I sat back down, I noticed one of the women had shoes in her hand and a nervous look on her face.
"You should totally try this," I said. "The move isn't that big, especially with higher feet."
"Really? I'm not good at dynos and I don't climb V5," she said. Her friends chimed in, encouraging her to try it. I showed her the options for feet and explained my beta. She grabbed the start holds, set her feet, and jumped. When she landed on the pads and looked up a second later, she was beaming. All it took was a nudge of encouragement to get her past her own mental barriers. After a few more attempts, I sent the problem and moved on to another boulder. When I left, she was still trying it, more stoked than ever. Five minutes later, I noticed another girl in the group had pulled her shoes on to try the problem.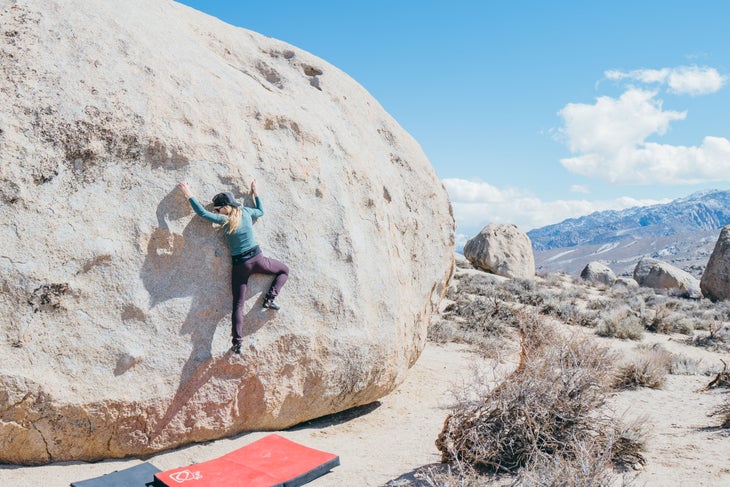 It's not that male climbers don't want to see female climbers succeed, but women are more perceptive to how emotions can affect motivation. I saw that girl sitting there, surrounded by half a dozen male climbers, and she clearly wanted to try the problem, but there was something stopping her. There wasn't anyone saying she wasn't strong enough or telling her not to do it—quite the opposite, as her whole group was encouraging and positive. Maybe it was self-doubt or fear of failure or she was pumped from another climb, but I recognized the look of uncertainty on her face—because I've been there a thousand times.
That's what the Women's Climbing Festival provides, the chance for female climbers to identify with other female climbers. It's about seeing a part of yourself in the woman who sends her first V1 just as much as the woman who sends her first V10. It's about feeling like you belong somewhere. It's about finding a community that supports you without question. More than half the ladies interviewed said that during the weekend they had attempted their hardest problems ever.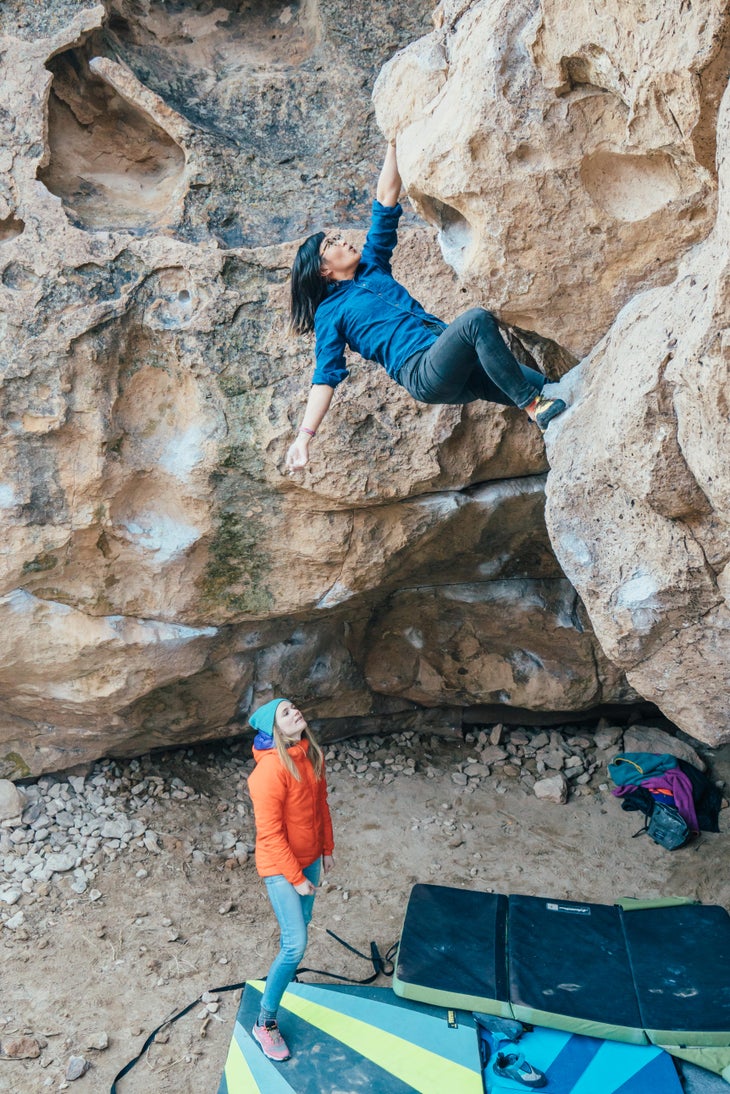 For the 300-plus women lucky enough to nab a ticket—which sold out in one minute—the stage had been set for a weekend of inspiration. Less than a week before the festival started, on February 26, 2017, Margo Hayes climbed La Rambla in Spain, becoming the first woman ever to send a consensus 5.15a. Two days later, Nina Williams climbed Ambrosia, a 55-foot V11 on the commanding Grandpa Peabody boulder in Bishop, nabbing the first female ascent. Three days after that, the second annual Women's Climbing Festival rounded out the trifecta. Jun introduced Williams during Saturday morning's panel discussion, and Williams, who taught a clinic on fear management this year, received a standing ovation. A few hours later, Jun presented the film festival and casually mentioned Hayes's send in her remarks. She had to pause for a full minute while the audience cheered.
Sometimes progress happens incrementally, and other times it moves forward in leaps and bounds. The last few years have seen a slew of back-and-forth in the conversation surrounding women in climbing. Many thoughtful articles have been published, and interesting points made about first female ascents, sexism in climbing, and the diversity gap. But even with intelligent, well-reasoned arguments that have the potential to foster progress and open minds in the climbing community, the end result is usually a backslide into Facebook name-calling and forums filled with degrading comments.
I believe that the climbing community is far more progressive than most, but with the majority of discussion taking place online, we are limited in what is achieved in the real world. It's too easy to have a knee-jerk reaction or misread someone else's comment. More often than not, the people (virtually) yelling the loudest might even agree on the given topic, but the divisive nature of online forums pits them against each other.
But that week in early 2017 was filled with real accomplishment. It wasn't some blog post in which the author uses his or her singular opinion to discount others' experiences. It wasn't a marketing scheme with a catchy hashtag that desperately screams, "We support women and therefore you should buy our pants/jacket/backpack!" Hayes's 5.15 tick, Williams's FFA, and the Women's Climbing Festival were a series of events showcasing the power of female climbers, and you know what? Actions speak louder than words.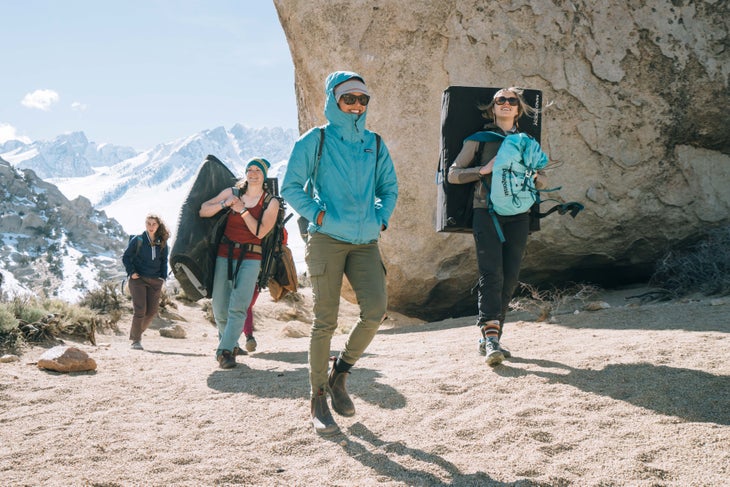 Julie "Peanut" Ellison is the Editor at Large for Climbing. She often gets worked up about things she reads on the Internet and then falls asleep mumbling to herself about it. Follow her on social media (@joolyhart) so you can give her a reason to rant.