For the Love of Climbing: The Webs We Weave
Escaping the trap of outdated ethics
Heading out the door? Read this article on the new Outside+ app available now on iOS devices for members! Download the app.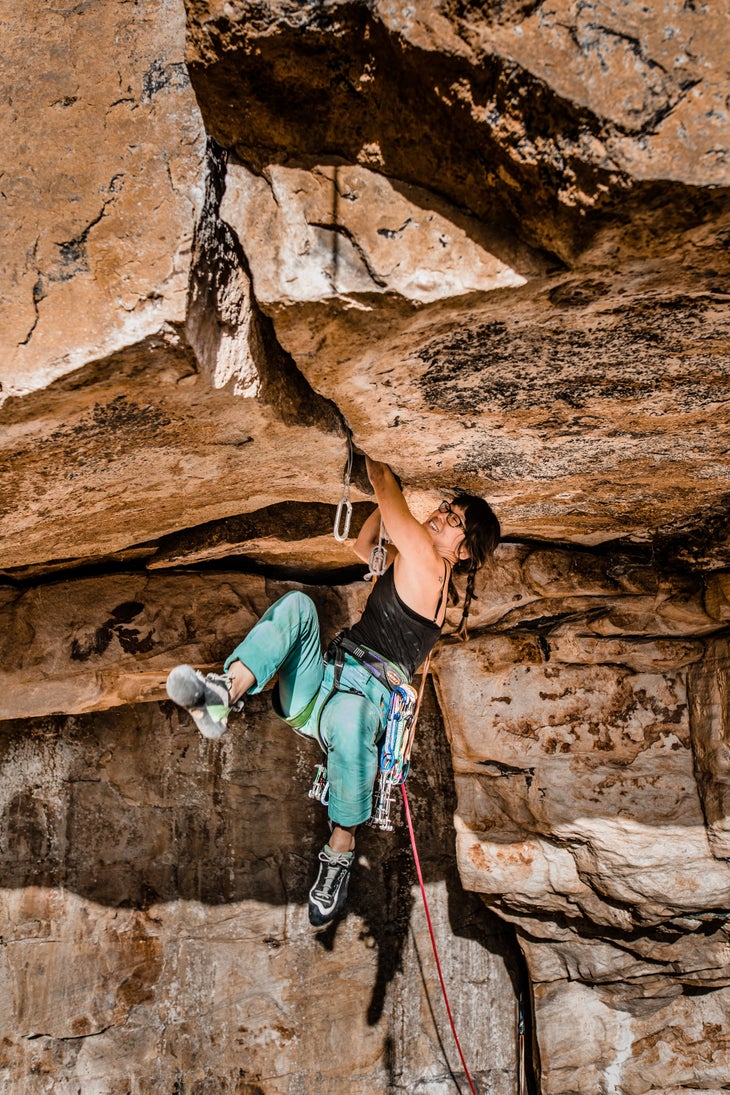 When I began climbing nine years ago, my trad mentor instilled in me that the ground-up, onsight lead—placing pro—was the purest form of ascent. For years, I remained of the mindset that onsight climbing was the ideal, relishing in the little victories that stacked up. However, at a certain point—even with the luxury of travel—you run out of routes to onsight. So what then? I would embark on a great unlearning experience in November 2014 during a trip to Chattanooga, Tennessee, in the process expanding my thinking about what "ethics" mean.
Laurel Falls is a great winter destination. This small zone contains a few difficult sport climbs, but my focus quickly went past the bolts toward a prominent 15-foot roof crack, Webs We Weave (5.12b). In the exhausting first moments trying it, I was already on the verge of pumping out and, with a shaky voice, called for my belayer to take. After I fell multiple times, my partner sensed my disappointment and gently advised me to get acquainted with the process of projecting a difficult climb. Although I didn't finish the route that afternoon, I left with a greater understanding that quality projects would take more time and effort than onsighting.
The late Tom Higgins—an influential California climber known for his 1963 free ascent with Bob Kamps of the Tahquitz 5.10c Blanketty Blank, among countless other FAs—authored "Tricksters and Traditionalists" in 1984. This essay appeared in Ascent, and was later republished in Climbing No. 86. In it, Higgins coined the term "traditional climbing." His parameters for what made one a trad climber were clear: "[They do not] preview routes on rappel, or fix protection on aid or on rappel with the intention of immediately trying to free climb," he wrote. "Aid climbing is done to get to the top, not to set up a route for free-climb attempts. Likewise, in traditional style the climber might fall a few times trying a free climb, but he or she doesn't rest on the protection between attempts [Ed: they would instead lower off]. The traditionalist knows there is a time and place to give up."
As I hung that day on Webs We Weave, I did my best to tamp down my anger toward myself for not living up to what it meant to be a "traditional climber," an impossible standard passed down from my mentor and surely informed by sentiments like those in Higgins's essay. More than three decades since Higgins penned his words, I realized that his would not be a sustainable approach for me, and I began a stark reevaluation of my approach to climbing. Sure, onsighting traditional climbs had given me confidence, but it had also drilled into me a dangerous, unrealistic precept that would later make me question everything from strength to skill, and, at times, self-worth.
When Higgins wrote "Tricksters and Traditionalists," climbers were beginning to hangdog, Friends had been on the market for five years, and sport climbing was nascent at Smith Rock and in Europe. Yet his stance remained wedded to an ethic originally forged in the mountains, during the ground-up, "no-fall" era of hemp ropes tied around one's waist. Higgins criticized journals and guidebooks for chronicling heroics and not focusing on the style of ascent, believing that poor style greatly impacted traditionalists: "They are finding scarred red rock or protection from the first ascent; they are getting fewer chances to try their style on first ascents," he wrote. Higgins seemed fearful of a new generation embracing practices outside those he'd learned.
Higgins perhaps too rigorously held that if you weren't a traditionalist, you were indeed a trickster—sneaky in regards to style. Onsighting a climb warrants respect, but I don't know that it makes the ascent more meaningful to anyone other than the climber herself. And putting up an FA in a certain style—ground-up, onsight—doesn't mean you get to dictate how those who follow will approach the endeavor either. These days, we colloquially understand "traditional climbing" to mean any climb that's gear protected—it's a reference to the genre, not the ethic. Still, even in 2020, I encounter climbers who cling to a "right" and a "wrong" way—"Oh, you're doing it in poor style," they'll say, rarely stopping to examine their words.
I haven't returned to Laurel Falls, but in the interim I've visited Chattanooga many times. There, I took on the Tennessee Wall Triple Crown, three 5.12c monster roof cracks put up by Rob Robinson and Steve Goins in 1985 and 1986. As I launched into the endeavor, I better understood what my partner had tried to convey in 2014: Not every climb would be onsightable, and routes at my true limit would require rehearsal until I could perfect each movement, each breath, and each placement. The Triple Crown took me five years and three visits to Chattanooga to complete. And, of course, a good deal of "tricksterism."
Though Higgins's philosophy might be a manifestation of the old "no fall" mentality, embedded within his essay is also the slightest tint of entitlement. After all, isn't climbing's essence—the desire to conquer mountains—rooted in privilege? Access to climbing, whether in the alpine or at the local crags, is still barred to many due to socioeconomic barriers only now being addressed with conscious work, climbing gyms in urban areas, and overall recognition of the importance of equity and inclusion. While Higgins, writing in 1984, couldn't have foreseen how his essay might be interpreted in 2020, its policing tone is reminiscent of the toxic, ego-driven culture we are currently pushing to dismantle.
Today, "tricksterism" happens in every subset of the sport. Tommy Caldwell and Alex Honnold use fixed lines and Micro Traxions to rehearse El Capitan free climbs. Bishop highballers toprope 50-foot V10s into submission, and then place dozens of pads below them. And sport climbers hangdog without question, micro-refining beta and using kneepads, stick-clips, and high-octane chalk. Outside the alpine arena, it's rare to see a ground-up ethic actuated anymore at the cutting edge, even on gear-protected climbs. Given all this, we have to acknowledge that "traditional climbing," as Higgins defined it, is entirely accurate. So should the term continue to be used, then, in the generic way we do now, or is it best to revert Higgins's definition back to its original meaning and refer to our modern iteration as "gear climbing"?
Now, some days I might flash something that I feel proud of, and others I spend a lot of time hanging—but I never leave the crag empty-handed. Having set aside rigorous ethics and limiting definitions, I find myself unencumbered by ego; this allows me not to miss the important moments and instead lean into them. On claiming the first female ascent of the Triple Crown in 2019, I moved through the crux sections with a sense of urgency, my last piece often feeling miles away. Yet having rehearsed the delicate sequences prior to my redpoints made me unafraid of falling and more determined to succeed.
The Triple Crown showed me that how hard you climb and how hard you try are two entirely different things. It was aforementioned that the "traditionalist," per Higgins, knows there's a time and place to give up. But perhaps it can also be said that the traditional climber today is one who remains unattached to porous ethics and doesn't get too caught up in the "ethical praxis"—and, on occasion, leaves her guidebook at home.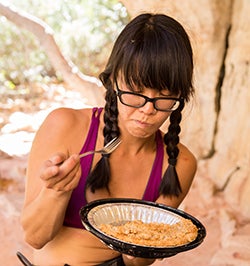 Kathy Karlo is a podcast producer and freelance writer (fortheloveofclimbing.com) who lives for rock climbing, sharing doughnuts with strangers, and positive vibes. Climbing is mostly jumping for her, as she has a negative ape index.