Free Solo: One Man's Quest for the Ultimate Abs
Heading out the door? Read this article on the new Outside+ app available now on iOS devices for members! Download the app.
We see a lot of bullshit movies here at New York Extreme Men's Fitness Magazine—namby-pamby shit passing itself off as core adventure filmmaking, things like Vertical Limit and Meet the Deedles where it's more CGI than real-world stunts and where the AQ (Adventure Quotient, if you haven't read my column before) is so low even Tom Cruise couldn't limbo under it…without his platform shoes. So when a screener for the new rock-handing movie Free Solo came in, I almost tossed it on the scrapheap and headed  to the gym to flip truck tires like the swole extras in 300. Then I saw the cover—this crazy kid from California, Alex Honnold, was free-clamping without a safety rope up the front face of El Capitan, a granite mountain in Yellowstone even steeper than Mount Everest! CGI or not, this was a movie I had to check out.
The Box and the smoothie bar would have to wait until later, because once I popped this bad boy in my DVD player I was riveted.
For the uninitiated, "free soloing" is a form of solo lead climbing done with only hook-and-toehold installations; the rope might or might not be there to catch you in a fall (it's your call, brutha—not sure who makes up the rules). You're not allowed to use pitons in crevasses or pound construction bolts into holds, but if a mountaineer came before you and put them in the rock you can stand on them or even use them to repel back to a ledge and rest before the next "pitch," which is usually 1,000 feet long. Honnold practices his own type of "extreme free climbing" that doesn't use the rope, ever, which is what we learn over the course of the film as he prepares for the ultimate wall, Free Riding, the world's toughest mountain. Some 3,000 feet long and without a single handhold or foothold, Free Riding has killed 90 percent of the people who try it—even its first ascentionist, Warren Harding, eventually died after the climb.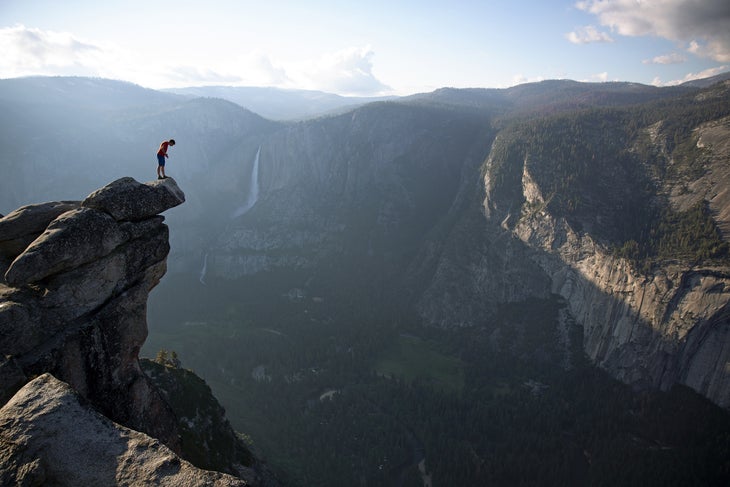 We learn a lot about Alex Honnold from the film's backstory. He dropped out of college (boss move, bro) to attend the school of life, via climbing. And for some reason, he's homeless despite being a paid, professional rock climber (bro, I doubt "Macho Man" Randy Savage ever had to live in an automobile). So Honnold lives in his van like some tragic uncle and drives around to "craggs" with his girlfriend to train for his ultimate climb, using "sports climbs" and a "Chin-Up Wand" mounted on his van to make his hands swell enough that they'll fit inside the "Monster Crack" without slipping out of the "Crux Move."
This was a real window onto the climbing scene for me—you hear so much about community and climbers helping other climbers out, but then when the chips are down nobody will even take Honnold in and feed him a hamburger and give him a bath—and let me tell you, he's one skinny little ragamuffin! Maybe they're worried he'll "free solo" their house while he's sleepwalking and fall out a window LOL; maybe it's just too painful to get close to someone who doesn't use clampons and grab-links to catch his falls. Regardless, as we learn from his mother, girlfriend, and friends, they do worry about all his epic pebble MMA, but again, if any one of them were to volunteer to come out and put a tight brake on his long line instead of sitting around worrying that he's too xtreme, I bet he'd be one hell of a lot safer.
In the end, Honnold is able to pull off his free solo with only a couple falls, one on the "Bolter Problem" and the other in the "Urine Corner." We can't help but recoil in horror as he catches himself both times by just his pinky finger, then winks at the camera and says, "Hellz yeah." Here, I imagine, is where all that training paid off—only the elite few can do single-pinky pull-ups, and looking on YouTube they mostly seem to be shirtless and Scandinavian. It probably also helps that he's wearing a highly adhesive Sportsman's Outfit with secret prototype shorts, has some sort of modified ballet shoes with "spider grip," and uses a small sack of powdered soap to clean his hands between cling-hangs.
But really, I think what lets Honnold adhere to the mountain is a strong core. I know I tend to go on and on about this in my column, but if you watch the footage, you'll see what I mean—the core is everything, and I and Honnold are here to preach. Every time he's about to slip from a crevasse, he does a Plank (woot-woot), catches his breath, pops a 5-Hour Energy, and re-grips to an underhang. In one spot, on a horizontal crack called "the Salathé," Honnold even does an inverted Batman, then proceeds to do 100 upside-down sit-ups while playing a double-necked flame-shooting electric guitar that he must have stashed up there. (At least, I think that's what happened; could be I'm getting Free Solo and Mad Max: Fury Road mixed up. Maybe I need to stop butt-chugging creatine and Monster Energy drinks for breakfast….) In the end, it's his core that really conquers the mountain. The only bummer for me is that we don't get to see enough of homeboy with his shirt off. Call me a voyeur, but I'd love to get a longer gander at the Abs That Conquered El Captain. I guarantee Honnold is rocking a mean 8-pack. Guess you gotta save something for the sequel. Still, maybe next time, bro, just stay home and do crunches and burpees. Take it from me, Rex Dangerman—there are much safer ways to get diesel.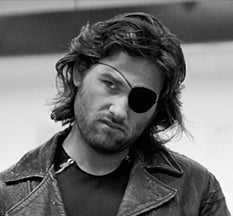 When he's not busy writing about the latest trends in extreme sporting, Rex Dangerman, sports and fitness editor at New York Extreme Men's Fitness Magazine, can be found surfing the Jersey Shore, ultra-running in Central Park, or free-handing the Shawangunks.