How Climbing Went From Fringe Activity to Sport
Heading out the door? Read this article on the new Outside+ app available now on iOS devices for members! Download the app.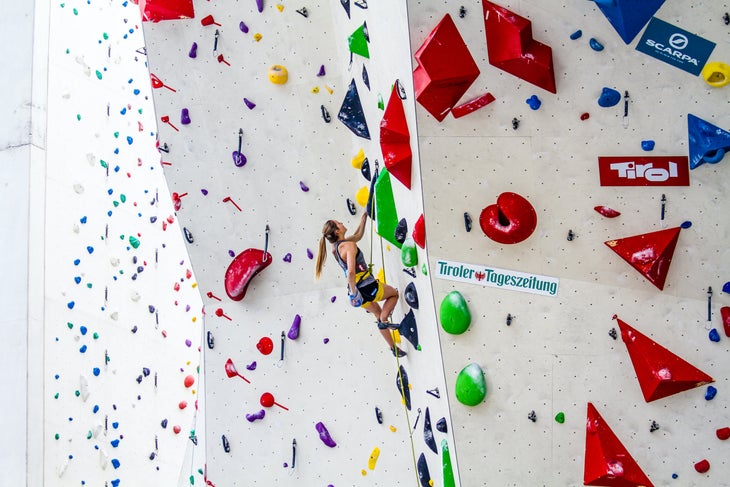 In the mid-1970s, Earl Wiggins dropped out of high school to pursue climbing full-time. There were no gyms, and the only way you got good was by climbing every day, outside, a basic rack of aluminum shapes slung over your shoulder. Take Wiggins's bold FA of Supercrack (5.10) in Indian Creek in 1976 with Ed Webster and Bryan Becker, on which Wiggins optimistically slotted Hexes into the parallel crack. A photo shows Wiggins's wild hair sticking out, baggy polyester pants covering his thin frame. He's the definition of the societal-dropout climber (aka "dirtbag") from that period.
A half-century ago, climbing was a countercultural activity, an "Eff you" to the mainstream that had begun with the climbers who gathered in Camp 4 and at the Gunks in the 1950s and '60s. Perhaps no one better exemplified this spirit than Jim "The Bird" Bridwell, credited with more than 100 first ascents in Yosemite—and who, as he said during an interview for SuperTopo: Yosemite Big Walls (3), became a "draft dodger [and] moved to Yosemite" after Lee Harvey Oswald was killed, sensing that "something was rotten in Denmark" with mainstream society. Like Wiggins, Bridwell was a fringe dweller, a dirtbag who epitomized the freedoms we pine for today: the open road, a laundry list of climbing objectives, and empty cliffs—things that have seemingly evaporated in our Instagram era of crowded crags, mega-gyms, film festivals, comps, and so on.
The shift toward the mainstream began in the early 1980s, when Europeans and then Americans began hangdogging. They also began to rap-bolt (America's first sport climb was Watts Tots [5.12b], established by Alan Watts at Smith Rock, Oregon, in 1983), changing the game from adventure to athleticism. In the States, climbers were late adopters, having adhered to a preservationist ethic imported from the UK. "Hangdogging was the death of religion for climbing. That's what changed the sport the most," says the Stonemaster Dean Fidelman, a Yosemite local since the 1970s. "Before that, there was always a dichotomy of what you could climb or couldn't climb."
The 1980s also brought the world's first climbing competitions, which started in Europe. The first US international competition took place on the side of the 110-foot Cliff Lodge in Snowbird, Utah, in 1988. The falls were big, the crimps were sharp, and people still belayed with figure 8s. At the end of that decade, Todd Skinner and Paul Piana brought hangdogging to the big walls, successfully freeing the Salathé Wall (VI 5.13b) in 1988 to make the first major free ascent of the Big Stone, despite some friction over their style.
In 1991, the Access Fund launched, breaking away from the American Alpine Club (AAC; founded in 1902) to address climber impacts and interface with land managers, who were finally clueing in to our presence. "Born in the midst of the 'bolt wars' era, one of the first decisions the Access Fund made was not to take sides in ethical debates, but to defend climbing in all its forms," reads their website.
Hard free climbing accelerated in the 1990s: In 1992, J.B. Tribout's Just Do It (5.14c) at Smith Rock became the hardest route in America. The mid-1990s saw the Huber brothers visiting Yosemite. Alex Huber dispensed Salathé Wall (VI 5.13b) before establishing a slew of significant El Cap free climbs, including Freerider (VI 5.13a), the route Alex Honnold would later free-solo. The '90s also brought the rise of youth comps and bouldering, popularized by bouldering-focused pad, hold, and apparel companies like Cordless, Pusher, and S7.
The late 1990s and early 2000s saw the emergence of Chris Sharma, who in 2001 FA'ed the world's first benchmark 5.15 with Biographie/Realization in Céüse, France. (Today Alex Huber is credited with establishing the world's first 5.15a—originally rated 5.14d—Open Air, in 1996.) Meanwhile, his contemporary Tommy Caldwell, another phenom from the 1990s, became the world's leading big-wall free climber, with 13 free ascents on El Capitan, including the 2015 Dawn Wall (VI 5.14d) with Kevin Jorgeson.
Czech climber Adam Ondra became a superstar in the 2010s with his frequent sends of 5.15 and untold 5.14 onsights and flashes. Ondra is also the only climber to have flashed 5.15a, with Super Crackinette in France in 2018, and the only climber to have sent 5.15d, with the 2017 FA of Silence in Norway. Ondra also made a fast, one-month repeat of Dawn Wall in 2016. Also on El Cap, in June 2017, and after 10 years of planning, Alex Honnold made his ropeless ascent of Freerider (VI 5.13a). The accompanying film, Free Solo, went on to win the Oscar for Best Documentary. The achievement was so far-reaching that "Free Solo" and "Alex Honnold" are talked about in gyms throughout the world, where new faces take up the sport daily.
Climbing is seeing a massive surge of interest. Gyms continue to open their doors, with 530 in America as of 2020, according to the Climbing Business Journal. The Access Fund is a $3.2 million organization, and the AAC has grown to 22,000 members nationwide. And with climbing making its Olympic debut in Tokyo in 2020, more people will get turned on. According to the AAC's 2019 State of Climbing Report, 4.4 percent of households have tried climbing, and the sport contributes $12.5 billion to the economy. Meanwhile, standards continue to rise—there have been more than 330 ascents of routes rated 5.15a or harder by both men and women (99boulders.com).
Even with so much change, creating a landscape that Wiggins and Bridwell would likely not recognize, the sport's roots remain the same. Take the rising standards seen in highballing, like Nina Williams's first female ascent of Too Big to Flail (V10; 55 feet) outside Bishop; bold free solos—Alex Honnold's entire career; and cutting-edge trad as seen on any El Cap free route. As Climbing editor Michael Kennedy wrote in 1975 in No. 33, "Climbing is about two things: ascending direct natural lines with a minimum of technical aid and protection; and preserving the climbs through the use of the least destructive methods possible." In a world where some 44.5 million people now climb both indoors and outside, with 1,000 to 1,500 people taking up the sport daily, according to the IFSC, Kennedy's words ring truer than ever.