Befriending A Climbing Legend Didn't Work Out Like He'd Hoped
The author held Johnny Dawes, one of Britain's most influential and accomplished climbers, in the highest regard. Now, if he could just repeat one of his climbs ...
Heading out the door? Read this article on the new Outside+ app available now on iOS devices for members! Download the app.
In my early climbing days I came across a magazine that told me to admire a climber called Johnny Dawes. I obeyed. So much so that I became quite enamored with him and he became the first hero I ever had. I put his photos on my wall and read anything about him I could find. He was a technical genius, bold, visionary, charismatic, popular with girls, confident, eloquent and rich. Such is the impracticality of who we choose as heroes: I was none of these and was unlikely ever to be. I sometimes wonder if we choose heroes specifically to show ourselves how short of our potential we fall.
Time, as it is wont to do, passed, and the day came when we had got to know each other quite well. Were friends, even. He ended up at my house one underemployed Tuesday afternoon and I brought him lots of cups of tea, made fun of others and generally belittled myself. The sun shone and one of us suggested we go climbing.
"Where will we go?"
"Stanage," I piped up, knowing it to be his favorite crag.
"Oh, not that tedious shitpile," he retorted. "It's too easy for me."
He stood up, tetchily. He was very short, maybe 5'5″, this amplified by the fact that he dressed in little shorts and dark shoes, like a schoolboy. However, it was I who was acting like one. Though I had now known Johnny for years, my early hero-worshipping, in some ways, had never given way. This was the man who had been credited with standing firm against the onslaught of sport climbing in the 1980s. Who had, it seemed, single-handedly championed the cause of traditional commitment and, in his heyday, pushed British grades by two levels in a single year. He was the biggest legend in British climbing of the last 50 years.
"Well, let's go to—"
"No, no. Have it your way."
Imagine spending your life talking with people who had made their minds up about you before ever meeting? No wonder he was an awkward little shit.
I packed a bag and we embarked in Johnny's little Mini and with a screech of the tires sped off down my street. He was excited, and jabbered a lot, venting mainly about climbers who had made money, environmental issues and his own lack of sponsorship success. He had never been the most easily packaged of climbers and his abilities had not equated to income.
He drove very quickly: not just in the speed of the car, but in his manner. His little knees moved up and down in a blur, hand constantly sparring with the gears, his tongue protruding slightly in concentration. It frightened me a little, in a grip-the-seat kind of way, but was also exciting, and I had an image of me someday telling others that I had been in an accident with Johnny Dawes.
He talked quickly:
"I just want people to be happy," he lamented, as we passed Sam's Off Licence, a convenience store. I must have been paying too much attention to it, as I missed the logic leap that brought us to the conclusion, "and if they would just fucking give me a Lancia!"
In a remarkably short space of time we were approaching the sharp right-hand junction that ran below the crag. The car, and the explanations, barely slowed down as we ripped toward the parking lot.
"I don't know why we've come to such an easy crag," he said. "It's hard coming down to the level of people like you sometimes. Do you understand that?"
At this point an abject look of self pity must have marked my face because he swung on me:
"Oh, you do know I'm joking, don't you? You do know I'm only saying this nonsense because we're friends, right? You're not that stupid, are you?"
"Yes. I mean no, of course not. Am I? We're friends, aren't we?"
"Yes, Grimer, we're friends." His face was a total mockery of sincerity, reminding me of a TV talent-show winner. I grinned, and continued grinning all the way to the crag.
I have a theory about comedy, at least a certain kind of comedy. A certain kind of reality comedy. It takes real life and just knocks it a tiny bit to the side. It recognizes the absurdity of life by recreating it. And the closer it comes to recreating reality, the more it respects that reality, and the funnier it is. It is a noble art.
Johnny knew he had the capacity to be an arrogant, self-obsessed knobhead. Yet, by acting up to be even worse than he actually was, he somehow showed that he understood perfectly what he was like. He got the joke. That's rare enough, but finding it in one of the best climbers in the country built him up even more in my eyes.
At the crag he threw a toprope down a wall to the right of a great route, and began working the moves. The line wasn't much, and were it not basking in the glory of the classic to its left, would have been decidedly forgettable. But watching him climb was something else. I had never seen anyone who seemed to demand so much from the rock, and appeared so annoyed when he felt that its friction or structure in some way let him down. When he fell off he spewed forth a string of oaths and invocations. It seemed that the rock gave him all it had to give, and I couldn't help but have a certain sympathy for it. I excused myself.
"I'm just off to try a climb, Johnny. One of yours, I think."
"Yeah, whatever."
As a nerd I often pored over guidebooks and had once found a climb at my low level that had been authored by the man himself some years before. A week ago I had attempted it, and felt that success was possible. What a coup if I could do it today, at the crag with Johnny. I was picturing my diary title:
"With Johnny (Dawes)"
I grabbed a bouldering mat and slunk off, his F-bombs receding behind me. Not far away I dropped the mat below the route, a steep but well-featured wall of gritstone about 30 feet high. I had a couple of goes, trying to boulder out the low crux before putting a rope on for a try. On one attempt I tried out a cunning tiptoe crossover. Perhaps I was technically overreaching myself, for I slipped off in this position and dropped awkwardly toward the bouldering mat.
It was badly placed. Both my feet hit the edge of the mat, which was itself a thick and unyielding affair, a cheap and early example of pad technology. In plain sight and in the predictable slow motion, I watched my feet twist. My left foot twisted backwards but it was the right that caught my eye, as it rotated about the ankle like a three-point turn. Indeed, I saw the foot come all the way around and I saw the logo on the sole of my foot and the instep come around to meet my inner shin.
Ouch!
The hyperflexing of the ankle actually pulled the skin on the outside apart and as I caroused on the ground in a state of discomfort, rhythmic squirts of blood pulsed from the slit. I must have been uttering exclamations of discontent because I was soon joined by a couple of strangers and then, not long later, by Johnny. I was assured that someone had contacted the rescue services.
Johnny knelt beside me.
"You're OK, lad," he assured me. He held my hand, and stroked it. I looked hard at him for reassurance, and he looked me straight in the eyes. His face wore a look of great compassion and a warmth came from him that made me feel safe despite the tremendous pain gnawing at my ankles.
"Silly me," I said, feeling like I had messed up. "I fell off your route."
"Yes, silly you, Grimer. But don't worry, everything's going to be OK."
"You reckon?"
"Yes. Although I'm afraid I have some devastating news for you."
He twitched his head toward the wall of gritstone behind.
"That's not even my route."
A look of great pity crossed his face. He sighed, turned his eyes away from my gaze and stared off toward the horizon. I couldn't help but love the guy.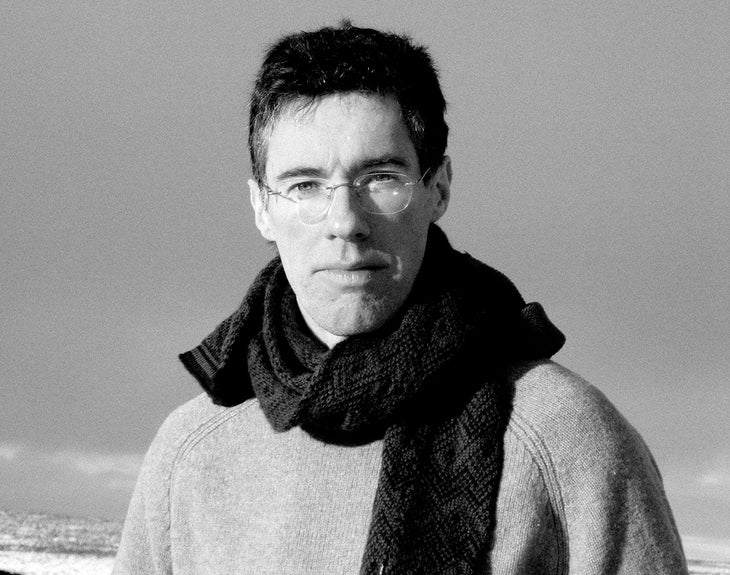 This article was originally published in Rock and Ice No. 203.
Niall Grimes is, so he says on his website a "writer, talker, podcaster and climber born in Derry, Northern Ireland, in 1968 and resident, since 1991, in Sheffield. I write articles, tell stories, make videos and publish books mainly around the act and culture of climbing." Please listen to his podcast Jam Crack Climbing Podcast here.
It Was Just One Small, Innocent, White Lie. Almost Every Climber Fibs Some Times, Right? He Almost Paid Dearly For It.