Helping Hands: How Jesse Grupper Went From Sending Hard to Helping Others
Heading out the door? Read this article on the new Outside+ app available now on iOS devices for members! Download the app.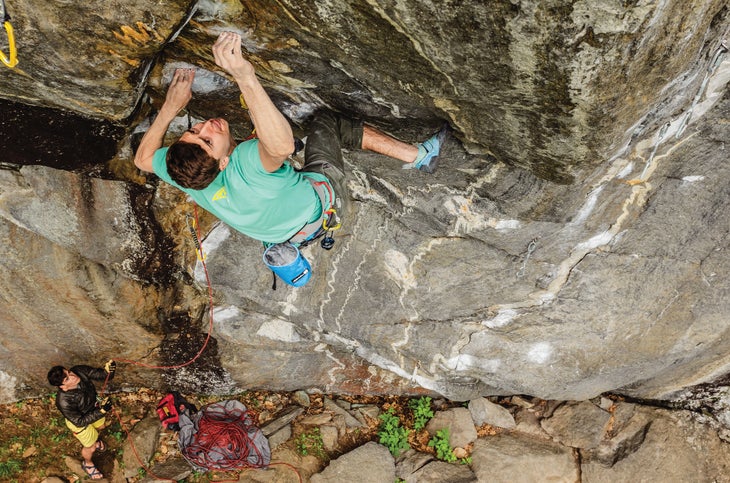 It's hard to imagine a huge scream coming from the wiry, quiet guy with the fixed smile. In the Cambridge, Massachusetts, Central Rock Gym where he trains, Jesse Grupper keeps it low-key, asking fellow climbers how they're doing, listening, and rarely offering up details about his own climbing. But in October 2018 as his hand traveled from a miniscule schist edge near his right knee to a gaston four feet above his head on Jaws II (5.15a) at Waimea Wall in Rumney, Grupper roared. "That scream came from the heart," says Grupper, who that day bagged the eighth ascent of the line.
A climber of 16 years, Grupper, 22, has seen his efforts in outdoor and competition climbing pay off. In addition to sending Jaws II, last March he won the 2019 USA Climbing Sport Open Nationals in Alexandria, Virginia, all while battling ulcerative colitis, an inflammatory bowel disease. In June 2018, Grupper earned a mechanical engineering degree from Tufts University in Medford, Massachusetts, where he spent his free time founding and running the school's Biomechanics Club, which created assistive devices to help people with disabilities. Post-graduation, Grupper plans on pursuing a career in biomechanics and devoting himself to climbing both outside and on the IFSC World Cup Circuit.
Grupper started climbing at age six when he joined his sister, Maddy, four years his senior (and a strong all-arounder), on the New Jersey Rock Gym team near their home in Montclair. During practice, Grupper would run around; he was, he recalls, "constantly being put in time-out." However, coach Randi Goldberg channelled Grupper's energy into climbing. "I was actually advised by the junior coaches to not move Jesse up because they didn't think he was mature enough," says Goldberg. "But I saw a kid who was bored and not being challenged"—and who, while climbing, became determined and focused. "He is still very high energy," says the photographer and Grupper's climbing partner Ruth Castillo, "and because of it he works so hard to improve."
Grupper's motivation helped him excel at comp climbing, and he won gold at USA Climbing Youth Bouldering Nationals in 2008 at 11 years old. The win made him realize he could have a future in the sport. For the next decade, Grupper continued to bring in impressive competition results, including gold medals at the 2009 and 2014 Youth National Championships, second place at the 2015 IFSC World Youth Championships in Arco, Italy, and first at the 2018 Collegiate Sport National Championships in Houston. "He's not as dynamic as other climbers," says Goldberg, "but he is very methodical." This trait has helped Grupper excel on today's tricky, beta-intensive competition climbs.
In college, Grupper dedicated more time to outdoor climbing, spending 21 days over two years on Jaws II, the hardest route in New England and only a 1.5-hour drive from Tufts. "It's not my style," says Grupper, whose previous top sends included endurance-oriented climbs at the Red River Gorge like Southern Smoke (5.14c) and Transworld Depravity (5.14a). Jaws II has two distinct, burly cruxes with relatively moderate climbing—Grupper says about V6—between them.
Meanwhile, Grupper helped others with their own physical challenges. From 2012 to 2015, he worked with Peak Potential, a nonprofit that helps kids with disabilities rock climb. The experience pushed him toward working in biomechanics, and during Grupper's sophomore year at Tufts he built a prosthetic for a seventh-grade hockey player with ectrodactyly (cleft hand) that helped the teenager not only hit the puck with greater power but also facilitated daily tasks like brushing his teeth, riding a bicycle, etc. "This project really opened my eyes to what was possible in the field," says Grupper.
Grupper has long been focused on improving as a comp climber, with a goal of winning USA Climbing Sport Open Nationals (he came close in 2015 and 2017, with silver at Nationals in Boston and Denver, respectively). Nearing the March 2019 Sport Open Nationals at Sportrock in Alexandria, Virginia, Grupper felt ready. But two weeks before the competition, he had a flare-up of his ulcerative colitis, which had first appeared in summer 2016. The incurable disease, with episodes that span from a few days to a few weeks, causes symptoms ranging from discomfort to crippling pain. (During a particularily bad bout over Thanksgiving 2018, Grupper couldn't eat or sleep, and developed a fever, losing 13 pounds.) These days, working with a GI doctor and nutritionist, Grupper manages his condition by avoiding foods with significant roughage and by eating six small meals a day.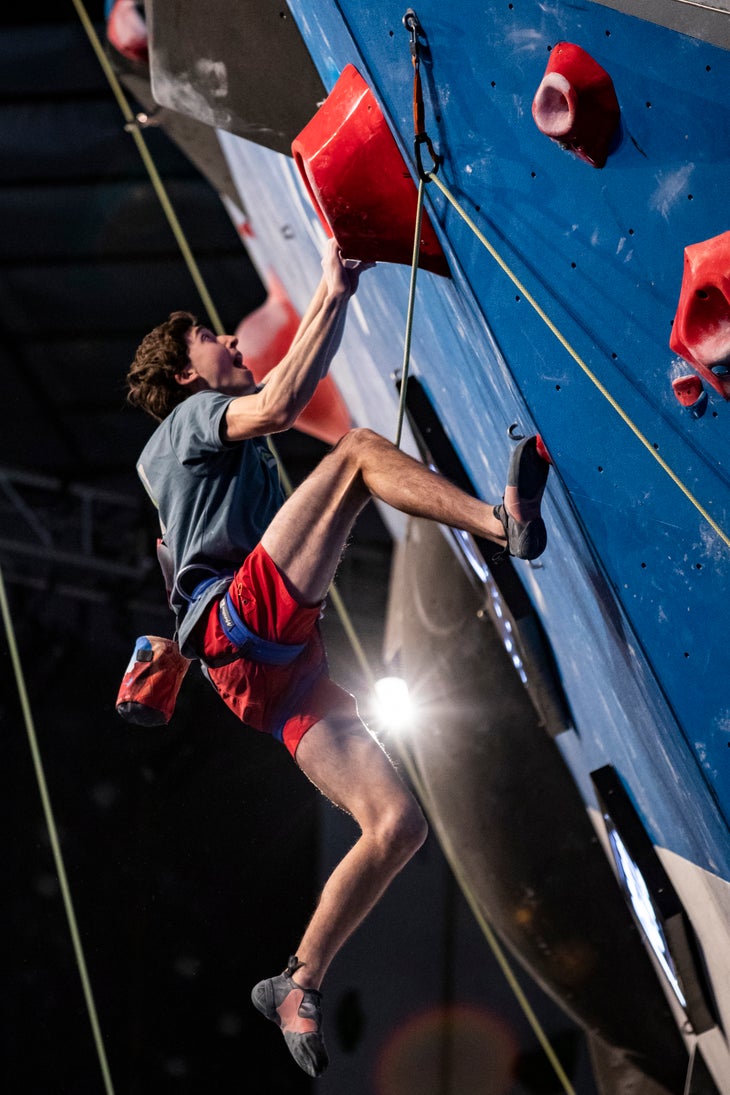 On comp day at Sportrock, while pushing through the pain, Grupper's mindset shifted. Instead of focusing on winning, he focused on "mini-goals" for each route, just wanting to get to the next hold. Grupper came out of semi-finals in first place, which positioned him as the last competitor to climb in finals. There, in his usual methodical style, Grupper cruised past other competitors' high points. When he lowered, he turned to his friends and realized he'd won nationals for the first time ever.
Q&A
Was your training for Jaws II different than for competition climbing?
Jesse Grupper: When I first started trying the bottom undercling crux [a low-percentage V12] on Jaws II, I didn't have enough body tension. I would do drills on the PVC campus board at the gym coupled with one-arm pull-ups and core workouts to help me feel more solid on that section. This was very different from my typical training—when I train for competitions, I usually do the hardest boulders or circuits I can repeatedly in a set timeframe.
How does your competition climbing affect your outdoor performance, and vice versa?
Competing has really helped me flip on my "try hard" switch, [whereas] outdoor climbing has given me a baseline to believe in myself more on indoor routes. I'm not going to see a 5.15 in a competition, so in some ways, knowing that I've accomplished such a feat gives me confidence that I can do whatever is thrown at me.
How does community support play into your climbing?
Having a community gets me to work harder and push myself to a new level. Even a simple "You got this!" offers the kind of support that's so intrinsic to our sport. When I was in Arco, Italy, for the 2015 World Youth Championships, I was sequencing my route during finals with a competitor from Slovenia. There was a language barrier, but we could both communicate about the challenges before us. We even cheered for each other. We are all pushing each other to be the best version of ourselves. I see that with people supporting my ambitions in climbing, and with the climbing community as a whole.
How Jesse Grupper gets in the zone
1. Singing to myself
This calms my nerves and helps me think about something else.
2. Yawn
I took this one from [Olympic speed skater] Apolo Ohno. I think yawning helps maximize oxygen intake, and relaxes me in competitions and before hard sends.
3. Sun Salutations
Doing a few yoga poses at the start of a workout helps warm up my body and joints, and helps me focus on my breathing to get ready for battle.
4. Reflect on past failures and successes
I use past experiences as reminders of mistakes I've made, to avoid them in the future; I use my successes as proof that I've performed at a high level before and can do so again.
5. Recite key phrases to myself
"Remember to fight," "Enjoy it," and "You've done this before and can do it again."