When Bouldering Becomes Soloing And You Love It
Young and eager for adventure the author and his gang of few pushed bouldering standards higher and higher until the line between bouldering and soloing vanished.
Photo: Billy Westbay Collection
Heading out the door? Read this article on the new Outside+ app available now on iOS devices for members! Download the app.
This article appeared in Rock and Ice issue 134 (Special Bouldering Issue 2004) and is now re-released online.
Eric "Ricky" Accomazzo, Richard Harrison and I grew up in Upland, California, learned the ropes together during high school, and remained climbing partners for the next 15 years, traveling to heck and gone, raising Cain and searching for the next great adventure. Back then (circa 1971), the way most climbers approached their "mountain" was inspired by Odysseus Laertiades' sketchfest home to Ithaca, and the frostbitten warriors of romanticized alpine texts.
We were all over the odyssean tough-guy approach. And we knew every word in Hornbein's spare, contemplative West Ridge, a timeless classic, as well as Herzog's Annapurna, the book. But we wouldn't have gone within 50 miles of Annapurna, the mountain, had it reared straight out of the Rose Bowl. Born and raised in So Cal, we rated rain and snow right alongside plague and the guillotine. Nevertheless, the ideal represented by the Homeric archetype reached all the way into the small-fry outing clubs where most of us learned to climb.
Take the squadron of fogy climbing instructors we found out at Tahquitz and Joshua Tree, who were not climbing so much as conducting war games on the rock, right down to barking out belay signals like martial commands and treating every neophyte like Gomer Pyle. Even their garb bristled with paramilitary pins and patches, denoting past alpine conquests and, by implication, rank in the granite echelon. Within this milieu, a climbing route bore the severity of a mission into enemy territory, and the honorable mountaineer was expected to suffer like a dog—and like it.
Ricky, Richard and I weathered a few weekends with the fogies and said to hell with it. Students were lucky to goose-step up a few moderate routes a day, and even those efforts were mired in rituals and guff. Our mania to climb quickly led us back to the boulders, where a small, hardcore group wearing tight, varappe rock shoes, were chalked up and pulling down.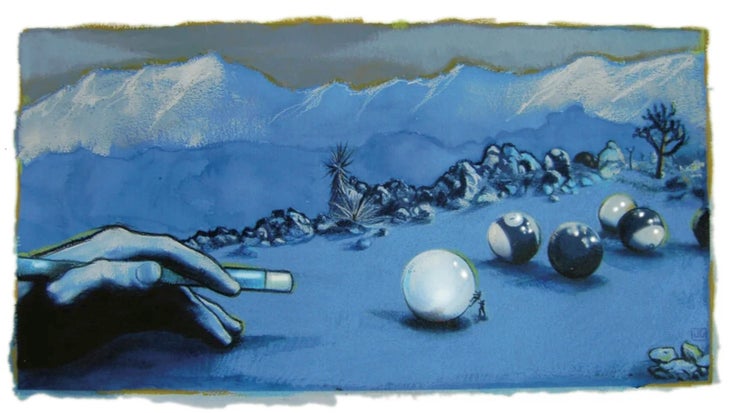 Our first stomping grounds were the hillside of boulders on Mount Rubidoux (infamous for meth labs and gang bangers), "dime-edge capitol of the western world," and the water-polished articles up at Mount Baldy, five minutes above Richard's retro-Hendrix crib. Nobody else knew about Baldy, but for years Rubidoux likewise remained a favorite for those old-fart climbing clubs, who pissed away winter weekends climbing and rapping down those idiotic slabs. Not surprisingly, they had a standing rule against "climbing without a rope," i.e., actual bouldering. The fogies were all about control, so to ditch the gear was to play into the enemy (the route) hands. Our new squad of mentors included the preternatural Phil Haney and Phil Gleason, who both had bouldered with John Gill, father of modern American bouldering. So from early on we were exposed to the world-class standard, and had a compass point to head for.
For our initial bouldering efforts we'd bust out the toprope for anything chin high and beyond. That lasted about a week, tired as we were of dicking around with all that rope coiling and anchor fiddling. The challenge wasn't fear or danger, but pain. My mitts weren't used to the torque and my tips wept after two problems. Same for Richard and Ricky. We suspended our weekend trips to Tahquitz and Joshua Tree, determined to sort ourselves out, and spent the next six months bouldering at Roubidoux and Baldy until our hands were tough as pig iron and we could pull down for five or six hours straight. To be 16 again.
Also Read: The Only Blasphemy, A Solo Outing With John Bachar Puts The Author Face To Face With Mortality
Returning to Suicide and Tahquitz, we were amazed at our progress. The trophy routes had a mythical aura, with first ascents by John Mendenhal, Chuck Wilts, Royal Robbins, Mark Powell, Bob Kamps, Yvon Chouinard, TM Herbert and other American kingpins. Originally, we hadn't made it 10 feet up these climbs, but after a few months at Roubidoux and Baldy, legendary 5.11 routes like Valhalla and Iron Cross felt almost moderate.
Still, the greater challenge was not cranking moves but learning to hold our load while 20 feet out—standard practice at Tahquitz and Suicide. And it couldn't have worked out better: Bouldering threw open the door to physically climbing these routes, while the absence of ready pro provided crucial mental training for the towering boulders shimmering on the desert horizon.
The last dregs of the Homeric approach still sloshed around the climbing community, which considered our bouldering a mere Piccadilly, not at all the "real thing." And we couldn't have cared less. Like all young pukes, we considered ourselves polestars for the more luminous articles of style. Forget the knickers and felt hats. We were Bruce-Lee-cum-Keith-Moon on the cliff side, and when we weren't reefing on the sharp end, we were bouldering.
What's more, popular practice areas like Roubidoux were becoming ant farms for the masses, though battalions of students remained under the fogies' command. But once folks caught a look at us cutting up on the boulders, desertions were frequent and always final, and our ranks swelled weekly. We only vaguely knew about John Gill, who'd already made a study of bouldering, and only bouldering, for going on two decades. We wouldn't hook up with Gill for another five years, when John Bachar and I tracked him down during our first junket to Colorado.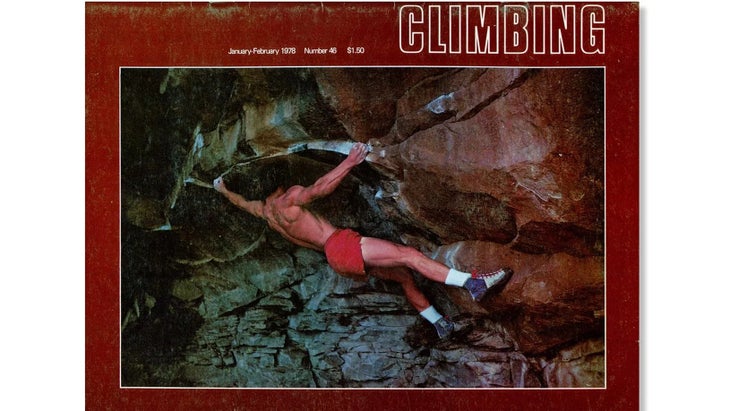 Over the next season, wider stretched the crevasse between the fogies and the young rascals who showed up for afternoon bouldering sessions at Rubidoux, Baldy and Stoney Point (the latter serving Los Angeles climbers following the same, bouldering-based curriculum as our group, 50 miles east). And yet both groups still lacked an essential element. Though the classic texts spelled it out in bold print, only later did we learn that it was something you had to experience directly to truly recognize and appreciate.
Our bouldering was technically significant for the time, and, without crash pads, even short falls were hateful. But we never got high enough to start hearing the rattling of chains, so in terms of Homeric risk and commitment, we were mostly screwing off, pulling tendons and flattering each other with our prowess—or, as the fogies claimed, just "wasting time." Most critically, we weren't blowing our own minds.
Around 1973, boredom drove us outside the traditional campground bouldering sites at Joshua Tree, an exodus that revolutionized our game and our lives. Our initial wanderings had no particular design. We'd head out across open desert with water bottle and boots and start clawing over whatever looked interesting—and flashable. Josh abounds in formations 20- to 40-feet high—too small to bolt (they're mostly bolted now), but plenty big with no rope.
At first we played it safe, hanging in the cracks or on juggy faces, tackling hard stuff (rarely over V8) only if it lay on the first dozen feet. Over time, we began inching out onto the balder faces. By early 1974, egged on by the incomparable John Bachar (the acknowledged cock-of-the-walk, and then the only one of us climbing full time), we forged farther and farther off the deck.
It's hard to give an exact date for the sea change when "highballing" caught fire and the ropes, by and large, got left in the ride. I suspect it happened one winter afternoon when Bachar and I were exploring open desert behind Hidden Valley Campground and stumbled across a classic, 23-foot overhanging arete. We spent half an hour eyeballing the thing, cranking up and down the first half, too spooked to fully commit. We'd always judged problems on how hard they looked, and this particular problem looked grim. But the "eyeballing" strategy had left too many dazzling prospects unclimbed, and we couldn't walk past this beauty. In fact, our minds were holding us back, so we worked with the fear, moved on feel, and eventually just went for it. White Rastafarian fell easily at moderate 5.11, yet something happened that radically transformed our climbing priorities.
Also Read: Gravity. Death On El Cap Pulls Two Climbers In Opposite Directions
Toward the top, leaning off a fingertip layaway, right foot hiked high on a beveled knocker, you face a deadpoint (or a disturbing lunge for those under six feet tall) up to a slanting rib, a definitive point-of-no-return. Crank that move and it's the summit—or a groundfall. The second I committed; a profound internal shift occurred: My experience opened into a weird, chaotic world where I could function only through a spontaneous act of self-trust. No wonder my instinctual reaction was to escape as quickly as possible.
Haste, however, meant crutches at the least, so the trick was to move slow and steady. One moment here was like a year anywhere else, so condensed was the experience. I recall the Marines' philosophy that boot camp is meant to demolish recruits' identities, putting them through "six weeks of hell" that mutate them into different beings. Over the next few months, highballing transformed us in much the same way. We'd found the "Magical Component." A piddling dose, to be sure, but dose enough to imagine the possibilities.
Clearly, on-sighting a difficult, high boulder problem always involved a rendezvous with the mysterious, known in many ventures as the "moment of truth." We can bluff through much of our lives on secondhand knowledge and chicanery, until we finally strike a pose and turn into mummies. But you can't fake anything up high: You have to act, and that's the power and the freedom of it. Yet it took months of highballing before I could abide in the chaos without flailing to escape; and when I could (at least half the time I'd back off), I was present with myself in a marvelous new way, and experienced a nameless tranquility unattainable through other means. This felt so novel and important it became an addiction of sorts.
After that first flight up White Rastafarian, Bachar and I put in several laps apiece and found the thrill was gone; the Magical Component is only fully manifest in the unknown. The game, in its absolute form, was all about on-sighting. A half hour later, Bachar and I began scouring the desert for other routes, trying to recapture the magic.
Over the next two winters at Joshua Tree, a few dozen recruits joined the "High" crusade. Every young person with a restless edge is searching for something to match their own fire, and at that time and place, highballing burned like a white star, sucking the rash and the willing into its orbit.
Sometimes 10-strong, sometimes alone, we'd forge into mysterious desert and, basically, solo 5.11 and 5.12 face routes in the 20- to 30-foot range. Except for those problems around popular campgrounds, a problem once bagged was soon forgotten—highballing is all about the new and the unknown. The game could, and almost did, get deadly. Once we passed a precise but invisible line, we were soloing, plain and simple. And this too became popular, especially on familiar testpieces around camp. Ego and ambition endangered judgment, but after a few of us experienced life-altering narrow escapes, and a few others suffered bone-crushing falls, the mortal gravity of the game began to impose its own limits. Nobody got killed, and that's the important thing.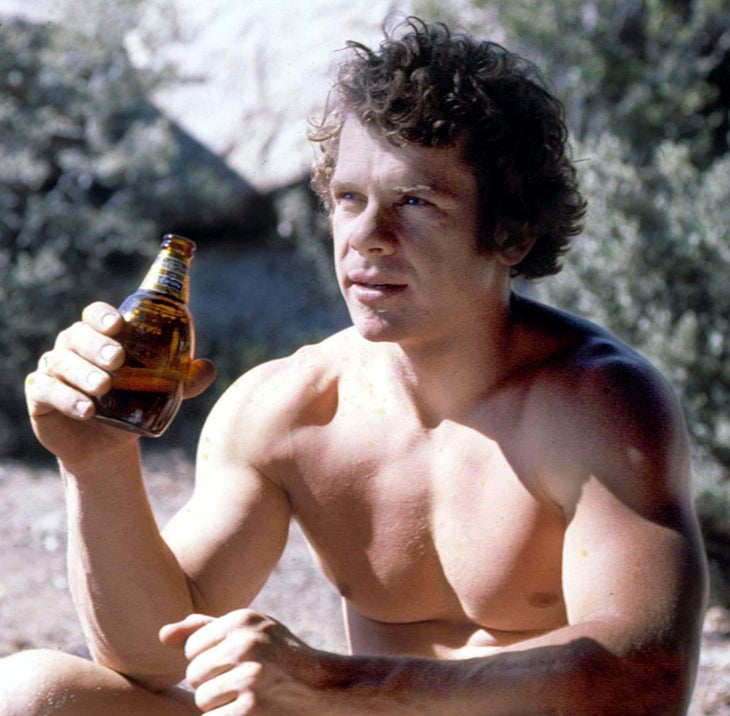 It's not so much that Joshua Tree highballing eventually lost steam, rather after spending five or six years of winter weekends out at Josh, most of us sought out other worlds to explore. In 1978, when I spent a fall up at Idyllwild following 100 days in the Valley, I found myself as fit as I'd ever get, with a stack of very tall new boulders at my disposal. Here I would push my Josh training into the treetops.
Canadian big wall champ Steve Sutton was the first to "discover" Black Mountain, a slew of areas off a fire road snaking a dozen miles into rambling forestland 15 minutes from Idyllwild. We were stunned by the fantastic, black granite boulders right off the road. Many were but 10 feet high, and later became fodder for the "V" generation. Others—countless in number —were 30- to 50-foot knee-knockers that kept us busy for months.
As I had been at Josh, I quickly found myself wandering over the mountainside looking for new problems. Trying to document some of the more impressive formations for a magazine article ("Pumping Granite"), and dragging a photographer over hill and dale, I was vexed and embarrassed that I couldn't find half of them. Like most of my Joshua Tree forays, the game was all about on-sighting. I no sooner topped out on one problem then I was onto the next, often forgetting where I'd been. I count myself lucky that I didn't have a partner equally keen on highballing, otherwise the game might have generated the perilous critical mass that it did out at Josh.
Big as the boulders are at Black Mountain, they actually stunted my growth. With sport climbing gaining momentum, bouldering standards were going meteoric. I was more interested, however, in getting up off the deck. Grinding away on shorter, albeit much harder, problems seemed to surfing what four-foot Waikiki is to 50-foot Jaws. The absence of crash pads—an invention still years off—meant hour upon hour of sketchy downclimbing to reconsider strategy. Roadside classics like Big Greenie, The Scoop, Moroccan Roll and Where Bonesheads Dare were flashable straightaway, but the higher, more technical problems up at the YMCA campground, like the thrilling Clarke Kent, a full-body "mo" (V9) followed by a barndoor arete, and the 30-foot Thar She Blows (V7), a breaking wave of stepped rails, required multiple trips and significant commitment to finally tick. So while a newer generation of climbers yanked their way into the upper V grades, I kept going high whenever fitness and churning guts allowed, embracing that euphoric, crazy void found on the far side of myself.
*
Several weeks ago I spent a Sunday afternoon at Stoney Point. After a few hours Dwight Brooks and I worked our way to the back acreage and a smattering of bleak boulders in the shadow of a 25-foot wall. It featured colorful eliminates and worthy air—V1 to V6 starts, but mostly rock-bottom 5.10 up high, though sufficient to taste something of that wild world. I'd climbed this wall a thousand times, and was leisurely ticking the easier problems when a regular typhoon—Buddy, by name—whirred into the area and hurled himself at the rugged problems on the surrounding boulders.
Their FA In Yosemite Was Renamed, Retro-bolted And Credited To Another Team
Spangled with tattoos, his pate shaved clean as a Crenshaw melon, Buddy was not a climber, but a force of nature. The Boraxo mule train couldn't have held this guy back, and I marveled at his raw energy. Sitting on a patch of sand, in a ripped t-shirt with the name of my daughter's school blazoned on the front (Juan XXlll), cut-off Levis and a pair of blown-out Moccasyms, I must have looked the regular fogy as Buddy pulled for the stars, his boots skedaddling because he didn't need them and his arms yarding off the first hold he'd hit, good or bad.
After dusting a dozen or so problems in nothing flat, Buddy strode over to a blanket and his girl with a horseshoe in her nose and hair dappled like a cheetah, and nabbed a smoke, and killed it in three draws. Then he turned toward the 25-foot wall, drew a deep breath, spit for effect, and had at it. His NASCAR pace slowed at sandy flapjacks 20 feet up, and a soulful wonder played across his grill—cool, but concerned. He'd tapped the source, which seemed to gather his wild energy into a coherent stream. Buddy mantled over the lip, strolled back down, tumbled onto an edge of the blanket and stared up at the sky.
Climbers come and go. Styles evolve. But the wild, enchanted world found beyond the point of no return remains the same for Buddy as it was for Odysseus, Maurice Herzog and the next Johnny Rocket, who will someday find his own way on high and gaze back down on the likes of Buddy boy, a fogy on a blanket in the dirt, who couldn't possibly understand the gifts of the wild world.