What You Didn't Know About Alex Honnold & His Free Solo of Freerider
Alex Honnold's free solo of El Capitan did not occur in a bubble of solitude and inspiration. In this archive piece, originally published shortly after Honnold's ascent, James Lucas dives into the story (and backstory) of Honnold's path to Freerider.
Heading out the door? Read this article on the new Outside+ app available now on iOS devices for members! Download the app.
As we all know, Alex Honnold made history in June 2017 by free soloing Freerider—becoming the first (and only) person to free solo a grade VI route on El Capitan. A month later, James Lucas's now classic piece, "The Freerider," appeared in Climbing No. 355. Despite the glut of stories and films that have been generated about Honnold's mind-boggling solo, Lucas's early piece stands out for its detail and its honesty and for the fact that contains a number of details about Honnold's various close calls that Free Solo left out. So we've republished it for your enjoyment.
—The editors
*
"So stoked. I just sent the proj!" Alex Honnold said in a voicemail from El Capitan on June 3. "Hiking down the East Ledges. Thanks for the support up here this season and, you know, just in general. I'm feeling pretty stoked out of my gourd."
That day, Honnold, 31, made the first free solo of a VI on El Capitan. At 5:32 a.m., Honnold pulled on a pair of TC Pros and began up Freerider, a 2,900-foot 5.13a on the southwest face. Honnold navigated 10 pitches of slab on Freeblast to Mammoth Terraces, where he downclimbed 190 feet to Heart Ledges. From Heart, he deviated onto an unbolted 5.10 face to avoid a 5.11c slab move. Higher, he stepped away from the standard line and entered the 200-foot 5.10d Monster Offwidth lower than normal to avoid an exposed 5.11d downclimb traverse. Honnold continued on Freerider, climbing the Huber Boulder Problem pitch, a delicate V7 slab at 1,700 feet. With nowhere to stop, Honnold linked the two 5.12b Enduro Corner pitches into the Freerider Traverse (5.12b), a 150-foot section usually broken up into three pitches with hanging belays. From Roundtable Ledge, at the end of the Freerider Traverse, Honnold climbed the last 600 feet of 5.11+ crack and offwidth in 20 minutes, topping out at 9:28 a.m. He'd been on the wall for 3:56.
Is Watching Alex Honnold Solo in VR as Uncomfortable as it Sounds?
In the summer of 2006 in Squamish, British Columbia, I met a 21-year-old kid from Sacramento with big ears, huge puppy hands, and doe eyes. He wore sweatpants all the time and abstained from all vices save free soloing. We climbed on the Chief, the slabs on the Apron, and on the sport routes at Cheakamus where he onsighted his first 5.12d, Boiler Room. We spoke often of free soloing. I had free soloed hundreds of pitches across the United States, but in 2004, I fell 100 feet onsight free soloing North Overhang in Joshua Tree. My desire to climb cordless had been tempered by eight surgeries and a body full of metal. Still, I could relate to Honnold's desire for the freedom and purity. That summer, Honnold onsight-soloed Pipeline, a 170-foot 5.10+ offwidth at Squamish. "It's pretty much been all downhill after Pipeline," Honnold jokes. He soon transferred his granite skills to Yosemite. In September 2007, Honnold climbed Astroman (V 5.11c) and the North Face of the Rostrum (IV 5.11c) in a day unroped, attracting media attention and sponsorship.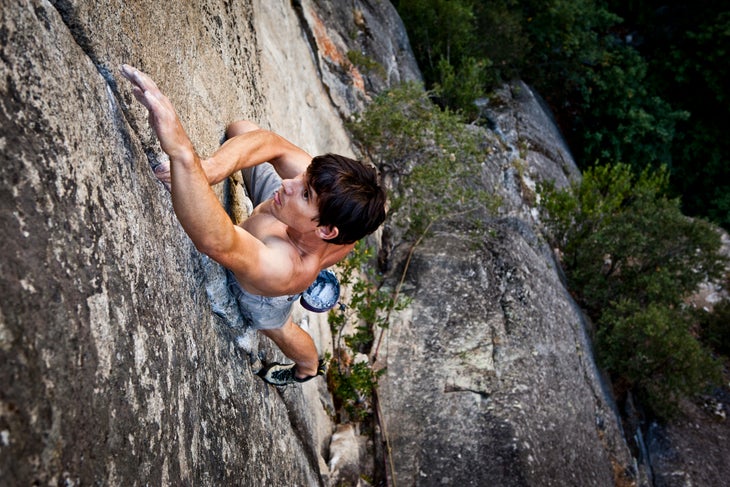 In 2008, I drove into Zion and called Honnold, who had been Mini-Traxioning on Moonlight Buttress (V 5.12d). We talked beta on Moonlight, then made plans to meet up. Then, I received a text from Mikey Schaefer: "Did you hear Honnold soloed Moonlight?" Honnold had neglected to mention it. It didn't surprise me that he'd soloed this 1,000-foot climb, a finger-crack staminafest. Though Honnold's most difficult ascents have been three 5.14c sport climbs and two V12s, he has established a huge base of endurance and fitness. He rarely tires on long routes and thus rarely gets scared on them. As George S. Patton Jr. wrote in War as I Knew It, "Fatigue makes cowards of us all."
Over the next few years, Honnold continued to push his soloing. Later in 2008, he free soloed the Regular Northwest Face of Half Dome (VI 5.12). In February 2010, he made the second ascent of Ambrosia, a 50-foot V11 highball in Bishop, California. In 2011, it was Astroman and the Rostrum, exiting the Rostrum via the 5.12 Alien. In 2012, Alex and I shared an apartment in Bishop. That winter, Alex convinced a crew to hike 34 pads out to the Luminance Boulder in the Buttermilks so he could establish the 50-foot Too Big to Flail (V9), after he'd worked out the moves on toprope. The boulder problem/short solo contained some of the hardest unroped climbing he had done—delicate patina crimping way off the deck. By the time of his solo of the Freerider, he'd climbed an estimated 2,000 individual pitches ropeless, including multiple 50-pitch days and a day of 290 pitches in Squamish for his twenty-ninth birthday.
Not all of Honnold's solos have gone smoothly. Early on, in 2005, he fell twice soloing in Owen's River Gorge: once while downclimbing a 5.10 and another time climbing to the first bolt on Pippy the Zenhead (5.9). In 2008, on Half Dome, he stood 2,000 feet off the ground, stroking a carabiner, contemplating grabbing the metal to pull past an insecure slab move. He compromised, placing a single finger pad on the biner and making the move. On the Rainbow Wall (V 5.12b) in Red Rock Canyon in April 2010, Honnold climbed up and down into the dyno crux, 750 feet off the ground. He had climbed the route years before but barely remembered it. As he wrote in Alone on the Wall, referencing a recent breakup, " … in the mood I was in, I wanted to finish what I'd set out to do." Honnold crimped so hard on a dimple he got a blood blister, making the move. He climbed into 5.12 terrain above, which felt harder than he wanted to solo but that he now had to no choice but to climb.
In September 2011, Honnold called me from the Direct North Buttress (V 5.10b) of Middle Cathedral, looking for directions. In late 2011, Honnold created a short film with Corey Rich. Why showcases the Nikon D4, which Rich used to film Honnold soloing Equinox, a 5.12c finger crack in J-Tree. After lap three, Honnold was tiring. On his last effort, his foot skated slightly. He caught himself on a fingerlock (4:12). In 2012, he backed off John Bachar's infamous J-Tree solo Father Figure (5.13a). In Zion in 2012, Honnold onsight-soloed Shune's Buttress (IV 5.11+). As he scrambled to the summit through snowy, loose terrain, Honnold broke a hold, fell into a tree, and landed on a pedestal, narrowly avoiding the plummet to the valley floor. Though Honnold climbs well, he's not flawless.
Over the years, Honnold began a symbiotic relationship with film media. Most of his solos have been re-created on film, as were Moonlight Buttress, Half Dome, and his 2014 free solo of El Sendero Luminoso, a 1,750-foot 5.12d in Potrero Chico, Mexico. To some extent, Honnold has used the film crews not only to advance his career but also to help with logistics—and they've been there to bail him out in a pinch. While filming for a 2014 Squarespace campaign with Jimmy Chin, Honnold soloed Heaven (5.12d) in Yosemite. On his second lap, on a hot day, his fist greased in the crack and he asked the film crew for a rope.
In fall 2016, Honnold arrived in Yosemite with hopes of soloing El Cap. Jimmy Chin and his wife, Chai, had been working with Honnold to produce a feature film. They'd documented him soloing Excellent Adventure, a 5.13 finish to the Rostrum, and Les Riveres Pourpres, a 1,600-foot 5.12c in the Taghia Gorge of Morocco. His first day in the Valley, a cold and dreary one, he fell on Freeblast with his girlfriend, Sanni McCandless, spraining his ankle badly. Later that fall, he tried to solo the Freerider. On a delicate 5.11 slab on Freeblast, he got scared, grabbed a bolt, and pulled through. The camera crew gave him a double-length sling and a carabiner, which he used with a munter hitch to rap from the fixed lines up to Mammoth Terraces.
The June 3 solo, obviously, was a smoother affair. A few cameramen watched from the meadow, while Chin, Cheyne Lempe, and Sam Crossley waited near the top third where the climbing—what Honnold calls "fun exit climbing"—was more secure. There were also two remote-control cameras at the crux boulder problem on pitch 23. Whatever happened at the crux, the cameras would document it.
In August 2014, a friend and I attempted the University Wall (5.12a) at Squamish. On the hike down I ran into Honnold.
"What are you doing?" I asked.
"Just going for a hike," Honnold said.
"Like, you're gonna hike my project?" I asked looking at his rock shoes and chalkbag. Over the years, Honnold had talked about soloing U-Wall. We went over the difficult undercling section on pitch 2. Honnold said he kneebarred there and it felt secure.
At the base, I grabbed a pair of binoculars. Honnold moved smoothly through the first pitch, a wet 5.12, and launched into the undercling section. As I watched, his body started shaking. He looked ready to gyrate off. I put the binoculars down, breathed lightly, steadied myself, and then picked the binoculars back up. Honnold was climbing smoothly. He had been the whole time. It had been my hands shaking the binoculars. I had been projecting my own fear onto Honnold.
While Honnold's plans to solo big routes are often known, he tries to minimize any nervous energy around him—thus, his skittishness around the U-Wall. "He's always had the foresight to not tell me beforehand—actually ever, until Half Dome when it made news," Deidre Wolownick, his mother, says. She didn't climb at the time and didn't comprehend what he did until months later. "When it's in the magazines, you can't keep it from mom," she says.
The secrecy spares his mother the worry. Says Wolownick, "It would be harder for him if he knew that I knew. His mind has to be clear, and if he knew I was sitting home worrying about him, it would muddy the waters."
Before soloing the Freerider, Honnold and McCandless agreed that she would leave Yosemite for a few days. He'd been training hard, practicing front levers and trying to do the 7b Beastmaker hangboard workouts; he'd also given up sugar for the two months prior and taken a sabbatical from social media, to sit in his van and visualize soloing the route. He wanted to keep distractions at bay.
"It's called enabling," I told Will Stanhope this spring beneath Midnight Lightning. Stanhope, like many climbers who have freed the Freerider, thought that soloing El Cap was a bad idea. In fact, the only person in the world who thought it was a good idea was Alex Honnold. Still, I'd agreed to support Honnold on Freerider, jugging behind him while he practiced the climb. In 2014, Honnold had supported me during one of my 40 days prepping to climb Freerider in a day. With Honnold, I fell off the Boulder Problem, but so had he. Though I'd been disappointed to fall, I was also excited that Honnold had failed. It meant he would live a few years more. I jokingly wrote, "Don't solo my projects!" on his Facebook wall.
Our ascent this May went smoothly: round-trip in 11 hours. Honnold led every pitch, short fixing the rope for me. Most of the route he climbed with an enormous loop of slack, little gear, and 60-foot fall potential. He had climbed the Freerider at least a dozen times at that point, including his first trip in 2006, when he fell only once. In spring 2008, a loaf hold on the crux twenty-third pitch broke, upping the difficulty. Honnold had invested significant time on the route, climbing it slightly differently than he would roped to make it feel more secure. He did the same on a few other sections. In the meadow, I said goodbye to Honnold and we hugged. I was unsure if I would see him again. Back at work at Climbing, I told my editor we should leave space either for an article about his ascent or an obituary.
Over the years, large sections of El Capitan proper have been free soloed. During speed-solo ascents on the Nose, Dean Potter often skipped belaying himself on cracks, soloing up to 5.11. In 2012, Potter took the first steps toward a big El Cap solo when he established Easy Rider (5.11d), a 1,000-foot U-shaped route on the top of El Capitan. "I downclimb … Lurking Fear then come across Thanksgiving Ledge and traverse further via a magical passage I discovered out a bucketed roof and finally end up on the top quarter of the Freerider without EVER using a rope," Potter said in an Outside Online interview.
In 2012, Potter and Sean "Stanley" Leary climbed the West Face (V 5.11c) into Easy Rider at 5.11d. This variation had solo potential, and Potter began working the West Face to prepare. I mentioned as much to Honnold. A few days after Potter and Stanley finished their variation, Honnold on May 22, 2012, made the first free solo of the West Face. Deterred by Alex's competitive nature, Potter moved on.
In late May, Honnold simul-climbed Freerider with Tommy Caldwell in a record 5.5 hours. All told, Honnold had climbed the delicate Boulder Problem crux nearly 30 times this year, falling only once, two days before his send. He was as solid as he could be. On June 3, I came into cell range late in the day after climbing. I saw Honnold's message and knew he had sent. The world congratulated Honnold. National Geographic and Jimmy Chin worked their exclusive angle, with a film due summer 2018. The North Face, his main sponsor, took out a full-page ad in the sports section of the New York Times congratulating Honnold. "The really good thing about it is that I'm probably not gonna get fired any time soon," jokes Honnold.
Honnold's solo sets him up for bigger objectives. Perhaps he'll link more routes in Yosemite or solo the Fitz Roy Traverse in Patagonia. Perhaps he'll retire. "After El Cap, what's left? What more could you possibly do as a free soloist?" his mom muses. Honnold will likely solo more—but at what level is unknown. "I don't know if I'll do anything extreme. We'll see," Honnold says. "What if some 16-year-old kid does everything I've ever done in, like, a day? I'll be, like, 'Uh-oh. I better get back to work or I won't be able to eat.'"