How To Talk To Your Friends about Bouldering Etiquette
With a record number of climbers heading outdoors, it's more important than ever to keep a low profile at the boulder field. Here's how to bring it up without killing the stoke.
Heading out the door? Read this article on the new Outside+ app available now on iOS devices for members! Download the app.
Mentorship used to be the link between new climbers and outdoor climbing. "When I was a teenager, I was climbing with everyone who was older than me—mostly dudes in their 20s," Alex Johnson, pro climber and World Cup gold medalist, tells Climbing. "They started teaching me etiquette in the bouldering cave at our gym. They'd be throwing their shoes and blasting Atmosphere and screaming. They taught me how to be passionate, and care, and fucking try hard." 
Despite all the "swearing and screaming and throwing shit" indoors, when they took Johnson outside, they became fiercely disciplined climbing stewards. They'd tell her "Brush the holds before and after you get on," and "Don't touch the holds on someone else's project without chalking up your hands." Johnson explains, "I was just a punk teenager wanting to try and they were like 'No, wait your turn.'"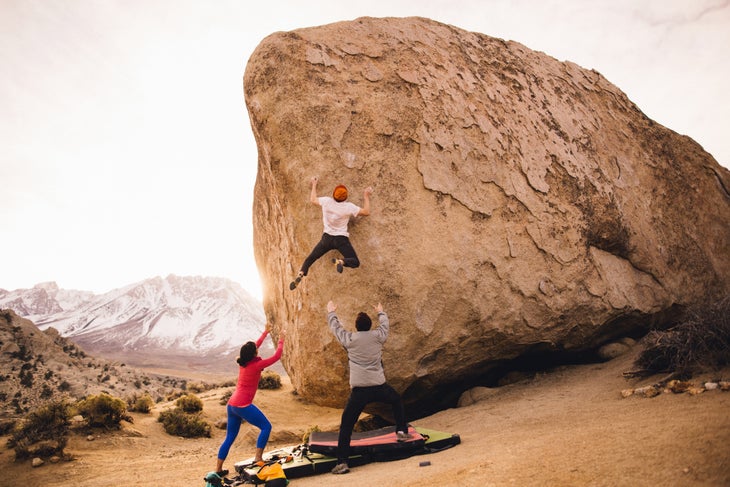 In the proceeding decade and a half, the climbing world has changed a lot. Younger, stronger climbers can already send V12 straight out of the gym. This creates a unique problem: "You can step out of the gym and go to the boulder field for the first time and not feel like a beginner," explains Aaron Parlier, co-founder of Central Appalachia Climbers Coalition. 
Now, add gym-bouldering culture to the mix—loud music, passionate cheering, little Leave No Trace knowledge—and you get groups of 10+ climbers crowded under a small roof at Joe's Valley with enough pads to rival the gym's cushy floors. The stoke is high as someone starts the send train. Other climbers don't speak up about poor etiquette because they don't want to bring down the vibe. Nobody wants to be that curmudgeonly climber who sits on the sidelines of their project with a scowl on their face and their arms crossed while strong bois take their shirts off and blast Travis Scott from their bluetooth speakers. 
"It's so common now that the younger generation is stronger than the older generation," Johnson says. "It used to be like sensei and grasshopper relationship, but now all these grasshoppers are fucking running rampant, hopping all over the place."
"The gym culture has infiltrated outdoor climbing, and sometimes the approaches are not in harmony," says Jess Powell, a Board Member of the Salt Lake Climbers Alliance (SLCA). "It's so fun in the gym to show up with your friends and push each other. But outside, it does have major implications for everything else; other climbers are displaced and the environment isn't sustainable for that many people and crashpads."
The Ramifications of Poor Etiquette
As outdoor bouldering grows, its environmental impact worsens. Individually, actions like walking off-trail, throwing crash pads, or letting your dog romp off leash might seem minor. But when you multiply that by 100 climbers a day, the impacts quickly add up. "We're humans, so we consume,"  says Ty Tyler, Stewardship Director at the Access Fund. "And a lot of the time, we treat our climbing areas in the same light. We go to climb to climb without thinking of the place that we're in, but these are all pretty sensitive environments." 
And it's not just an issue for the environment, it's about respect for other climbers, too. "We are sharing space with each other," says Tyler. "Having proper etiquette is showing mutual respect for people who share the same passion that we do." And bouldering, arguably more than any other climbing discipline, is inherently social. "There's this selflessness I was taught in bouldering," says Johnson. "You can scream and rage and try hard, and then also leave it better for the next person." 
This article is free. Please support us with a membership and you'll receive Climbing in print, plus our annual special edition of Ascent and unlimited online access to thousands of ad-free stories.
So, something's gotta give. "If we [climbers] don't start being better, it causes issues with land managers, and with each other," says Powell. "It has huge impacts on the environment and on the climbing experience. We could potentially lose access and what a terrible tragedy that would be." 
The good news: just like the tragedy of the commons has degraded climbing areas, we can all use individual actions, like talking to friends, to improve conditions at popular destinations. 
Talking to Climbers about Bouldering Etiquette
Struggling to talk to your climbing crew about etiquette? Here are some tips to keep the conversation positive: 
Know the Local Nuances 
First things first: if you're going to talk to others about etiquette, you should have decent bouldering etiquette yourself. "The biggest rule for someone going to a new climbing area is educating themselves—on all of the restrictions of that area," says Steven Jeffery, SLC routesetter turned Joe's Valley developer (and self-identified "crusty old climber"). For example, can you camp in the area? (Moe's Valley has a strict no camping policy.) And what are the rock conditions in the region? (If you're on sandstone, you should wait three days after rainy weather to climb so you don't break off holds.)
Lead By Example
Once you're familiar with general bouldering etiquette and your region's ethics, leading by example is perhaps the easiest thing you can do to influence other climber behavior. "If you're not comfortable being like 'Get your fucking muddy feet off my pad,' I just kick my shoes off before I get on my pads," says Johnson. "I think being a silent but visible steward of etiquette can be huge."
 A few people setting a good example can drastically change a climbing area. "People watch what others are doing," says Parlier. "And if someone sees another climber book it straight downhill instead of staying on the trail, it may become a continued behavior. This year, I developed a new boulder and my little climber trail now looks like a professionally maintained hiking trail by the people that have gone after me."
Communicate with Respect
Most people become defensive when they're told their behavior is wrong. "As soon as you frame anything in a way that attacks them, you've lost them. It doesn't matter how right you are, you've lost them," says Tyler. So, establish respect from the get-go if you want to communicate effectively.
"When I walk up on a boulder, I don't think I've ever not been like 'Hey, how's it going? Can I work this with you?'" Johnson says. "It's just a respect and acknowledgement that there are other people who frequent this space and it's not yours."
This up-front communication can be an opportunity to connect with other climbers, but can also give you insight into someone's experience level. "If I see something that I'd like someone to change, I start a conversation first," explains Tyler. "Have you climbed here before? Where's your local spot?" 
Explain the "Why" 
If you're giving someone feedback, it's important to provide context and information so they'll understand why one behavior is more desirable than another. Tyler suggests making it casual by saying something like "Hey, I've seen recently that a lot of vegetation is being destroyed. Let's not put our packs on the grasses." So, next time you want to ask someone to brush their tick mark, explain to them that cleaning up chalk messes and brushing off tick marks goes a long way to assuage land managers' concerns.  
Emphasize the Collective Nature of Bouldering
Protecting bouldering areas takes the masses, so focus on collective action rather than targeting an individual. Tyler offers an example of how he would talk to out-of-town climbers at a crag: "As you're here, keep in mind the vegetation is really sensitive to impact. So let's do what we can to protect what's here."
This mindset goes beyond environmental action—camaraderie and community should form the basis of all of your climbing dynamics. "Don't be that douchebag that hikes the boulder problem in his tennis shoes in front of everyone who's trying it," says Jeffery. "Instead, why don't you be a part of it and help all these other people climb the boulder problem? Who cares that you can do it. If the person struggling the most climbs the problem, that's the coolest for the group."
Adopt a Mentorship Mentality
The biggest change you can make is by adopting a mentorship mentality. "As a mentor, it's an opportunity to grow the sport in a way that's sustainable and fun for more people," says Jeffery. "More people are coming, you're not stopping that. If you can start being the change and help continue the change, that's how you should see it." 
When it comes to gym climbers heading outdoors, there are a lot of nuances that they may not have learned yet—despite how hard they climb. "It's so common now that the younger generation is stronger than the older generation. For me, it was totally the other way around," explains Johnson. "It used to be like sensei and grasshopper relationship, but now all these grasshoppers are fucking running rampant, hopping all over the place."
But when a climber steps on your mat with dirty shoes or drags their crashpad across the ground between climbs, they aren't intentionally being an asshole. "For me, I needed to understand that they just don't know," continues Jeffery. "They're used to going to the gym and throwing all their crap in the cubby and going to town." Certain social and environmental etiquettes apply outside but not in the gym, explains Johnson. "That's not anybody's fault; it's just something you learn along the way."
So, if we want to see sustainable changes at our climbing areas, more people have to be willing to speak up—with respect. "Boulderers are more than happy to yell beta," Jeffery laughs. "But they won't say, 'Oh by the way, we should stay on the trail.'" By talking to our climbing crew about etiquette, we can avoid unpleasant confrontations with other climbers and lessen our impact to keep land managers happy—and climbing areas open to all.