Interview: Big Fun on Big Walls With Jacob Cook
Heading out the door? Read this article on the new Outside+ app available now on iOS devices for members! Download the app.
This story originally appeared in the March 2015 issue of our print edition.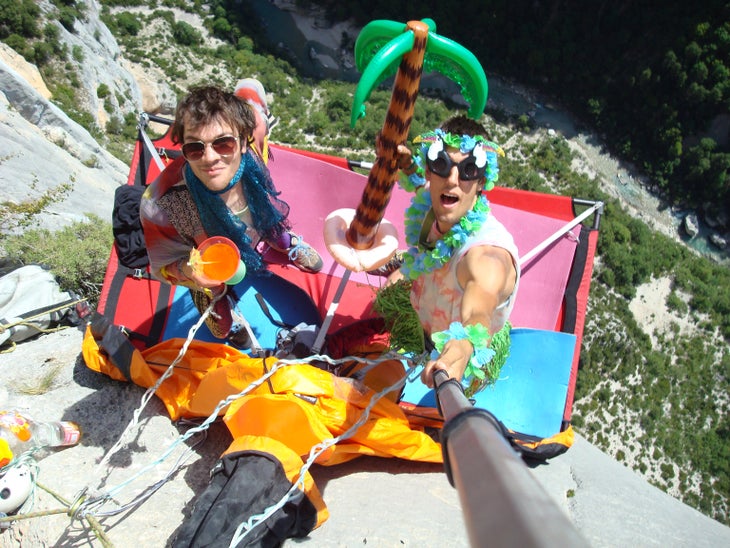 When most people think of big wall climbing, they probably think of long days, uncomfortable bivvies, complicated systems, and grueling gear hauls. Big wall climbing can be all those things, but it can also be fun and a bit ridiculous. English climber Jacob Cook proved just that on a road trip to France's Verdon Gorge. Over six days he and partner Ian Cooper made the first continuous ascent of El Topo (5.13a), a 1,000-foot, 14-pitch face. In between good climbing temps, Jacob and Ian threw a Hawaiian luau.
How did the idea for El Topo come about?
A lot of people go to bed with a novel; I go to bed with a guidebook. I knew about El Topo for a few years and always thought it looked like an amazing objective. No one had done a continuous free ascent. I'd just been in Yosemite, where I learned a whole lot of big wall techniques. Then Ian—who is an absolute character, he's not like other people—and I decided that it was as important for us to have a really fun time up there as it was to climb the route. I'm definitely someone that climbs more for the experiences than for the sport aspect.
Did you need to do the route in big wall style?
I think one of the reasons it hadn't had a continuous free ascent is because people don't go big walling in the Verdon. People in the campsite were like, "What are you guys doing? Why are you doing this?" Because it's not that big. The route is only like 300 meters. I think a lot of people had it in their heads that it had to be a one-day kind of thing. For us that wasn't a possibility. We were trying it in the middle of summer, and the wall is in the sun until 2 p.m. It can be 95° up there, and you're climbing blank gray slabs. I can't climb 13a slab in that kind of heat. There's just no chance. So given that our climbing window was six hours long, there's no way we could climb it in a day. It's 14 pitches. Also, I just liked the idea of spending a while up there.
Had you slept in a portaledge before?
No. I'd done the Nose with my girlfriend, but we slept on natural ledges. It was my first time sleeping in a portaledge. We spent a long time trying to set it up. We'd done it once before in a park in London. Then our second time was at a hanging belay, five pitches up El Topo, in the dark. It took us quite a while. And then I remember sitting in it like, "Is it supposed to be this wobbly?" It was moving around a whole bunch. But it was nice. It was cozy. We had speakers and a playlist that started with a song called "It's a Reggae Morning" so every morning was a reggae morning on the ledge.
I heard the trip got off to a rough start.
I was hoping you were going to ask about that. It was an absolute disaster. We were getting a lift down to the Verdon with two friends. There were four of us in a van. We got about two-thirds of the way down to France—about 600 miles—and then the van broke down, with all our big wall stuff in it, about 300 kilos worth of gear. There was no way were going to take it all on a train or something. We got it towed to a gas station and the French mechanic told us it was going to be at least a week to fix. We couldn't find anywhere to hire a car. Ian and I were getting desperate, so we decided to hitchhike back to England. The plan was to get his car, drive it back, pick up all of our stuff and our two friends, and continue to the Verdon.
How many hours from home were you at that point?
We were a good 15 hours from home. We turned around. We made a big sign that said "England" and just stuck our thumbs out. We actually got really lucky. We managed to hitchhike all the way back to Callow—which is where you get the ferry—in about 12 hours. We arrived at the ferry in the middle of the night, and the woman wouldn't let us on. She said foot passengers weren't allowed at night, and that we'd have to come at nine the next morning. We were like, "sod this!" We left and then pretended to drive back in a car back. The woman was like "What are you doing?" I was like "I can't hear you!" then I pretended to roll the window down and stuck my head out. And it worked, she thought it was funny and made a call to let us on the ferry. You could say the trip got off to a bad start, or you could say the trip got off to a really good start because before we even got to the Verdon we had a pretty cool hitchhiking adventure. We were joking that it would be kind of cool if all of that was necessary to get to the wall. That approach would be comparable to some remote big wall approaches in Greenland or something, you know the amount of time and effort it took to get all our shit out there. It made it more memorable.
So, why a Hawaiian party?
We decided to have a Hawaiian party up there because it was gonna be really, really hot. We needed something to do during the day when we weren't able to climb. It kind of, uh, snowballed. We originally decided to have an umbrella that we would sit under during the day, and then sitting under an umbrella kind of felt like being on a beach, like a tropical island somewhere. Then I was like, "Oh, we should get hula skirts!" And we went on Amazon and eventually were like, "Oh, we can get this! And this! And these toucan sunglasses, and little cocktail umbrellas…. " And we ended up buying a whole load of things. It definitely weighed the haulbag down. Significantly. But it was worth it.
What exactly did you haul up?
In the haulbag we had a water section, a sleeping-gear section, a food section, and the party section. In the party section we had a hula skirt, a whole pack of plastic martini glasses—which kept getting broken so it was good we had a bunch of them—little cocktail umbrellas, some toucan sunglasses, and, of course, we had an inflatable palm tree. That was a crucial thing. For belay ambience, we'd get the inflatable palm tree out.
Any advice for other climbers that want to get the most fun out of portaledge life?
Your time on the wall is what you're gonna remember. When you look back, you're not going to think, "Oh, I succeeded on this climb." Even if you fail on the climb and have a great time doing it, it's a much better memory than if you got to the top and you hadn't slept for 48 hours and ran out of water. I think it's worth taking the extra stuff to have a good time. And if you're having a party, tunes are essential. Our little speakers were pretty key.
Read about this and more of Jacob's adventures on his blog at jacobclimbsthings.blogspot.com