Interview: Climbers Escape Kansas City Zoo
Heading out the door? Read this article on the new Outside+ app available now on iOS devices for members! Download the app.
This story originally appeared in the September 2015 issue of our print edition.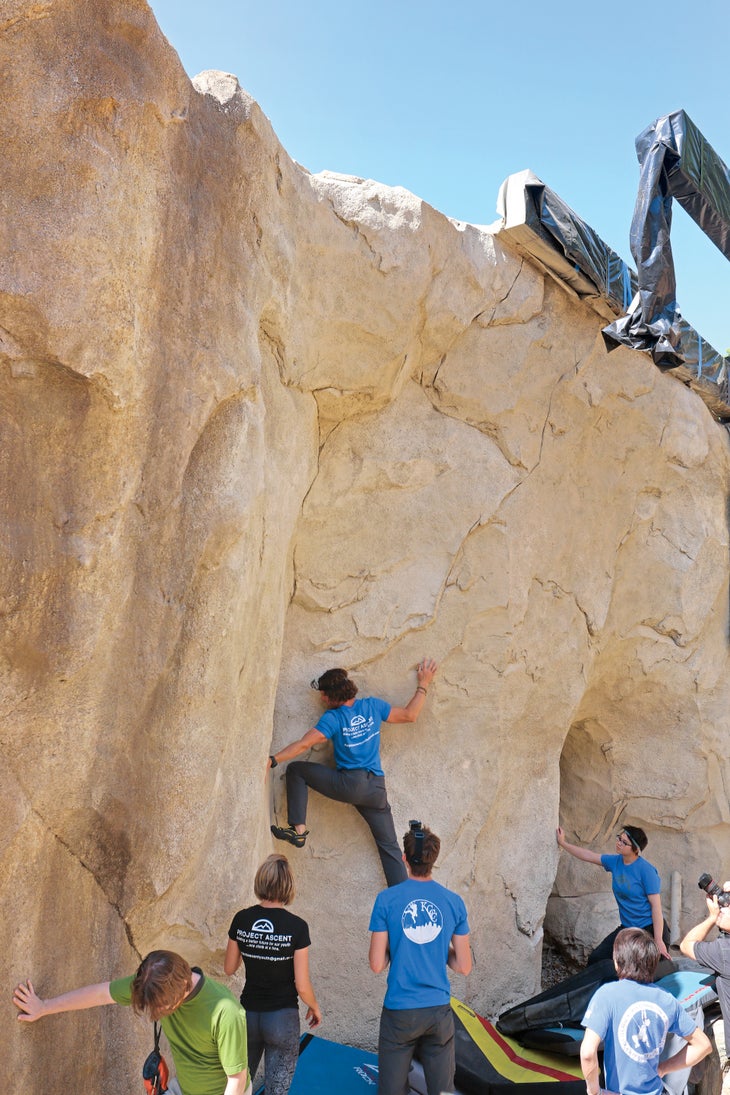 We climbers like to compare ourselves to monkeys, but it's not often anyone asks us to act as surrogates for the agile primates. A group of climbers from the Kansas City Climbing Community recently got to do just that when the Kansas City Zoo asked them to stand in for real orangutans (which are apes, not monkeys, we know) to help make sure their new enclosure was escape-proof. We spoke to climber Todd Davidson, who helped organize the event, about what it's like to try to climb out of a zoo exhibit.
So how did this come about?
Todd Davidson: I'm a photographer and videographer, and I work with one of the guys at the zoo all the time. All those zoo guys were just hanging out one night wondering, "How are we gonna promote this orangutan exhibit?" It got to "Dude, it would be hilarious to see if we could get some climbers to test it and see where we're at." They were just joking about it over drinks, and he goes, "Well, I know a guy that knows a bunch of climbers!"
Was there a previous incident?
Todd Davidson: A year ago they did have some orangutans get out. A tree had fallen over. One got out and then led the others on the escape. But they didn't go anywhere; they just got on the roof and hung out. Nobody was in danger. But you know, the news channels needed something, and they played it up.
Describe the new enclosure.
Todd Davidson: They have this big cluster of trees in the middle. They're concrete, but they have fake foliage on them. On the left and the right are these big walls that we were trying to climb. They top out at 18 to 20 feet, but they're made out of concrete, so it was just shredding hands. Not fun stuff to climb on.
What was the climbing like?
Todd Davidson: Imagine someone took concrete and just dumped it out the back of the truck, didn't smooth it out at all. It was lots of really sharp crimps and all overhanging, so you were fighting to keep your feet on the whole time, on something that was probably nonexistent. Just gnarly concrete crimpers. It's not good. We weren't on the wall any longer than 30 to 40 minutes, just kind of slapping at it.
Did anyone get close?
Todd Davidson: Dakota Walz and Jeremy Collins both got halfway. Their feet were 10 feet off the ground, and they were reaching up to the 15-foot mark, with a topout at about 20 feet. Was there any chance in that hour that they were gonna get it? No, there wasn't.
Dakota Walz: The first 12 feet were surprisingly fun V6 moves in a wide corner. Above our high point, the last six feet or so, got too thin and aggressive for us mortals—probably around V10. Lock me in that cage for a lifetime, though, and I'd have that problem dialed eventually.
Do you think an orangutan could do what they did?
Todd Davidson: It was really complicated climbing, but the thing is, we don't know how strong orangutan hands and arms are. Orangutan hands are a lot longer than ours, but is their precision strength like that of a small human hand? It's like watching a tall guy climb something and get all spread out. He may be able to reach things, but he loses his strength. So it's hard to imagine a hand twice our size. Yeah, they're stronger than us, but you lose your leverage. So what we grabbed with our tiny fingers, does it translate? I don't know.
Did you see any escape potential?
Todd Davidson: The cool thing about hanging out with the zoo folks was that we were thinking, "Could they throw themselves from the tree to the top of the wall?" And the zoo folks said they wouldn't, because orangutans won't ever let go with all their limbs. They don't like to fully lose that connection, so they won't throw themselves or dyno like a monkey or climber.
Did the zoo make any changes based on your team's climbing?
Todd Davidson: We got to talk with the foreman and tell him what we were feeling, like, "Hey, see that crack over there, that's what we were going for. If we could've made these two moves and gotten to that crack, we would've escaped." They patched up some things after talking with us. Their thought was, "These orangutans are gonna be here for a lifetime so we need to explore every option they could use to get out and make sure it's not an option."
Do you guys get free zoo memberships for life?
Todd Davidson: Everybody that climbed got free family passes for a year. I look forward to standing there with my kids and going, "I was in there! We tried to get up that!"
Did anyone consider climbing in a gorilla suit?
Todd Davidson: I'm shocked that they didn't.