Interview: How Seb Bouin Sent the World's Hardest Grade
"I like to find something that feels impossible and then, by working a lot and training a lot, find it possible. The challenge is the motivation."
Heading out the door? Read this article on the new Outside+ app available now on iOS devices for members! Download the app.
Last week, Sébastien Bouin did the first ascent of DNA in France's Verdon Gorge, proposing a grade of 9c (5.15d). Located in the Ramirole, one of the Verdon's biggest caves and home to many of Bouin's other hard first ascents, DNA now vies with Adam Ondra's Silence as the hardest route in the world.
Bouin, age 29, started climbing when he was 11 and is no stranger to cutting-edge grades. He's been climbing 5.15 since 2013, ticking his way through hard classics like La Rambla (5.15a), Biographie (5.15a), and Chilam Bilam (5.15a/b). In 2019 alone, he sent seven 5.15s, including four 5.15b's: Move (5.15b/c) in Flatanger, Norway; Mamichula (5.15b) in Oliana, Spain; Rage d'Adam (5.15b/c first ascent) in Ramirole; and The Dream (5.15b first ascent) in Albania.
Still, he's been publicly unsure about DNA's grade—proposing 9c in part, he says, because it took him so much time. He worked the route for 150-200 days while previous projects like Beyond Integral (5.15b/c) and Move (5.15b/c) took him 50 and 40 days respectively.
Of the process, he told Climbing: "I think I had too much motivation for this route… I wanted to do it too much. … I was not in peace."
We caught up with Bouin by phone. The following interview has been edited for clarity.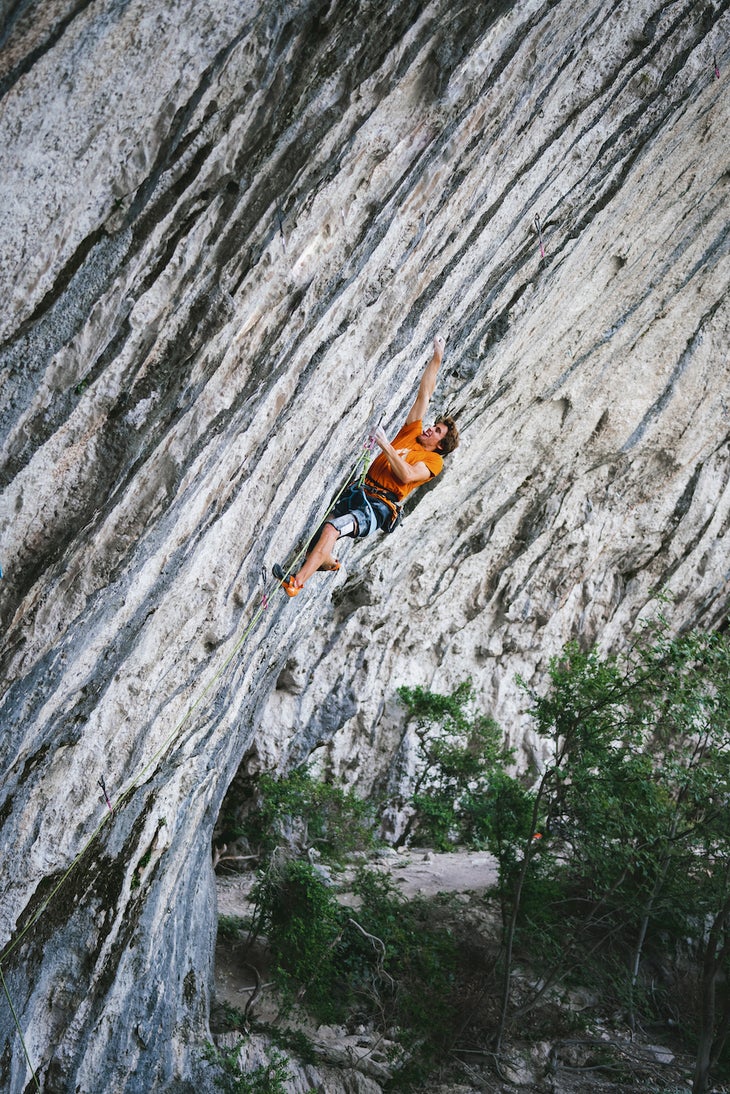 The Interview 
Climbing: Congratulations on your send. It sounds like it was a pretty serious process for you.
Bouin:  Yeah, maybe too much. [Laughs]. It was a big, big process. Maybe too much. With the other routes I've done, they were still fun up to the end. But with this one it was quite hard in the mind. In the end I was quite annoyed by coming back and trying the route.
Climbing: When you were trying, were you falling in the same spot over and over, or were you making steady progress?
Bouin: Well, basically, to describe the route: You first have a short 8c [5.14b], then a good rest, then a Font 8A+ boulder [V12], then a font 8B boulder [V13], which is the redpoint crux of the route. With the first boulder, it's 9a or 9a+ to reach this point. So it's definitely not easy. And the first 8A+ boulder is a comp-style boulder. You have to throw your foot and jump to a tufa—and it's quite hard to do every try. So for the mind it is quite hard because you know you can fall on the first boulder problem, and then, if you don't fall, you have the second boulder problem, where I fell 30 or 40 times.
Note: after our conversation Bouin desribed the first boulder problem as somewhere in the 8A/8A+ range and said the second is 8A+ or 8B. During our conversation, he used the higher grades.
Climbing: Is there a rest between the boulder problems?
Bouin: Yes, there is a rest, but it's not easy to [get anything back]. It's a kneebar but it was quite hard to stay on. So the deal was: Stay on the rest, but not too much, because if I stay too long my leg is too tired to use my foot properly on the crux.
Climbing: Did you ever fall after the crux?
This article is free. Please support us with a membership and you'll receive Climbing in print, our annual special edition of Ascent, and unlimited online access to ad-free stories.
Bouin: In December, before Christmas, I fell four times after the crux. Just a few moves after the crux, like four hard moves, you reach another rest, but I didn't have the perfect beta and fell four times. Then in spring, I fell two more times after the crux. One time because I hit my elbow on the wall. So I think I was quite unlucky with this route because I was close to doing it since last December. But at the same time, after this last 8B boulder problem, you have an 8c+ route. It's completely possible to fall off this part, but I didn't fall there. So I was quite lucky on this part. There is a rest before the last 8c+, but it's the same as before: All the rests are with kneebars, and when your body is tired from the kneebars you're not able to climb really well.
Climbing: It's 50 meters (160 feet) long, right? How long were you on the route for?
Bouin: I think it took like 30 to 35 minutes to get to the end of the 8c+. But then there's another 10 or 15 meters that's quite easy, like 8a+ [5.13c], but I climbed it slowly. So the whole process was like 45 minutes. 
Climbing: When you're working on a project so close to your limit, do you have sub-goals?
Bouin: Yeah, basically it was step-by-step. I tried to send the first short 8c. Then I tried to send the first 8A+ boulder problem. I was quite happy the first time I reached the 8B boulder problem. I was like, "Oh, now I will do it, now I'm ready for the route," but then I fell there like 40 times. [Laughs.] I guess I was not ready for the route. I was ready for the route when I started falling after the 8B. Because from there, I knew I could do the route.
Ed note: French boulder grades are here denoted with capital letters while routes are lower-case. So a V13 boulder is 8B while a 5.13d route is 8b.
Climbing: What were your first tries like? Did it feel absolutely impossible?
Bouin: Yeah, those first tries felt impossible. We can't even call it a "first try." We have to call it "first go," because I couldn't manage to do the sections. I was asking myself it was even possible to do the route—for me or for someone else. But at the same time, I bolted this route—and when you bolt a route, nothing is clear; you don't know where the holds are; you don't know which holds will break. You have to find the way. Maybe readjust a bolt because you can't clip from the place you were thinking of. When you bolt a route and make the first ascent you are losing a lot of time too, because you find the beta, you break a hold, you change the beta, you see there's a way to do a section more easily. In Céüse last summer I was quite close to doing Bibliographie, and the process was way easier because there is a video from Alexander Megos, and I was trying it with Stefano Ghisolfi and Sean Bailey, so it was faster because it was easier to find the beta.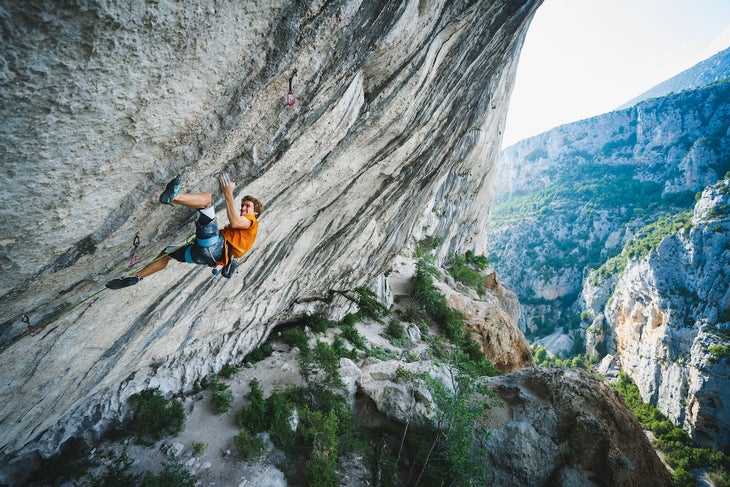 Climbing: Are you going to try Bibliographie again this summer?
Bouin: Yeah. First, though, Josh and Brett Lowell are coming for the Reel Rock movie. After we finish the footage, I will take some rest for a time, then do some training, then come back to continue with Bibliographie.
Climbing: That route's in quite a different style.
Bouin: Yes, yes, and that's why I think I prefer the 9c grade [for DNA] because DNA is definitely fitting my style while Bibliographie is definitely not.
Climbing: You've said in previous interviews that your main talent is your motivation. What motivates you?
Bouin: I think it's just the challenge. I like to find something that feels impossible and then, by working a lot and training a lot, find it possible. This is just my way of climbing. I have always done that on my previous hard ascents. The challenge is the motivation. But DNA was kind of special for me because I bolted it; it's my home place, my home crag. I am from here. Doing such a big route in this place is quite important for me. So this brings a lot of motivation. But I think I had too much motivation for this route actually because I wanted to do it too much.
Climbing: [laughs] 
Bouin: No, really: It disturbs your mind. Basically if you go home and come back the next season, you are more in peace. I was not in peace. I was thinking too much about the route. I was thinking too much about sending it. I was not living so much. I didn't give myself the time to send the route. In the end, I did it this spring, but I was more relaxed. I trained for three months—January, February, and March, then when I came back in April it was more peaceful because I was more ready and I was calm. In winter I was trying the route, training a bit, training a bit, trying the route, and it was super cold, and I was trying it alone with my mother, and sometimes the route was completely wet, and sometimes it was OK, and it was just too stressful. In the end I was stronger in the mind in the spring because of what I'd lived in winter—but still, it wasn't the best. I will never do the same on another route. I will take my time next time.
Climbing: What did your training look like during those breaks?
Bouin: Basically I did two kinds of training. One was more easier routes and boulders, lots of volume. The second period was more quality exercises. Harder routes and boulders, fingerboard and suspension training. But if I stay at my limit, it's too hard. I had to train the mind by doing some easier routes and onsight training. It's good for the head, good for the body. You're just more relaxed. 
Climbing: I was talking with Théo Blass's father last year, and he said you were well known in Southern France for giving hard grades.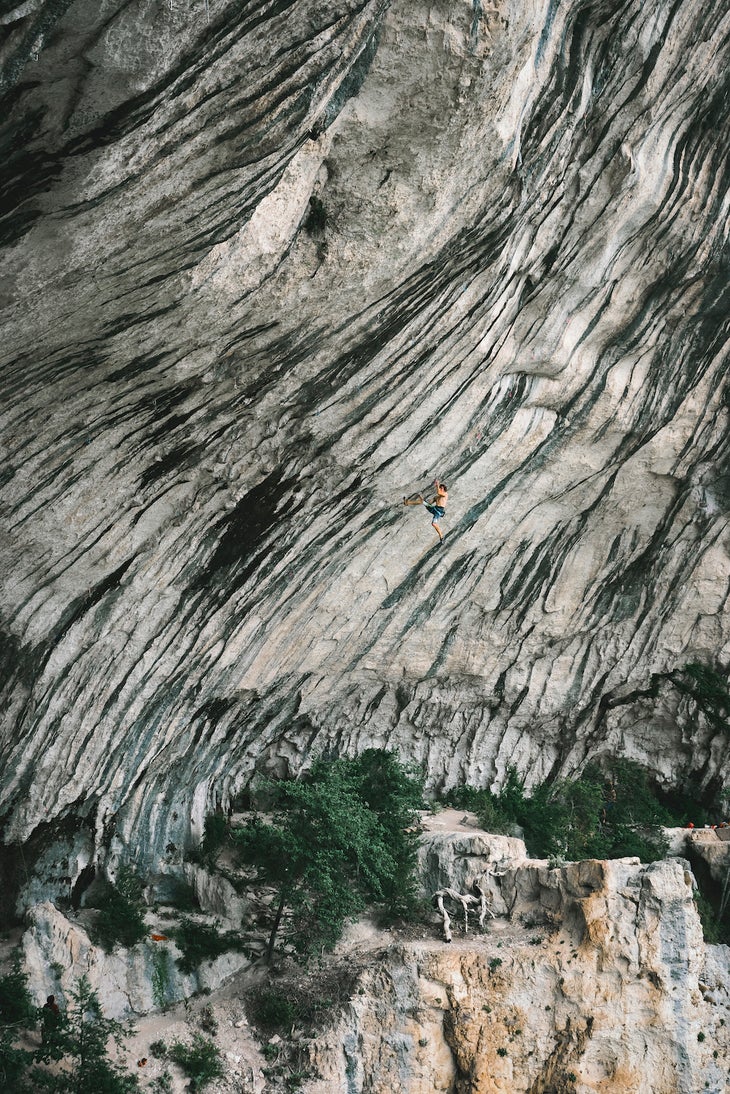 Bouin: My routes are hard? [Laughs.] But yeah. That's part of why I have proposed 9c. I did something like 25 first ascent between 9a and 9b/9b+ in France that no one has repeated. I wanted to see some climbers on this route. On the Ramirole, there are six or seven other routes between 9a and 9b/9b+ and it's the same: no one has repeated them. But the Ramirole style is hard to get used to. Even if it's just 9a, you have to get used to the style. It's similarly steep to Santa Linya, but it's more exhausting. Really more exhausting. But the more you climb on it and build the fitness the more you get the style.
Ed note: To get a slightly better sense of how hard these things are, watch French strongman Hugo Parmentier trying Rage d'Adam.
Climbing: Do you have more goals in Ramirole? Or have you climbed the cave out?
Bouin: I have climbed almost all the routes. There may be some new projects to bolt, but I think I take some time to climb at other crags.
Climbing: When did you know that climbing was going to be an important part of your life?
Bouin: I started when I was 11 years old. But the first day I went outdoors I just kept going. When I had time, it was for climbing. It's a bit weird because when I started climbing, Adam was doing his first 9a more or less. And we are the same age. So I was a bit late. But it's funny, because now we share routes, share projects. 
Climbing: You've said before that grades are important because they bring legitimacy to the upper end of the sport—but also that you don't personally care too much.
Bouin: I think I would do the same even if I wasn't climbing the higher grades. If I was only climbing 8a [5.13b] I would still like the process. I climb on the higher grades now because of the dedication of time and the passion, but I think I will climb until my old days, because it's cool. I like it.
Watch Seb Bouin Make the First Ascent of La Rage d'Adam (5.15b/c)