Katie Lamb is Quietly Ticking Through the World's Hardest Classics
Katie Lamb has racked up one of the most impressive bouldering ticklists of all time. But who is she?
Heading out the door? Read this article on the new Outside+ app available now on iOS devices for members! Download the app.
She's done The Swarm (V13/14). She's done New Baseline (V14). She's done Direct North (V14) and Jade (V14) and Chinese Connection (V13) and Nagual (V13). In the summer of 2020, she rampaged through the classic V13s of Rocky Mountain National Park, and in the years since she's steadily ticked her way through North America's most iconic testpieces. The Shield (V12) in Little Rock City. Room Service (V12) in Squamish. Dominator (V12) and Shadow Warrior (V12) in Yosemite. Wet Dream (V12) in Red Rock. The Mandala (V12) in Bishop.
In short, Katie Lamb, 24, is among America's most accomplished pebble wrestlers—and she just had one of the best 18-months of bouldering ever.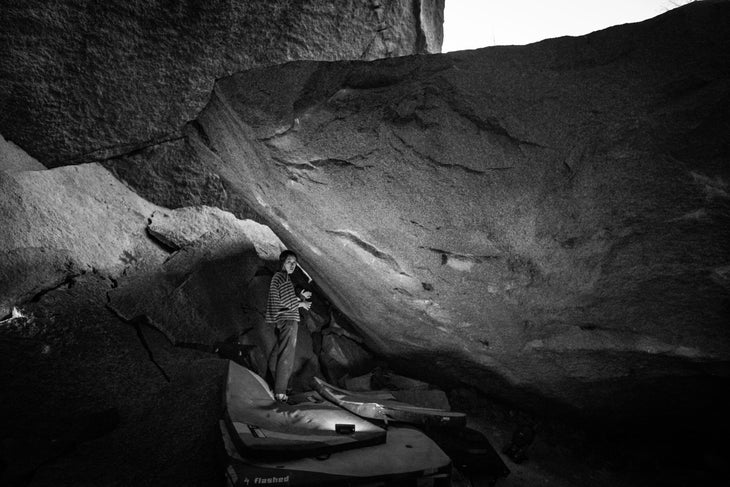 Raised in the Boston suburb of Lexington, Massachusetts, Lamb came to climbing through the now-defunct Boston Rock Gym. Her parents and older brother were climbers, so from an early age she was "dragged" to the gym after preschool and left with her coloring books in the care of whichever front desk employee happened to be working that day. It wasn't long before the coloring books seemed less interesting than climbing did. "My brother was on the youth team," she remembers, "and I think I was jealous. I wanted to be one of the cool kids."
Back in the mid 2000s, the Boston Rock Gym was a youth-climbing mecca. "It was old and dirty, with plywood walls," and its team—the International Rock Climbing School—had a strong outdoor-climbing ethos. "Almost everyone was focused on outdoor goals," she says. "We did comps, but they were kind of secondary."
Every summer between age 9 and 14, Lamb and her teammates spent five weeks—basically all of July—camping in Rumney, New Hampshire, battling the sun and the mosquitoes and testing their mettle on the bouldery schist sport routes for which Rumney is famous.
 "We would go out every single day," she remembers, adding that she's not surprised that the team—which included Andy Lamb, Mike Foley, Brian Nugent, and the Chen brothers (Tristan and Rowland), all of whom climb V14 or harder—"ended up producing a ton of outdoor climbers." Even now, she's friends with most of the old BRG crew. "Not everyone's a pro, but almost everyone still climbs. They're in school or working full-time jobs—climbing isn't their exclusive focus—but it's a lifelong passion."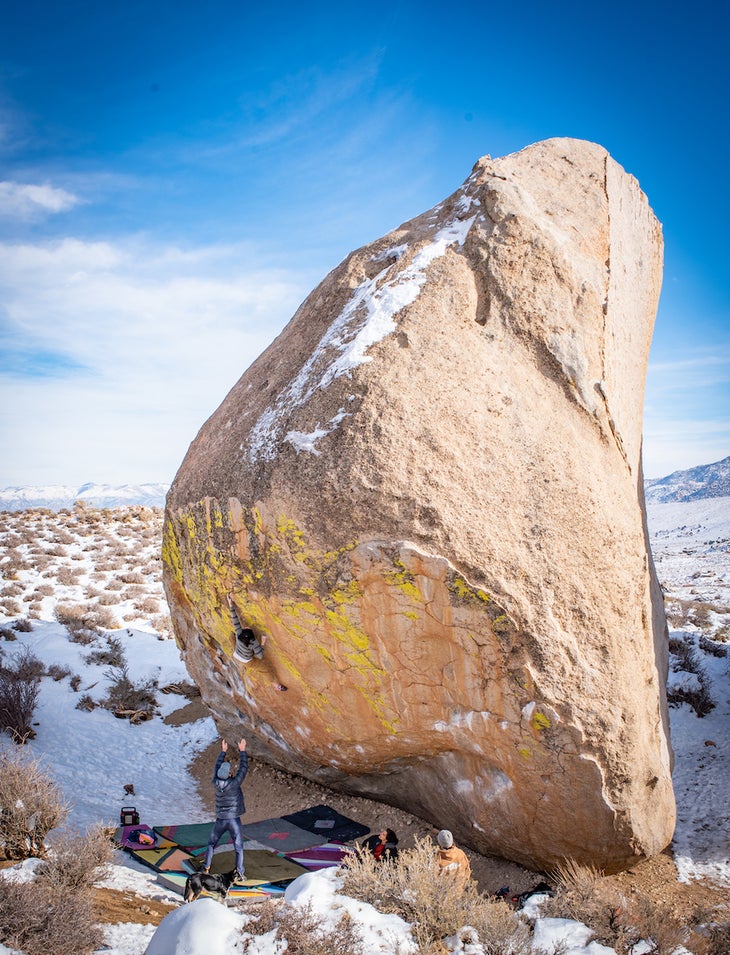 Lamb is often, though not always, quite goal oriented. She picks an objective—typically a line she finds aesthetically attractive or historically important—and devotes herself to it until she's finished. It's a process that requires both monomaniacal devotion and ample time—the latter of which can be hard to come by when you're earning your bachelor's degree (in computer science) and master's degree (in environmental engineering) at Stanford University.
Consequently, for most of the last six years, Lamb did the majority of her climbing during breaks from school. But then, in spring 2021, she graduated, took a part-time job as a data science contractor in the clean energy nonprofit space, and hit the road. She's done three V14s—and dozens of other double-digit boulders—since then.
"Right now I have the privilege of basically only climbing outside," she told me over Zoom, when I asked how graduating contributed to her recent performance. "I can do it as often as someone would go to the gym after work. But honestly, [since finishing school] I'm just sleeping again. It's crazy how much eight hours of consistent sleep will do for you."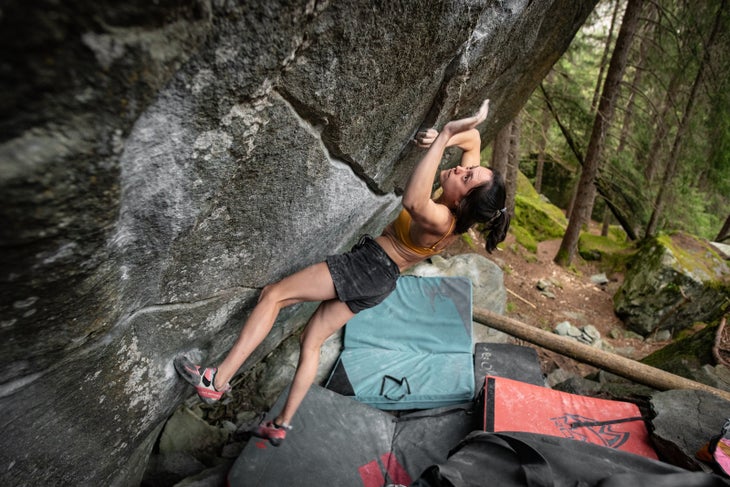 THE INTERVIEW
Climbing: Tell me about your Rocky Mountain National Park Trip in 2020. Something seemed to click there. Did your training change?
Lamb: I was supposed to go to Rocklands in summer 2020 [after graduating from undergrad], but that didn't happen because of COVID, so I pivoted and spent two months in Colorado. It was my first exposure to climbing exclusively outside—not climbing in the gym during the week—and I was learning how to approach doing hard boulders, realizing you can learn a lot about climbing, and get better at it, without spending all your time training in the gym.
I think a lot of people—especially people who're only climbing outside on weekends—think that if you can't do all the moves in your first session, you're not ready for the boulder. And that may be true with conventional power bouldering. But in a place like Rocky Mountain National Park there's so much nuance. A climb can go from impossible to doable with one beta change. So it helped to spend a ton of time in the area. I could be like, Okay, I'm here the whole summer. If I can't do the moves on this V13 now, I'll come back and things will feel different. I had that freedom… it's a huge privilege.
Climbing: Do you have a training mindset when you're only climbing outside or do you just sort of dive monomaniacally into each project?
Lamb: I prefer to be pretty single-minded. I do end up in positions where I haven't summited a boulder in a couple of weeks, and maybe sometimes I should just try to get on top of something, but I'm really bad at that. I don't really do volume days—I've never been a volume climber. I think this is half the reason I'm so bad at comps: I just don't have the stamina.
But for me, the best days are not the ones when I've just done a ton of V8s—though that's something a lot of people certainly like to do. If I get sucked into a project and I think that I can do it, I like to be pretty focused. When I'm working on things in Bishop, I'll rest for five-day stretches—literally no climbing, just healing skin. It's mentally tough, but I'm not the kind of person who feels like I need to be training all the time.
Climbing: What was your experience like on The Swarm?
Lamb: Since moving to California, I was like, That's the boulder that I want to do. But I hadn't really given it that much effort—and never seriously—before fall of 2020, after Colorado. I had a really long break in school from Thanksgiving through New Year's—a change for COVID—so I had all of December to do it.
Climbing: How did the climb feel after all those years of anticipation? Did you show up with expectations about how it was going to go, or hopes about how it was going to feel?
Lamb: I hadn't tried the hard moves yet, but I just felt like I could do it. I don't know why exactly. I think I just really wanted to do it—like I wanted to do it enough that I could do it. But during my first session I couldn't do either of the two hard moves. On my second session—or maybe third—I did the second move, which is the hardest, but it took me longer to figure out the gaston move [a powerful shoulder move off terrible feet], and I didn't actually do the problem until my sixth session. I had to rest a lot for skin regrowth. In the whole month of December, I probably climbed six days—all of them on that boulder. 
Climbing: You said you don't really do a lot of ancillary training, but if you only climbed six days that month, did you do other stuff to keep you feeling good on the climb?
Lamb: Honestly, no. My rest days were super important to me. I learned how to regrow skin really fast. I was camping, or mostly camping, and my skin is super dry, so I was literally setting alarms at night and waking up to moisturize and bandage my tips. (And I'm talking Aquaphor, not Aveeno hand lotion. This is serious moisturizer.) I also learned that when you take five days off your fingers can feel stronger, not weaker. But because I was so singularly focused, once I sent the climb and left Bishop, I did feel super weak. In January I really couldn't do very much. But my fingers were really strong. I was very specifically tuned up for The Swarm.
Climbing: Had you tried Jade before this year?
Lamb: I tried it twice with Brooke Raboutou in 2020, but I wasn't super serious. In summer 2021, I was planning to go to Rocklands, but that fell through again, so I went back to Colorado and ended up trying Jade.
Climbing: For most people Jade comes down to doing one move really well. Was that your experience?
Lamb: Totally. That one move is all the difficulty. The other moves just add a kind of randomness; they make it lower probability. I actually did the move on my second session but then couldn't repeat it, which was super frustrating. I eventually changed my beta slightly—changed the position of my foot—and did the move again on my seventh session. But I didn't actually do the climb until my eighth or ninth session. Right before I was about to leave.
Climbing: You seem to choose a lot of the lines based on their aesthetic value. Is that true?
Lamb: For sure. No one ever wanted to do The Swarm because it's fun and friendly; it's just the most incredible line. And that's one of the biggest factors when identifying things I really want to do. Certain climbs like Jade, it's just a testpiece, and that's why I wanted to do it. And New Baseline has so much history.
Climbing: Tell me about that one.
Lamb: I actually wasn't in Switzerland very long. I was visiting friends in Munich after traveling a lot. I did 10 days in Céüse, then I went to Ireland, then back to Munich, then to Kalymnos. I was really just filling in the time in Magic Wood. It's a good place to go if you're alone: There are always a ton of people, and the pad situation is easy. But I had been sport climbing a lot, and lying on the beach… so I had no idea what kind of shape I was in. Yet the number one thing I wanted to do in Magic Wood was New Baseline. My first day on it, I did all the moves. So I was like, wow, I can maybe even do this second session. But then it turned into a mental battle. The pressure of having booked a return flight kicked in. I ended up doing it on my fifth day, on my second to last day before leaving.
Climbing: I didn't realize you sport climbed much? 
Lamb: Oh, I don't. Céüse was the first time I'd sport climbed in a serious way in years. It was terrifying. It's full-on sport climbing there. Sport climber's sport climbing.
Climbing: What was Direct North like?
Lamb: I have some friends who live in Bishop, and it feels like home in a way, so I ended up there for all of December again. I had some other Bishop goals, but they felt too hard this year, so I ended up getting sucked into Direct North. It wasn't that high on my list because it's super contrived and—at least compared to other stuff in Bishop—it's not the line on the wall. But the climbing is fun, and the rock is good, and it's really tall, so I came around to it a little bit and was ultimately really psyched to summit.
Climbing: What's next?
Lamb: I've been trying not to set really long-term goals recently. I'm anti-goal at the moment. But I want to try to do The Penrose Step (V14) in Leavenworth. Then some Squamish trips if the weather holds. And I'm finally doing Rocklands in the summer… hopefully. Plus there's some stuff in Bishop that I'm definitely like: I need to do that. And there's stuff in Vegas that I need to do. But they all feel too hard right now. So I think I need to get to the next level.