Learning to Trust: How Climbing Is Helping Maine Teens Conquer Anxiety
Heading out the door? Read this article on the new Outside+ app available now on iOS devices for members! Download the app.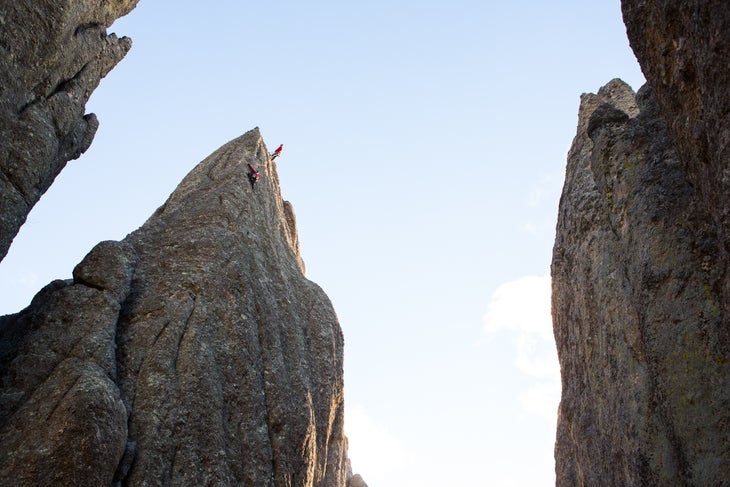 When Rick Charity ties in at the base of the tallest section of the wall at a climbing gym in southern Maine, his pupils flock around him, chatting amongst themselves.
"Rick is climbing? Whoa, Rick is climbing! Who—who is going to belay you?" they chant.
In the eight weeks since the group of teens with Charity has been visiting the gym as a part of their therapy sessions, it is the first time they've seen their therapist and de facto climbing coach tie in. Until now, the kids have had to learn to trust Charity with their lives as he belays them. Now Charity flips the dynamic by having the kids belay him, demonstrating that he likewise trusts them.
Charity has a master's degree in mental health counseling and is a licensed clinical professional counselor—he's worked in mental health since the early 2000s. He is also a climbing guide in Winslow, Maine. Since 2017, Charity has worked with kids between the ages of 12 and 19 who come from unstable or abusive backgrounds, running a climbing-therapy program through what Charity calls a "forward-thinking" mental health agency, which will remain unnamed in the interest of privacy. Many of the teens have suffered physical or sexual abuse. Some have been diagnosed with post-traumatic stress disorder. Often the kids deal with anxiety disorders, and many are recovering from substance-abuse issues as well.
Charity began ice climbing and mountaineering in the White Mountains in 2002, and later started rock climbing. He quickly found a knack for sharing his passion with others. "Taking friends out and seeing how great it was for them to experience [climbing], then realizing how much I enjoyed showing them these things, I started playing with the idea of, OK, how can I possibly guide, and how can I combine my background in mental health and climbing?" he says. Charity is now certified through the Professional Climbing Instructor's Association; certified in outdoor leadership; and is the founder, owner, and lead guide of Maine Alpine Guides. During Charity's second week at the mental health agency—sensing their receptiveness to new ideas—he compiled articles and journal studies documenting the positive benefits of climbing on mental health, and presented that evidence to the higher-ups. They went for it, he says.
Trust is the foundation of the client-counselor relationship. If Charity's clients don't trust him, if he lacks rapport with them, there is difficulty opening a healthy and honest discourse, and the therapeutic process is inhibited. Coincidentally, trust is also the foundation of the climber-belayer relationship, something that, as a climber, Charity fully understands. "It's one thing to trust me [with] their deepest, darkest secrets, which they know I'm going to keep private," says Charity. "But it's another thing altogether—especially for kids who have been abused or neglected—to trust me with their life."
Charity selects four or five of the kids—who are typically undergoing counseling with him for around 12 to 15 months—to participate in the eight-week climbing-therapy program. Each climbing day starts with group cognitive behavioral therapy, centered on a particular topic like trust, self-esteem and self-efficacy, anxiety, etc. The group then takes that topic to the climbing wall. For instance, if the topic that day is anxiety, Charity might drum up the dangers of indoor climbing. He'll tell the teens that the only deaths during indoor climbing have been on autobelays (leaving out the fact that these accidents typically occur because people fail to clip in), and on that day, he tells them, they are going to use the autobelays.
"I want that anxiety response to be present in their bodies," says Charity. "I want them to understand what it feels like physically. Then when we use the autobelays, everyone is supportive and cheering."
Charity says that anxiety and fear have similar physical effects on the body—inducing the unpleasant fight-or-flight reaction—though anxiety is more diffuse than fear. "Anxiety is dread of something happening," says Charity. But when we climb, it is fear—a reaction to a specific circumstance or stressor—that we feel. And it is also obvious what that fear is—falling—though the physical feeling is identical to anxiety. Charity thus instructs the teens to pay attention to their physical response while they climb, and to press though. This skill has carry-over to the rest of life: When the kids feel anxiety at home or at school, they will be better equipped to quell its unpleasant physical and mental effects after having faced the fear response in the gym.
On week seven, Charity talks to his pupils about mindfulness: "Think back to that second day when you were super scared and it was the tallest wall you'd ever tried. I left extra slack just to heighten the fear a little more. Were you thinking about that bad day you had with your mom two weeks ago? Were you thinking about the test next week in school?" Charity says the teens often come to him with the notion that they're bad kids. "They think they're not worth spending time on," he says, having created a self-fulfilling prophecy of being "bad" or "untrustworthy" because teachers and authority figures don't give them the time of day. But through climbing, with its implicit trust between climber and belayer, this mentality shifts.
On week eight when Charity allows the kids to belay him, he flips the paradigm of how they view themselves—and of how they think the world views them. "They start to see on a profound level, 'Rick is 45 feet up and he's trusting that I'm going to take care of him, that I'm not gonna let him fall, that I'm not gonna let him die,'" says Charity. "That's the most trust anyone has given them in years … That repairs some of the damage they've received from life experiences."