Leni Riefenstahl, Nazi Propagandist, Hitler Supporter and Climbing Film Pioneer
The actress, dancer, photographer, and Nazi filmmaker was a close friend of Hitler, and one of the progenitors of the mountain film industry.
Heading out the door? Read this article on the new Outside+ app available now on iOS devices for members! Download the app.
This article is part of Climbing's ongoing Who's Who biographical study of climbing's all-time greats, achievers, and, in the case of Aleister Crowley and Leni Rienfenstahl, its most notorious and disreputable.
Leni Riefenstahl (August 22, 1902 – September 8, 2003), originally known as ​​Helene Bertha Amalie Riefenstahl, was a German film director and actress. Primarily known for her production of Nazi propaganda films, Riefenstahl was also a key figure in the early mountain film genre ("Bergfilm"), which is generally considered to have originated in Germany during the 1920s. She starred in seminal works such as The Holy Mountain (1926) and The White Ecstasy (1931) and later directed her own effort in the genre, The Blue Light (1932). 
In her later life, she traveled widely, published several photography books, and continued to direct, albeit sporadically. Riefenstahl released her final film, Impressions Under Water (2002), at the age of 100, and died of cancer the following year, shortly after her 101st birthday.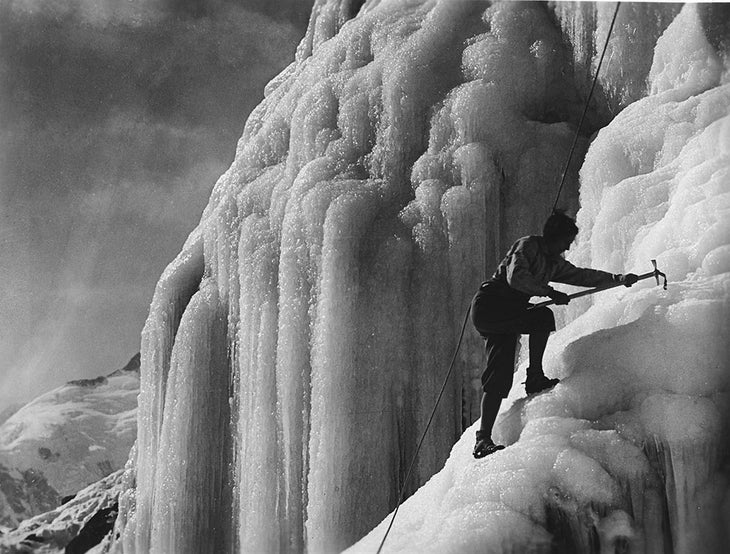 Early Life
Riefenstahl was born in Berlin, the daughter of a successful businessman and a part-time seamstress, and took to painting and poetry from a young age. She also practiced gymnastics and swimming, beginning at the age of 12. Riefenstahl attended a theatrical production of Snow White at the age of 16, which inspired her to become a dancer. Supported by her mother, she soon became a star dance and ballet student at the prestigious Grimm-Reiter Dance School in Berlin.
Performance Career (Dancing and Acting)
Riefenstahl quickly became well-known for her dancing, traveling across Europe to perform during the early 1920s. However, a series of foot injuries and subsequent surgery began to impact her prospects as a dancer. 
In 1924 she saw a poster for the Arnold Fanck film Mountain of Destiny (concerning an alpinist's attempts on the peak which claimed his father's life). Fanck was well known for his groundbreaking alpine cinematography, and his works were generally considered among the earliest examples of mountain film ("Bergfilm" in German). Riefenstahl's viewing of Mountain of Destiny catalyzed a lifelong interest in cinema. Due to her existing renown as a dancer, she soon managed to meet both Luis Trenker, one of Mountain of Destiny's stars, and later Fanck himself.
She impressed Franck enough that he cast her in his upcoming picture, The Holy Mountain (1926), and she went on to appear in a number of his subsequent mountain films, including The Great Leap (1927), The White Hell of Pitz Palu (1929), Storm Over Mont Blanc (1930), and The White Ecstasy (1931). The White Hell of Pitz Palu, in particular, saw her catapulted into the limelight. The film concerns a climber whose wife dies in an avalanche while climbing Piz Palü (12,800 feet) and his subsequent search for her body. It was extremely well-received both in Germany and abroad, receiving glowing reviews from The New York Times, among other U.S. publications, and is often considered both Fanck's best directorial work and Riefenstahl's best acting effort.
Riefenstahl also directed and starred in her own mountain film, ​​The Blue Light (1932), which won the silver medal at the Venice Film Festival. The film caught the attention of Nazi Party leader Adolf Hitler, who claimed Riefenstahl epitomized the ideal Aryan woman and subsequently arranged to meet with her.
Directing Career and Work for the Nazi Party 
Riefenstahl was an ardent supporter of Hitler, first hearing him speak at a 1932 rally. After meeting him following his viewing of The Blue Light, he arranged to have her direct The Victory of Faith (1933), a propaganda film concerning the 1933 Nuremberg Rally, and gave her full funding from the Nazi Party to do so. The film was a success and Hitler, who was fond of Riefenstahl, asked her to direct another propaganda effort, Triumph of the Will (1935), which is often considered the most effective propaganda film ever made.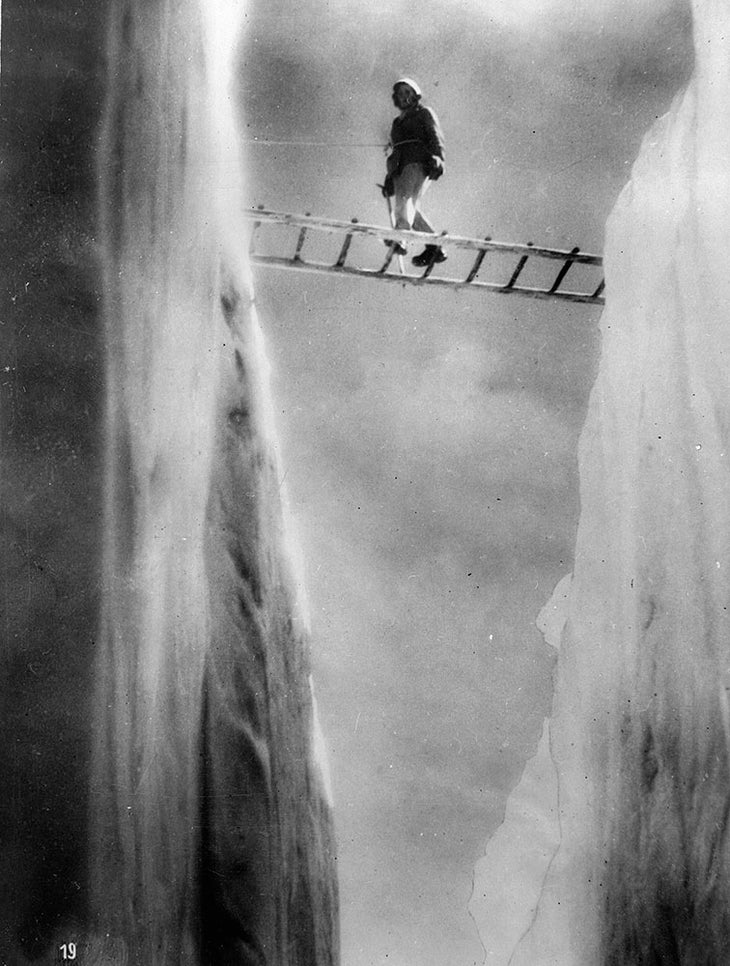 Riefenstahl claimed she grew tired of propaganda work, however, and Hitler allegedly was only able to convince her to make Triumph of the Will by promising that this would be the last propaganda film asked of her. This would not be the case, as she would direct at least one other clear propaganda effort, Day of Freedom: Our Armed Forces (1935) and go on to film the 1936 Berlin Summer Olympics at Hitler's request, resulting in Olympia (1938), another successful film that also funded by the Nazi Party, albeit under the table. 
Although during and after the war Riefenstahl attempted to distance herself from the Nazi Party, throughout most of the 1930s she was an avid supporter of Hitler, famous telling a Detroit News reporter in 1937, "To me, Hitler is the greatest man who ever lived. He truly is without fault, so simple and at the same time possessed of masculine strength." She also publicly defended Hitler after 1938's infamous Kristallnacht ("Night of the Broken Glass"), a series of attacks against German Jews which saw over 30,000 sent to concentration camps. She filmed Hitler's victory parade following his invasion of Poland in 1939. 
Although she reportedly again vowed not to make more Nazi films following her work in Poland, where she witnessed the execution of several civilians, she remained a clear Nazi Party supporter. In June of 1940, following the German occupation of Paris, Riefenstahl wrote to Hitler in a telegram, "With indescribable joy, deeply moved and filled with burning gratitude, we share with you, my Führer, your and Germany's greatest victory, the entry of German troops into Paris. You exceed anything human imagination has the power to conceive, achieving deeds without parallel in the history of mankind." In total, they remained close friends for over 12 years, though her admiration of the Führer reportedly declined following her younger brother Heinz's death in 1944, while fighting on the Eastern Front.
She later filmed Lowlands (shot between 1940 and 1944 but not released until 1954). Although not a propaganda film, it was funded by the Nazi government under Hitler's direct order. Many extras in the film were Romani drawn from internment camps. They were reportedly severely abused on set and sent to the infamous death camp Auschwitz following the completion of filming, which Riefenstahl claimed she was not aware of.
Following her arrest by the Allies post-war, she claimed to be ignorant of any Nazi war crimes. Riefenstahl was tried multiple times by postwar authorities and detained for four years, but only ever categorized as a "sympathizer" and never banned from working. In total, she won over fifty libel cases against accusations of complicity in Nazi crimes during her lifetime. Shortly before her death, she told the BBC, "I was one of millions who thought Hitler had all the answers. We saw only the good things; we didn't know bad things were to come."
Later Life and Death
Following the war, she traveled to Africa, publishing books of photographs of the Nuba people, an ethnic group inhabiting the Nuba Mountains of southern Sudan. She also photographed the 1972 Munich Olympics and was a guest of honor at the 1976 Olympics in Montreal. 
In her later years, she became fascinated with marine life and scuba diving, taking up the practice at the age of 71 and lying about her age to become certified. She published two compilations of underwater photography, Coral Gardens (1978) and Wonder Under Water (1990). In August 2002, on her 100th birthday, she released her final film, Under Water Impressions, a marine life documentary. She died of cancer a little over a year later, on September 8, 2003.
Notable Roles and Works
Acting
Ways to Strength and Beauty

(1925).

The Holy Mountain

(1926)

The Great Leap

(1927)

The Fate of the House of Habsburg

(1928)

The White Hell of Pitz Palu

(1929)

Storm Over Mont Blanc

(1930)

The White Ecstasy

(1931)

The Blue Light

(1932)

S.O.S. Iceberg

(1933)

Lowlands

(1954)
Directing
The Blue Light

(1932)

The Victory of Faith

(1933)

Triumph of the Will

(1935)

Day of Freedom: Our Armed Forces

(1935)

Wild Water

(1937)

Olympia

(1938)

Lowlands

(1954)

Impressions Under Water

(2002)
Books
The Last of the Nuba

(1973)

The Nuba People of Kau

(1976)

Coral Gardens

(1978)

Vanishing Africa

(1982)

Wonder Under Water

(1990)

Africa

(2002)