Life Without Limitations: Mark Wellman and the First Paraplegic Ascent of El Capitan
Heading out the door? Read this article on the new Outside+ app available now on iOS devices for members! Download the app.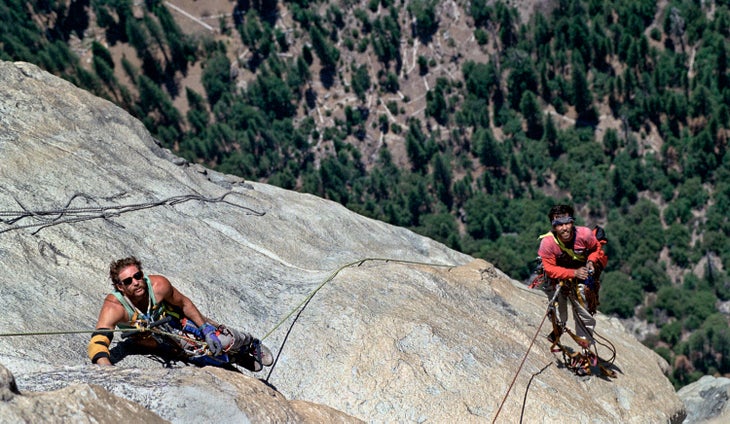 It was early evening in August of 1982 when Mark Wellman and Peter Enzinger reached the summit of Seven Gables in the John Muir Wilderness. A spectacular view from the top rewarded their 20 mile hike to basecamp and climb of the 13,075′ peak. The friends scrawled their names on pieces of paper intended for the old Folgers can that served as a summit register. Wellman proudly placed his name next to Royal Robbins's. A climber and mountaineer since the age of 12, Wellman had recently gained experience in the Western Alps, including Chamonix in France, where Robbins had made several first ascents. Elation was quickly overshadowed by the possibility that they would run out of daylight before making it back to basecamp. Motivated by hunger, they began an unroped descent on 4th class terrain.
Scrambling down the slope over loose gravel and boulders, Wellman slipped. In an instant, he was somersaulting down a gully. The rocks delivered blow after blow and shredded his skin until he found himself falling through the air. He landed at the base of the vertical headwall 100 feet below. Enzinger raced to Wellman's side, but the severity of the injuries forced him to leave in search of rescue. Beaten and in shock, the extra jacket and food his friend had left for him provided little comfort. It was cold at over 10,000 feet in elevation, even in August. Wellman waited.
The first helicopter arrived more than 24 hours later, expecting to recover a body and ill-equipped for a rescue operation. It hovered for a moment and then it was gone. Wellman laid there, hoping the pilot had seen him wave, and unsure why it had left. An hour later, a helicopter from Lemoore Naval Base arrived. He was flown to a trauma center and treated for his injuries. There, it was discovered that a fracture to the T11-12 vertebrae had damaged his spinal cord.
Thirty-one pairs of spinal nerves are responsible for sending and receiving information to and from the central nervous system, which is comprised of the brain and the spinal cord. Through the roots of the spinal cord, spinal nerves send sensory information to the brain, and deliver motor and sensory information to the body. Each spinal nerve (with the exception of the first pair) emerges through small openings in the spinal vertebrae called the intervertebral foramen. Depending on the location of injury and the area of the body the spinal nerve serves, damage to the vertebrae and spinal cord can cause partial or total loss of sensory and motor function below the injury. Wellman's injury left him an incomplete paraplegic. He had retained some sensory and motor function below the waist, but he would not walk again. He spent seven months at Kaiser Hospital undergoing extensive rehabilitation. Mobility, sensation, bladder and bowel control, and other bodily functions can be affected by an injury to the spinal cord, depending on the location. Psycho-social and emotional well-being are major factors, and recovery involves learning to adapt in all aspects of life.
Trying to reconcile with his circumstances and struggling to see a path forward, Wellman met Mark Sutherland, an incomplete quadraplegic who had been admitted to the neighboring room. Sutherland had a bone spur sitting dangerously close to his spinal cord and it threatened the mobility of his arms (some quadriplegics have limited use of their upper extremities). He had become a quadriplegic 10 years prior to Wellman's accident. Wellman was just 22 years old, and Sutherland had stories that most young men would envy and an attitude that didn't recognize physical barriers. The two became friends, and Wellman began to realize that his perception of his circumstances going forward would be the key to his recovery. He was inspired to live a life without limitations.
One of Wellman's counselors encouraged him to pursue a career in the outdoors. He was apprehensive at first due to his physical circumstances, but after rehab he was introduced to a ranger from Fort Funston, where he spent a summer in an entry level position. Wellman went on to study Parks Management at West Valley College and eventually became a ranger in Yosemite National Park, where he began working at the Oak Flat entrance collecting entry fees. Later he worked as an interpretive ranger covering a range of subjects, including bear management, geology, and climbing.
One morning in 1988, Wellman was on his way to the Yosemite Visitor Center and ran into Mike Corbett. Corbett was a seasoned veteran climber with dozens of El Cap ascents under his belt. The two were acquainted, though they hadn't really talked climbing because of Wellman's injury. Wellman showed him a magazine cover featuring a woman in a wheelchair being lowered into a canyon with special equipment on a river rafting trip. Corbett lit up and suggested the two climb together. He enthusiastically suggested they work out a way to climb the most iconic monolith in the world. After a few beers in the Mountain Room that night, the two were set on a trajectory to climb El Capitan within a year.
They settled on The Shield, established by Charlie Porter and Gary Bocarde in 1973, and rated A3 with mandatory sections of 5.8 free climbing. It is also one of the steepest routes on El Capitan. Because Wellman could not use his legs to climb aid ladders, he and Corbett designed a modified Jumar that would allow him to ascend the rope pull-up style. The steepness of The Shield was an advantage for Wellman; however, low angle sections of the climb would drag his body against the granite. In preparation for this, he and Corbett designed padded rock chaps with a built in belt and leg loops that served to support his legs. After six months of training on easier routes including The Rostrum, they were ready to climb El Capitan.
Rising 3,000 feet from the base of the formation, El Capitan is a beast. Looking up from the bottom of the Nose, the upper crest of the wall is a dark wave looming over a vertical ocean of granite. To get to the base of El Capitan, Corbett would need to carry Wellman the last half-mile on his back. This section of the otherwise easy approach travels through talus and boulders, preventing access with a wheelchair. Over a few days, they worked on preparing their gear and fixing ropes up to Mammoth Terrace, a ledge about 800 feet above the Valley floor. This would allow them to ascend a significant portion of the climb on the first day, with most of their gear waiting for them on the ledge.
On Wednesday, July 19, 1989, they began the ascent. They climbed 800 feet of fixed lines up to Mammoth Terrace to rest at a nice bivy spot where they could mentally prepare for the rest of the climb. The next several pitches head through the Gray Ledges and part of the Muir Wall. Corbett led by placing gear, fixing ropes, and hauling hundreds of pounds of gear. Wellman followed, pulling himself up the rope using only his arms and core strength. The Shield begins with the Shield Traverse pitch. The real climbing begins at the overhanging Shield Roof. Big wall climber and author Chris McNamara called the Shield Headwall just above the roof, "one of the most spectacular places on El Capitan." In the same breath, he referred to it as outrageously exposed, with a straight drop to the ground almost 2,000 feet below.
By the time Corbett and Wellman pulled through the roof and reached the Shield Headwall, word had spread of the attempt. Cheers rose from the Valley below. They continued up The Shield. Another 1,000 feet of difficult climbing lay ahead. On July 26, 1989, eight days after arriving at the base of El Cap and about 7,000 pullups later, they were close. Towards the top, the rock eases into a much lower angle; however ropes and protection are still advised. They decided that Corbett would carry Wellman the rest of the way on his back. A brief, horrifying pause occurred when Corbett slipped on the gravel under his feet. He righted himself and they kept going. Finally, elated and exhausted, they made it to the summit. They were met by Tom Brokaw's media team. Soon after, the news of the first paraplegic ascent of El Capitan reached the world.
A few years later, Wellman and Corbett made the first paraplegic ascent of Half Dome. Wellman began a career making adaptive climbing equipment and inspiring others. He also joined the U.S. Nordic Ski Team and became a two-time Paralympian. To Wellman, his 1993 Trans-Sierra Ski Crossing, a 55 mile journey from Snowline to Crane Flat over Tioga Road in Yosemite National Park, was harder than climbing El Capitan or Half Dome. He did it twice. In 1999, he and Corbett made a second ascent of El Cap, this time on the Nose. Multiple high adventure accomplishments have followed over the years, including a circumnavigation of Lake Tahoe in winter of 2014.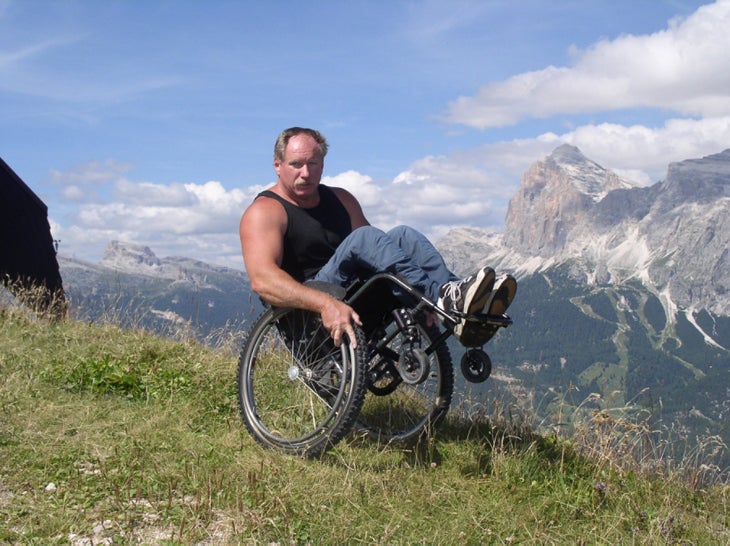 Wellman continues to climb regularly and lives in Truckee, California with his wife, Carole. Together they run their business, No Limits, a company that supports people with disabilities. He is an ambassador for adaptive athletes and continues to develop equipment that allows people from all walks of life to pursue the outdoors. There was a time shortly after the accident in 1982 when Mark Wellman thought his life was over. He is now an author, motivational speaker, and filmmaker.
Miranda Fengel lives in Mariposa, California and is the Administrator and Collections Manager at the Mariposa Museum. On July 26, 2019, on the 30 Anniversary of the first paraplegic ascent of El Capitan Mark Wellman gave a presentation at the Mariposa Museum just outside of Yosemite. The event was part five of an ongoing speaker series featuring a History of Rock Climbing in Yosemite Valley.