When You Fall Free Soloing … and Live: Five Climbers Recall Their Lucky Grounders
Michael Reardon fell while free soloing... and lived. So Did John Bachar, James Lucas, Doug Heinrich, and Ben Heason. One of the five later died soloing.
---
Join Climbing
Create a personalized feed and bookmark your favorites.
Join Climbing
Create a personalized feed and bookmark your favorites.
Join for free
Heading out the door? Read this article on the new Outside+ app available now on iOS devices for members! Download the app.
Editor's note: This archive piece first appeared in Climbing in 2006. A year later, in 2007, Michael Reardon, at the time one of America's leading soloists, died after being swept off an Irish sea cliff by a rogue wave. John Bachar, also one of America's greatest soloists, fell and died while free soloing in 2009.
I static to a four-finger sloper, 15 feet off the deck. I'm on Kim Chi (5.11d), a 40-foot bulging face climb on pocketed tuff just uphill from the trickle of Malibu Creek. I've been climbing here for 15 years: I know the beta to every route, have touched every pocket, splashed down into the water countless times, and bouldered my ass off. It is seven miles from my house, in Oak Park—practically in my backyard. There are no surprises left … or so I think.
That morning, I met Peter Mortimer (the director of Front Range Freaks and Return2Sender), who came out to film. Soloing is nothing new to my friends, the Outlaws, but strangers can add unexpected emotions to the mix. Peter and I spend the afternoon climbing and filming as I run a 30-lap circuit. For our final route, we pick Kim Chi, as it offers great panning shots of the canyon, full of reds and greens with the changing season. The biz comes in the first 20 feet, but the upper half is just loose enough to keep the pucker factor high.
I run several laps on toprope, checking for loose grips, then I sit down, drinking coffee and joking with Peter. I pull the rope and go for a solo lap. I keep three points on at all times to control the movement. The route goes as expected, breezing by in five minutes. (Anyone can get by on luck the first time, the Outlaws joke. The second time is the solo.) I walk over to the base and chuck a second lap. No problem—I could do it with my eyes closed now.
With the sun falling fast, I opt for a third and final lap—not usually something I do. Just before I start up the climb, Peter asks me to hang on for a second so he can film it from yet another angle. That break in the concentration is my fault and my failing.
While comfortable on the sloper high off the deck, I decide to add some spice, and dyno past the next two holds to the finishing jug of the crux. Just as I cut my feet loose, the hold—that "bomber" sloper—breaks. Seconds turn into hours as I watch the grip dissolve, and then spy the landing: large cobbles and upward-pointing spikes. Visons of wheelchairs and coffins flash by. I madly helicopter my arms and twist my legs.
While I'm falling, I notice a small scar on my finger. Instead of friends and family, the memory floodgate opens on two Chihuahuas battling over a bone and me reaching in, at age 10, to break it up, garnering a bite on the finger. I recognize the absurdity of the memory, and one last bark announces my landing.
My right foot hits first, between the cobbles, and I know I will live. I wish I could freeze that moment forever. It has that most incredible rush of all emotions—the joy of hearing your child's heartbeat for the first time, the hypersensitivity of losing one's virginity, and the sadness of burying your loved ones. Everything.
My body crumples as I crater. My face slams into my right knee, cracking my cheekbone and blurring my vision. My left foot strikes a spine-breaking cobble and pops. My left wrist slams into the ground, snapping loudly. A small oak branch stabs my palm. My kidney takes a hit that has me pissing blood for the better part of two months.
As I hobble out of there, helped the two miles to the car by Peter and a splintery walking stick, I reflect on the accident. The fall resonates louder than just a fall. It was a series of moments, each with its own terrible effect. There was the pre-fall build-up, when I floated the climb. Then, the slip, a moment of panic and regret and disbelief when the hold snapped. The fall itself. Next, the impact, that damnable impact. And, finally, the aftermath: five trips to the doctor, four shots of cortisone, 10 months of physical therapy, and several thousand dollars in medical bills.
A fall while soloing is an uncompromising bitch, but she's my mistress for the rest of my life. Whether we've pushed beyond personal limits, settled into complacency, or suffered the fate of things beyond our control, we who practice this most challenging of sports know it as either a disaster waiting to happen or a spiritual journey with no compare.
The Climb
No one selects a free solo thinking, 'This is the route I might die on.' Quite the contrary, in fact. Many of us have favorite solos we consider routine and include on our circuits; or routes we've been building up to. We have routes we do once and shudder over—the kind that wake you up cold and clammy in the night, the kind that you never go back to but are glad you did once. Even with the latter, climbing with unencumbered movement, not fostering a death wish, remains the goal.
"We just soloed all the time," says Doug Heinrich, of Salt Lake City, referring to the late 1970s and 1980s, when ropeless rock climbing, popularized by such icons as John Bachar and Peter Croft, was all the rage. "No one's really going to go up and solo something that they think they're going to fall off of." You either commit or come back down.
In 1979, Bachar visited the sacred sandstone of Eldorado Springs Canyon, Colorado. He walked along the base of Redgarden Wall, casually soloing the occasional route, until he stopped at Clever Lever (5.12a). Two days prior, he made the climb's third ascent (with a rope), but lacking a partner for the day, he decided to solo it.
Bachar eyeballed the crux, 20 feet up the strangely diagonaling, overhanging wall/roof. "The crux involves climbing into steep territory with a long reach for a bucket," he says. "You grab the bucket, then let your feet loose and swing into the hold above this slab [the landing zone]." Bachar knew that once he latched the bucket, he'd be committed to the rest of the route, which he describes as "no harder than 5.10b with perfect edges all the way." Bachar climbed to the jug twice before jumping back down to the base, reassuring himself that he could back off if he chose to.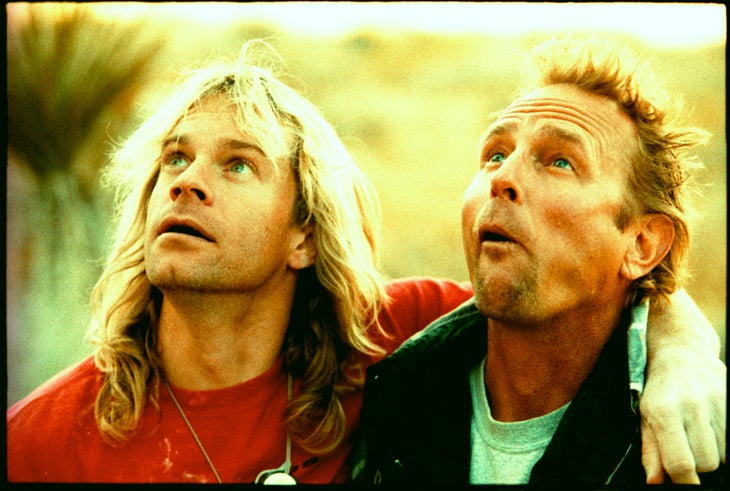 Read this: "Remembering Michael Reardon "by John Bachar
The Slip
It all happens in a moment—an edge snaps, or a foot slips, or your hand comes rocketing off a slick hold—and you go from in control to airborne before you can consider what this really means. There is only one certainty: You're hitting the ground.
Take, for example, a fall survived by a man who has clocked the lion's share of hard solos (up to 5.13) on English grit. "I was poised on the arête, at the top of Narcissus [an E6 6b at Froggat Edge], just one move to the top," recalls the British soloist Ben Heason. "Then, I had a moment of indecision—whether to go with my right hand, or with my left." Heason went with his right, and then "without even thinking about it," turned around and jumped off rather than risk an out-of-control grounder. "Subconsciously, my mind made the decision for me," says Heason.
"I think it was pure reaction," says Heinrich, who pitched 35 feet off the Little Cottonwood Canyon classic Half a Finger (5.9), at the Dihedrals area, in 1987. "I don't remember thinking, 'Oh, fuck, I'm dead.'"
And returning to Clever Lever, Bachar reached for the jug. "I cut my feet loose and instantly I can tell I'm swinging way too fast and have no way to slow myself down," he recalls. The momentum of the swing caused Bachar to twist out and away from the climb, until faced out toward the slab. Suddenly, he was no longer attached to the jug and had rocketed off into space.
Read This: Free Soloing Sucks (And Why We're Going to Cover it Anyway)" by Matt Samet
The Fall
The ground rushes up at 32 feet per second squared—fast, in other words. Formerly innocuous scenery elements morph into murderous obstacles. You're not floating, not hovering—you're on a collision course with the earth, and if you fall far enough, you'll hear the air whistling past your ears.
"The fall was less than three seconds," says James Lucas, who took a notoriously long tumble off the North Overhang (5.9) of Intersection Rock, at Joshua Tree. "I could blow smoke up your ass and say that my life flashed before my eyes, but all I know is that the last thing to go through my head was my butt." Slipping off above the route's 5.9 flare crux, Lucas dropped70 feet to a sloping ledge; as he tried to sit up on the ledge, he rolled, falling an additional 30 feet to the ground.
"I fell off backwards," says Heinrich. The climb, which Heinrich had done probably 100 times, and soloed 20 or 30, was part of his circuit, a soloing routine he'd incorporated as training for an upcoming trip to Patagonia. "I was thinking I had to be a tough guy," says Heinrich—hence, he took on the climb first thing in the morning, when the rock and his digits were frosty.
The memory of the fall still sticks with Bachar as if it was yesterday: "I go flying through the air, I'm way off the ground, the slab is way below me, and instantly I start thinking of broken ankles, broken legs, of going to the hospital—I know I'm completely fucked!" he says.
Read this: "In Memory of John Bachar, a photo gallery"
The Impact
The ground doesn't lie, and neither do the tendons and ligaments in your legs, or fine bones in your wrists and hands, or the plates of the skull … or the spine. Heason laid on the ground in a state of shock, believing he'd "just get up and have another go." Then, as time passed, he realized he'd broken both ankles, doing severe soft-tissue damage to one of them—damage that would take years to heal. "It hurt a bit," says Heason. "But not as much as I'd have expected broken bones to." He later completed Narcissus, ropeless and sans toprope inspection.
Having trained for years as an aerial ski jumper, "I reverted to having ski poles in my hands when I hit the ground. I instantly spotted my landing," says Heinrich of his fall. Heinrich says that at the time he had a "real sense" of how to manage big falls, a sense that was killed in that accident. "I had logged a ton of airtime [before then]. If that happened to me today, I'd be dead," he says. Still, this reflex allowed him to get his feet underneath him and roll down a hillside covered in scree and scrub oak, surviving the fall.
Taking a 20-foot spitter, Bachar miraculously landed feet-first between the basketball-sized talus stones on the slab. Decking in any other position would have, at a minimum, broken his ankles. "I rolled forward down the rest of the slab until finally I hit the bottom. Sitting up, face out, my first thought was, 'Fuck, I'm OK!'" says Bachar. "But then I heard this sound behind me." The initial impact into the talus at the top of the slab had caused a large chunk to dislodge and tumble downhill, toward the dazed Bachar. "Before I knew what I was hearing, this thing hit me in the back—it was like someone hit me with a baseball bat," he says. Bachar jumped to his feet to get out of the way of additional impacts, staggered a few steps, and then fell face first into the dirt.
Read this: "The Only Blasphemy. A Solo Outing With John Bachar Puts the Author Face to Face With His Mortality" by John Long
The Aftermath
You've fallen and you can't get up. This isn't a commercial—the world has evaporated. Every nerve ending screams at you in a cacophony of pain and adrenaline. Now you need to drag-ass to the car, to the road, to the hospital. From there follow painful and invasive (and expensive) medical procedures, not to mention the waves of regret and emotion. And finally, the slow return to climbing as you rehabilitate the mind and body, while paying retribution to your soul.
"You don't really want to move back in with your parents," says Heinrich, who did just that, at age 24. "You realize that you're fucked up, can't even hardly work—all because of doing something that's really stupid and reckless." Heinrich would spend two weeks in the hospital, enduring three major surgeries and "insane" amounts of physical therapy over the next year. He accrued at least $50,000 in hospital bills, broke both ankles. and fractured the tibial plateau on his left leg. Nevertheless, he's gone on to become one of America's best all-around climbers and last year ran in four marathons.
Lucas' injuries were more substantial: a seizure (just after impact), fractured skull, broken C-spine and lumbar vertebrae (resulting in fusion of the lower back), broken clavicle, broken ribs, a compound fracture of the elbow (requiring two surgeries), a shattered left ankle (later fused), nerve damage to the right foot, and a blood clot in the lower abdomen (from so much time immobilized in a hospital bed). He spent 81 days, not including rehabilitation, in the hospital, undergoing seven surgeries total.
"These days I'm so broke I can't afford batteries for my sundial," says Lucas. "The hospital invested $1 million-plus in me. At some point I'll declare personal bankruptcy." Lucas has since returned to soloing, and to North Overhang, but this time with a rope. A long 381 days after his accident, he followed a friend up the route. "There was nothing inspirational about learning how to walk again," wrote Lucas in a personal essay. "I relived the pain of the ordeal as I struggled past my previous high point. I expected to find a panacea on the summit, but the answer to my medical bills, the limp, and the haunting dreams have eluded me."
In the aftermath of Bachar's fall, Pat Ament, Bachar's host at the time, opened the door to the ashen-faced Californian. Bachar stumbled two steps in, and then collapsed on the living room floor. "I'm so out of it, I can only stutter what happened," he mumbled, prompting Ament to quickly check Bachar and discover a small hole at the base of his spine. Ament immediately drove Bachar to the hospital, where the dazed soloist needed only a prophylactic tetanus shot. He didn't solo for three months after his accident. "It wasn't until after a full season at Yosemite and settling in at Joshua Tree that I finally started soloing again," he says.
And though Lucas continues to seek out the meaning in his accident, the others fortunate enough to survive have found their own paths. Most continue to solo, while others have hung up their shoes when they felt the time was right. Bachar, with more than two decades of soloing under his belt, looks back on his accident and admits, "You appreciate soloing even more when you have this intimate understanding of the consequences related to this art form."
Read This: "Remembering Michael Reardon" by Matt Samet.
When Michael Reardon wrote this, he lived, climbed, and soloed in Oak Park, California, near his beloved Malibu Creek Canyon.