How One of America's Best Sport Climbers Maintains Her Psych for Climbing
Finding balance between climbing and "life" is difficult. Pro climber Michaela Kiersch learned how to do it early in her career.
Heading out the door? Read this article on the new Outside+ app available now on iOS devices for members! Download the app.
I grew up scrambling as high as I could on the neighborhood trees and sticking my fingers into the cracks between bricks on the side of my childhood home. I had a natural inclination to climb. It practically started in my crib, and my parents were desperate to find an outlet for me.
When I was around 7 years old, my mom and dad took me to a climbing gym in the suburbs of Chicago. Climb On was a relatively standard climbing gym, with walls around 30 feet tall, black rubber flooring, and a great pizza place next door for after-session slices!
My first impression of climbing couldn't have been more perfect. I had never tried rock climbing before I went to Climb On. The teenage staff on duty got me fully equipped with rental shoes and a harness and they showed my parents how to clip and unclip the auto- belay. I went to the top of the beginner wall on my first try. I then climbed it 20 more times for good measure. It was love at first sight.
My dad drove me to the gym on school nights and let me stay late if I was close to sending one of my projects. One evening I watched the owner carry in his young son, asleep in his arms, after soccer practice, and I scrambled up to the lofted bouldering wall with his daughter, where we would whisper and giggle and sometimes make it to the top. I found instant camaraderie in climbing.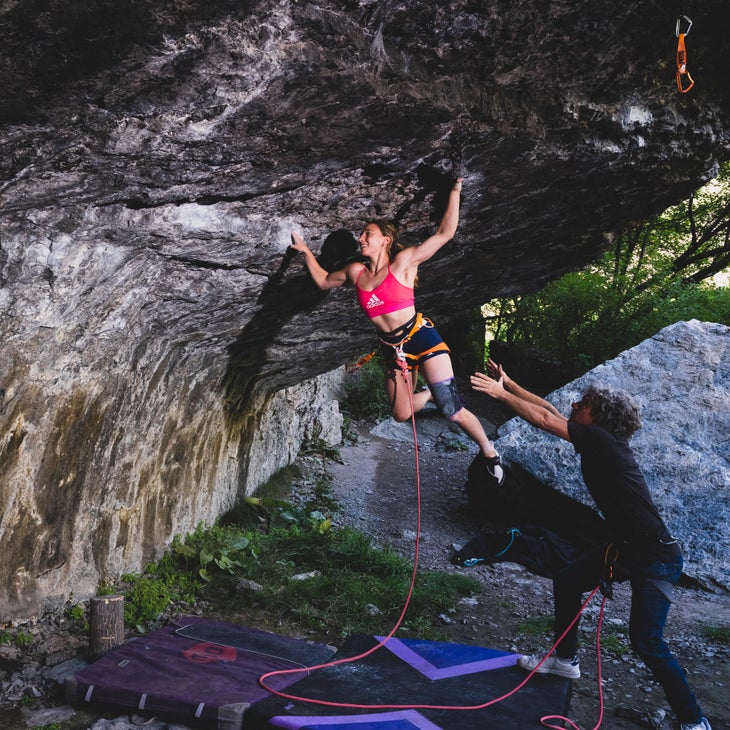 Less than a year after I started, that gym hosted a youth climbing competition. My very first comp was bouldering, and I was in the Youth D category for kids 11 years old and under. I was 8. I placed second of two, and was surprisingly indifferent. I didn't really care that I hadn't won. I was just excited to figure out when the next competition was so that I could try again. I did promise myself that someday I would stand on top of the podium. I had no idea the journey I had started.
From that first year onward, I joined one of the best teams in the country, coached by Dave Hudson. Though he turned 29 every year, Dave was in his late 30s when I joined the team and he had already been climbing and coaching for several decades. Dave has kind eyes, a huge heart, and would never let you know it except for rare sentimental moments. He is the best example of tough love, and I've had only a few other personal relationships as meaningful as this one. Dave is still my coach today and one of my most trusted allies.
Dave has also coached professional climbers Kasia Pietras, Michael O'Rourke and Isabelle Faus, and two of them have sent V14. I was training with them at a gym in the city, closer to where I lived. That's where I spent most of my time from ages 9 to 18. Hidden Peak was a unique climbing gym in many ways. It was filled with ancient climbing holds, dust, and lots of kids. The walls were no taller than 18 feet, which became exciting when we all learned how to lead climb. There weren't any yoga classes, fitness equipment, showers, speed walls, or any of the fancy perks of modern climbing gyms. It was a tiny basement box where maximum capacity was 50 people. Yet we thrived.
Having such a close-knit community was the key to our success. Dave was able to customize almost every aspect of our climbing practices. He tailored his training to every kid by mapping out specific time intervals, weight training, and he set individual climbing problems for varying strengths and heights. Dave also used to write code names for each of us on the printed workouts and we had to figure out who was who. Some of mine included "Gremlin," "Squirrel," and one of my least favorites was on a day he named us after cars. I was "Dodge Neon." He helped us grow up, and we trusted him.
My best friend was Isabelle, who at the time was fierce beyond belief, and she still is. Isabelle grew up with more independence than most people have until college. She was years ahead of me in that regard, and frequently passed her knowledge on to me. Isabelle rode her bike all around town before there were even bike lanes. I remember her taking public transportation all across the city and exploring by herself, learning about the world she lived in and the realities of it. No one ever knew where she could be or what she was doing. She was equally impressive inside the climbing gym, particularly her bouldering.
Isabelle started out like most kids, swinging around in her cut-off shorts and little Velcro climbing shoes. However, Isabelle did everything with purpose and even at a young age climbing wasn't an exception. Her dedication was inspiring to me, and I followed in her footsteps. We trained after practice had ended and on days where there wasn't practice scheduled from our pre-teen years to much later, when she moved to Chattanooga.
The adults in the climbing community included us in their sessions and helped us where they could, but most important, they introduced us to climbing outside. We started making short trips on weekends to the Red River Gorge, in Kentucky, a sport climbers' Mecca.
My first trip to the Red was in the middle of July. I was about 10 years old and I complained about the approach to the Motherlode. My mosquito-bite- ridden legs were tired from the short steep section. The humidity was nearly unbearable, and I'm still not sure if it was the thick air or the immense cave that took my breath away when I looked up. Roughly 100 feet of absolutely perfect overhanging sandstone loomed above. I had already decided that I wanted to try every route.
The first trip was a short teaser, only about a day and a half because we needed to be back in Chicago on Monday to teach summer camp at the gym. We squeezed in some classic climbs, including the famed Chainsaw Massacre and Ale 8 One, both 5.12s. The car ride home was easier because we couldn't drive, so we just sat in the back seat with bellies full of pizza from Miguel's and chatted until we were too exhausted from the weekend to keep our eyes open.
Isabelle went on to try more outdoor bouldering in New York, Colorado, and Tennessee. She moved to Chattanooga when we were still teenagers. I stayed in Chicago, still in high school, and continued going to the RRG every weekend.
My schedule quickly transformed into training for competitions during the week and projecting outside on the weekends. The juxtaposition of rural Kentucky and the inner city was thrilling to me. I loved everything about being outside. On Wednesdays I would close the door to my room and open up my rope bag. The smell of Southern sand and dirt and air would fill my lungs and I had a small escape from the big city. I felt like climbing outside was giving me an escape from the pressures of school and competitions. I had the freedom to choose which routes I wanted to try and how hard they were, which gave me the opportunity to measure my progress at my own pace and create challenges within my comfort zone. Of course, I am a very competitive and ambitious person, so I rarely chose to climb only easier things. When I was 16, I set the goal of sending my first 5.14a outside.
I spent parts of that summer working out my beta on Omaha Beach, which climbs through the heart of the Madness Cave. I wanted my first 5.14 to be solid and Omaha is one of the classics of the grade. I figured that if I was strong enough to do the moves in 95-degree heat and Southern humidity, then I might have a shot when November came. School started and I turned back into a weekend warrior, slowly making progress on the project. After almost two months, I was really close to sending and could one-hang it almost every time. One weekend, my best friend in school was having a birthday party on Saturday. She really wanted me to be there. I sat in my room trying to decide what to do. Should I be a normal teenager and go to the party? Surely it would be OK to skip one weekend … but then again, what would I remember more, another high school party or my first 5.14a? I went to the Red.
After seven hours of driving and some poor tent sleep, I went up to the crag on Saturday morning. I felt amazing warming up, and gave the project a burn. I passed my high point. Excitement swelled in me, but unfortunately also in my forearms, and I was too pumped to grasp the last hold—a jug—before the anchors.
I took a huge whipper and let out my first wimpy wobbler. I didn't try again that day. On Sunday, I returned with more determination, and sent the route. I became addicted to limit projecting and have since projected and sent practically every 5.14 in the Red.
Now, I feel that I have a very balanced routine between climbing gyms and rock. I view climbing gyms as a tool to train for my outdoor objectives. My typical week is mostly spent inside, where I try to focus on my weaknesses and improve my general level of fitness. Honestly, I feel that being a weekend warrior is the ideal schedule for sending hard outside. I rest twice a week, usually Monday and Friday, which fall before and after my days at the crag. The other weekdays are focused on trying to get stronger. I typically spend two days training my weaknesses, which can be more general, such as "power" or "finger strength," but they can also be specific to the climb or type of climbing you are trying to send. When I was projecting Omaha Beach, I focused mainly on longer circuits and only climbed on the steepest walls in the gym to simulate the angle of the climb. The third day is a swing day. I switch between sessioning for fun and training to maintain my strengths. This schedule helps me stay psyched throughout a season and strong enough to hopefully send my projects!
Whether I am inside or out, exerting high levels of energy into my climbing eventually exhausts me.
The most important part of my balance is remembering to take breaks and to climb for fun when I need to. When I am forcing myself through a session, I'm less likely to have a productive day and more likely to burn out or get injured. I listen to my mind and body, and have learned to embrace both the peaks and valleys in my performance. Ultimately, this is what gives my climbing career the longevity and success that I've had.