"I'm going to lose my leg": How Rockfall Can Change Everything
Two lifelong friends face rockfall and the life-altering aspects of sudden Injury.
Photo: Alison Osius Collection
Heading out the door? Read this article on the new Outside+ app available now on iOS devices for members! Download the app.
A crash sounded somewhere in the trees 100 feet above us in the gulley, and M.J. Golau and Johnny Love bellowed from just uphill: "Rock! Rock!"
Andrea Cutter and I had just finished a few warmup pitches, and were sitting at the cliff base chatting about what to do next. I was about to pull out my turkey-avocado sandwich. Wordless, both of us sprang up.
I darted a few feet toward the Thompson Creek cliff base, in Western Colorado, to press myself against the wall, wishing it overhung more, then peered out from the shadow at sunlit green trees and rising dust. I thought the approaching crashing was a volley of rocks, as if upended by a giant's wheelbarrow.
A small tree, its trunk 2 or 3 inches wide, grew right beside the cliff. As I squinted across and up the gulley I saw a backlit brown disk, spinning, the size of a couch pillow, heading straight toward me.
I tried to hide behind the little tree. I don't even know if there was time to raise my arms toward my face. I didn't think about my sons, my husband, or the family I came from. I thought, Katie. And, This is how it happens.
***
Katie Kemble and I met in 1981 in Yosemite, California, on the Central Pillar of Frenzy, a 5.9 on Middle Cathedral, rappelling down in rain in two parties that joined together. The next day she and I climbed Rixon's Pinnacle, cracking up when I skinned my nose looking outward from the deep chimney, and then she did the same thing.
One summer I shared her A-frame up in Icicle Creek Canyon, Leavenworth, Washington, while guiding for Jim Donini's Leavenworth Alpine Guides with Dave Stutzman and Karl Schneider.
Later, on a Memorial Day weekend at the time of the San Francisco Earthquake of 1989, Katie and I were living in a rustic cabin near Aspen, Colorado, when a group of us headed several hours away to Telluride, a gem of a mountain town set deep in a box canyon, for MountainFilm. We stayed at Henry Barber's house, celebrated the onset of summer the next morning with coffee, breakfast and fresh strawberries on the sunny deck.
Then most of us went climbing, splitting into two groups. Henry, Charlie Fowler and I headed out for some fun in Cracked Canyon, while Katie and Ric Hatch hiked off to the Ophir Wall. A few hours later we three returned to the car, and lounged in the sun awaiting the others.
I've always remembered how things only got serious one degree at a time. A guy approached and asked if we were with the woman who broke her leg. And even as I was absorbing that, thinking it might be Katie, and that it would wreck her summer, a woman walked over and said she thought it was "bad."
"My husband wouldn't let me look in the truck," she said, explaining that Katie had been driven away in the back of someone's pickup.
Henry quietly said he would check the base of the Ophir Wall to see if any gear needed retrieving, and jogged off. Returning, he said carefully, "Judging from the amount of blood up there, I don't think this was an ordinary break."
We returned to Henry's house to await word. Finally the phone rang. I jumped to answer, and it was Ric from the hospital in Grand Junction. Katie had been hit by rockfall, he said. "She just went into surgery to"—his voice cracked—"have her leg amputated."
The two had done a few pitches, he said, and she was simply belaying him on a slingshot toprope when a round of rocks poured off the top of the 600-foot Ophir Wall. We never knew if it was a spontaneous release caused by the freeze-thaw cycle, or whether people dislodged them. Some people were apparently on top that day.
Katie heard the booming almost at the same time that Ric, on the route, bellowed, "Rock!" She crouched, leaned in, and ran along the base of the wall. She never saw the rock that hit her, just a fan of exploding blood. Still belaying Ric, she glanced down to see only six or seven inches of splintered bone below her left knee.
She helped lower Ric, and he rushed over to find her sitting, surveying the damage.
Katie said, "I'm going to lose my leg."
A critical-care nurse, she instructed Ric to hand her the string from her chalk bag for a tourniquet. Her arteries were severed, but had fortunately retracted into her leg. She wasn't bleeding out. Then Katie saw that a two-finger-wide section was still attached. Could collateral circulation still somehow save her limb?
Eschewing the string, she held her lower leg on with her hands while Rick carried her out, pausing to memorize sections of the rocky slope and trail for foot placements. He did not feel it at the time, but the next day would be sorer than after running the Western States 100.
***
At Thompson Creek that day in about 2010, half a dozen or so youths had hiked up past us on the faint and scruffy climbers' trail. Several of the boys wore iPods, and only one carried a pack. We said hello, and I heard Johnny, a few routes uphill from Andrea and me, tease a boy that he was way behind his friends. They passed us, trended rightwards across the top of the gulley, and walked out into the bright autumn sun on a sort of promontory.
M.J. said to her visiting friend Jim, the third in their party, "Keep an eye out. I'm worried about them knocking something down on us."
A shirtless kid, next perhaps emulating us—or challenged by our presence—started climbing directly up to his friends on the chossy wall opposite us. He pushed down on a rock with his hand, and M.J. saw it roll away from under his palm. For half a second she hoped it would stop in the woods. Then it bounced, and she screamed a warning.
The rock hit me square in the chest. Even though I'd expected it, I felt disbelief to have really been hit. The impact spun me around, and knocked me a full 20 feet downhill, my feet skittering over the rocks and trail.
As I slowed, Andrea grabbed onto the back of my harness, helping me stop. I ended up half sitting on a rock, one leg folded under. The rock that hit me stopped when it smacked into my pack, which had been on the ground downhill from me, but was now eight feet above.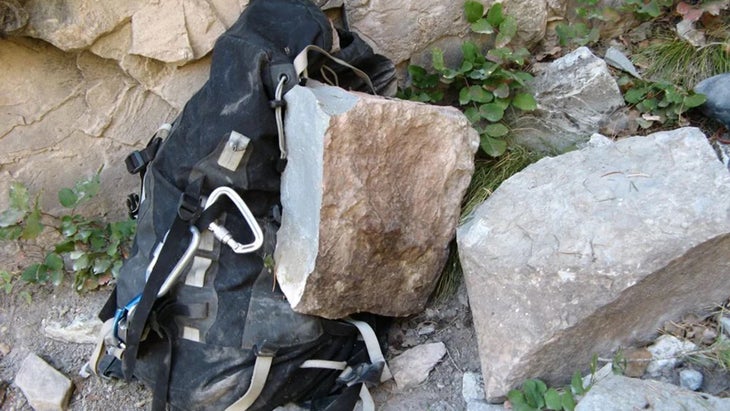 ***
From Telluride, Julie Kennedy and I jumped in my car and drove two or three hours to Grand Junction. As we hurried up the stairwell to the OR waiting area, Ric, wearing surgical scrubs, met us. Within moments a glassy-eyed, insensible Katie was wheeled out of surgery. The doctors told us they had found enough tissue to reattach her leg, and we shouted with joy.
Katie on the descent had kept her tourniquet ready in case she started to bleed, but held back from compromising circulation by employing it. The choice apparently saved her leg, as her calf was still warm when she entered surgery hours after the rockfall.
I spent the next five days in the hospital. Katie spent the next five months there and in other hospitals, enduring dozens of surgeries and pain that made her twist and writhe. I would learn that while saving tissue is a primary concern, it is often only a starting point. If a limb is saved, yet never works and always hurts, sometimes amputation is recommended, allowing a patient to return to normal life. For Katie, a long continuum of choices lay ahead. Only once did I broach the possibility of amputation with her.
"No," she said, and I left it alone.
More surgeries followed over the years. Today, over 30 years later, Katie still wears a brace, and the leg gets sore. Considering how much time she lost out of life starting in her young 30s, and the pain she withstood, I once asked her if she was ultimately glad to have stayed the course in resisting amputation. She said, "Oh, yes. If I have to pee in the middle of the night, I don't have to look for my leg."
***
Johnny and M.J.'s friend Jim, a ping-pong pro from Florida who'd come along to check out climbing for the first time, saw the whole incident at Thompson Creek from just uphill.
"The rock hit you," he said, "and you just disappeared."
Andrea later laughed about her surprise to see me come to a stop and leap up bellowing, "I'm fine!" But I could hear Johnny, still 25 or 30 feet up the wall, shouting that I'd been hit, and I wanted to reassure everyone.
Blood was dripping on the ground, and we took inventory. I had a dark-red ding on my chest, just right of center. My fingers must have raked the wall, and one was sliced, and two nails were pulled outward from the beds. I bled from flappers on hands and knees, while my tailbone and the palm of one hand hurt, and one ankle was twisted. M.J., a nurse, checked me over, and bandaged me up. She thought I should probably get one of the cuts stitched, but Andrea gave me some SteriStrips, and that seemed OK.
***
Katie and I climbed once or twice after her accident, but climbing, once a defining force in her life, slipped away. She can still ride a mountain bike, hike and Nordic ski, though, because a track holds her ski in line.
She married, had a daughter, Julia; was accepted at Stanford Medical School and gained her certificate as a nurse practitioner; earned a doctorate from the University of Washington; and in time started a nonprofit, the Ease Cancer Foundation for exercise and survivorship education.
She has lived a productive life, though one that changed course forever. Once when I spoke to her, she was leaving for a cancer conference in Washington, D. C., excited to hear the latest discourse and information on hot topics.
Recently I asked for the first time if all her years of climbing and travel, the camping and views, the fun and the friends and boyfriends, had in retrospect been worth it. I didn't know what she would answer.
Katie replied, "Definitely not.
"I'd give anything to be able to spend a day backcountry skiing with Julia, to be able to teach her to telemark. Or just to run."
***
M.J. and Andrea both have Latina heritage, which Andrea says means strong emotions. That day at Thompson Creek, they lit into the boys, still above us in the gully.
"What the hell are you doing?"
Andrea yelled at them to get out before they knocked something else onto us, and the boys streamed down, sheepish. Several spoke to us, though the one who had dislodged the rock skirted past down the far side of the gulley, contouring around as silently as possible. A different one came straight to us and apologized with tears in his eyes. His name was Mike, and said he was with a local youth program.
When we asked if he was the leader, he said, "Sort of. But I'm a client, too."
I didn't recognize the name of the group, but Andrea identified it as a residential counseling program.
"So … these kids have already seen trauma?" I asked stupidly.
Mike nodded in some confusion, but explained that it was rehab. Check-in was voluntary.
M.J., Andrea and I suddenly deflated. Everything changed.
M.J. half apologized. I said to tell all the rest of the boys not to let what happened today keep them from coming back outside. Andrea advised that they take a climbing class, and named the local guide services.
M.J. told Mike earnestly, "It might sound cheesy to say, but nature really saved me. I was a street kid in D.C., running wild. I used to have a purple Mohawk."
"She did," Andrea confirmed. "I've seen the picture."
The boys left, and I climbed two pitches, out of bravado. But the blood kept trickling out from under M.J.'s tape, and I quit. As we all hiked out along the river, for me everything began stiffening. The next day I felt sore all over, as if from a car accident, and walked like a pirate with a peg leg, my foot weirdly twisted outward for relief.
The more I thought about it in ensuing days, the more I couldn't understand how I was OK. I still don't. The boulder could have smashed my face—I half-thought at the time it would—or my head in, or ruptured or severed something, anything.
The rock itself split into three pieces as it hit the cliff, which is adjacent to the tree; one piece hit me. The tree, from which the branches were stripped, must have saved me.
Andrea fit the three rock pieces together on the ground. One was only the size of a boot, the other two much bigger. She hefted the piece that hit me and said it weighed about the same as her dog Shasta, 60 or 70 pounds.
In 2002 I shattered and dislocated my heel bouldering in a climbing gym. You could look at all the reasons why it happened, and in the end the one that made the most sense to me came from my friend Matt Samet: "Just bad luck."
After the day at Thompson Creek, the cuts healed, though scar tissue clumped the slice in my fingertip. I longed to be like the steel man Charlie Fowler, who walked away after a 400-foot fall down the North Chimney on Longs Peak, or Bean Bowers, who survived a 90-foot "Miracle Whip" fall on Torre Egger with minor back pain, but after three months I broke down and got my hand and foot x-rayed. Fortunately, the images showed no fractures, though years later the ankle still aches from cartilaginous damage, and cartilage doesn't regenerate.
A flying boulder out of a clear blue sky came at both Katie and me. Katie's life changed, and mine didn't, just through luck, for which I am grateful. Her luck was atrocious.
But luck is a slippery concept, and we all realized that we were lucky that Katie was around at all.
Doug Scott has written that he accepted the idea of death every time he went into the big mountains. I don't, and just hope for luck, playing the numbers, which should have been overwhelmingly on my side on a sunny autumn day on 40-foot sport climbs; what happened had nothing to do with climbing anyway, though that is what the accident, had it been worse, would have been generally attributed.
Climbing has given me so much: lifelong friendships, travel across North America and overseas, vast shared views from dusted, lit-up desert spires; to autumn hues on sweeping heather and bracken slopes below tuff fortresses; to twisty, shadowed, rustling eucalyptus groves. And so I keep on climbing and getting a lot out of it despite the risks, which are small in my chosen genres but still carry great potential. If a rock mowed me down, and if I had time to think of anything at all, I'd think it wasn't worth it.
Alison Osius is former Executive Editor at Climbing.
Also Read