Natalia Grossman Just Had One of America's Best Comps Seasons. What's Next?
Natalia Grossman had a crazy year, collecting 10 medals in an 11-comp season. We caught up with her to talk about her climbing, her training, and her goals.
Heading out the door? Read this article on the new Outside+ app available now on iOS devices for members! Download the app.
When the 2021 IFSC Climbing World Cup season kicked off in Meiringen, Switzerland, on April 16, Natalia Grossman, then 19 years old, had two primary goals for the year: Make finals in a Bouldering World Cup, and make a semifinal in Lead. At the time, these seemed fitting ambitions: reasonable, realizable, neither too extravagant nor too modest. After all, before Meiringen, Grossman's best result at the adult World Cup level was 7th.
Fast forward five months to the World Championships in Moscow, in late September, and the expectations on Grossman's performance were wholly different. Over the summer, she'd had one of the most successful seasons of international competition in American climbing history. She'd podiumed in all four Bouldering World Cups, taking two golds, a silver, a bronze, and winning the overall season. She'd also taken four medals (two silvers and two bronzes) in five Lead events, finishing second overall behind Olympic gold medalist Janja Garnbret.
So none of us were particularly surprised when Grossman, who'd turned 20 in June, won Moscow's Bouldering World Championship in spectacular style, then went on to take silver in Lead. After all, these were her 9th and 10th international medals of 2021. It was almost old news.
Grossman recently relocated to Salt Lake City, from Boulder, and since the end of the World Cup season, she's been focusing on school, MoonBoarding, and—when she's got the time—casually knocking down double-digit boulder problems in Joes Valley.
Climbing caught up with her last week over Zoom. We talked about the 2021 season and what changed for her between 2019 and 2021. We talked about how she started climbing at age six—and how, when she was just 14, her parents let her decide to move the family from California to Colorado so that she could be part of Team ABC. And we talked about board climbing, which she does so much that she has an Instagram account wholly devoted to it.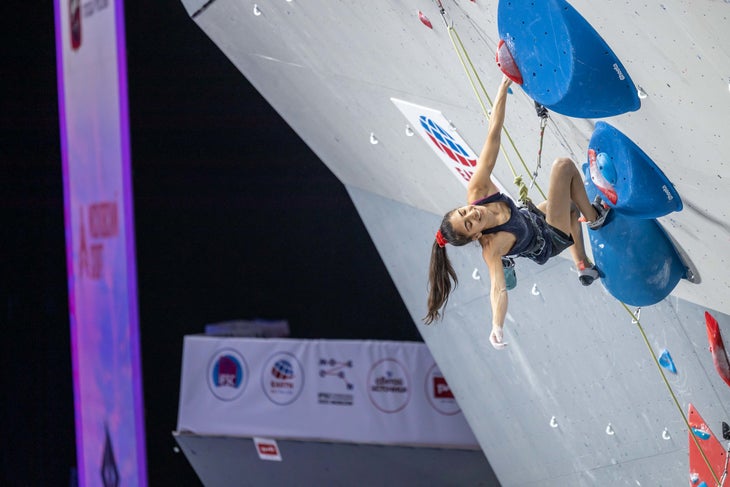 *
Climbing. First off, you had a dang good 2021. Congratulations. Did you have a sense coming into the year that you were on your way to win multiple Bouldering World Cups and podium ten times?
Grossman: Definitely not. I didn't really know what to expect coming into the season. I wanted to make a Lead semifinal and a Bouldering final. Those were my two goals. Everything after that was just one surprise after the other.
Climbing: Do you know what made this year different?
Grossman: We had some time off from comps in 2020, due to COVID, and during that time I got a little stronger. But leading up to COVID, I'd already become a better climber, I just wasn't able to showcase it until this year. Some of it was mental gains. But right before lockdown, I also started doing a lot of board climbing, which helped turned a weakness—steep, crimpy power climbs—into one of my strengths. Another thing was that I moved to Salt Lake City. It helps to have really good facilities and a community of people who are always psyched to train.
Climbing: How did you come to the decision to start board climbing so seriously?
Natalia: It happened when I started college, in fall 2019. If you don't have much time for the gym, board sessions are a good alternative. You can get a ton done in an hour on the MoonBoard. You're engaging your fingers. You're working on your power and strength. You can even do power-endurance. It was really cool to see the progression, which is one of the coolest things about boards: You have these benchmarks; they're always there. Two weeks ago, I sent a climb I'd been trying since 2019—and it had always felt impossible.
Climbing: Today's comp scene is defined by coordination moves and balancy slabs—basically the opposite of the MoonBoard. What kind of training do you do for comps?
Grossman: I don't MoonBoard much during the comp season. I guess I feel like it doesn't really correlate that much. I enjoy it, and I think it's just a great way to build your base, but once the comps get closer, I focus more on coordination moves. The strength you gain from board climbing translates to competition climbing all the time. Or maybe not all the time. But it is nice to feel like your fingers are strong. It's nice to feel powerful. But for training I definitely focus on the technical things you're going to see at comps. Slabs. Coordination.
Climbing: Your first two wins were in Salt Lake. Did that make it easier for you, competing on home turf?
Grossman: Maybe? I mean, I live ten minutes away from where the comps were. But I don't think that gave me any special confidence or advantage. At the end of the day, the setters were still from all over the world, and we'd never seen the comp walls, and all the holds were pretty new. The big thing was that after those comps, I gained more confidence. I was like, Okay, maybe I have what it takes.
Climbing: To switch gears a little: You grew up in Santa Cruz. How did you get started climbing?
Grossman: [My family] used to go to this corner store a few blocks from our house all the time, but for some reason we never really noticed what was next door to it. But there was this big clay statue of someone climbing on the side of the building, so one day we were like, "OK, what is that? Let's check it out." Right away, when we walked in, I was like "I want to do that." But the people at the front desk were like, "You have to be 6 years old," and I was only 4 at the time, so my parents were like, "Well, if you still remember this place when you're 6, we can for sure come."
Climbing: And you remembered it?
Grossman: I did. Right when I turned 6, I was like, "Let's go." And I liked it right away. I started going once a week. Eventually the coaches told my parents I should join the team.
Climbing: When was your first comp?
Grossman: When I was 7. So pretty much right after I started.
Climbing: When did it become clear to you—and to your parents—that climbing was going to be a pretty big part of your life?
Grossman: When I was 10 or 11. I'd been doing gymnastics from the age of 3, but when I was 10 or 11, I decided to take a step back from that and focus on climbing.
Climbing: Do you think gymnastics helped you as a climber? 
Grossman: It helped with my flexibility for sure. But even more than that, it taught me to enjoy the competition atmosphere. Gymnastics is way more competitive than climbing. You're taught from an early age to want to be the best gymnast you can be. And I took that same approach into my climbing. Also, gymnastics is very time consuming, which helped my time management.
Climbing: In 2015, your family moved to Boulder largely so that you could join Team ABC. I think that's a really interesting moment—you're still a kid and your parents are deferring to you for this big, adult-sized decision: Do I move my family across the country for my rock climbing or do I not? What was that like? How did your parents feel about it? And how do they feel about it now?
Grossman: I first started to think about it when I was 14. I had competed against people on ABC for years. Everyone knew who they were. They were the best team. They were winning Nationals every year. And I was like, "Wow, it would be really cool to be a part of a team like that." I was just thinking things out loud, just saying things, but then my parents were like, "Do you actually want to be on that team?" And I was like, "huh."
It sounds crazy now that I'm older: "Like, wow, my parents moved for my climbing." But at the time it didn't feel like a huge deal, though I knew it wasn't normal. My dad worked from home, so he was able to just continue working. And my mom was able to find another job at another Montessori school. But it definitely wasn't easy. Boulder is one of the most expensive housing markets in the country, so there were sacrifices—financial sacrifices—that came with the decision. But there's a Montessori saying that you should "Follow the child." And I think my mom really just took that to heart.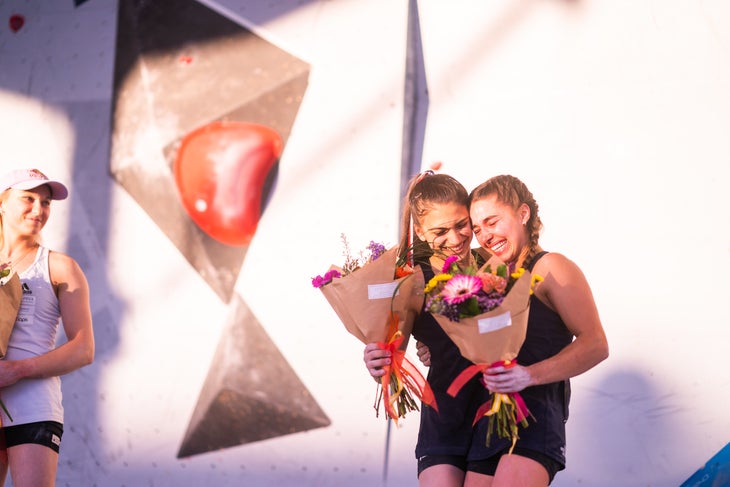 Climbing: Do your parents still live in Boulder?
Grossman: Yeah, they love it. Now that I'm in Salt Lake, people keep asking whether they're going to move back to California or somewhere else. But they're very happy there.
Climbing: You're not just an elite climber, you're a serious student. What do you study right now?
Grossman: I'm majoring in psychology and minoring in business.
Climbing: Did you ever consider putting college off for a few years?
Grossman: No, I love school. I don't think I could ever only climb. Even during summer break I take classes. I like to have balance. I think when you focus so much on climbing it puts a lot more pressure on whatever you're training for, and then it normally doesn't go as well.
Climbing: Is grad school on the horizon?
Grossman: Yes, for psychology, and maybe social work more specifically. I want to do therapy of some type.  But I think I'll take at least one gap year first. I think it'd be very hard to go to grad school and to do the World Cup circuit.
Climbing: In an interview in 2019, you talked about experiencing some burnout. Is that still something you deal with?
Grossman: Toward the end of summer 2019, I started to feel a bit burned out from competing. It's hard when one competition after another just keeps going poorly and you don't know why. I felt defeated. I remember going to Youth Worlds, having just come from the Adult World Championships, which had not gone how I wanted it to, and I didn't want to compete. But I was like, "Okay, I just need to go." It was weird. I had never felt like that before. I felt so defeated by one competition, but then I had to go to another competition two days later. And how do you make that switch? But when I got to Youth Worlds, which was in Arco, one of my favorite cities, I was able to have fun. But right afterward I was like, "Okay, mentally, this is a lot. I need a break." So I did take some time off from climbing. I was like even considering skipping next season. It's weird to think about that. If I hadn't competed, things would have been just so different. [Laughs.]
But, yeah, I decided to go to the first National Cup, mostly because I wanted to see my friends. But I ended up winning. And once I won, I was like, "I want to do the next one." From that experience I kind of learned to let go of expectations. Once I was able to do that, I had a lot less pressure and was able to find joy in my climbing again. I haven't felt that burnout since then. Now I go to comps and I'm like, "I love this." But you have to go through the bad comps to understand the good comps, you know?
Climbing: Expectations are kind of a double-edged sword. They get us to the gym, get us training, but they can also be crippling. Do you have any recommendations for people who are trying to temper their expectations while also still performing at what they consider a high level?
Grossman: My mom helps me with this by reminding me that I'm just so lucky to be there in the first place. This summer, for instance, I was like, "Wow, it doesn't matter how I place; I'm competing against the best climbers in the world and I'm in a different country right now and it's all about the experience. I'm gaining exposure to these high-level competitions, I'm meeting so many people, and so on." It's good to remember that it's about so much more than just competing, taking a step back and seeing the big picture. I mean, everyone always says, "It's just a competition," but that's true. It really is just a competition. There will always be another one. One comp doesn't define you. You can gain a lot of things by participating in competitions; it's not only about the outcome.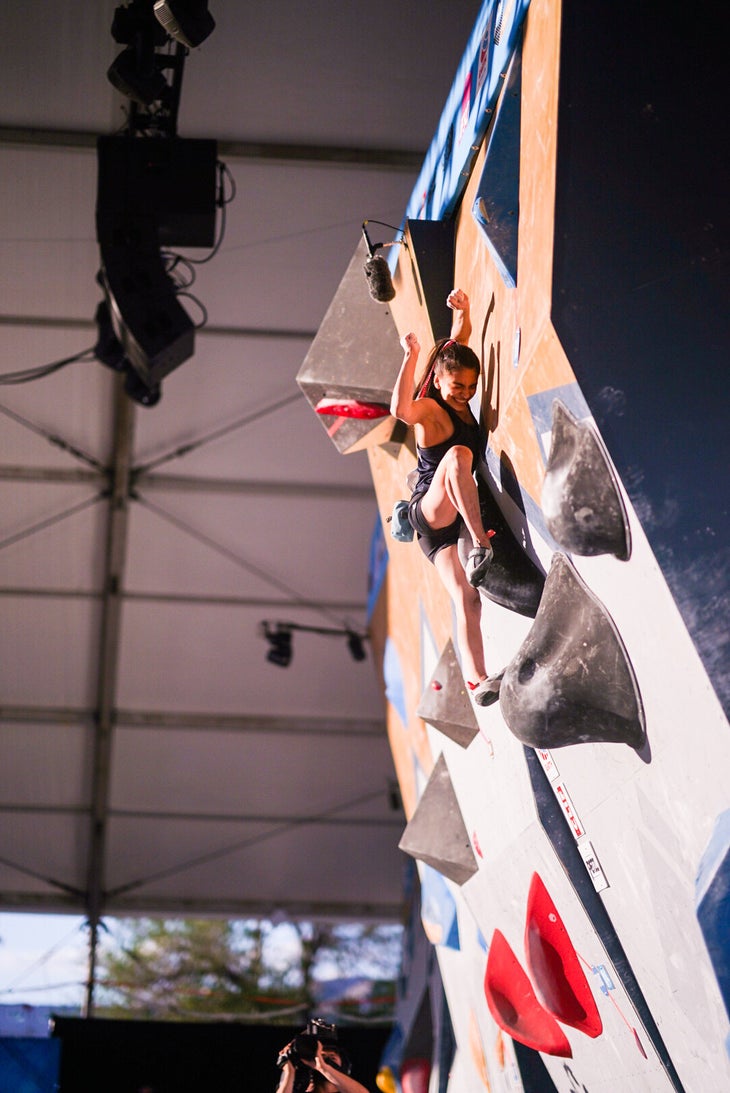 Climbing: When you're not competing, what does life look like for you?
Grossman: I'm pretty focused on school. It was honestly really nice this semester to not be training and traveling so much. I was able to focus on school and spend time with family and friends. And I'd go outside on weekends. I'd be like, "Okay, if I get all my work done, I get to go to Joe's Valley this weekend." And that would be my motivator for the week.
Climbing: On a three-day trip to Joe's Valley a few weeks ago, you did a V12 and six V11s and six more V10s. Are big volume days your preferred way of engaging with outdoor climbs, or have you been working on longer projects too?
Grossman: I don't currently have any long-term projects. When I go to a new area, I like to go for volume. It keeps things more exciting for me. I like being able to try different boulders, spending 30 minutes to an hour on each before going to another. I don't love spending two weeks trying the same moves over and over again. I find it more fun to find climbs that are still hard enough to be challenging but aren't necessarily projects. It's different when you're new to an area or on a trip than if you live there. In summer of 2020 [in Colorado] I definitely had some longer-term projects because I was pretty much only climbing outside, so I was able to commit time to that. But when I don't have a lot of time, I want to get in as much as I can.
Climbing: Do you have any big goals for the next year?
Grossman: I want to do all the World Cups again. And I want to graduate from college. But I haven't sat down yet and been like, "Okay, this is what I want out of next season…" It's kind of stressful to think about, actually. [Laughs] But I want to be consistent in the World Cups. And I want to continue to compete to the best of my abilities.