Noon Patrol: The Value of Climbing in Difficult Times
Heading out the door? Read this article on the new Outside+ app available now on iOS devices for members! Download the app.
Some climbers wake before dawn to climb at empty crags. Kevin Corrigan sleeps in and shows up when those people go home. Noon Patrol is his monthly column about how climbers should have more fun, be nicer, and take the sport less seriously. For Kevin's humor columns, see Unsent.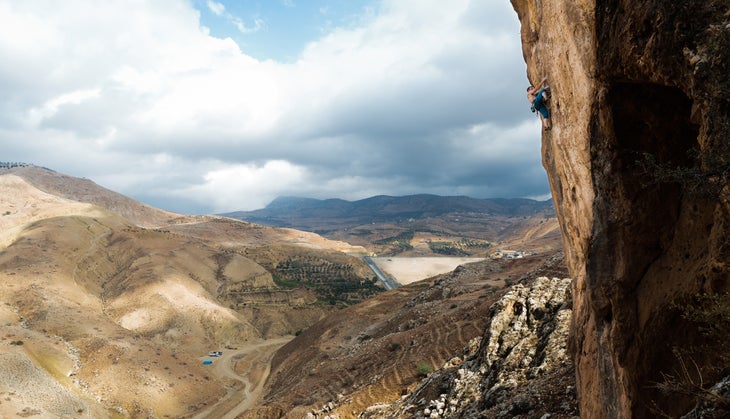 November 9, 2016.
I refreshed the page again. Each time, the NY Times probability slider gained a little more red. We were in Wadi Rum, Jordan, on a staff climbing trip. It was 7 a.m. Back home, the votes for the presidential election were being tallied. Leaving the United States two weeks prior had been a relief. The election was nerve wracking. With my absentee ballot submitted, I could stop thinking about it until returning home. Now I was anxiously sucking Wifi from the USB dongle plugged into our host's laptop in a house that didn't have toilet paper or a lightbulb in the bathroom.
I packed a rope and draws. Marwan Maayta, a Jordanian climber, and I would hop a ride in the back of a pickup truck straight through the desert sands to a single-pitch sport crag, Jebel al m'Zaygeh, for the day. I refreshed one last time. The bar was all red. Trump had won Pennsylvania, confirming the fate of the country for the next four years. I felt sick to my stomach. We'd spent the previous two weeks getting to know wonderful people in this primarily Muslim country—from the small-but-passionate crew of Jordanian climbers, who were developing new routes at a breakneck pace, to our driver Mohammad, who turned our trips into radio dance parties. Trump wanted to exclude great people like this from the U.S. He campaigned on it. My insides twisted, and then I jumped in the truck for what was supposed to be a fun, casual day of climbing.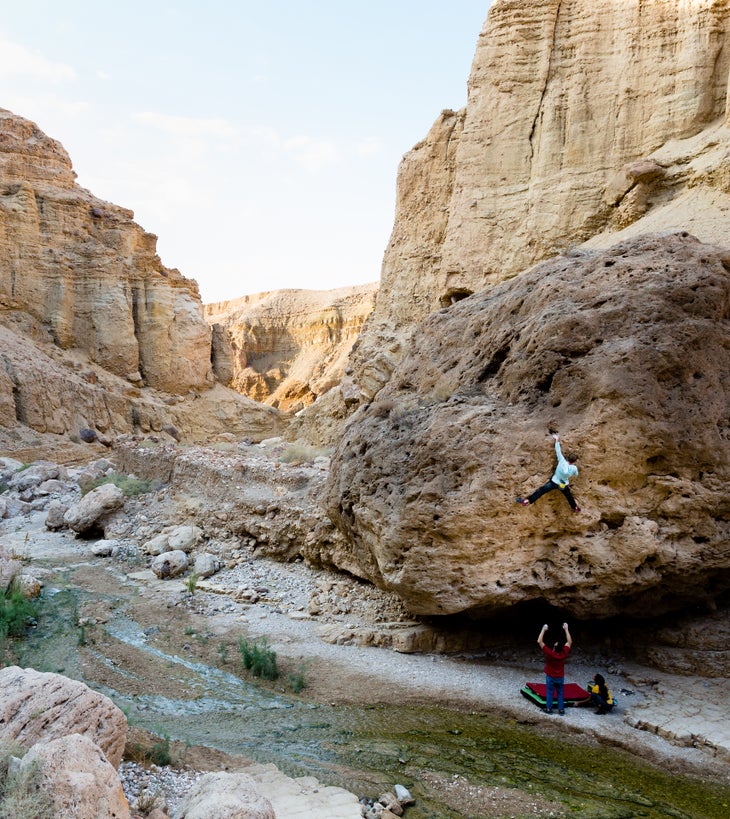 Regardless of your politics, I think we can all agree that lately the news has been bad. The West is on fire. Texas is underwater. Florida may soon not exist. Our country is more divided than ever. Children are being deported. White supremacists are having parades. In these times, I often wonder if going out to push my redpoint grade—a trivial act in the grand scheme—is morally wrong. Shouldn't I be spending that time trying to make a positive difference in the world? Shouldn't I be calling my senators, or marching against injustices, or texting that number that donates to disaster relief?
Of course, this "climber's guilt" isn't limited to the national news cycle: Should I really be pebble wrestling while Nana is in the hospital? Is it appropriate to climb at that crag where that kid decked and died yesterday? Is that disrespectful? Is it still OK to have fun?
I've considered the issue a lot over the past nine months of political and social turmoil, and I have come to two conclusions:
Yes, it's important to do everything I can to make a positive impact on the world.
Yes, it's also important to go rock climbing.
These two things are not mutually exclusive. I'll explain.

Before I left to climb on that day in Jordan, I was so upset about the election results that I'd had diarrhea. Literally, my gut was rejecting the idea of Trump becoming president. I was skeptical I could enjoy myself as we drove out, but my mind began to drift as I travelled through the breathtaking Wadi Rum landscape. At the base of the cliff, I eyed our first climb, a deep red sandstone slab that moved up balancy edges, huecos, and precarious friction moves. Some of my concern was diverted to the first bolt, 20 feet off the deck. I ticked a couple routes and began to relax.
Then I took a bizarre near-whipper.
As I climbed above a first bolt placed the height of some rock-gym ceilings, the soft sandstone under my right foot exploded. My arms had been out with my elbows bent up at 90 degrees while my hands rested on the lower edge of a horizontal crack. Incredibly, my hands landed on an identical horizontal crack three feet below, and I held it. It happened so fast that it wasn't a conscious save, just luck and reflex. After that, my mind was clear. I was living in the moment—shaking with adrenaline, but completely present. I spent the rest of the afternoon climbing great lines and marveling at the endless sands and rock towers around us.
Reality came crashing back later that night inside a black goat-hair Bedouin tent. Now on Wifi, I received a stream of upset texts from my girlfriend. At the same time, the people around me struggled to accept the news. A mysterious French woman, who had been wandering in and out the past few days, directed her distress at me.
"How is this possible? He is a clown!" She demanded, over and over.
As I struggled for an answer, I looked up at the Jebel Rum formation above town. Two days prior, we'd been benighted after becoming lost among the sandstone domes near the summit. Those were simpler times, where our only concern was finding the first rappel anchor.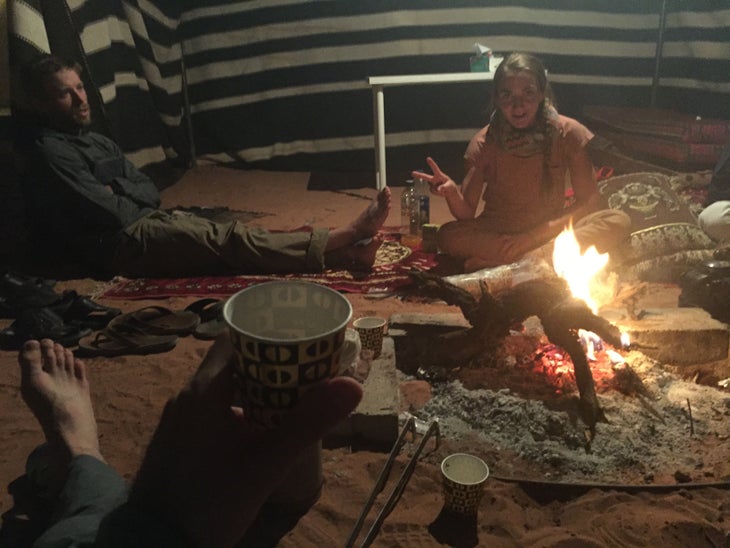 Our personal climbing adventures don't contribute anything to the outside world, but they can keep us sane. This year, a lot of articles have been published about how to fight for positive change without becoming overwhelmed. One common point is that no one can keep up the fight all the time. It's overload. The constant stream of depressing news is too much, and our efforts begin to feel futile. We need to turn off our phones and take breaks to take care of ourselves if we're going to be effective. What better way than by climbing—a selfish act, sure, but one that also restores balance to the body, mind, and soul? Go off into the woods where there's no cell reception, no way for your preferred news outlet to ping your notifications with a new source of sadness or outrage, and climb until you feel better.
I could've skipped climbing that day in Wadi Rum. I could have curled up in a ball on the couch. I could have worried myself back into the dark, toilet-paper-free bathroom. It wouldn't have made the world any better. Instead, I figuratively scared the shit out of myself climbing in one of the most beautiful places on Earth. It was like hitting a reset button. I came back ready to take on more challenges. Bad things are always happening. Going climbing doesn't help, but it does make you more prepared to help when you get home.