Note To Self: Don't Fall Asleep While Lead Climbing
"Reasons to be Fearful" is an essay from Victor Saunders' new memoir "Structured Chaos: The Unusual Life of a Climber," available now from Vertebrate Books.
Heading out the door? Read this article on the new Outside+ app available now on iOS devices for members! Download the app.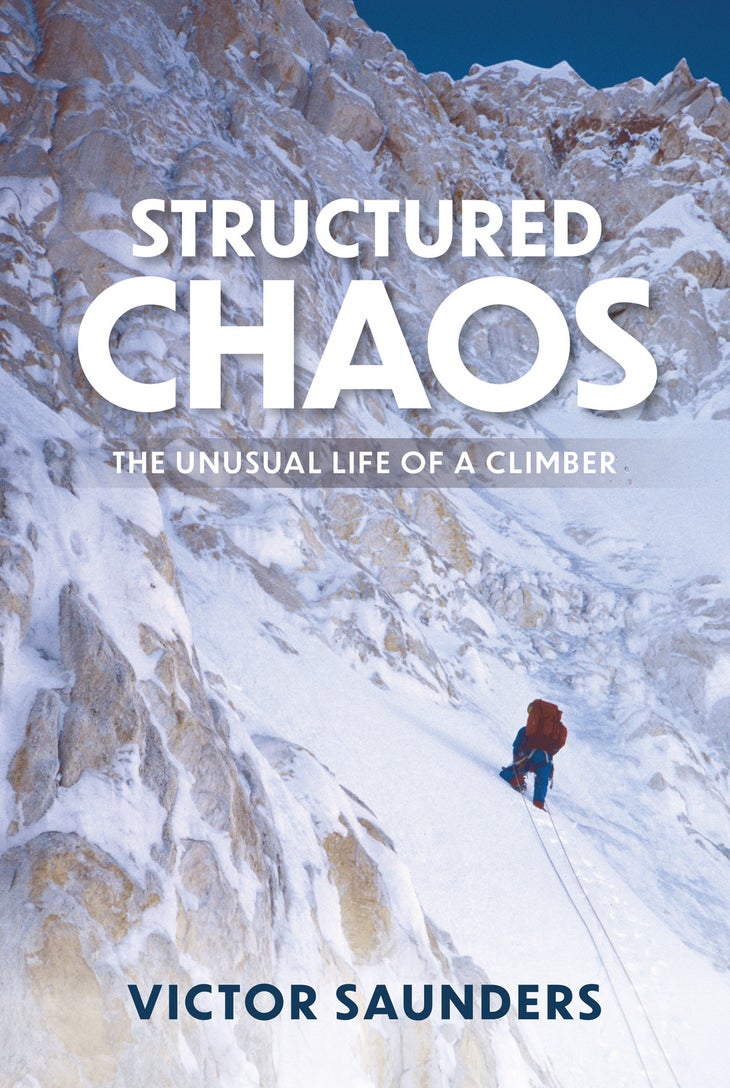 Winter 1979. The "Winter of Discontent," as newspapers now call it. I was sitting in The Globe, a gloomy Islington pub, which was then the midweek home of the North London Mountaineering Club. It smelt of cigarettes and spilt beer. With its old oak furniture and feeble lighting, you couldn't see the floor well enough to judge what was making it so sticky—the beer, presumably. I had just returned from the Eiger. Stevie had left London for North Wales. Nick had immigrated to New Zealand. The cold, snowy winter continued, and I was looking for climbing partners. Peering through the murk, I noticed a tousle-haired young man leaning on the bar. He appeared to be in his early twenties. The barmaid, Charlene, was leaning across the bar towards him.
"What?" she said.
"Pint of cheapest bitter." The young man turned to me, smiling at his own humour. "Cheapest is always best, you know!" Then he tapped the side of his nose.
Several people had warned me about climbing anything serious with Mick Fowler. They would say: "He only likes disgustingly loose rock. I wouldn't go anywhere with him if I were you."
Perhaps I was already a bit drunk. Maybe it was a moment of Reverse Tourette's, when instead of blurting out inappropriate expletives. 
That weekend we drove up in Mick's battered minivan, sleeping in the back to get an early start. Somehow Mick had managed to book us into the CIC hut, a rare experience for Londoners. As things turned out, we had an excellent week but with a worrying start. It began in appalling weather so we took the opportunity to climb the relatively easy Tower Ridge in a storm. Predictably we got lost on the way down, navigating round the mountain at half height. But the snowstorm had encrusted the mountain's mythical Orion Face, so next day we set out to climb Orion Direct, a winter version of The Long Climb. Except we had no idea where it went.
"It's just like the Alps; you go up there, and there … it's all the same," Mick said. It wasn't and we didn't and it wasn't all the same at all. We ended upon something hard, Astral Highway, a more direct version of Orion. Soon I was starting up a steep pitch, which turned out to be the crux. It was a leaning right-angled corner, about twenty meters high. I didn't think I could get up without falling out of it, so I lowered off a large hexagonal nut I'd wedged into an icy groove. I couldn't find much of a belay below the nut. I banged in a quarter of a Lost Arrow piton, and the tip of a Snarg drive-in ice screw, knowing that the anchors wouldn't hold the slightest fall.
The wind got up again and wisps of snow blew across the face, stinging my eyes. I was cold and felt intimidated by the steep icy corner above me.
Mick came up and led through. I watched anxiously. He bridged across the corner, crampons scraping on the rocks as he looked for lumps of ice to settle on. There was no protection for most of this section but somehow he exuded an air of calm competence. At the top of the corner was a ledge like a crow's nest. Mick crawled on to the ledge and found a vertical crack where he could place two thin blades. The weather was now deteriorating badly and as the wind how led across the Orion Face it was triggering spindrift avalanches.
One of these waves of snow now flowed over Mick. He leant back to keep his face out of it. As he did so, the pegs popped out, one after the other. Looking up anxiously to see how things were going, I saw Mick falling towards me. I can still remember the noise. Above the hiss of spindrift was a jangling sound, the sound of ironware banging against the sidewalls of the corner and against itself: ice screws, rock pegs, nuts, axes and crampons. It seemed deafening. Mick's body struck me on its way past. I knew the belay was too weak to hold his fall, not a long one like this. I was dead. I knew it.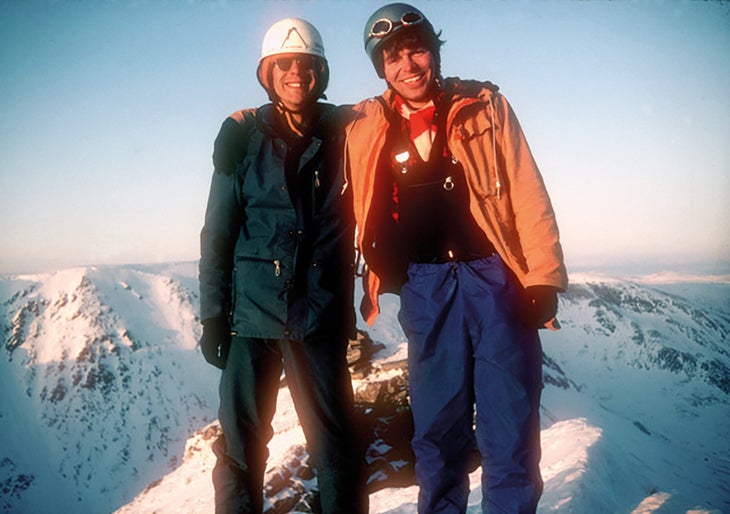 And then came silence.
So. This is what death is like. Painless. Quiet.
The spindrift slowly began coating my face. Calm gave way to cold. I  began to shiver. Then the calm quiet of my thoughts was rudely interrupted.
"Vic? VIC!"
That's odd. Sounds like Mick. Is he here too? Are we both … ? "Vic … are you okay?"
I looked up at my peg and ice screw. They were still there. The belay had not been loaded. The hex I had placed in the icy crack above had settled, shattering the ice around it and wedging itself firmly, saving both our lives. It was a small miracle. And yes, here we were together, but in this world, not the next. As if to confirm this, my left side suddenly felt bruised and sore.
"Mick, are you okay?"
"Yes … but …"
I braced myself. Bad news often began with a "but."
'"… but I can't find my helmet and glasses."
I looked down. Mick had apparently landed on a bed-sized patch of snow. Just above him was a deep hole.
"Have you looked into the hole above you?"
Mick scrambled up and reached inside. There at the bottom was his helmet with glasses attached. 
He had fallen forty meters, having been roughly twenty meters above me, and now being twenty below. We later reconstructed what had happened. Mick had seen the small snow patch below us and prepared himself to self-arrest on it with his axes. The main flaw in this plan was that Mick was falling upside down when he brushed past me. Instead he must have hit the end of the ropes at the same time as landing head first in the snow patch. He bounced out of the hole as the stretched rope recoiled, leaving his helmet at the bottom.
I was expecting to abseil down, but Mick had not the slightest inclination to give up now. He swarmed up the pitch again, and made sure this time that his belay pegs were hammered in up to the eye. I saw that this man was not short on determination. In time, I would resolve to become more like him. That was one of the fall's two long-lasting effects. The other was a kind of climber's superstition: from that pitch on Mick and I swapped pitches religiously. I sort of suspected that my cowardice, in handing over the lead of the crux pitch, had prompted fate to precipitate Mick's fall. 
The weather next day was better, the best day of the week. We set about Mick's main project: Shield Direct. Because of the new Astral Highway Superstition, the first, third, fifth and seventh pitches were mine to lead. This superstition became a strict climbing rule for me. If at the end of one weekend Mick had led the last pitch, the first pitch the next day or next weekend would have to be mine. The superstition did not allow for excuses, hangovers or weekend weaknesses. And when we climbed in Russia and Pakistan on bigger mountains, like Ushba and Spantik, we kept to the same rule.
The Globe didn't only generate winter climbing. There were summers to deal with too. During the early years of Mrs Thatcher's government, my friend Phil lived in a squat. There were still squatters in those days. 
Even as the government waged war on those self-same squats, he habitually voted Conservative. I worked as an architect, and had moved from Stockwell to a nice middle-class part of Islington and voted Labour. Our political lives were not much troubled by vested interests. What did trouble us though, was the discovery by Phil, Mick and others in the London climbing scene that when conditions up north in Scotland were unsatisfactory, crampons and axes could still be useful down south.
First came the soft chalk of Dover; next was the somewhat firmer stuff of Beachy Head, outside the East Sussex town of Eastbourne. And then Phil discovered that the sandstone cliffs bordering nearby Hastings were so fragile and loose that it was safer to climb in cram-pons and axes than rock shoes. Safer again would have been to avoid them altogether, but that did not occur to us in those days.
Phil began his campaign on these vile cliffs in the summer of 1983. Face climbing was out of the question: small ledges would peel away and there was no possibility of banging in pegs. So Phil made ascents up deep chimneys and cracks. The climbs were dirty, clogged with sea kale and sprinkled with seagull shit. Usually he climbed solo, occasionally dragging me along. We always came home gull-shit filthy and frequently in tatters from the gorse and thorn bushes that guarded the tops of the climbs. But these cracks were the only features that allowed a bit of protection. Oversize hexes, and sometimes wood or iron bars diagonally braced across the fissures, offered some slight hope of avoiding a ground fall.
That summer Phil created a collection of routes with oddly descriptive names: the Green Ghastly, One in the Eye for Harold and so on. I climbed one or two of these with Phil, but my mind has protected me since by deleting nearly all recollection of them. Age-related memory loss has its uses. 
There was a reason that Phil usually climbed alone – or, as he called it, with 'RS': his silent partner Mr Rope-Solo, also known as Phil's rucksack. That reason was Phil's dreadful slowness. He climbed so slowly that many people simply refused to climb with him. But the more he soloed, the slower he became; and the slower he became, the fewer people could bear the tedium of belaying him. It was a vicious circle. On one Hastings route, the Green Ghastly, probably, he took five hours to climb a twenty-five metre pitch. And as I belayed him, climbing at the heady rate of five meters an hour, I came very close to losing the will to live.
Somewhere in all the grime and bird-shit of these ascents, interspersed with protective mind-emptying sessions drinking beer in The Globe, Phil came to a realization.
"You know how the bottom and tops of the routes are bald sandstone?"
"Slurp," the beer said.
"And there's that band of steep clay between them?"
"Slurp."
"Well, the band of clay extends across the entire cliff. It's about a mile long. There could be a new route there."
"Eurch!" the beer complained, as it went down the wrong opening and left me in a coughing fit.
What I meant to say was: "Are you fucking mad?"
What actually came out of my mouth was: "Great! When do we start?"
That damned Reverse Tourette's again.
And so, one rainy Saturday in November 1983, we began. Our starting point was the nature reserve of Ecclesbourne Glen, an evil re-entrant a mile from Hastings. From there, we climbed in the general direction of The Dolphin, the nearest pub to the beach. The climbing was, on average, about Scottish grade IV. The clay band widened and narrowed. Where it narrowed a lot, we were forced on to the frightening and unprotectable sandstone that sandwiched the clay. A hundred feet from safety in either direction, up or down, the band extended laterally for a mile. After rain, the moist clay took axe strokes and crampons pretty well: sometimes too well. Crampons would ball up with slippery clods. We found the dry clay was even more disturbing, being fragile and tending to crumble under our feet with alarming suddenness. On that first day, we did five pitches, placed two warthog ice pegs and rapped down to the beach as it got dark. 
Leaving our ropes in place, we strolled the mile-long pebble beach to The Dolphin, where we slurped our beer while shedding sand, clay and dirt on their nice clean carpet. With the beer were salt-and-vinegar crisps. I pulled out a book.
"What you reading?" Phil asked, now shedding crisp crumbs on the carpet.
"Heart of Darkness."
"One of the greatest novels in the English language," he said, as though this was incontrovertible fact. I didn't know about that.  I hadn't read all the others. Meanwhile, the jukebox was blaring Ian Dury numbers: "Billericay Dickie" and then "Reasons to be Cheerful."
"What do you think about that for a route name?" I asked him.
"Heart of Darkness?"
"No. I mean the music: Reasons to be Cheerful."
"I think something like Reasons to be Fearful would be more accurate." So that's what we called it. 
We slept in my car and on Sunday morning jugged up the ropes and managed another five pitches before deciding it was time to get back to London before the pubs closed. Leaving two warthogs and lots of bright red tape behind, we pulled our ropes down. Each visit would see one of us walking along the beach at low tide, and the other (we took turns) struggling through gorse at the top with the ropes. The beach walker's job was to spot the red tape and then tell the other where to rap down. Stringing together as many gorse bushes as possible for the anchor, the top man rapped down to the warthogs. The beach walker would then jumar up to start the day. Over the next three months we spent a total of six days on the route. On most of them, we managed between five and ten pitches. On one of them, we only climbed two.
It was Sunday. The night before, we had drunk too much beer in The Dolphin and were feeling queasy. It was my lead. I tiptoed round a buttress of disgusting clay, crampons sending dry sods gently towards the retreating tide, axes spiking steep dry soil and ripping through slightly with each placement. Phil was behind the buttress hidden from view. So when the rope tightened, as it does at the end of a pitch, pulling me slightly off balance, I placed the usual belay of two warthogs and waited for the rope to slacken, signaling that Phil had started to follow. 
This being Phil, it didn't surprise me much that nothing happened for a while. Also, I felt unwell from the night before. I suppose at this point I must have fallen asleep, because when I opened my eyes, the sun had moved towards the horizon. I pulled the rope hard and shouted for Phil to get going. The rope snagged a bit and then, with a shower of gravel, it pulled through freely. In fact, a lot of rope pulled through, about half of it. I realized I had not been at the end of the pitch at all, just at the end of a jammed rope. Phil, used to his own slow pace, had taken advantage of the rope jam to snooze, unseen by me, on his side of the buttress. We had both of us slept for over two hours. When Phil arrived at my stance, we rapped off for the week.
Far across the beach, under the long cliff, a small dust cloud appeared in the wake of a posse. As it drew closer, we could see police helmets and some kind of coastguard uniform leading the group. They looked intimidating. 
"Intriguing," said Phil. 
"What's happening?" I asked the first to arrive. 
"Well," said the constable, "we're on a rescue mission."
"Oh really?"
"Yes, we've just had a report that two men are stuck fast on the cliff near here. Have you seen them?"
"Oh no, officer," I said, shielding my dirty rucksack from his line of sight. "Nope," said Phil. "Not seen anything unusual at all."
"You might not have noticed them. They were unconscious."
"I'm pretty sure they're not round here," I said. "Perhaps you should try the very far end of the cliff; we haven't been down there."
"Right! To the far end!" said the constable, and sticking out his chin he marched off, determined to complete his mission, the officious posse behind him casting the odd backward glance at us.
Phil asked why I had sent the rescue party to the far end of the cliffs. 
"To give us maximum time to get away before they figure it out. And we'd better give it a couple of weeks before we come back." I really didn't want to inconvenience the law enforcement of Hastings, but it was nearly opening time. As a result of the quite reasonable fear of being rumbled, we didn't complete the route until January 1984.
In the summer of that year, the North London Mountaineering Club mounted an expedition to Hunza in Pakistan's Karakoram range. The team was made up of the usual Scottish- and chalk-climbing weekenders. We didn't get up our mountain. With Phil, I endured a fourteen-day climb with six days' food. Chris dropped his boot from 6,000 metres and Mick tried to boil his own helmet. To cap it all, he also insisted that if we ever made it back to London, he and I should have a boxing match.
---
Excerpted with permission from Structured Chaos: The Unusual Life of a Climber, by Victor Saunders (Vertebrate Publishing, 2021).
---