Opinion: Lessons from the Waves
How surfing's present could help improve climbing's future
Heading out the door? Read this article on the new Outside+ app available now on iOS devices for members! Download the app.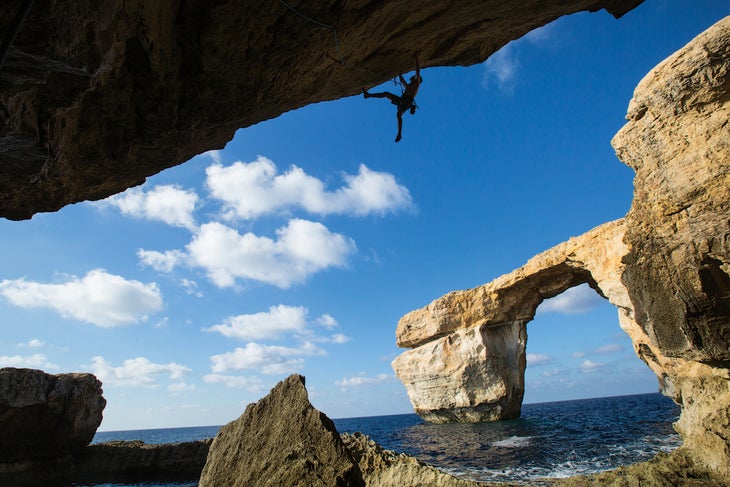 In spring 2005, the retail surf/swimwear apparel giant Billabong opened its doors in Times Square. Not bad for a company that had gone public on the Australian Securities Exchange just five years prior. But had you asked any surfer back in the 1980s or '90s if they thought their sport would ever become the center of a billion-dollar industry, they probably would have laughed at you. The notion would have seemed as ridiculous to them then as it might to us today to consider a Black Diamond store opening in NYC.
However, with climbing gyms everywhere, the Olympics around the corner, and films like The Dawn Wall and Free Solo opening in mainstream theaters, a surfer might view climbing's growing pains with familiarity. To begin, both sports take place on limited natural resources—the number of places with surfable waves and climbable rock is finite, and the more people who show up, the fewer waves and climbs every person will experience. What happened to surfing when it boomed could well prove helpful in predicting where climbing is going.
There are now approximately three million surfers in the US alone. While this number might seem low, the relatively small amount of surfable spots, combined with the fact that a wave is generally only surfed by one person at a time, means that many participants often find themselves having to wait hours to get a chance to paddle for a wave. Less popular breaks might have as many as 30 people waiting, while more well-known spots like Huntington Beach are known to see crowds of 300-plus. Because of this, our stereotypical surfer found himself in a tough spot: He could remain laidback and never catch another wave, or he could become aggressive and get to do what he came for.
In the past decade, climbers have witnessed a similar trend as more people crowd popular crags and the wait to hop on trade routes grows longer. In surfing, the targets of this negativity are generally the inexperienced, often called "kooks"; in climbing, it's "noobs," especially groups of topropers. It's easy to feel hostility toward people you don't know when you see them working the climbs that you frequent, especially when their doing so limits your ability to climb those routes. People tend to be territorial, and the "Who the hell are these random people at my crag?" mentality is exactly what instilled itself in the surfing community years ago in the form of localism.
One surfer per wave is one of the most important unwritten rules in surfing, and thus the question of who gets the next wave is paramount. Generally speaking, the person closest to a wave's peak has the right of way. With localism, however, the equation becomes far more nuanced, creating a hierarchy between locals and visitors. If you surf a beach every day, you as a local get the highest priority—the greatest number of waves. If you're new to a break, you'll get to surf much less—sometimes only one wave per day. You'll have to be patient, be courteous, and gain the locals' respect in order to get more waves. It's not uncommon to see aggressiveness in the form of verbal abuse; it's something that many "non-local" surfers have to endure. Things can even, in rare cases, escalate to physical violence.
It's difficult to believe that the climbing community might one day arrive at a similar point, yet we may be closer than we already realize. With the influx of people to our sport, it's not impossible to imagine a future in which a "local" might walk around to strip your toprope anchor while his buddies scream at you to get off "their" warmup. Maybe an argument between two people on who's next in a route queue could end with ropes being cut in half. Or maybe one day someone will stop you at the Buttermilks and say you have to leave unless you can demonstrate your ability to send The Mandala (V11/12).
Though we aren't at that point yet, surfing can give us valuable clues—and also valuable solutions. For example, surfers have recently organized into large groups in order to free certain spots like Lunada Bay, California, from locals who've used violence and intimidation. Concepts like the "WaveMaster," in which the oldest surfer at a spot assigns numbers to each surfer on a first come-first serve basis, have been suggested—it's not hard to imagine doing the same at a popular cliff. And perhaps even limiting the amount of climbing visitors both to reduce crowding and help protect the environment could be implemented, much as we've seen at Hueco Tanks. As surfing has shown, there are solutions—the trick is to get out ahead of the wave.