Opinion: Why Isn't Margo Hayes Projecting La Dura Dura Yet?
As new media allows us to see more of climbers' daily routines, our expectations are becoming conversely more outlandish.
Heading out the door? Read this article on the new Outside+ app available now on iOS devices for members! Download the app.
I met a raggedy bunch of climbers at the gym the other night who declared they were informally objecting to Margo Hayes' route choices. To be clear, no one in this harmless crew of boulderers had ever met Margo Hayes. But everyone in the mix followed Hayes on Instagram and knew all her recent accomplishments, and those facts—on this particular night—seemed to carry with them hefty degrees of authority.
https://www.instagram.com/p/BZeN1p6hf9C/
The group's gripe went something like this: Hayes, as everyone knows, became a superstar when she sent La Rambla (5.15a) in Siurana, Spain. She was the first woman to do so. Then she upped her own ante by climbing one of the most legendary routes in the world—Realization/Biographie (also 5.15a)—in Céüse, France. This was all portrayed in the most recent Reel Rock film, which was what prompted this discussion in the first place. Of course, the obvious next step for Hayes' continued vault into climbing's stratosphere is to project La Dura Dura in Oliana, Spain. This legendary 5.15c route is widely considered to be "The Hardest Climb in the World." (At least it was prior to Adam Ondra's send of Silence in Flatanger, Norway.) Logically speaking, Oliana is close to both Siurana and Céüse, so Hayes would hardly be out of her geographic element on La Dura Dura. And trying to bump up from an "a" to "c" grade, however arduous, would be a commendable challenge, right?
Plus, it'd be a great career move for Hayes. She could earn a new nickname: Legend Killer. Or something.
The only problem is that Hayes—inexplicably—doesn't seem to be working on La Dura Dura. Furthermore, she hasn't made any public mention of what her next epic project might be. This bothered the niche of climbers I was with—perplexed them, even. I mean, how could she not be projecting La Dura Dura? How could any other route possibly seem more appropriate for her to try now than La Dura Dura? How could we—the commoners using our chalkbags as pillows while resting on the mats—be the only ones who saw this ideal career path so clearly laid out?
One guy proposed we write a persuasive letter to Hayes—or maybe start a "Please Try La Dura Dura" petition—until he found that margohayes.com doesn't have a "Contact" section. Someone else thought of looking up the phone number for La Sportiva's North American headquarters—if Hayes couldn't be notified directly with project suggestions, perhaps her sponsors could be.
Mercifully, such spirited energy eventually dwindled. People put away their phones and filtered out of the gym. Back to reality. Back to having no say or influence whatsoever in what Margo Hayes decides to project next. 
Still, the conversation stayed with me. Why has climbing fandom evolved to have this component of virtual management—we'll call it fantasy projecting—normally left to other sports like (fantasy) football and (fantasy) baseball? Similar ridiculousness I've overheard this fall has included: whether Adam Ondra should drop everything to work on a 5.16a in some far-flung corner of the globe, whether Jongwon Chon—one of the best comp-scene boulderers in the world—should stop competing and instead try sending legendary boulders outdoors, and whether Tommy Caldwell should open a gym within easy driving distance of Yosemite (hint: yes, it'd be a marketing goldmine).
Part of the blame should fall on quinoa. Or at least what quinoa represents. 
See, over the past few months, I've seen so many strong climbers eating quinoa on their Instagram stories—or jogging on their home treadmills, or petting their dogs, or graduating from schools—that it has coupled the notion of epic projecting with a sort of suburban ordinariness. Food, pets, and projects on social media. Sometimes these days, pro climbers seem more like overly productive roommates than top-level athletes. Don't get me wrong, I'm fine with an entrée into their daily routines and quirks. I enjoy checking their Instagrams as much as anyone; I love pics of food and lazy dogs. And projects. But it's just so different from the big-name climbers of previous decades, who seemed more like mystics—gurus, even—with their whereabouts and goings-on totally unknown.
Unknown until their surprise sends popped up in the pages of, ahem, a print magazine, or on a grainy VHS compilation backed by royalty-free reggae.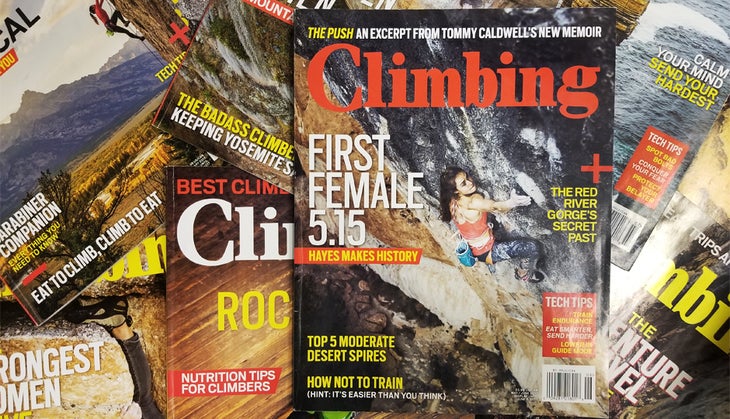 It's only in the current era of constant fan access (annual Reel Rock tours, frequent streamed comps, blogs, and vlogs) and unceasing domestic surveillance (Instagram stories, any number of organic coffee shops in and around Boulder, Colorado) that we have grown accustomed to having access to climbers' free time as much as their press time, commenting on their future projects as much as their post-workout snacks. It's a two-way-mirror: if the elite climbers let us into all their normalcy, aren't we allowed to talk about all their choices and possibilities with a new degree of normalcy as well? Ondra should start working on a 5.16a, darnit! And Chon should project outdoors more often! Also, Alex Puccio should enter arm wrestling tournaments, and Alex Honnold should run for president!
It has amounted to well-meaning, nonprofessional climbers commenting on famous climbers with the same casual familiarity—and, at times, ridiculousness—that any of us might use to inform a longtime friend that she mistakenly left the coffeemaker on: Hey, next time don't forget to turn off the burner. Oh, by the way, why are you spending time climbing The Proueman Show instead of going full-force on La Dura Dura?
I would end this here, but in a weird way, this has managed to bring us back to the topic of La Dura Dura, which is precisely the spiral I was circling several nights ago after my gym session. I held a sweaty bandana and my old pair of Solutions in one hand, and a phone presenting climbers' Instagrams—food, pets, and projects—in the other. 
For the record, I think that gym discussion ended with me acquiescing to some vague agreement that, yeah, pro climbers should, ya know, project hard stuff—although I can't say I ever got on board with that notion that Margo Hayes needs to jump on La Dura Dura right away.
Still, the fact that the discussion happened means that it will continue to happen—if not at my local gym, then at yours. And if it's not that topic, it will be another one. This strange familiarity that we now have with so many climbers' everyday actions, substantial as well as mundane, begets strange proposals and suggestions. You have been warned. 
As to what legendary project Hayes will astound us with next, only she knows. And that's the way it should be. But still, we can't help but wonder. Maybe we should check her Instagram.
John Burgman is the author of Why We Climb: A Dirtbags Quest for Vertical Reason.