Trapped By A 600-pound Block, He Would Have Died Except For A Quick-Thinking Partner
The climbers thought they might do a variation to the Steck-Salathé and brought a bolt kit—a decision that would prove crucial.
Note: This is part three of a 10-part story, which will be released weekly. Visit Ordinary Heroes to find the other parts as they are released.
Unless you're part of a search and rescue team, you don't head out for the day expecting to be thrust into a life-or-death situation. Heroism, like the accidents and epics that might prompt it, is something you can't plan for.
Yet because of experience and training, innate ability and fortitude, or just instinctive reactions in moments of crisis, average climbers can respond to deadly emergencies in extraordinary ways. With courage, calm, stamina, strength, and ingenuity, on a day when nobody expected anything but the simple pleasures of climbing, they end up saving a life.
What would you do in a similar situation? How would you perform? Research psychologists have determined that heroes share a few common traits: Many are open to new experiences, dependable and disciplined, extroverted, compassionate, and emotionally secure. They usually have strong feelings of morality and responsibility. In addition, according to a 2012 article in the Wall Street Journal, "Heroes tend by nature to be hopeful, believing events will turn out well. They consciously try to keep fear from hampering their pursuit of goals, and they tend to block out the possibility of injury or material loss." They sound a lot like climbers.
We combed through dozens of stories of climbers helping other climbers to find the five amazing examples reported here. Hopefully you'll never have to respond to a similar crisis. But if the proverbial shit hits the fan, it just might help to know that other climbers have been there before.
Part 3: Life-Saving Ingenuity
Joe Faint
Sentinel Rock, Yosemite Valley
June 1965
We're told to carry the Ten Essentials, but we're also told "light is right." Most of the time we climb without all the survival gear needed for every possible scenario. Improvising with the gear we do have becomes essential.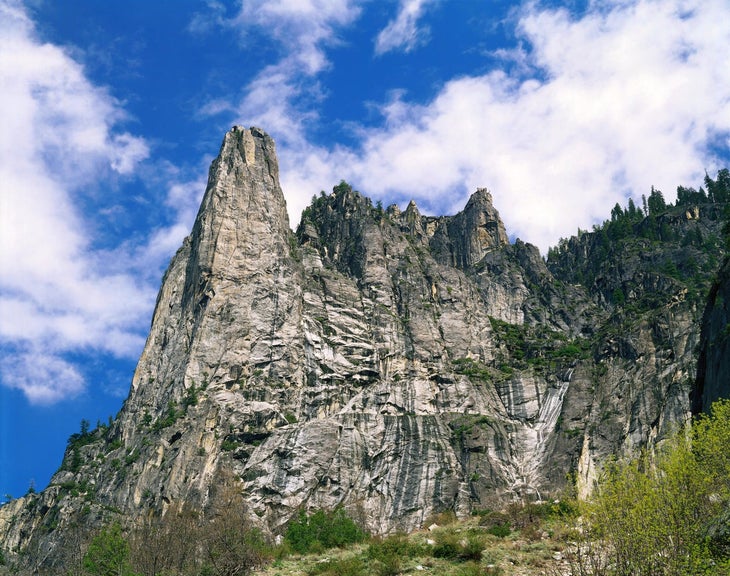 The Scene
First climbed in 1950 over 4.5 days, the Steck-Salathé route up the 1,500-foot north face of Sentinel Rock is rated "easy 5.10" today, but it is a notoriously punishing 15-pitch route that takes most climbers a very long day to complete. In 1965, a time when El Capitan ascents were still rare and Half Dome had only two routes up its northwest face, the Sentinel was still a major objective for Yosemite hardmen. And Joe Faint, though not nearly as well known today as many Golden Age climbers, was as hard as they came. Faint was a partner of Warren Harding and Yvon Chouinard, and his alpine climbs included the first ascent of the north face of Mt. Assiniboine in the Canadian Rockies and the north prow of Mt. Kennedy in the Yukon. In 1965, at age 26, he was a Camp 4 denizen working his way through the major climbs.
For the Sentinel, Faint paired up with Peter Spoecker, 24, who had done a couple of minor new routes in the Valley. The two thought they might do a variation to the Steck-Salathé and brought a bolt kit—a decision that would prove crucial. Both Faint and Spoecker have passed on, but Jeff Foott, a friend of Faint's who later became Yosemite's first climbing ranger, remembers they had climbed to somewhere near the Narrows, only a few hundred feet below the top of the face. Spoecker was pulling on a large flake when it suddenly detached, crushed his right hand, and fell onto his right leg, breaking his femur. Foott recalls the flake was about 5.5 feet long, two to three feet wide, and several inches thick. At those dimensions it would have weighed more than 600 pounds. The rock slid onto Spoecker's leg, pinning him to a ledge. Faint tried heaving the rock off, but it wouldn't budge.
The Response
In 1965 there was no YOSAR team in the Valley to call for help. "In those days you couldn't really count on a rescue," Foott said. "If you went off to do a climb, you told your friends where you were going and you expected them to come get you if you got in trouble." But time was of the essence: A broken femur can cause internal bleeding and other potentially fatal complications.
Faint thought about what to do next. The two men carried pitons, hammers, and nylon aiders. Maybe he could work out a way to use this gear to winch the giant flake off his partner's leg. Faint pounded two solid angle pitons into a crack above the climbers, and then, in order to grab ahold of the flake, he drilled a hole into the smooth granite and drove home a bolt. Next, he strung two aiders tied from nylon slings between the piton and the bolt, inserted a hammer between the strands of one of the slings, and twisted it so the sling tightened. He then wedged that hammer handle against the cliff to hold it in place (a technique called the Spanish windlass) and twisted the other sling with the second hammer. In this way, taking turns with each hammer, he slowly lifted the huge block off Spoecker's leg, just enough for him to slide it out.
The ordeal wasn't over. Spoecker was too immobilized by his injuries and pain to continue up the route. They decided to signal for help, but night fell without anyone hearing their calls. Down in Camp 4, across Yosemite Valley, Glen Denny noticed a flashing light that didn't behave like the usual climbers' headlamps on a wall. He drove over to the foot of the Sentinel, and in the calm, quiet night he was able to yell up to the climbers and learn that they needed help.
Denny and fellow climber John Evans wanted to climb to the top of the Sentinel that night and begin a rescue, but rangers insisted they wait until morning, when a helicopter would be available—it would be the first helicopter-assisted rescue in Yosemite climbing history. The wind was gusty the next morning, and the chopper couldn't land on Sentinel's rugged summit, but it put a skid down on a boulder and Foott, Denny, Evans, and other climbers and rangers jumped out. Before long they were able to set up a lowering station and prepare to haul Spoecker out in a litter. Since Faint had managed to free his partner, the rescue went smoothly and quickly, and soon the injured man was helicoptered off the summit and down to the hospital. Foott, the first climber to reach the stranded men, recalls, "If Joe hadn't gotten that flake off Pete, he'd have been a goner. It was pretty ingenious."
Afterward
With their typical dark humor, the climbers of Camp 4 reacted to the rescue by giving Faint grief for carrying a bolt kit on an established climb. He has since passed away. Peter Spoecker, who was never a major figure in Yosemite climbing, nonetheless remained an active climber and outdoorsman, living in Joshua Tree and exploring the Sierra. He became a pioneer in electronic music and what is now called world music, popularizing the Australian didgeridoo through performances, recordings, and teaching. In 2005, at age 64, he went on a solo backpacking trip in the Sierra to pursue his avocation of landscape photography. Hikers discovered his body a couple of weeks later in Evolution Lake—he had apparently fallen through thin ice and drowned.
Read More Ordinary Heroes: