Out On a Ledge: Keeping the Wilderness Wild
How our simple presence Impacts and even disrupts crag fauna
Heading out the door? Read this article on the new Outside+ app available now on iOS devices for members! Download the app.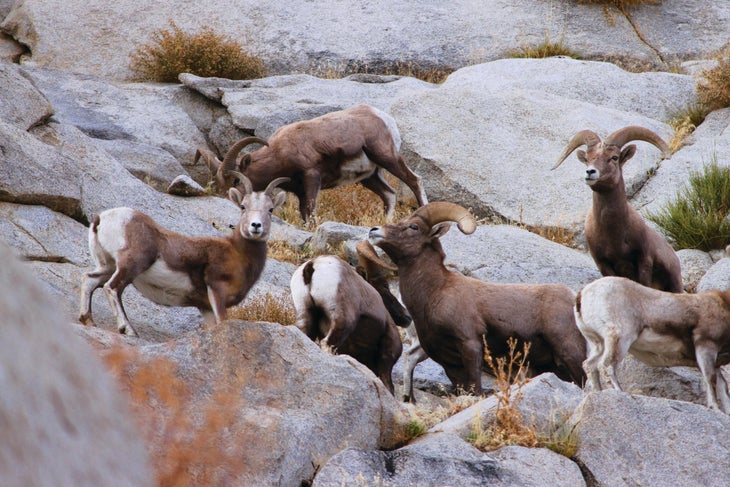 The deep thump of bass echoes off the granite walls of Pine Creek Canyon, one of the Eastern Sierra's best spring and summer crags. As the route he's trying steepens, a climber yells with increasing volume. Upcanyon, rolling rocks draw the attention of an unleashed climber dog. Bighorn sheep, startled by the clamor, are now retreating to the high country. The dog bounds uphill in pursuit of the sheep.
During the spring calving season, bighorn sheep descend from the High Sierra to forage in the lower elevations of the Wheeler Crest at Pine Creek Canyon. The canyon's topography provides good escape terrain and safe lambing locations. However, due to decades of unregulated hunting, disease outbreaks, avalanches, weather, and other stressors, these wild ruminants have suffered massive population loss, and were listed as federally endangered in 2000.
That year, the California Department of Fish and Wildlife (CDFW) headed a recovery plan for the animals, and in 2014 initiated a study to monitor recreational-use trends in areas like Pine Creek, where multiple trailheads and climbing areas converge with the sheep's habitat. Amy Sturgill, a CDFW wildlife biologist who monitors the sheep and uses GPS collars to determine lambing locations, says, "This data is especially important for periods when we would expect overlap between bighorn use and recreational use, for example, between April and June when ewes are lambing." Despite an increase in recreational activity, the Wheeler herd unit is doing well, with an estimated 100 animals, including 20 new lambs born in spring 2018. The hope is that through observation and a recovery plan, the population will increase and the sheep will be delisted.
In their observations, Sturgill and her peers have noted that, in addition to unruly dogs, loud music and yelling at the crags are also stressors for the sheep, often driving them back to higher elevations. With the priority being the herd's well-being, the CDFW has talked of issuing a blanket closure for Pine Creek from April through June. This drastic measure would be a huge blow to the California climbing community. However, we should be able to avoid it, if we recognize the significance of our impacts and take the appropriate measures to modify our behavior.
Climbing areas have their own ecosystems, with native plants and animals. These desert landscapes, wooded forests, and alpine walls provide homes to many plants and animals. As much as we climbers refer to the crags as "home," the reality is that we are merely visitors. We leave at the end of the day, returning to our beds and to food we've stored in refrigerators or ice chests. When we climb, we are often heading into front country or wilderness. As Howard Zahniser of the Wilderness Society wrote in the Wilderness Act of 1964, "A wilderness, in contrast with those areas where man and his own works dominate the landscape, is hereby recognized as an area where the earth and its community of life are untrammeled by man, where man himself is a visitor who does not remain."
As climbers in these fragile places, we need to consider our impacts. Long after we leave the cliffs, the wildlife remains, foraging for food and building their homes­—they expend energy just living. Surviving in the wilderness is a delicate balance, and any stress causes them to exert more energy: Being chased by dogs and hassled by humans violates the very concept of wilderness. And land managers are taking note.
While the CDFW so far has just made observations throughout the Sierra, other organizations like the Forest Service have outright closed climbing areas, for instance the Angeles National Forest's Williamson Rock, Southern California's premier summer sport destination. In 2005, lawsuits brought by conservation groups and the Center for Biological Diversity led to the closure in the name of protecting the endangered mountain yellow-legged frog.
Closures for animals aren't uncommon. Rocky Mountain National Park imposes seasonal elk-rut closures during the fall mating season, as well as a bighorn sheep closure year-round in a roughly four-square-mile area inhabited by the animals. Yosemite and Zion national parks, the Mohonk Preserve, and other parks commonly close areas seasonally for raptors. These areas implement seasonal closures for all recreational activity within a certain range of nesting sites, and the once federally endangered peregrine falcon has made a miraculous comeback thanks to these conservation efforts.
For the most part, climbers respect the closures, obeying the law and choosing to climb elsewhere. However, sadly, there are exceptions. In 2012, one of the highest known nesting pairs of peregrine falcons successfully bore a fledgling on Medlicott Dome in Tuolumne Meadows. The NPS issued a mandatory closure for the formation, placing notices on the trail, online, and on the community bulletin board. These birds are quite sensitive, and human disturbance can cause them to abandon the nest, fail to breed, stop feeding babies, or even force the fledglings (not yet able to fly) to jump from the nest due to fear.
Yet two climbers ignored the closure and climbed on Medlicott anyway. A few days later, the fledging was found dead at the base of the dome. NPS questioned the climbers and issued a citation—and rightfully so: Their selfish actions had caused undue stress to the birds, leading to the animal's death. Additionally, the climbers' actions caused the park service to further scrutinize climber activity—a microscope we can all agree it's not ideal to be under.
Climbers have a complex relationship with the environment, one we often fail to examine in all of its nuances. For as much as we love nature, we do create impact. We travel around burning copious amounts of fossil fuels, creating habitat-disrupting global warming; consume nonrenewable resources like nylon, metal, and leather climbing gear and clothing; and eat endless amounts of bars, protein powder, and canned fish, creating packaging waste. At the crags, unattended or discarded food is often eaten by squirrels, bears, marmots, birds, and the like, causing obesity and malnutrition—not to mention the sheer disruption of our presence. As climbing continues to grow, so too will our impact on the wild. But knowing how to manage ourselves in the places we love is just one way we can offset these impacts and respect the environment.
Simple solutions include keeping our dogs on leash, picking up pet feces as well as our own, staying on trails, picking up our and others' trash, minding seasonal closures, not playing loud music, and limiting loud noises that can echo in the canyons and disturb wildlife. Educating ourselves about the flora and fauna of the places we climb will also give us more insight into how to behave and what to look for.
Climbing is so much more than just the actual act of climbing. Spending time in these amazing environments brings richness to our lives. Things like the hoof clatter of sheep, the chirping of frogs, and the swooping of raptors all combine to give a sense of place and connect us to the larger planet. Managing ourselves and avoiding bad behavior will help avoid blanket closures so we can continue to enjoy the outdoors. For the plants, animals, and even our own sake, we need to work together to keep the wilderness wild. 
Katie Lambert is a professional climber based out of a van in California's Sierra Nevada with her husband, the photographer Ben Ditto. Lambert has climbed for more than 20 years on everything from boulders to big walls.