A Eulogy for Royal Robbins
Heading out the door? Read this article on the new Outside+ app available now on iOS devices for members! Download the app.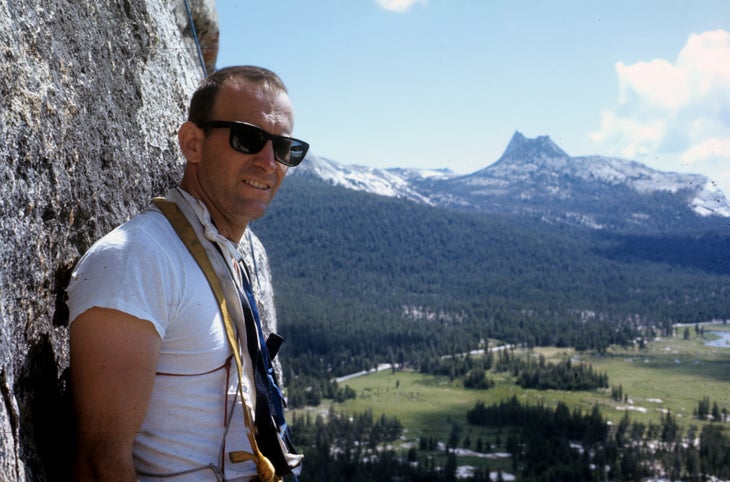 [Ed. This story has been republished after an initial technical problem caused sections of the text to be lost. The full text is below, as it was intended by the author.]
Royal, now you know everything. You will look through from the other side and see your mistakes, your arrogance, see clearly your virtue, as well, successes of which you were not aware, how true you were in fact. Narrow is the way, it is said, yet you know enough about the Narrows on Sentinel, or the Ear on the Salathé Wall…. Once again you have found your passage through. You were on the right route. The words of James 4:14 ring clear: "What is your life? It is even a vapor, that appears for a little time, and then vanishes away." I imagine now you see and feel the love people have for you, though I doubt this will be a big revelation. Family—I think already you knew—those you love, and your love of others, is where pure religion begins and ends. Always, though, there are higher places of knowledge. Chess would be a clue for that. In chess, you relied solely on your mind and will. By heart, will, and spirit you got up all those climbs, and that was impressive, how a young delinquent should stumble into the grandeur of granite and light and make so much of it. Love is deep like that. It expands outward through the universe, as did your love of climbing, as did my love for you…. I admit to being a respecter of persons. You will see how far, though, I grew beyond that.
While many of us loved to create ways up rock, the real anti-gravitational force was the sense we had of being part of one another's lives. If you speak now, it will be as silence. You will see the invisible and will say the unspeakable. I step through the moves of every climb you and I did together. All as one, they become a larger route—one to infinity, holds made of light, breath a soft air through pines, a ledge a place of feeling.
Hopefully there will be a filter now so you do not have to continue to indulge all the B.S., ego, and commercialism that have infiltrated our beloved pursuit. Everyone, even you, exploited your talents for monetary gain. That's OK. We do what we can. Many, though, raked in riches and gave too little back. You were generous, never miserly. You helped countless people, among the hordes that admire you. I'm sure you knew that line from the same book of James, that the brother of low degree is exalted. You had a fondness, an attentive mind, for the ragged nomad, the hard-traveled musician…. Thank you for being the best fan of my music. You and I knew the freight-train experience, and trains live in and about my lyrics….
How huge a blessing for a kid that you took him under your wing, and he remained your friend and devotee. Some of my own all-encompassing determination came from you. Always I sought your approval. It was hard for you to praise. You had a competitive side. Though somewhere you reluctantly would say what needed to be said, measured, restrained, that rationalist approach of yours, and according to what I needed to hear. You knew things could go to my head. Hopefully now you see how much each word of yours meant to me, how it entered my heart like a piton into a perfect fissure.
I remember how powerful a day could be without words. One day in 1977 when I lived in Eldorado Canyon you suddenly stood at my cabin door, in a flannel shirt, knickers but no long socks, a small pack, a rope slung over a shoulder. You may have said as much as "Hi." You always knew where to find me when you needed a partner. I did not have to guess what you wanted. I grabbed my climbing shoes. Quietly we strolled up the dirt road, into the canyon. 
Whatever route I might want to do, you already had given your consent. I was not sure if you had climbed T2, one of the best routes in Eldorado. I don't remember seeing anyone else in the canyon. It was a gorgeous day, full of beautiful solitude, plenty of sunlight, perhaps a breeze…. The first pitch is the crux, an overhang that extends up and outward from the ground, like the roof of a large cave. It's now rated solid 5.10 if not harder. I led these strenuous first moves and another 70 or so vertical feet to a ledge. I pulled up rope. You emerged, those glasses, that beard, tennis shoes tied to the swami belt around your waist. No words exchanged, you made that first pitch look easy. We alternated leads. As luck had it, I got the classic traverse and steep finger-hand crack on the vertical yellow wall above the Upper Meadow. You competently felt left for holds around the corner of that traverse, as you followed. I led also the final crux, a red, overhanging, slightly rotten wall. You acted a small bit nervous about one or two scary, loose blocks on the pitch, yet you flowed up. Soon we were on top. You were on a timeline, needed to be somewhere later. We took no time for reflection at the top, simply coiled the rope and changed our shoes.
On the long scramble off the back, I stayed a short distance ahead of you. At one point, I felt the impulse to stop, wait for you to reach me, and share a story. You continued to move and waved me forward. You said nothing, but it was clear you felt we did not have time for pleasantries. I continued ahead and held the story for another occasion. I'm not sure we said more than a dozen words the entire adventure, the approach, the route's seven hundred feet, and the descent. As always, it was good to climb with you. You communicated a sense of our friendship. It meant a lot, this climb to which we had abandoned ourselves—or was it where we had become again conscious of ourselves? We were aware we did not know as much as we supposed, and we would not have spoken of it if we did. At my cabin that afternoon, you gave a small, gnomic contortion of a smile, a twinge of the true and the immediate, a tone of exultation, and you headed again away. 
I hope when I get there I will know some things. I wish I understood how you could suddenly appear just at the right times. At one point, you had not spoken to me for a time. I felt your absence. Did I matter any longer? I hit a low spot. I far away in Boulder, and you somewhere about the world, I received a package from you with a beautiful letter, a book, and a T-shirt with a drawing on it of you kayaking. In the drawing, your helmet read, "This end up." I laughed. You acknowledged my gains in poetry and other areas, and it was as though you wanted to share your own recent triumphs. From that day, I started to get better, to come out of that dark, back into the light.