The Power of One – A Tale of Pandemic Giving Suits the Season
In the spirit of celebrating giving, we bring a tale from last year of people helping people.
Heading out the door? Read this article on the new Outside+ app available now on iOS devices for members! Download the app.
[Reposted from April 2020]
When a friend posted an offer on a community Facebook page to buy and deliver groceries for anyone in need during the current pandemic, Heather Ardley of Western Colorado liked the idea so much she shared it herself.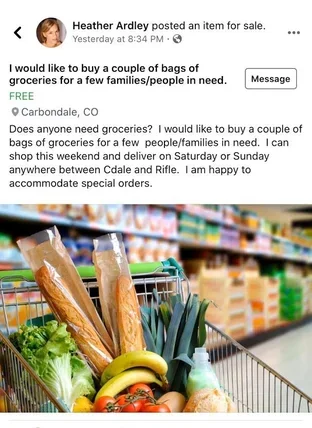 Her version of the post read: "Does anyone need groceries? I would like to buy a couple of bags of groceries for a few people/ families in need. I can shop this weekend and deliver on Saturday or Sunday anywhere between Carbondale and Rifle."
What started as a generous intention for one weekend grew into something that Ardley, a longtime climber (and a climbing partner of this writer) and a physical therapist who works at a skilled-nursing facility in Rifle, Colorado, did not anticipate.
Here was the first message she received:
"Hi I was just wondering if there was any chance that I could a get a bag of groceries because I'm handicap and I would like to help my daughter with anything I can since she has done so much for me."
Ardley replied, "Yes. Of course. What would you like me to get for her? I invite you to write the list of items on this message, and I will shop and get the items and can deliver it to her. What town does she live in?"
"Parachute … I know that she needs fruits and vegetables. Oh and milk."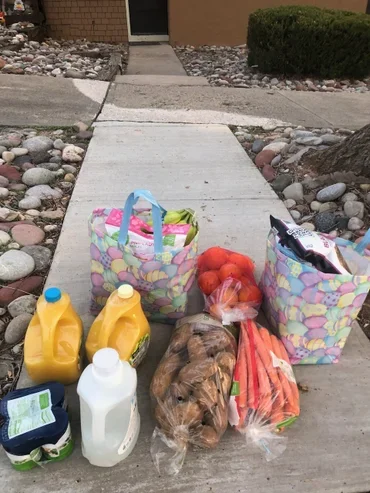 Ardley planned this job for after work, because Parachute is 30 minutes from Rifle but 90 minutes from her home in Carbondale. "Got it," she replied to the message. "I am working in Rifle and will to go to the grocery store at about 6 pm. I can bring her the groceries in Parachute after that … at about 7:30 ish. Does she have kids? Where shall I bring the groceries?"
"Yes I have 2 beautiful grandchildren," the woman wrote, and gave the address. "Thank you so much, I am so grateful, god bless you."
When Ardley dropped the groceries in the yard of a trailer in Parachute, two young girls popped out the front door.
"That was our grandmother who wrote you!" one said. "I translated it for her! Would you like to meet her?"
"Oh, yes," Ardley said.
"OK. It'll take a few minutes."
"I'll wait." She stood in the yard as the two girls disappeared indoors. They then wheeled their grandmother, a double amputee, to the doorway.
Her hands were clasped. "Gracias, gracias," she said, head tilted sideways.
Ardley, who had driven out after a long day's work, says, "I was so glad I went out there."
She delivered eight loads of groceries that weekend. All were to families with children, in households with adults out of work due to the pandemic.
"It was fun to do it and surprisingly seamless to organize," she says. "It all came together in just a day and half. Social media has a good side."
She had willingly paid out of pocket, about $660, for the groceries, but didn't expect what happened next. Four strangers, all in the same community Facebook group, which is called the Roaring Fork Swap, messaged asking to help, to send checks. She thanked them and anticipated checks in the amount of perhaps $25. To her surprise, she received two checks for $200, one for $100, and one for $50. She will put them to more groceries and deliveries.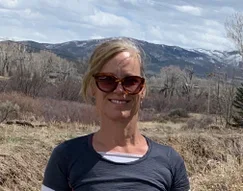 Ardley is still working in her job as a physical therapist; she and other staff at the E. Dene Moore Care Center are screened every morning before entering, their temperatures taken. Her workplace has fortunately had no illness.
She has next week off and had planned a trip to California, but will stay home. An actor on the side, who has held many roles in area productions from Aspen to Glenwood Springs, Colorado, she plans to work on a screenplay—and deliver groceries.
Best of all, several others shared her post (which, recall, she had shared from someone else) and made similar offers to the community.
Chris Harrison of Carbondale wrote below her post, with thanks: "I just reached out to the Family Resource Center of Roaring Fork School District with the same offer. This is the world I want to create and live in."
Heather Ardley is currently working in Santa Barbara, California, a place with a high homeless population, and at the moment she is putting together gift bags with food, gloves and warm socks.